By Jeff White (jwhite@virginia.edu)
VirginiaSports.com
CHAPEL HILL, N.C. – As he walked off the court Saturday at the Dean E. Smith Center, University of Virginia head coach Tony Bennett stopped, looked up into the stands and waved to Roy Williams, who returned the gesture.
Williams, who retired last year after a phenomenal run as the University of North Carolina's head coach, enjoyed the afternoon much more than Bennett did. The Tar Heels, who are in their first season under Hubert Davis, led for the final 33 minutes and 39 seconds in a 74-58 victory over the Cavaliers.
The final score didn't fully reflect the dominance of UNC (11-4 overall, 3-1 ACC), which had dropped seven straight in the series. With 2:16 to play, Armando Bacot made two free throws to push the Heels' lead to 25 points, after which UVA (9-6, 3-2) scored the game's final nine points.
When UNC had the basketball, Virginia's initial defense was often solid. Time and again, though, the Heels extended their possessions. Led by Bacot, a 6-10 post player who grew up about 70 miles from Charlottesville in Richmond, Carolina turned its 11 offensive rebounds into 14 second-chance points.
"He kind of imposed his will on the offensive glass and in the post," UVA guard Armaan Franklin said.
Bacot finished with career highs in points (29) and rebounds (21). Nine of those boards came at the offensive end. Not since Wake Forest's Tim Duncan on Feb. 22, 1997, had a player recorded at least 20 points and 20 rebounds against Virginia.
"He certainly had his way," Bennett said of Bacot. "If you're out of position or you can't get a quality body on him and just try to get him off the glass, he's gonna make you pay, and he certainly did. Sometimes it was because we were maybe covering for a breakdown, trying to block a shot or out of position, but their frontcourt really took it to us."
Brady Manek, a 6-foot-9 graduate transfer from Oklahoma, added 19 points for UNC. Manek hit five 3-pointers and teammate Caleb Love, a 6-foot-4 sophomore, made four. For the game, Carolina shot 44 percent from beyond the arc and 47.5 percent overall against Virginia's Pack Line defense.
"I've said before, Coach Bennett is one of the best coaches in basketball: not just college, but NBA, international, whatever it is," said Davis, a former UNC star. "And his teams, they're great individual defenders, but they've also good team defenders, and it's very difficult to get good shots against them. In order to get consistent good shots against them, you have to have spacing, balance and movement."
The Heels had all of that Saturday. For 25 minutes, it was a tight game, "and I feel like we did a good job of staying connected," Virginia guard Reece Beekman said.
But UNC scored 10 points in the final 4:30 of the first half and led 31-25 at the break. Carolina extended its lead to 11 early in the second half and wasn't seriously threatened thereafter.
"You got to come into these games with an edge and [be] alert," Bennett said, "and I didn't think we had that. I told the guys, 'You've got to keep your head up.' But I said,
'You've got to open up your ears and your mind about what just happened.' We did not have two great days of prep. I thought we were not as alert and as sharp as we needed to be, and when you play against a quality opponent like Carolina, when you have a breakdown those teams find a way to expose it right away."
The Hoos' breakdowns on defense bothered Bennett more than did the long 3-pointers Love hit.
"I thought we yielded, and that was frustrating, but we'll try to grow from it and learn from it," Bennett said. "But you look at Bacot and Manek, that frontcourt, and they had their way."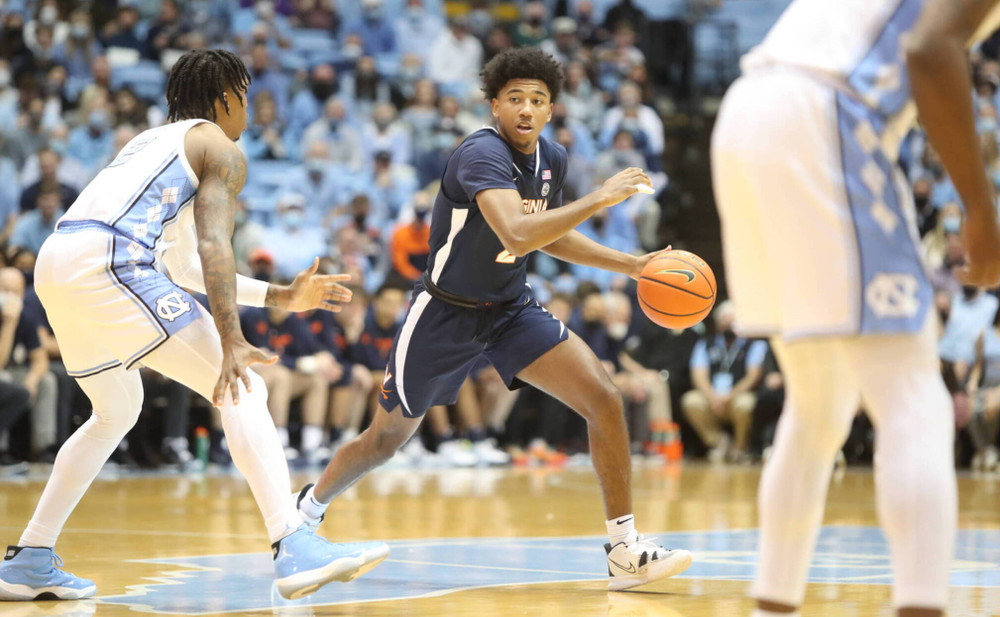 Most of Virginia's players were unfamiliar with the surroundings. Only one Cavalier—senior point guard Kihei Clark—had played more than once at UNC's 21,750-seat arena. Only three Cavaliers––Clark, Kody Stattmann and Francisco Caffaro––had played more than one minute at the Dean Dome.
The Hoos, who were coming off road wins over Syracuse and Clemson, haven't played at home since Dec. 22, but Bennett refused to use that as an excuse for his team's performance Saturday.
Even on the road, the Cavaliers "can be alert and sharp and all that," Bennnett said. "That's just the schedule. I'd love to say, 'Yeah, that was it,' but no."
Beekman totaled 13 points, four assists and three steals, all team highs. Franklin, a transfer from Indiana, added 12 points, and forward Jayden Gardner, a graduate transfer from East Carolina, contributed 10 points and seven rebounds.
Kadin Shedrick, who started at center for Virginia, took a blow to the nose from Bacot and went to the bench, where head athletic trainer Ethan Saliba attended to him, with 13:08 to play. Shedrick's nose continued to bleed until late in the game, and he didn't play again Saturday.
"I think he could have gone in at the end," Bennett said. "But at that point, it was under four [minutes left]."
COMMONWEALTH CLASH: UVA and Virginia Tech are scheduled to play each other twice during the regular season. The first of those meetings comes late Wednesday night at John Paul Jones Arena. ESPN2 will televise the 9 o'clock game.
The Cavaliers have won four of the past five games in a series they lead 95-57.
This will be the first game in more than a week for Virginia Tech (8-6, 0-3), which is coming off a loss to NC State in Blacksburg. 
For the Hoos, the game in Chapel Hill was their third in a row away from JPJ. It's not entirely accurate to call it a road trip, because the Cavaliers returned to Charlottesville after each of their previous two games, but it was taxing nonetheless.
"Three straight road games is kind of hard," Beekman said. "It'll be good to be back at JPJ in front of our families and friends. I can't wait to play that game."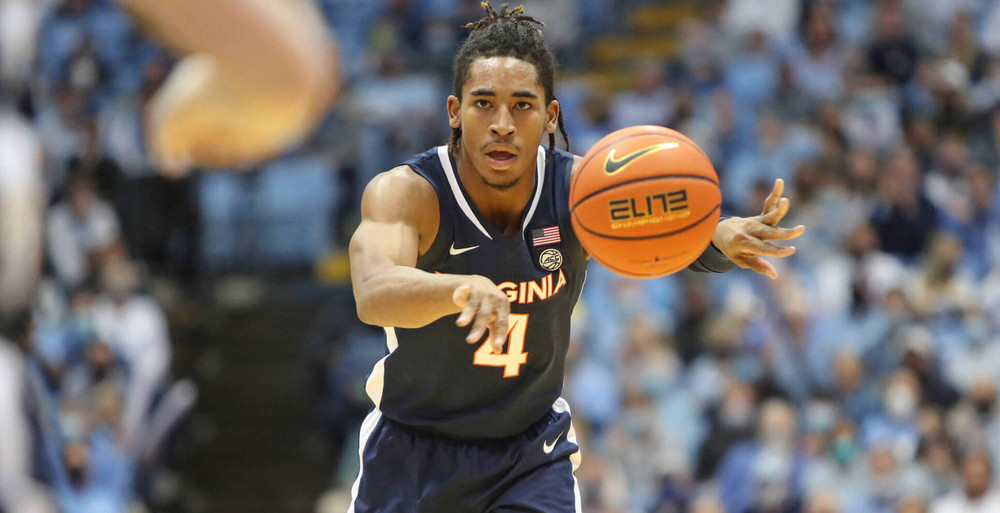 SOUND BITES: An eighth straight victory over UNC would have matched Virginia's longest winning streak in a series that started in February 1911. The win was the Heels' first over the Hoos since Feb. 18, 2017. Among the postgame comments:
* Bennett on the Hoos' preparation for the UNC game: "We practiced hard, but we didn't practice as sharp. I don't know if it was [lack of] focus or what. You just need to be right … They just sort of had their way."
* Bennett on Beekman's production on offense: "He did a good job, and we need that. We need our perimeter guys to be aggressive, whether it's scoring or getting in there, but that was good to see [from] him the last couple games: looking to get to the rim, taking a pull-up, [he] took a couple 3s. That part was solid. I liked that from that standpoint."
* Bennett on the inability of UVA's post players to keep Bacot off the boards: "Those are hurtful plays, again, when there's a shot going up and it's right there for the taking, and we just can't see the hold the guy off or grab a rebound. But we certainly will keep working at it, as we did this week."
* Franklin on the Cavaliers' mindset: "We can't dwell on this one. There's always going to be another game, so we're going to … have our day off and come back ready to work and get better."
* Beekman: "We're going to learn from this, look at our mistakes, and just keep moving forward … The game is over, so we just gotta learn from it and try to better ourselves for the future."
* Beekman, who's 11 for 20 from the floor in his past three games, on his shooting: "Still putting in work, trying to be more consistent, but I definitely feel like it's getting better over time."
* Beekman on Bacot and Manek: "Their big men are a handful."
* Davis on the way UNC's starting post players complement each other on the court: "They understand spacing, they understand where each one of them are going to be positioned out there on the floor. I don't think you can script or force chemistry. Either it's there or it's not."
* Davis on Love, who, in addition to his 16 points, had a game-high five assists, two steals, three rebounds and only one turnover: "Our team is really good when Caleb plays well."
To receive Jeff White's articles by email, click here and subscribe.