By Jeff White (jwhite@virginia.edu)
VirginiaSports.com
CHARLOTTESVILLE – Michael Battista didn't grasp how little he knew about wrestling until he enrolled at the University of Virginia in 2017. He'd been a two-time Class 5A state champion at Broad Run High School in Northern Virginia, but that success was primarily a result of his strength and athleticism.
"In high school, I probably knew one bit of technique," Battista recalled this week, "and that was probably a single leg and a double leg. That was it. I didn't know anything."
His mentality then? "I'm going to train hard, and I'm going to be more athletic than everybody," Battista said, "and I'm going to be bigger, stronger. And then I got to college and realized that doesn't cut it."
Reality hit hard. Competing at 174 and 184 pounds, Battista posted a record of 6-14 in 2017-18.
"It was bad," he said. "I was just getting destroyed by guys."
Four years later, he's usually the wrestler whose hand is raised at the end of a match. Now a graduate student who's in his third season as the Cavaliers' starting 184-pounder, Battista will take a 7-1 record into this weekend's Virginia Duals in Hampton. In late November, Battista was one of the four UVA wrestlers who captured titles at the Mat Town Open in Lock Haven, Pa.
"That first year was really rough," UVA head coach Steve Garland said. "He definitely was really low down in the pecking order and just wasn't making gains. But he stuck with it and he stayed the course, and he went through a lot of ups and downs.
"In this impatient society we live in, we want results yesterday. We don't want to have to work for anything. We just want it. Why am I not getting what I want? And that's the opposite of Michael. Michael took every lump, every setback, every failure and just kept pushing forward, and then started to see the incremental improvements, little teeny, tiny improvements."
After redshirting in 2018-19, Battista reached the third-place match at the ACC Championships in 2019-20 and finished that season with a 18-20 record. As a redshirt junior, he posted a 6-4 record in 2020-21, a season shortened by the COVID-19 pandemic. Then, at the United World Wrestling U23 Nationals in Lincoln, Neb., last spring, Battista took third place at 86 kg (189.6 pounds).
At the same event early in his college career, Battista had "looked terrible," Garland said. But Battista kept returning to the tournament and faring better than he had the year before, and then in 2021 he went "toe-to-toe with some of the top ranked guys in the country," Garland said, "and that's when we were like, 'Man, this is so cool.' Because that's what you want to see: development. You want to see your guys grow and improve, and you've got a guy like Michael, who wasn't the biggest recruit on paper, and then he comes out and does what he's doing now. It's pretty special."
Battista said: "Over the year I've been working with the coaches and just focusing on those little things and getting incrementally better. That's our motto: Get 1% better every day. So we go in the room and just focus on one thing, and it's cool to see how it adds up over time, and then you do it in matches ultimately."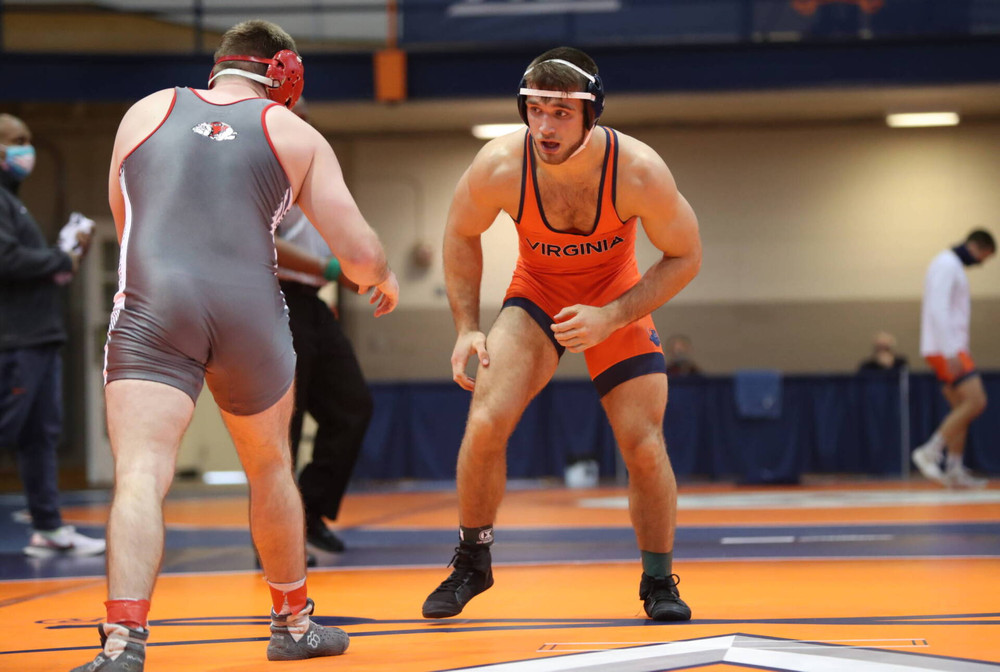 After earning his bachelor's degree in biology last spring, Battista started pursuing a master's in exercise physiology in UVA's School of Education and Human Development. It's a two-year program, and he plans to wrestle for the Wahoos again next season. (The NCAA granted an extra year of eligibility to student-athletes who competed in 2020-21.)
Once he has his master's, Battista said, he might study to become a physical therapist or a physician assistant. Another possibility would be "opening up a gym of my own," Battista said. "So I have a lot of options. I just know I'll be in the health field."
Ever since he was a boy, Battista said, he's "loved biology and science. I remember wanting to get books on human anatomy and stuff. It's always interested me."
Battista was in middle school when he first met Garland at a UVA wrestling camp. "And then when I got to high school, I went to more camps and got to know him even more. Then I won a state title, so he started following me more."
Garland remembers seeing Battista at those camps in Charlottesville.
"I was like, 'Man, there's something about this kid I really like,' " Garland said. "And then I home-visited him, and I loved him and his family. There was something about Michael that was everything I want for our program. He was such a focused kid. He was so disciplined. He was one of the few guys that I could remember in years that really cared about nutrition, really cared about his body, really cared about the way he trained, and he wanted to be great.
"But I knew he didn't have a lot of natural wrestling ability, if that makes sense. Wrestling is a martial art. I've joked with strength coaches over the years. They look at certain guys in the weight room and they're like, 'That guy's great, huh?' And I just laugh. Usually it's a guy who's actually not the best wrestler. It's just means he's good in the weight room, and wrestling has nothing to do with that."
Consider, Garland said, Oklahoma State head coach John Smith, who had a legendary career as a wrestler. A six-time world champion who also won two NCAA titles and two Olympic gold medals, Smith "has no muscles," Garland said, "but he's very flexible, he's fast, he has great technique."
Battista has spent countless hours in the weight room. He began lifting when he was about 10 years old. "That was my first love," he said. "I liked wrestling, but my first love was lifting weights back then. Now, of course, it's flip-flopped. Wrestling's first."
To Garland, Battista's passion for lifting weights wasn't always a positive.
"I remember sitting him down years ago and saying, 'Look, you look great. We all know you're going to train hard, we all know you're going to work hard, and it's great that you lift so much. But you need to lift less and wrestle more,' " Garland said.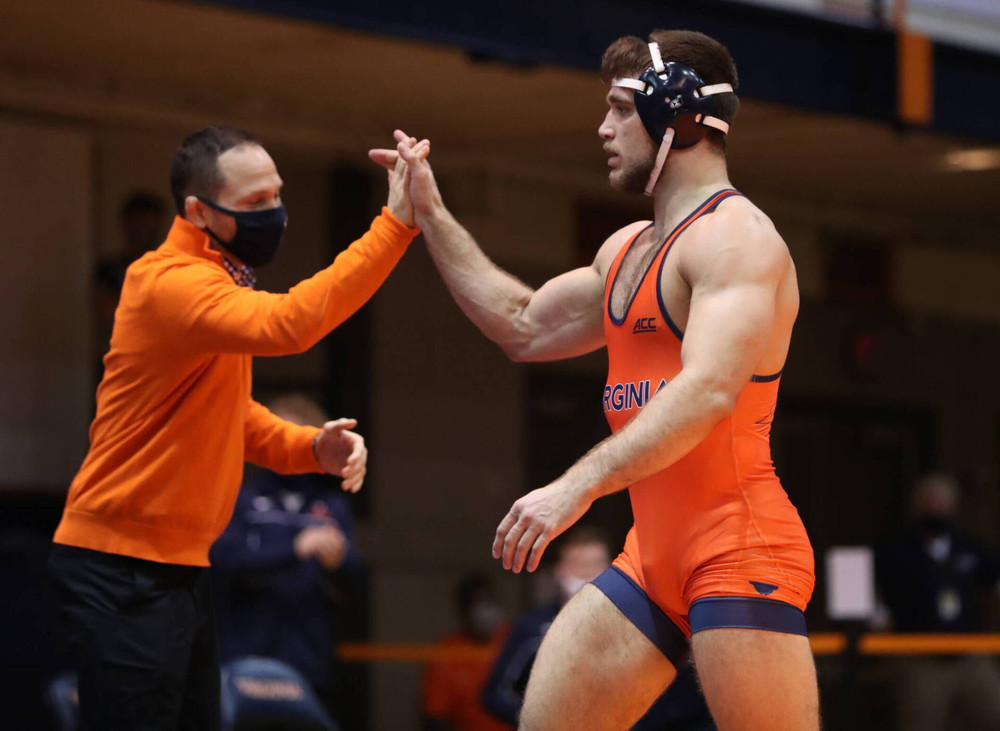 The former home of the UVA wrestling program, which is now based at Memorial Gymnasium, was Onesty Hall. Garland remembers walking into the weight room there one Sunday and finding Battista hard at work.
"He was squatting the house," Garland said. "I don't remember how much it was, but it was so much weight. And I said, 'Brother, that's great and all, and I hate to break this to you, but you gotta get better at wrestling. Wrestling is a martial art. You have to learn wrestling. You have to get mat sense, and the only way to do that is to wrestle a lot.' I said, 'It doesn't matter if you can squat your way out of the gym if you can't stop a single leg.' I think it made a dent. It's about planting little seeds with these guys. Then he fell in love with wrestling, and then he really started digging wrestling, and that's when the gains started happening."
Battista, who lives with teammate Jake Keating, credits UVA associate head coach Travis Paulson for helping him improve his mental approach to the sport.
"Something I realized was that you can work as hard as you want, you can do all the technique you want, and it doesn't matter if you don't have the right mindset," Battista said.
He remembers a conversation he had with Paulson early in his fourth year in the program.
"I knew I wasn't wrestling well, and we just talked and he helped me so much," Battista said. "He just opened my eyes. He was like, 'You don't have to go out there and put all this pressure on yourself and worry about the outcome. Just get back to the root of your love of wrestling,' and it kind of clicked. From there I started building mentally on my own, and I think that that was the key."
His biggest win as a Cavalier came last season in a dual meet against Pitt. Battista edged 16th-ranked Gregg Harvey 3-2 to help the Hoos upset the 12th-ranked Panthers.
"Looking back, I could have wrestled even better," Battista said. "But that win was just the product of the technique I was working on with Coach Travis at the time and the mindset we talked about."
To receive Jeff White's articles by email, click here and subscribe.