BROOKLYN, N.Y. – By the time the Virginia Cavaliers took the court at Barclays Center late Wednesday night, six teams had been eliminated from the ACC men's basketball tournament.
No. 6 seed UVA added Louisville to that list, but it wasn't easy. The Cavaliers missed 16 of their first 18 shots from the floor and didn't make a 3-pointer all night. But they played terrific defense throughout and made just enough shots late to pull out a 51-50 victory in the last of the tournament's four second-round games.
Virginia (19-12) advances to meet third-seeded North Carolina (23-8) in the 9:30 p.m. quarterfinal Thursday at Barclays Center, home of the NBA's Nets.
Senior forward Jayden Gardner, a third-team All-ACC selection, led the Cavaliers with 17 points Wednesday night, and senior guard Kihei Clark added 15. Sophomore guard Reece Beekman contributed eight points, five rebounds and a game-high nine assists.
The Wahoos weren't nearly as productive offensively as they had been in their regular-season finale, a 71-61 win over Louisville at the KFC Yum! Center. But in a response to a question from a TV reporter who called this ACC Tournament game "ugly," UVA head coach Tony Bennett disagreed.
"It's beautiful when a team finds a way when they're struggling, and I appreciate that," said Bennett, whose record in 13 seasons at Virginia is 314-115. "I've been doing this for a long time when teams can't find it. So you all have your definition of what it looks like, but to me that's beautiful. Beauty is in the eye of the beholder, right?"
For the Hoos, the victory was their third of the season over Louisville, which finished with a 13-19 record. Virginia leads the series 20-5 and has won 14 of the teams' past 15 meetings.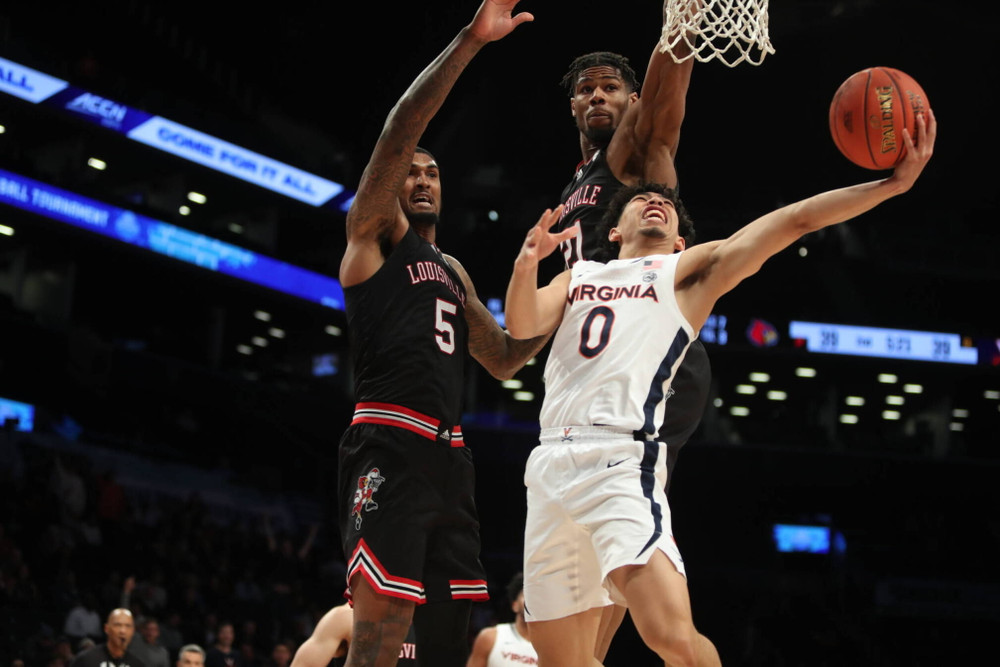 HOW IT HAPPENED
UVA trailed by four at the break and didn't take its first lead until the 17:54 mark of the second half, on a jumper by Gardner that made it 25-24.
Neither team was able to gain much separation from the other in the second half. After Gardner put the Hoos ahead, the game was tied at 27-27, 29-29, 31-31, 33-33, 35-35, 37-37 and 39-39 before Louisville took a one-point lead on a Malik Williams trey with 4:46 remaining.
Virginia responded with four straight points, but Louisville hit another 3-pointer to make it 45-45. With 1:28 left, Gardner put UVA ahead to stay at 47-45, and Beekman's layup made it a four-point game with 40.3 seconds to play.
After a Louisville stickback, Gardner sank two free throws with 4.2 seconds left to push the Cavaliers' lead to 51-47, and a last-second 3-pointer by the Cards did not change the outcome.
UP NEXT
Now comes a rematch with UNC, which defeated Virginia 74-58 on Jan. 8 in Chapel Hill, N.C. Big man Armando Bacot totaled 29 points and 22 rebounds for the Tar Heels, who had lost seven straight to the Cavaliers.
The Heels, who earned a double bye as one of the ACC tournament's top four seeds, are coming off an impressive win at Cameron Indoor Stadium, where they spoiled Duke head coach Mike Krzyzewski's final home game.
"They're very talented, and it seems like they're peaking at the right time," Bennett said. "It's a great opportunity for us, a great challenge to be as good as we can be in our way and try and get it done."
A victory over UNC would significantly boost Virginia's chances of earning an at-large bid to the NCAA Tournament. His team has improved since early January, Bennett said, and this "is an opportunity you want. It's an important game for us. They all are. I hope we'll show that we're a better team, but it'll take a good one for sure."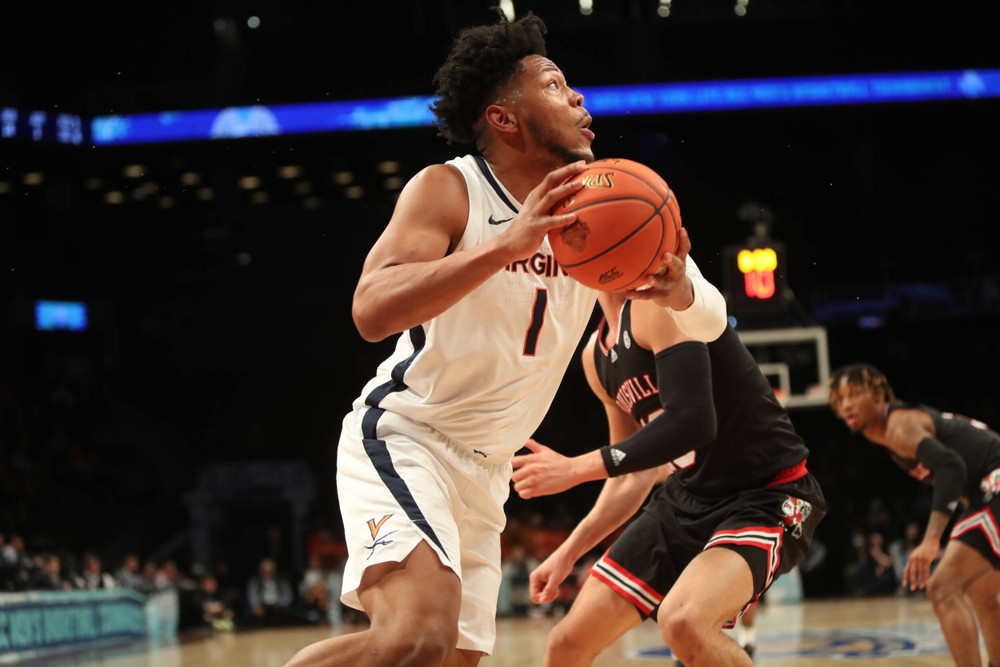 SOUND BITES
The Cavaliers improved to 9-1 all-time at Barclays Center, where they won the ACC tournament in 2018. Among the postgame comments Wednesday night:
* Bennett: "I thought we made enough plays down the stretch and came up with some key stops. With us not shooting the ball particularly well, our defense just held us in there early when we weren't even close, and then there was a few tough plays made, and it was a very physical game."
* Bennett: "We call it a 'knuckle-buster game.' That was a knuckle-buster, and that's all you could do. Sometime that's how it gets in tournaments, so again, we get to play tomorrow, and that's a good thing."
* Bennett on his lack of concern about style points: "We've been down this road, and, again, it's about getting a victory. I don't apologize for how we play. I want our guys when they have shots to take them. Sometimes they go in, sometimes they don't. But when you know you're struggling in certain areas, do you have the wherewithal and the identity to say, 'We're going to rely on stops and squeeze out a few points here and there, and then try to go win a game?'  And that's what happened. I'd take that win over an 85-82 loss."
* Bennett on UVA's defense: "We had a few breakdowns here and there, but our guys knew that was the ticket tonight. And it's the ticket all the time, and then we just tried to keep adding some quality offense with that."
* Beekman on the Cavaliers' formula for success: "We knew we had to get stops. That was kind of our mindset for the whole game. So just coming down the stretch, it was kind of going back and forth, and at the end of the day, we knew we had to get a couple stops to win the game. And at the end that's what we did."
* Beekman: "I would just say it was a hard-fought game. We knew playing them for the third time wasn't going to be easy, so just be ready to play for the whole game. It came down to a couple possessions, a couple stops, and that's what we got."
* Clark on UVA's late-game execution: "I thought we did a good job. We had a couple close games throughout the year, and I thought we showed good poise for the most part, and we tipped our hat on the defensive end and got stops down the stretch, so I thought it was good to pull out that one tonight."