BROOKLYN, N.Y. – For the Virginia Cavaliers, their rematch with the North Carolina Tar Heels went no better than the first meeting this season.
In the final game of the ACC men's basketball tournament's quarterfinal round, third-seeded UNC pounded sixth-seeded UVA 63-43 late Thursday night at Barclays Center.
When the teams clashed Jan. 8 in Chapel Hill, N.C., the Heels rolled 74-58. Armando Bacot, who totaled 29 points and 22 rebounds, was the star of that game. Another big man, Brady Manek, led Carolina on Thursday night.
A 6-foot-9, 230-pound graduate transfer from Oklahoma, Manek finished with a game-high 21 points. He scored 19 points in the first half, to 13 for the Wahoos.
Not until forward Jayden Gardner put in a layup that cut UNC's lead to 21 with 14:36 remaining did UVA have more points (20) than Manek (19).
UVA trailed 33-13 at the half against North Carolina (24-8), which will meet No. 7 seed Virginia Tech in the second ACC semifinal Friday night.
"Certainly, it's a disappointing loss," UVA head coach Tony Bennett said, "and credit to Carolina, how hard they played and how hard they guarded us. And then Manek's first half was special."
The 43 points were a season low for Virginia (19-13), which scored only 51 in its win over No. 11 seed Louisville on Wednesday night. The Cavaliers' field-goal percentage (34.6) on Thursday night was a season low, too.
In its two games at Barclays Center, UVA was 3 for 17 from 3-point range and 39 for 102 overall. Junior guard Armaan Franklin, the Cavaliers' second-leading scorer this season, was 1 for 15 in Brooklyn, and sophomore guard Reece Beekman was 4 for 17.
Against Carolina, when "we did get some decent quality looks, we didn't hit them," Bennett said. "That kind of [affects] you, and we've talked about this a lot, it puts a lot of pressure on our defense. We didn't have an answer for stretches."
Gardner, who finished with 17 points, was the only Cavalier to score in double figures against the Tar Heels. Senior point guard Kihei Clark, hounded much of the game by UNC's Leaky Black, finished with seven points on 3-for-9 shooting.
For Virginia, this was its most one-sided loss in an ACC tournament game since 1999, and "we've got to grow from this and understand individually and collectively what it was," Bennett said.
HOW IT HAPPENED
A 3-pointer by Beekman with 15:18 to play in the first half put Virginia ahead 7-6. From there, however, the game unraveled for the Hoos.
UNC took the lead for good on a trey by Manek that made it 12-9. That started a 12-2 run for the Heels. Virginia's final points of the first half came on a dunk by redshirt sophomore center Kadin Shedrick, who contributed eight points and five rebounds off the bench.
The Heels scored the final 12 points of the first half and were never seriously threatened after intermission. Bacot and guard Caleb Love finished with 10 points each to join their teammate Manek in double figures, and Bacot added a game-high 11 rebounds, three steals and two blocked shots.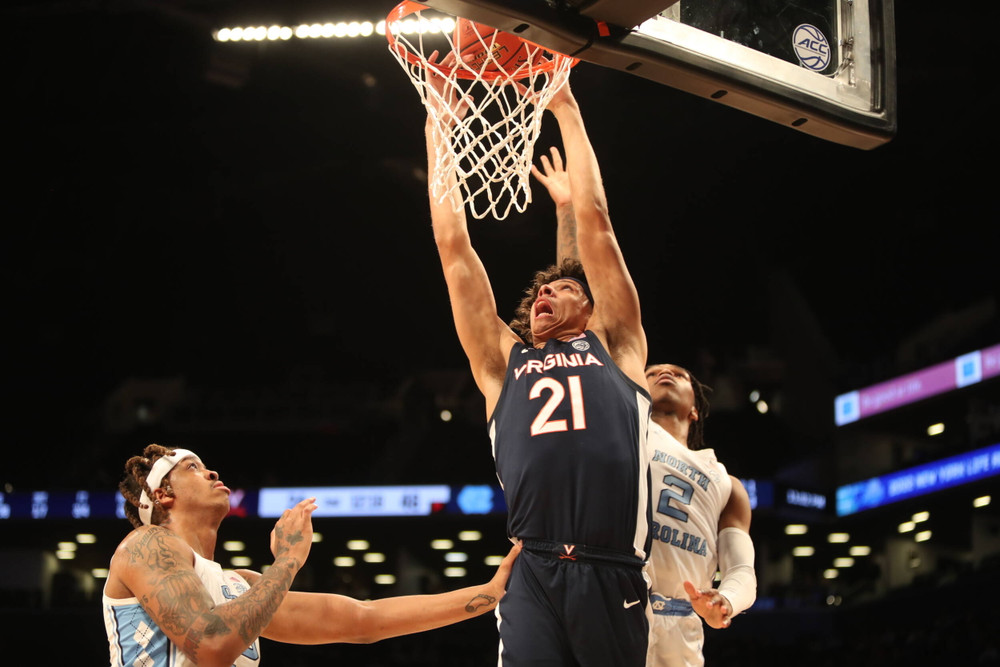 UP NEXT
The Cavaliers will learn Sunday night if their season is to continue. In all likelihood, Virginia is headed to the National Invitation Tournament for the second time in its 13 seasons under Bennett.
In 2012-13, the Hoos advanced to the NIT quarterfinals. Virginia has won the NIT twice: in 1980 and 1992.
SOUND BITES
This marked the 10th straight trip to the ACC quarterfinals for UVA, which has won the tournament twice during Bennett's tenure. Among the postgame comments Thursday night:
* UNC head coach Hubert Davis on his team's defense: "I just felt like every shot [UVA] took, we were in a position to contest it."
* Bennett on the Heels' defense: "Their guards are physical and quick. I think they put Leaky on Kihei at times. They made it tough. I didn't do a great job trying to find different ways for our guys to maybe get some more space or get better shots. I was frustrated with myself.
* Shedrick on UVA's first-half shooting woes: "That was a tough stretch of the game. What's going through your mind is we've got to keep getting stops to keep us in the game when shots aren't falling. Hopefully, eventually they will fall."
* Gardner on transferring from East Carolina to UVA last year: "Coming to Virginia was definitely one of the best decisions I could have made. The staff, the teammates, the culture here, I just felt welcome coming in. I just can't thank TB enough for taking a chance on me and giving me my first winning season in college basketball. That's something I always look forward to and I'll never take for granted, playing in the ACC."
* Gardner on the Cavaliers' growth this season: "We didn't know where we were going to be, but as the season progressed, we definitely got better. We hit our [stride] during the ACC play … We just didn't come together and execute tonight, but I'm proud of the progress that we made over the season, and I'm pretty sure we've definitely gotten better since the start of the season, when we had some missed lapses."
* Bennett: "I do think we improved. Your goal always is to come as close to maxing out as the season goes on. There certainly were stretches of it. Probably this was one of the newest teams that I've coached. We didn't have as much experience in the program, so to speak, and I think, again, the guys rallied and had some big wins and had some right there. We were always on that fine line. As I said, even the good teams are, but the margin of error for this team was probably a little smaller than most, and I think they did a pretty good job most of the year. But it stings right now, because we got humbled against a team that played really good basketball."
* UNC guard Leaky Black on his team's defense: "I feel like our physicality from the beginning and our intensity just really took [the Cavaliers] out of their flow."
* Black on the importance of limiting Clark's effectiveness: "He's been there four years. He's the one that gets them into their offense."