By Jeff White (jwhite@virginia.edu)
VirginiaSports.com
After winning a heart-stopping game whose final minute was more suspenseful than it needed to be, the University of Virginia men's basketball team is one victory from the National Invitation Tournament semifinals at storied Madison Square Garden in New York City.
Even better for the Cavaliers, their NIT quarterfinal will be played at John Paul Jones Arena. At 7 p.m. Tuesday, in a game ESPN will televise, UVA (21-13) hosts St. Bonaventure (22-9) at JPJ.
Both teams won on the road Sunday night. Virginia edged North Texas, which entered the 32-team NIT as one of the four No. 2 seeds, 71-69 in overtime. The Wahoos missed three free throws in the final 34 seconds of OT, including the front ends of two one-and-ones, but still prevailed at the Super Pit in Denton, Texas.
In Norman, Okla., St. Bonaventure posted a 70-68 victory over Oklahoma, one of the NIT's four No. 1 seeds. Had the Sooners won, they would have hosted the Cavaliers in the quarterfinals.
For Virginia, which defeated Mississippi State 60-57 at JPJ in the first round, the story of its second-round win over North Texas (25-7) was the resurgence of junior guard Armaan Franklin.
A transfer from Indiana who's in his first season with the Cavaliers, Franklin started Sunday night. Three minutes into the game, however, head coach Tony Bennett substituted Kody Stattmann for Franklin, who'd been unimpressive at both ends of the court.
"I started pretty poorly," Franklin said. "I had to sit down, because I wasn't producing on the floor. So I had a choice to make: either sit there and pout about it, or when I go back in the game make the most out of it and take open shots."
At halftime, he had yet to score, and Franklin heard from both Bennett and associate head coach Jason Williford.
"We really challenged him at halftime," Bennett told reporters on a postgame Zoom. "We said, 'We need you. These guys need you. You're a better player than showed in that first half.' It was not just a missed shot. I'm talking about a couple things. And, boy, did he ever respond, and that says something. You challenge someone and they respond. And that that was good to see. We needed those shots and he played some good defense. So I was so happy for him."
Franklin, who entered the game shooting 26.7 percent from 3-point range, was on the bench at the start of the second half. He didn't check in until the 13:29 mark, and there was no reason to believe he'd take over the game when he did. But that's what happened.
With 9:29 left, Franklin buried a 3-pointer from the left corner to push Virginia's lead to 50-41, and he never cooled off. He scored the Cavaliers' final eight points of the second half and their first nine in overtime.
His first trey in OT ended a scoring drought of more than six minutes for the Hoos. His second put Virginia ahead 61-58, and his third made it 64-58.
"The ability to get that going, that opened up so much stuff, and those were all big shots," Bennett said.
In reviewing film, the Cavaliers' coaching staff had spotted a mechanical flaw in Franklin's shot, and "he's been working on it," Bennett said. "I've noticed he's been more consistent … He's been shooting it definitely better in practice. Again, I want him to take good rhythm shots, there's no question, and I almost get mad at him when he doesn't … Good shots, you have to take them, and I always encourage our guys to do that."
Franklin, who hit a clutch 3-pointer against Mississippi State, finished 5 of 7 from beyond the arc against the Mean Green. Not since Nov. 12 had he made five 3-pointers in a game, and his 17 points were his most since Feb. 5.
"It's great," UVA forward Kody Stattmann said. "We always tell our teammates and Armaan to just keep shooting the ball. We know he can shoot it. So when he gets to catching fire like that, it's always good to see him shoot like that, and [North Texas defenders] kept going under the screens, so he might as well keep letting it fly."
Asked about the adjustment he's made to his shot, Franklin said it "was a little thing. You try to work on it every day, getting up extra shots and things like that, and I feel like I got more comfortable with it playing in games and using it. I feel like it helped a lot more."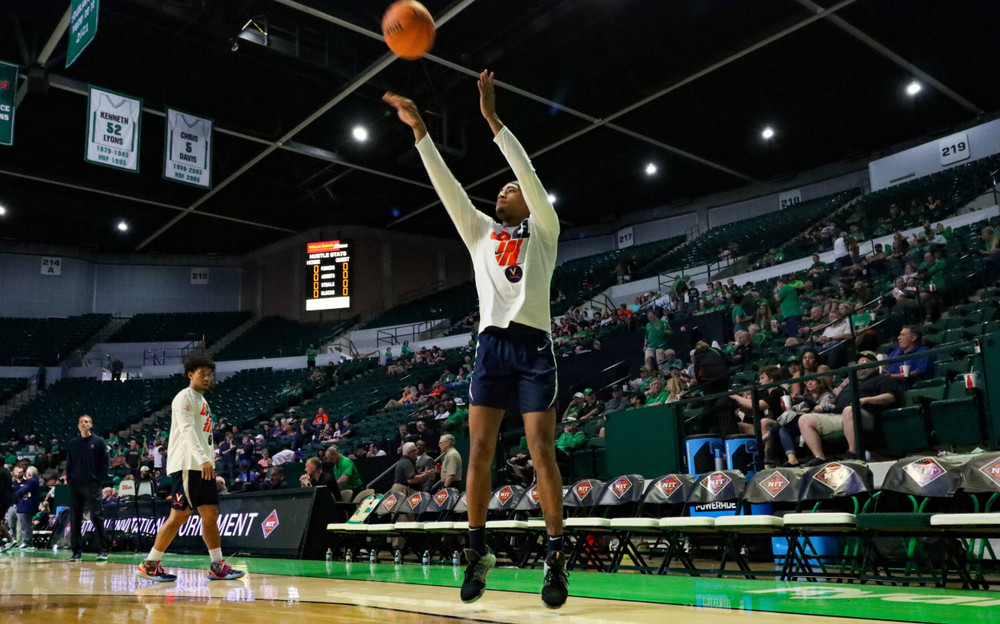 The Hoos staggered to the finish line against North Texas, in part because of their poor free-throw shooting. UVA, which came in shooting 73.8 percent from the line, made only 10 of 19 attempts Sunday night.
"I felt like we had [the game] a couple times and then we lost it," Bennett said. "You get to the free-throw line and you have to be able to capitalize on that."
Bennett, who's in his 13th season at Virginia, also was displeased with the technical foul starting center Francisco Caffaro received with 2:31 left in overtime. The 7-foot-1 Caffaro, who had just picked up his fourth personal, protested the official's call and was assessed a technical. That disqualified him from the game, and it turned into a three-point possession for North Texas.
"I'll watch the film, but I didn't like what I saw from Papi losing his composure," Bennett said. "That almost happened in the Mississippi State game. He did some good things, but that's not what we're about."
The Mean Green had the ball last in the second half and had a chance to win in regulation, but its 3-point attempt missed the mark. The Cavaliers never trailed in overtime, but had North Texas guard Tylor Perry's contested 3-pointer gone in at the buzzer, they would have lost.
"We had really good stretches of ball," Bennett said, "but certainly some of our warts or whatever showed. You miss some free throws, don't secure a rebound, [commit] untimely or unsound fouls, not snatching the ball."
Such inconsistency has been a hallmark of this UVA team. This is the first season since 2012-13 in which an NCAA tournament has been held without Virginia in the field. The Cavaliers have grit, however, and they have an opportunity to add another NIT title to the ones they won in 1980 and 1992.
"Again, it's good to be in this position, to be in this setting, and to have to grow and learn from it," said Bennett, who guided UVA to the NCAA title in 2019. "And, of course, you advance and you're thankful for that. But every game [the intensity] goes up, and you've got to tighten the screws with a level of soundness. At times we get unsound, and we've got to just keep going. So there's a lot to learn from, a lot to be thankful for, and, again, good play from some key guys. I think everybody gave some great boosts."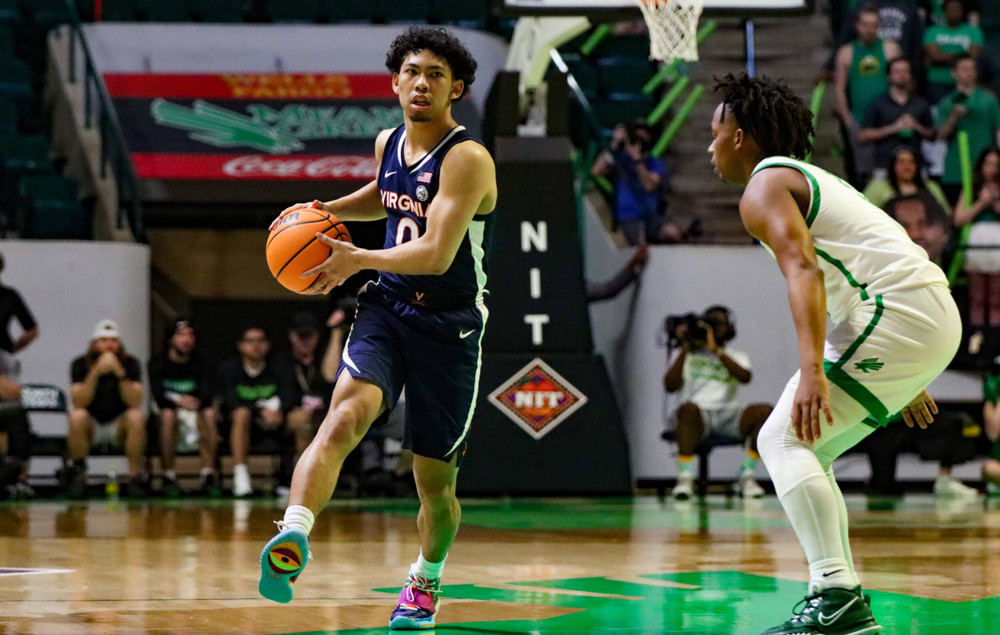 Forward Jayden Gardner, a transfer from East Carolina, sank both ends of a one-and-one to push Virginia's lead to 70-66 with 13.7 seconds left in OT. Like Franklin, Gardner finished with 17 points. Also scoring in double figures for Virginia were guards Reece Beekman (13 points) and Kihei Clark (11).
"I thought Reece and Kihei really came ready from start to finish tonight," Bennett said.
Beekman, a sophomore, also contributed nine assists, seven rebounds and three steals in a career-high 45 minutes. Stattmann, a 6-foot-8 senior pulled down a career-high 10 rebounds in 35 minutes off the bench, and his nine points were the third-most he's scored this season. Two came during a first-half sequence in which he blocked a shot at one end and then finished a fast break with a layup at the other.
"Kody really gave us a good lift throughout as well," Bennett said.
North Texas was making its first appearance in the NIT. This is No. 14 for the Cavaliers, who improved to 19-11 all-time in the tournament.
Stattmann has said this season will be his last season at UVA, but the team's other rotation players all have eligibility remaining, and most are expected back in 2022-23.
"That was the main one of the main things we talked about coming into the NIT," Franklin said. "For the guys returning next year … this is just an experience getting more playing time together and more postseason play experience leading to next year. So I think it's a good thing for us."
To receive Jeff White's articles by email, click the appropriate box in this link to subscribe.