By Jeff White (jwhite@virginia.edu)
VirginiaSports.com
CHARLOTTESVILLE – For the University of Virginia men's basketball team, the offseason officially started a few minutes before 9 o'clock on Tuesday night. It figures to be a pivotal one for a program that's experienced many more highs than lows during Tony Bennett's tenure as head coach.
The Cavaliers finished the season, their 13th under Bennett, with a 21-14 record. They let a 22nd win slip from their grasp.
With two minutes remaining in a National Invitation Tournament quarterfinal at John Paul Jones Arena, where the atmosphere was as stoked as it had been all season, Virginia led St. Bonaventure by five points. The reward for securing a third straight NIT victory would have been a trip to New York City and Madison Square Garden, and the Wahoos came agonizingly close.
In the final 30 seconds, however, they missed two free throws, including the front end on a one-and-one, and the Bonnies rallied for a 52-51 victory. St. Bonaventure (23-9), of the Atlantic 10, went 9 for 9 from the line Tuesday night.
Poor free-throw shooting had nearly tripped up Virginia in its second-round game. In the final 34 seconds of overtime Sunday night, the Cavaliers missed three foul shots, including the front ends of two one-and-ones, but managed to escape with a road win over North Texas. They weren't so fortunate Tuesday night.
"You're not gonna make them all," Bennett said, "but when you get into these kinds of games and you're trying to advance, every little thing matters, and so that certainly hurt."
Two controversial calls went against UVA in the final minutes, the first of which knocked sophomore guard Reece Beekman out of the game with his fifth foul. On that play, the Bonnies' defender appeared to flop after contact with Beekman.
Bennett declined to comment on the officiating, saying he hadn't had an opportunity to watch video of those plays, but he was quick to salute St. Bonaventure, which starts five seniors and won its third consecutive road game. The Bonnies made only three 3-pointers, but two came in the final five minutes, including an off-balance trey by guard Dominick Welch that cut UVA's lead to 51-50 with 20.8 seconds left.
"They made their free throws, they made their shots, they guarded hard," Bennett said. "Nothing but respect for them."
For the game, the Bonnies shot 37 percent from the floor and 20 percent from 3-point range. Every St. Bonaventure starter came in averaging at least 11.3 points per game. No Bonnie scored more than 10 against the Cavaliers' Pack Line defense.
"I can't complain for the most part about our defense in this game," Bennett said. "I think they fought and made it hard, and that was just two teams fighting it out, and it kind of came down to who could make their free throws."
Junior guard Armaan Franklin, the hero of UVA's win over North Texas, sparkled again Tuesday night, hitting 5 of 11 shots from beyond the arc and scoring a game-high 17 points. Franklin's fourth 3-pointer put the Hoos up 47-45 with 3:37 remaining. His fifth, on UVA's next possession, made it 50-45.
"I think for me I showed myself what I'm capable of doing," said Franklin, a transfer from Indiana who averaged 11.1 points per game this season. "To have that confidence, hopefully it'll carry over into the summer and just working on improving my game. Hopefully it carries over into November and throughout the season next year."
With 5.3 seconds left, Franklin was whistled for a foul on a drive by guard Kyle Lofton, a call that incensed the home fans in the raucous crowd of 6,829. Lofton coolly sank both free throws to make it 52-51. On the game's final possession, St. Bonaventure center Osun Osunniyi, who has a 7-foot-8 wingspan, swatted UVA point guard Kihei Clark's driving layup out of bounds as time expired.
"Osun is one of the best shot-blockers in the country, and we're lucky to have him," Bonnies head coach Mark Schmidt said.
And so ended a trying season for the Cavaliers, who failed to reach the NCAA tournament for the first time since 2012-13, when they also advanced to the NIT quarterfinals. The Hoos posted four wins over teams that have reached the NCAA tournament's round of 16––Duke, Providence and Miami (twice)––but they also stumbled in losses to such teams as Navy, James Madison, NC State and Clemson.
"We were the team that went into Duke and played really well and tough and beat Providence and Miami and played some quality basketball," Bennett said, "and we were also that team that struggled at times early in the season and had trouble against North Carolina. We were both of those and we had to fight to be the better one. And so there were those times when you had to dust yourself off, get up and just figure out a way. We struggled to shoot this year. And we still found ways to squeak them out. I mean, most of our games were squeakers, that's what they were, the ones we won."
Bennett praised his team's resilience and said he believes his players collectively "improved from start to finish, and they became tougher. I think this offseason is important. A lot of these young men are going to have to decide how committed, how hard they'll work, how much they'll improve their skills, how much tougher they can become, and how much they love it. And they've got to take a step. They have to. They've got some decisions to make about how badly they want to improve their game."
Franklin said UVA's returning players "have to be willing to put in the work, honestly. It's not gonna be all sunshine and roses this offseason. You've got to get uncomfortable and do some things you don't want to do. But I'm looking forward to it."
On Senior Day at JPJ last month, three UVA players were recognized: Clark, Kody Stattmann and Jayden Nixon. Clark averaged a team-high 36.1 minutes per game this season, and Stattmann averaged 15.8. Stattmann, who's from Australia, will graduate this spring and isn't expected back next season, but Clark has another year of eligibility and hasn't publicly discussed his plans for 2022-23.
Other Cavaliers with eligibility remaining include Beekman, a 6-foot-3 guard who led the ACC in steals and had 181 assists to only 50 turnovers; 6-foot-6 forward Jayden Gardner, a transfer from East Carolina, who led the team in scoring (15.3) and rebounding (6.4); 6-foot-11 center Kadin Shedrick, who totaled eight points, nine rebounds and two blocks Tuesday night; and 7-foot-1 center Francisco Caffaro, who started 16 games this season.
The Hoos' reserves included freshmen Taine Murray and Igor Milicic Jr., neither of whom played much.
A highly regarded recruiting class will join the program in June, and Bennett said he hopes the returning players use their NIT experience as a springboard into next season.
"We must improve," Bennett said. "Every player that returns in this program, they'd better take a step in terms of commitment and in their strength and their ability and commit and work. If they don't want to, they shouldn't be here. I don't want 'em. But I believe they will. That's the entry level for this high level. So they've got to decide, and nothing's guaranteed. Playing time is not guaranteed. You work. You come together.
"We were short-handed this year with a tight rotation, and so guys got invaluable experience. I hope there'll be more competition next year for playing time, which is healthy, and I want to be real with the new guys coming in. Everybody's all excited about this new class. They'll have their work to do. It's hard coming in as a first-year. And you got to have patience, and if they're good enough, they'll play. If they're not ready, they'll improve and they'll get ready at some point, just like the guys in this program. But certainly those guys that come back that played a lot, they should be better."
Under Bennett, UVA has become one of the ACC's elite programs, and there are "a lot of expectations and pressure on these young men," he said. "Whether they put it on themselves, whether it's on the outside, where this program has been the last eight years, it's been at a level that is second to none. And so when you come in and maybe you don't have quite that kind of talent or that kind of experience, and you're trying to grow, that's a lot to live up to, and they're trying to do that … They're very compliant, very good young men. They want to win and they pull for each other and they show up. Again, I think we have to improve in some areas–improve our shooting, and we've got to get tougher, stronger––but they took steps in that direction."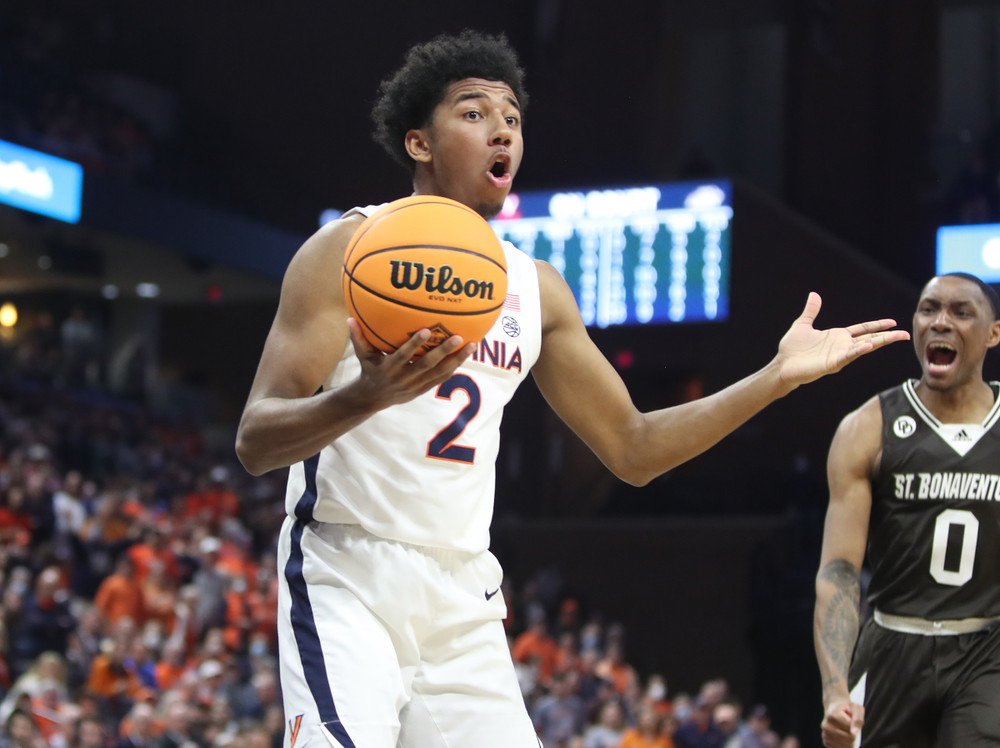 SOUND BITES: This was the first men's basketball game between these schools. St. Bonaventure's campus is near Olean, N.Y., about 400 miles from Charlottesville. Among the comments Tuesday night:
* Bennett: "I would love to have had a chance to play in the NCAA tournament, but we didn't earn that right," Bennett said. "We were rewarded with this. We played three games. I would love to have gotten to Madison Square Garden. We got to this spot with that other group [in 2012-13] and fell short."
* Schmidt on the boisterous St. Bonaventure cheering section at JPJ: "We have a cult, in a positive way. Once a Bonnie, always a Bonnie."
* Schmidt on the atmosphere at JPJ: "It was a great environment. Kudos to Virginia and their fans."
* Bennett on Franklin's production in the NIT: "Knocking down some shots, making some plays, that's invaluable experience to be in these tournament settings and to make some plays."
* Schmidt on the Cavaliers: "That's a heck of a team, and I thought we guarded just as well as they did. It was a rock fight."
* Franklin: "You want to win in March, whether it's March Madness or the NIT. So you're not happy with any loss, especially one that ends your season. So it's kind of a somber mood in the locker room."
* Gardner on his first season at UVA: "We had some really tough stretches, but we had some really good wins … We did a lot of good things this season. We didn't ultimately capture what we wanted to do, but we got better during the process."
To receive Jeff White's articles by email, click the appropriate box in this link to subscribe.