By Jeff White (jwhite@virginia.edu)
VirginiaSports.com
CHARLOTTESVILLE – At Disharoon Park, the third-ranked University of Virginia baseball team continued its ascent Wednesday night, defeating Liberty 7-2.
The eighth-ranked Miami Hurricanes also played Wednesday, at their Alex Rodriguez Park at Mark Light Field in Coral Gables, Fla. The Canes stretched their winning streak to 10 games with a 17-1 victory over Florida International.
"They're a hot team," UVA third baseman Jake Gelof said. "They're playing good ball, we're playing good ball, so I think it's going to be a real fun series and just great baseball."
In one of the nation's marquee matchups, Coastal Division rivals Virginia (26-3 overall, 9-3 ACC) and Miami (23-6, 10-2) will meet three times this weekend in Coral Gables: at 7 p.m. Friday, at 7 p.m. Saturday, and at 1 p.m. Sunday. The series opener will air on ACC Network.
"They're going to be a terrific test for us on the road," UVA head coach Brian O'Connor said, "and it'll be two really good ACC teams [going against each other]."
Out-of-conference games, usually played in the middle of the week, aren't always as compelling as ACC showdowns, but they're important. The Wahoos' coaches make sure the players understand that.
"We talk every week leading into the week about approach and who we've got we got in the middle of the week," O'Connor said. "We talked at the beginning of the year and did some goal-setting type stuff. If you want to have special opportunities after the regular season, there are certain things you have to do, I believe, that I've learned over the years. There's a certain amount of games you need to win outside of your conference and in the middle of the week to have special opportunities. And so that puts a little bit extra emphasis on these games that you play in the middle of the week, because they stack up and they make a huge difference when it comes to the end of the year."
The win over Liberty (17-10) improved the Hoos' non-conference record to 17-0. Starter Devin Ortiz (5-1) turned in another strong performance on the mound, and every player who batted for Virginia collected at least one hit. Ortiz, Gelof and left-fielder Alex Tappen had two hits apiece, and first baseman Ethan Anderson put the Cavaliers ahead to stay with an RBI double down the right-field line in the fourth inning.
"Liberty's a really good ball club," O'Connor said. "They're going to be right in the mix at the end of the year. And so that's a quality win for us. And we've got a tough road over  the next couple of weeks."
Only one of the Cavaliers' next eight games is at Disharoon Park, where their record this season is 19-1. After returning from Florida, UVA will host Old Dominion on Tuesday night. Then the Hoos will have a three-game series at Pittsburgh and, on April 19, a clash with VCU in Richmond.
"So we've got a lot in front of us," O'Connor said, "and I'm just glad we got a win tonight."
Several freshmen are playing significant roles for the Cavaliers this season, including Anderson, shortstop Griff O'Ferrall, outfielder Casey Saucke and pitchers Jay Woolfolk and Matthew Buchanan. But Virginia has a strong core of veterans, too, led by Ortiz, Tappen, Gelof, catcher Kyle Teel, center-fielder Chris Newell, second baseman Max Cotier and pitchers Matt Wyatt, Nate Savino and Brandon Neeck.
The team's experienced players are comfortable on the road. In 2021, Virginia played 14 postseason games, none at Disharoon Park. The Hoos played three games at the ACC tournament in Charlotte, N.C.; five games at the NCAA regional in Columbia, S.C.; three games at the NCAA super regional in Columbia; and three games at the College World Series in Omaha, Neb.
"Just going into this weekend, it's like the same thing," said Ortiz, a graduate student who's in his fifth year at UVA. "It's that same feeling. You've got to really buckle down, because these guys are there to kick your behinds and we're there to do the same, right? It's a matter of trusting each other and just continuing to do that."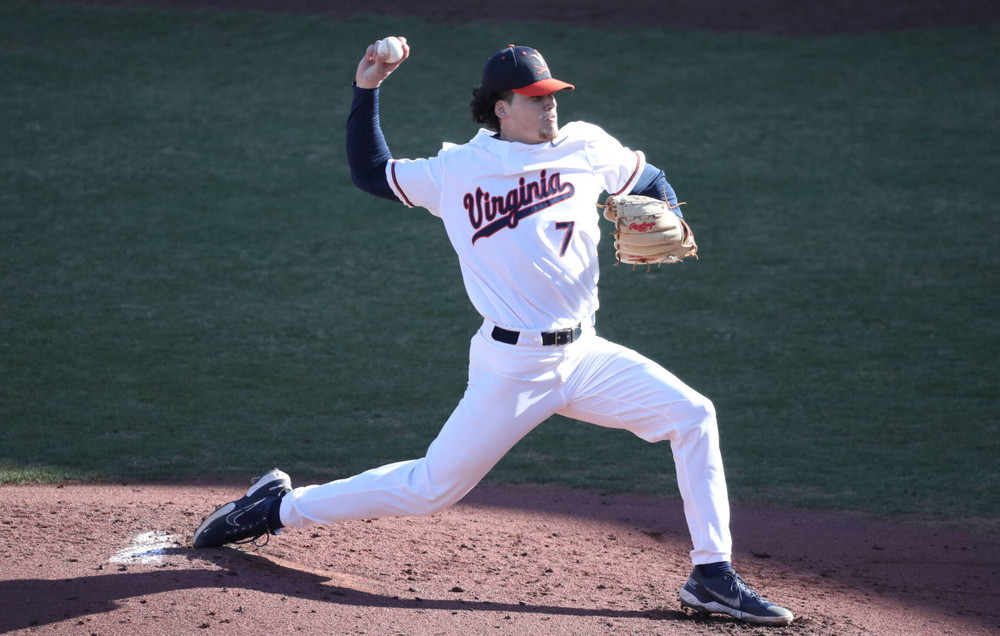 This will be the Cavaliers' third ACC series on the road. Virginia took two of three from Duke in Durham, N.C., and two of three from Wake Forest in Winston-Salem, N.C. Miami might pose a greater challenge.
"This will be a very, very good team," O'Connor said. "Miami is very balanced. They've got outstanding pitching. They'll have some of the best arms that we've faced, kind of like Wake [in terms of the] high quality of arms, and so it'll be a great opportunity for us."
One of the keys to winning on the road, Ortiz said, is adjusting to unfamiliar surroundings.
"Every ball park is different," he said. "Outfielders have to be aware of the warning track. For example, you go to Wake Forest and their warning track is sloped, and you see Chris Newell going on for a fly ball and trip up there. I would say it's just adjusting to the ballpark. The game is the same between the lines, right? So it's just a matter of [playing] the same way, with the same mentality and just adjusting to wherever we're at."
In 4.2 innings, Ortiz scattered four hits and allowed one run Wednesday night. The relievers who followed—graduate transfer Dylan Bowers, Buchanan and sophomore Avery Mabe—also impressed.
"It was good to see Avery Mabe finish that game out," O'Connor said, "because there's opportunities for other guys on this pitching staff. At the end of this month, we play two games in the middle of the week, rather than one, and you're going to need some pitching depth to continue to win at a high rate."
UVA fans held their collective breath in the bottom of the sixth when Gelof, the nation's RBI leader, was shaken up in an awkward slide at home plate.
"It didn't look too good. I'm sure," said Gelof, who stayed in the game. "I was just trying to stop, because I was dead-out. So I think that's kind of what made the play like a little bit more weird, trying to stop with my hand."
O'Connor said he was worried that Gelof had injured his shoulder, but "he just kind of jammed his fingers. I think he's fine."
The crowd of 3,106 was the largest for a midweek game at Disharoon Park this year. As the season goes on, O'Connor said, he expects that "those crowds in the middle of the week will continue to grow."
The next opportunity for fans to catch the Cavaliers at home comes Tuesday night. In last year's NCAA tournament, UVA defeated ODU twice to win the four-team regional in Columbia. The Monarchs are 21-6 this season, and their visit to Charlottesville will produce more storylines than the typical midweek game.
For now, though, the Cavaliers' attention is on this weekend's series. UVA hasn't played in Coral Gables since 2018. The Hoos hosted the Canes at Disharoon Park in 2019 and 2021. They were scheduled to meet at Miami in 2020, but the COVID-19 pandemic intervened.
"I'm excited. Warm weather," Gelof said, smiling. "That's definitely gonna be nice. I can't wait to see what it's like and get down there and play some great baseball."
To receive Jeff White's articles by email, click the appropriate box in this link to subscribe.