By Jeff White (jwhite@virginia.edu)
VirginiaSports.com
CHARLOTTESVILLE — Twenty-nine games into the season, the University of Virginia baseball team's record was 26-3. The Cavaliers' average margin of victory in those 26 wins? Nine runs.
In many of those games, pitching coach Drew Dickinson noted Wednesday, the Wahoos "were up 10 runs, and quite early. Or if not, you just had this feeling that we were going to score a bunch of runs soon. So I think you pitch really freely, which is how you should pitch all the time, but you pitch really freely when you know that we're going to score a lot of runs. When you're up 10 runs, it's very easy to execute your pitches, because there is no worry about the consequences."
The downside of winning so handily, so often, is that the Cavaliers rarely were tested and had little experience in close games when they headed to Coral Gables, Fla., for a three-game series with ACC rival Miami.
The Hurricanes swept the Hoos last weekend, wining 6-2, 5-4 and, in the series finale, 15-5.
"I thought we were pitching from a place of fear a little bit," Dickinson said, "and a lot of it was, I think, because we just haven't been in those moments. Sometimes it's a learned experience by going through it, and some of the guys haven't gone through it."
Back at Disharoon Park on Tuesday night, UVA lost 9-2 to Old Dominion, which broke open a tie game by scoring four runs in the fourth inning and three in the ninth.
Head coach Brian O'Connor said he was "very, very disappointed" in his team's play in the loss to ODU, which Virginia defeated twice last season to win the NCAA Regional in Columbia, S.C. Immediately after the game Tuesday night, UVA's players gathered in left field for an extended meeting with O'Connor.
The Cavaliers' skipper emphasized the importance of "taking care of the little things," said sophomore catcher Kyle Teel, who had a two-run home run against the Monarchs. "It's really easy to be up when things are going your way, but when things aren't, you got to put your foot on the gas pedal and really grind it out."
This marks the first time since 2016 that UVA (26-7 overall, 9-6 ACC) has dropped four straight games.
"No one wants to lose," relief pitcher Dylan Bowers, a graduate transfer from Northern Colorado, said Tuesday night. "It's a little bit frustrating, and I know that all the guys in our in our locker room are frustrated. We want to come out here and win games. We know how good we are. We know how talented we are. And it just really comes down to executing. Coach Oak just talked to us a bunch about it, doing the little things right. A lot of things went really well for us … in the beginning of the season, and things were going our way and some things aren't going our way now. And we gotta find a way to battle through adversity and keep doing what we're doing. We have a super talented ball club, and we just gotta find a way to scratch together some wins. But I'm completely confident in this team moving forward."
Teel said: "Every team goes through a struggle. It's just how we respond. We can look at it as something horrible is happening or we can look at it as a learning experience and come back stronger from it."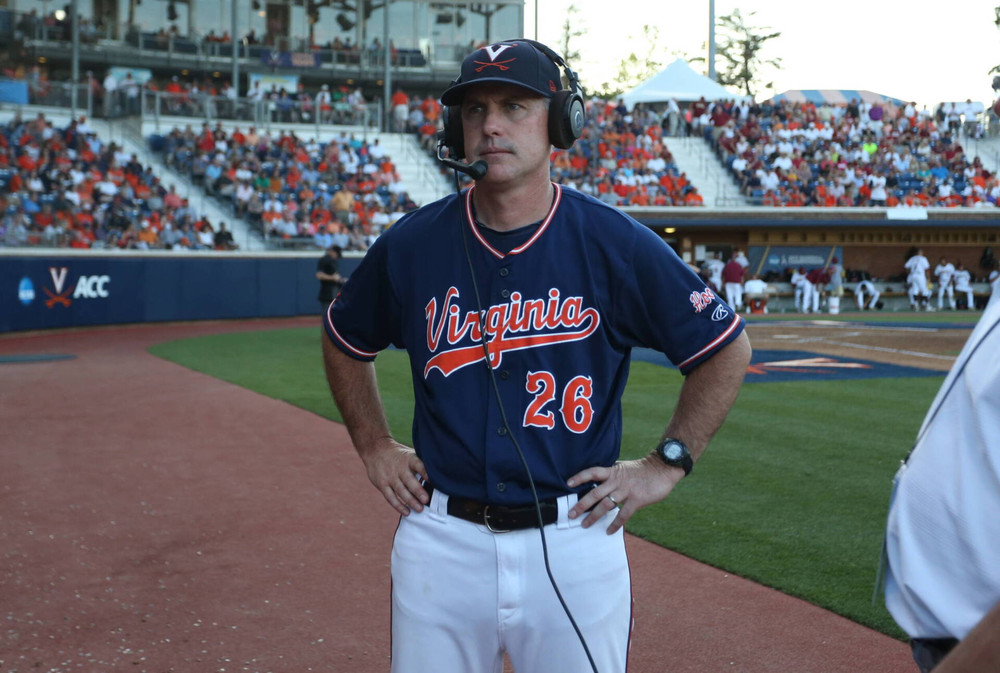 Its breakdowns in the past four games notwithstanding, the pitching staff still has a 3.35 earned-run average, and opposing batters are hitting only .211 against UVA this season.
Dickinson said he told his pitchers: "It goes to show, 'OK, you've had a bad stretch, but don't forget how good you've been. Don't lose sight that you've been good. Just get back to doing what you do. And when you do what you do, and good things happen. When you try to do stuff that you can't do, bad things happen.' It's really that simple."
The Hoos are hitting .321 this season, and they're averaging 10 runs per game. They had only five hits against ODU (23-8), however, and sophomore third baseman Jake Gelof, who's hitting .388 with a team-high 14 home runs, was 0 for 10 in the Miami series and 0 for 3 against ODU.
"Jake Gelof is not going to come through all the time," O'Connor said. "It's unrealistic to think the guy is going to hit .500 and [freshman] Casey Saucke is going to hit .450. The reality is those numbers that we put up in the first half of the season [are not sustainable]. And so it's starting to level off, and that's why I say we've got to get back to good fundamental Virginia baseball, because those are realistic numbers. And so you've got to take care of the game when the ball is not flying out of the ball park."
The Cavaliers went through several rough stretches during the 2021 regular season, yet still managed to make the NCAA tournament and advance to the College World Series. Their position is much stronger than it was at this time last year, but "we've got to get recalibrated and get back to playing good baseball," O'Connor said.
That means "taking care of the little minute parts of the game," O'Connor said. "It's two-strike hitting, putting the ball in play with two strikes. You can't end the game with a strikeout looking; you're putting it in somebody else's hands rather than controlling it yourself. It's [about having] a better approach. It's a little bit of toughness, and it's throwing strikes."
UVA pitchers walked 13 batters and hit two in the series finale against Miami. Against ODU, Virginia's pitchers totaled nine walks and twice hit batters.
"And when you do that, you're just not going to have a whole lot of success," O'Connor said. "So it's gut-check time, right? That said, because of what we have done up until this point, we're in a great position."
Next up for Virginia is an ACC series at Pittsburgh (19-12, 7-7). The Coastal Division foes are scheduled to meet at 6 p.m. Friday, 3 p.m. Saturday and 2 p.m. Sunday, with the series finale to air on ACC Network.
"We have a phenomenal opportunity at Pitt this weekend," Bowers said. "They're gonna come in and they're gonna want to kick our butts, and we're gonna want to do the same thing and get back to what we were doing early in the year."
Virginia's pitching against ODU was not great, Dickinson said, but it was better than it had been in Coral Gables.
"Against Miami, we did some things that were very uncharacteristic of how we handle ourselves, and that was the most disappointing part," Dickinson said. "I told [the pitchers], 'I can handle losing. I don't like it, but I can handle if we get beat being ourselves and being who we are.' And that's not what we did, and that's what was disappointing for me. But that's a learning experience, and I told them, 'It's only a problem if we do not learn from it. If you learn from it, then we'll be better off for it, and when it comes time in the biggest games of the year, we're going to be ready to attack it.' "
However happy he might have been with the Cavaliers' one-sided victories, O'Connor said, "I knew this period of time was going to come. And so we've got to go back to the drawing board and get back to earning everything we do and we get."
To receive Jeff White's articles by email, click the appropriate box in this link to subscribe.