By Jeff White (jwhite@virginia.edu)
VirginiaSports.com
CHARLOTTESVILLE — For the University of Virginia baseball team, how its season will be remembered figures to be determined largely by a stretch that starts May 11. With final exams winding down on Grounds, UVA will host Longwood in a non-conference game that night and then move on its final two ACC series: the first at home against Clemson (May 13-15) and the second at No. 10 Louisville (May 19-21).
Before breaking for finals, however, the Cavaliers have another game to play. VCU, which edged Virginia 9-7 last month in Richmond, visits Disharoon Park for a 6 p.m. non-conference clash Tuesday.
The Rams, who compete in the Atlantic 10 Conference, are 25-17 overall. The Wahoos are 33-12. In ACC play, UVA is 14-10 after dropping the deciding game of its series with Virginia Tech at Disharoon Park.
"Two very, very good teams," Virginia head coach Brian O'Connor said Sunday, "and they came out on top."
The Hokies won the series opener 5-2 on Friday night. The Hoos bounced back to win 6-3 in front of a record crowd Saturday, and they led 4-0 after three innings Sunday, only to see Tech rally for a 7-5 victory.
"Our guys are disappointed. They're frustrated," O'Connor said after the game.
"At the end of the day, these close ACC games always come down to execution," UVA left-fielder Alex Tappen said, "and I think they had a couple more guys step up in different facets than we did, and that's the result."
UVA had been 26-0 when leading after three innings this season.
"Obviously, it hurts," said Tappen, a fifth-year senior who hit two home runs Sunday. "Everyone's [annoyed], but you gotta learn from it."
O'Connor said: "There's still a lot of opportunity for us. I told the team after the game we have an opportunity to learn and grow from this, and we're nowhere near the team right now that I think that we'll be at the end of May. We're still figuring out who are the right options out of the bullpen and in what scenarios, and unfortunately that showed today."
UVA fell three spots to No. 14 in the D1Baseball poll released Monday, and Virginia Tech climbed two spots to No. 5. Virginia blasted three home runs Sunday—center-field Chris Newell had the other one—but mustered only three hits in the final seven innings. Tech's 11 hits, meanwhile, all came in the final six innings. The Hokies totaled four hits in the seventh inning, when they scored three runs to take the lead for good.
"We had home runs, three of them today, but I believe to score a lot of runs, you've got to put a bunch of hits together, like they did in the seventh inning," O'Connor said. "A bunch of guys put the ball in play."
Tappen said: "You're not always going to have those games where [the scoring is] gonna be like a waterfall and it's all gonna come in one inning. You've got to have really good at-bats, and you've got to stay quality in our approach, and I think Virginia Tech just did a little [better job at that]."
The loss tarnished a memorable weekend for the program. The games drew a total of 16,277 fans, a UVA record for a three-game series. Saturday was Ryan Zimmerman Day at Disharoon Parker, and a crowd of 5,919, the most ever for a game at UVA, turned out for the occasion.
"It's just awesome to see Charlottesville coming together and kind of getting behind us," Tappen said. "This was just amazing, and I'm super thankful for every single fan that's come out here and supported us, especially all year."
The Hoos wanted to reward their fans with a series victory, and that didn't happen. Still, O'Connor said, his players can't afford to let their disappointment that linger.
"We'll get back to work," he said, "and we'll put all of our focus on VCU on Tuesday and bring all of our energy to that game and play the best game we can play."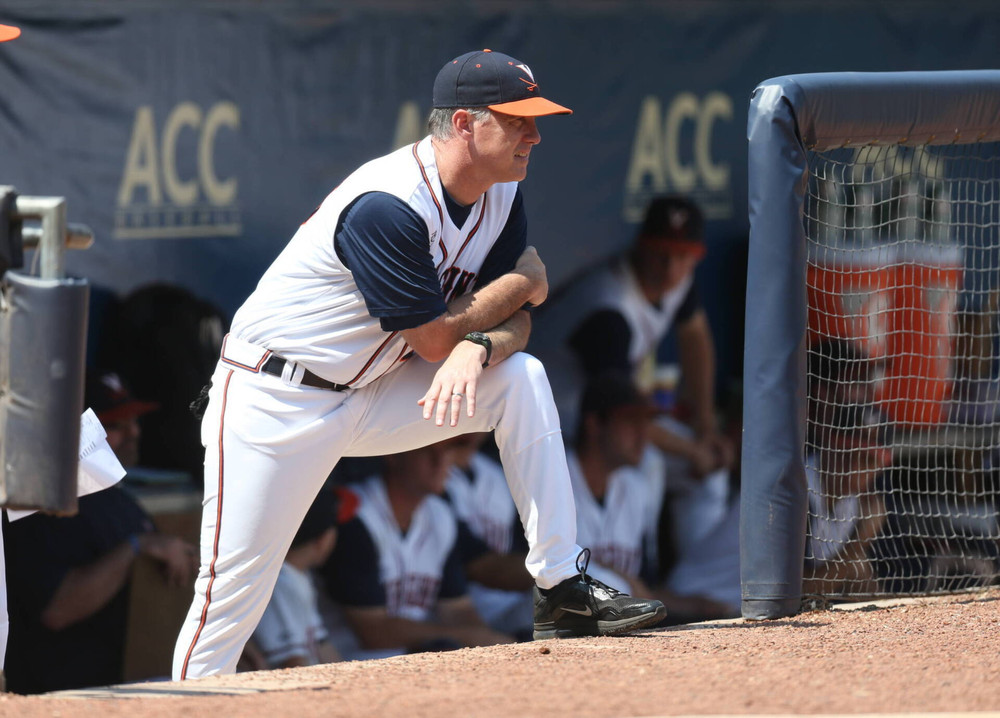 The Cavaliers used five pitchers Sunday, including junior right-hander Matt Wyatt, one of the standouts in the postseason run that carried the team to the College World Series last year. Injuries have hindered Wyatt this season, and his appearance Sunday was only his second since April 2.
Wyatt, who entered the game at the start of the seventh inning, allowed three runs and recorded one out before giving way to Dylan Bowers.
For the season, Wyatt had made only eight appearances, all in relief. He's 0-1 with a 6.52 earned-run average, but when healthy he's capable of shutting down potent offenses.
"Matt's going to be a key guy for us," O'Connor said. "Because of injury, he hasn't been out there that much this year. This is a tough situation to put him in, in a tie game, but we need him and we need to him to grow and continue to log innings, and it just didn't work out for him and us."
Several UVA players should benefit from the exam break, including Wyatt, who'll continue building up his strength, and sophomore Kyle Teel, "who catches every inning for us," O'Connor said. "We need to utilize the exam break for him to get his fresh legs underneath him and to be ready for the stretch run."
On this date last year, the Cavaliers were 22-20 overall and 13-17 in ACC play. Their postseason prospects did not look promising, but they ended up advancing to the College World Series in Omaha, Neb., for the fifth time in O'Connor's tenure.
"When you're at this level in baseball and your program is highly thought of, ultimately you're judged on how you do at the very end of the season," said O'Connor, who guided the Hoos to the NCAA title in 2015.
"Everybody remembers last year [because of] the fact that we made it to Omaha. We're not judged on whether we get to Omaha or not, but we're judged on how we finish, and so the month of May will be an important part of that for us."
The Hoos did a lot of good things against an outstanding opponent in Virginia Tech, Tappen said, but "but there's still room for improvement. I think we can be in an even better position, which is awesome to think about, because we're in a really good position. But to think that we can get even better is something to look forward to."
O'Connor agreed. "Like I said to the team, we're still learning and growing. Obviously, we want to finish strong down the stretch run, and that'll be our focus. But we need to learn from these experiences that we have and grow so we're the best version of our team that we can be at the most important time, and that's the end of the year."
To receive Jeff White's articles by email, click the appropriate box in this link to subscribe.