By Jeff White (jwhite@virginia.edu)
VirginiaSports.com
CHARLOTTESVILLE — With a year of eligibility remaining, Alex Rode could have returned this season to try to help the University of Virginia men's lacrosse team win a third straight NCAA championship.
Had that happened, Matthew Nunes probably would have been the Cavaliers' backup goalie. And that would have been okay with the freshman from the Houston suburb of The Woodlands, Texas.
"If Alex came back, I looked at it as if I'd get to learn from a two-time national championship goalie who's made the biggest saves out of almost anybody in the country," Nunes said. "He's Mr. May for a reason."
Rode, of course, opted not to return to UVA, and during fall practice Nunes and Bobby Gavin battled to see who would take over in the cage. Nunes might well have won the starting job anyway, but when Gavin, Rode's backup last season, transferred to Syracuse after the fall semester, Nunes moved to the top of the depth chart.
He'd arrived at UVA as a touted recruit, but not every freshman is ready to start at the highest level of college lacrosse, especially early in the season. Nunes proved to be one of the exceptions.
"When Bobby Gavin decided to transfer, we recognized that there was a big question mark in the goal, and Matt's been fantastic with erasing that question mark," Virginia head coach Lars Tiffany said. "He [turned that] question mark into an exclamation point with his really high-level play."
In Virginia's opener, a 21-11 win over Air Force at Klöckner Stadium, Nunes made eight saves before sitting out most of the fourth quarter. His poise stood out, but he admits he woke up that morning with more than a few nerves. A year earlier, Nunes realized, he'd been playing high school lacrosse in Texas.
Since the opener, Nunes said, "I've caught myself in a couple moments where I'm like, 'Wow, I'm playing in the Carrier Dome,' or 'It's 1 versus 2, and we're playing Maryland in front of 10,000 people.' But I think all the guys around me have really helped calm everything."
In his 13 games this season, Nunes has made 132 saves. Only four goalies in program history have recorded more saves as freshmen: Tillman Johnson, 152 in 2001; Matt Barrett, 149 in 2014; Derek Kenney, 139 in 1999; and Rode, 138 in 2018.
"Matthew has been exceptional with his play and his emotional and mental approach as a starting goalie here at the University of Virginia, especially considering the schedule we play," Tiffany said. "We've been very fortunate that he's been able to remain healthy."
Tiffany's counterparts in the ACC share his high opinion of Nunes. On Thursday, Nunes was named ACC Freshman of the Year. He's first goalie from UVA to be so honored since Tillman Johnson in 2001.
Nunes, who turned 19 in October, said he didn't have any "expectations coming in this year. I just wanted to earn time on the field, try to earn that starting spot and then just help the team win. But I would tell you a lot of it has to do with other guys too. Our defense has done a great job giving up the outside shots, giving up the shots I want to see to allow me to be successful. So a lot of the credit has to go to them."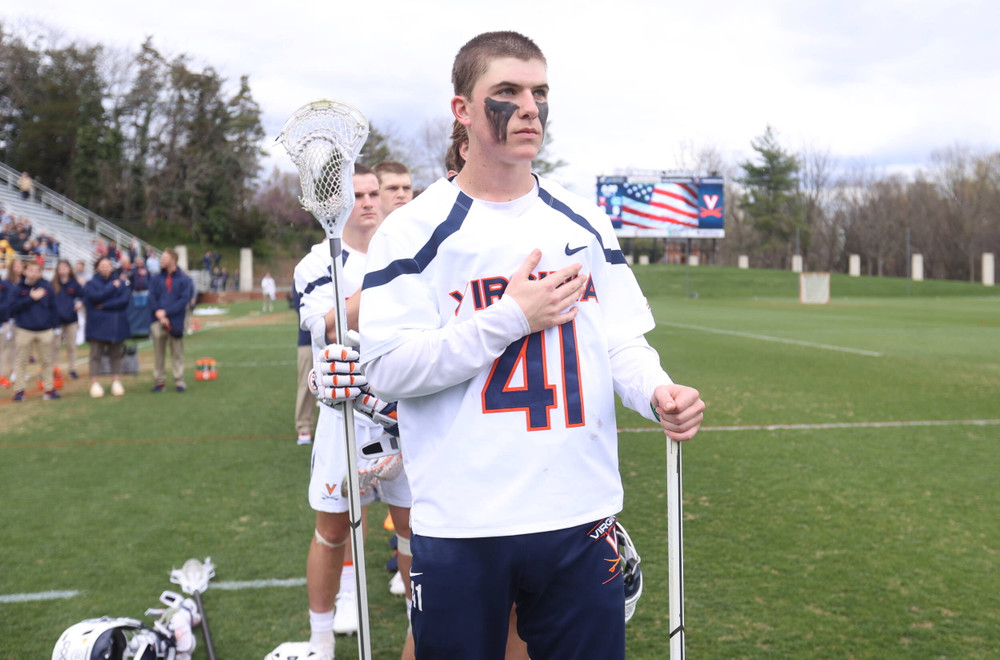 The next phase of Nunes' lacrosse career starts at 7:30 p.m. Saturday in Providence, R.I. In a game ESPNU will televise, Virginia (11-3) meets No. 8 seed Brown (11-5) in the NCAA tournament's first round.
The Wahoos had hoped to be awarded a first-round home game, but they're not feeling sorry for themselves, especially after seeing two other ACC teams, Duke and Notre Dame, passed over for the NCAA tournament.
"It's not ideal, but whatever," assistant coach Kip Turner said of playing on the road. "We gotta go win a lacrosse game."
As a junior in 2006, Turner was the starting goalie on the UVA team that went 17-0 and won the program's fourth NCAA championship. For Nunes, who committed to Virginia early in his junior year at The Woodlands High School, the opportunity to learn from Turner was a major factor in his decision.
"Outside of academics, when you look for a reason to come here, Coach Kip Turner has to be at the top of the list, because he knows exactly what's expected from you in the classroom, to what it is to be a UVA lacrosse player," Nunes said. "He also knows what it feels like to have the rubber lacrosse ball flying at you at 95 miles per hour."
As a freshman in 2004, Turner backed up Johnson, who'd dazzled in the Cavaliers' run to the NCAA title the previous season. Better than most, Turner appreciates how rare it is for a freshman goalie to do what Nunes has done this year.
"I would just characterize him as very mature," Turner said. "He's just sort of mature beyond his years a little bit, and because of that he's been able to put together a consistent body of work. Obviously, he makes some exceptional saves and bails us out, but it's just sort of the mindset of making the next save and staying within his comfort zone. He doesn't get too high, doesn't get too low, and that's kind of what makes a good goalie."
When evaluating a goalie, Turner said, he looks closely at several areas.
"One of the things we talk about a lot at the position is having really good presence in the goal," Turner said. "Basically, what that means is, how much is there to shoot at for shooters? Does he stand tall, stand proud and look confident? That's a little bit of the piece. And then the next piece is athleticism and how good are your hands. Obviously, you have to have good reaction time, and you have to be a pretty good athlete in there.
"The last thing is just competitiveness. It's a little bit of a lonely spot, being a goalie sometimes, and you kind of have to look within a little bit, and if you're able to compete with yourself a little bit and compete with that little white rubber thing, then that's a really positive thing."
Moreover, Turner said, a goalie must "have a quick reset right after a goal goes in. All right, next one.If you're thinking about the last one or the next one, you're in big trouble, and Matt does a really good job of staying in the present moment."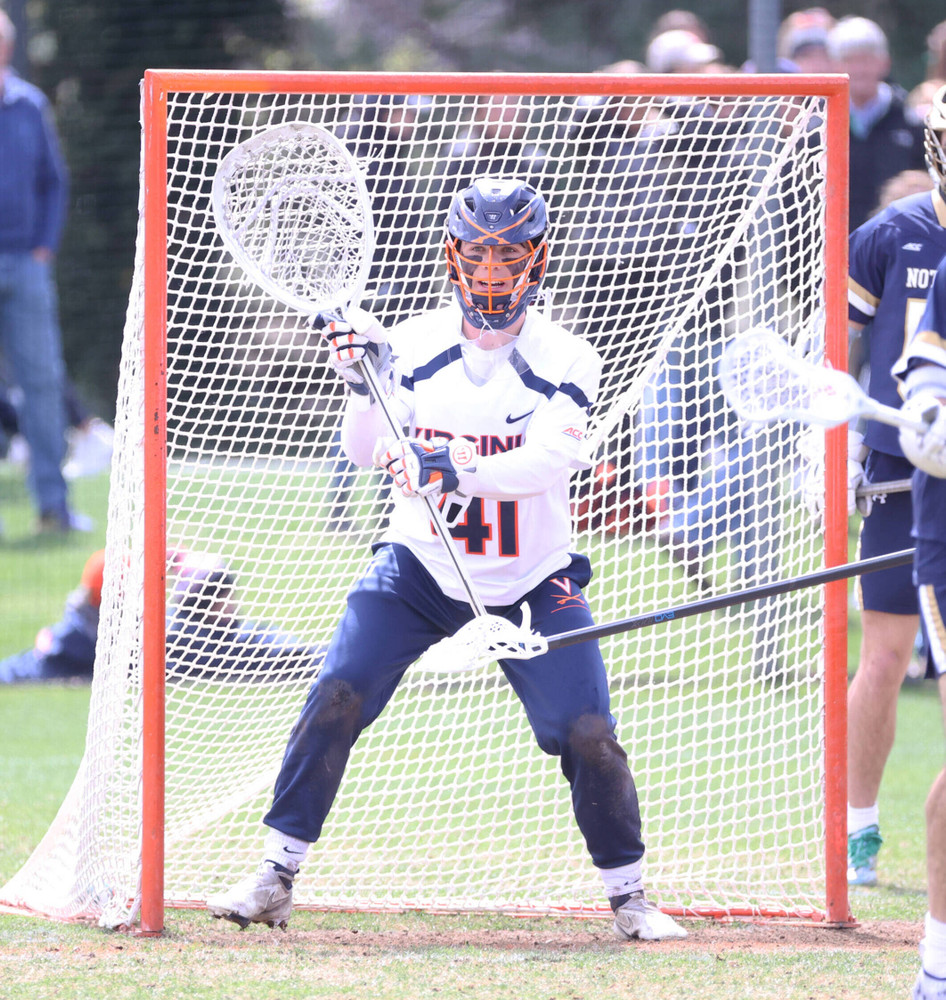 Nunes, who was born in Colorado, moved to the Houston area with his family when he was 3 years old. As a boy, "I was a football kid," Nunes said. "I played tackle football starting at the age of five, but you can't play tackle football year-round, so I needed another sport. And then baseball got a little too boring, and so in the first grade I started playing lacrosse, and it's been the greatest blessing ever."
The NCAA tournament's championship weekend has been nationally televised for years, and Nunes took note of UVA at early age. The Hoos, then coached by Dom Starsia, secured the program's fifth NCAA title in 2011.
"I remember watching Steele Stanwick and going in the backyard and wanting to be Steele Stanwick," Nunes said. "I would say that's my earliest memory of, honestly, college lacrosse."
His parents were familiar with lax, even if many Texans were not. They graduated from Springfield College in Massachusetts, as did Nunes' sister, Mackenzie, who played volleyball there. His sister is also at UVA, pursuing a master's degree in the School of Education and Human Development. She served as the volleyball team's assistant director of operations in the fall and assisted with academic advising this semester.
Matthew Nunes played club lacrosse for West Coast Start, and that allowed him to test himself in tournament against elite players from around the country.
"After watching that, we were like, 'OK, he's the best of the bunch in that class,' " Turner said. "That was our opinion, and that's why we didn't hesitate to take a chance on him."
Tiffany admits he wondered at first if a goalie who'd grown up away from the sport's traditional hotbeds might struggle at this level. "But there was a lot of buzz about Matt, and as soon as he arrived, you could see why," Tiffany said.
"There's the easy stuff that you can see in the film: the hand speed, the save ability, but he has other qualities, too, and that's the reason why he was so heralded. For me, it was those other things: the ride, the outlet passes and the clear, the poise, the positive reaction after giving up a goal.
"He's mature beyond his years. It's not the first time a coach has said that, but maybe I'm emphasizing it more, because we needed it. With Gavin gone and essentially two walk-ons as our other two goalies, we needed somebody to take the bull by the horns, and he has."
Nunes' outlet passes are often exquisite.
"Matt Nunes has made us a better clearing team," Tiffany said. "You can see the clearing percentages have improved from the last couple of years. There's many factors that go into that, but it does start with the goalie oftentimes, but he's poised, and he does throw a pass that gently falls into your stick. That's a subtle skill."
The Hoos haven't played since April 28, when they closed the regular season with a 20-10 victory over Lafayette. Nunes missed that game with an illness, but he's healthy again and has been polishing his skills under Turner's tutelage.
"One of the benefits of this [extended break] has been allowing him and Coach Turner to sort of get back to the fundamentals," Tiffany said.
Turner said: "I'm not going to just change who he is or what he does, because things can go very wrong. It's like a golf swing. You can get worse before you get better [after making changes]. So we've really just honed in on the fundamentals that he already knows. We're not really changing too much; we're just sharpening the axe, so to speak."
Tiffany, Turner and offensive coordinator Sean Kirwan came to UVA from Brown after the 2016 season, so they're familiar with the atmosphere awaiting the Cavaliers on Saturday night. They also know that Nunes is likely to be stay busy.
"We're facing an opponent that plays at breakneck speed, and they just keep shooting," said Tiffany, a Brown alumnus. "There's no consequences from the coaching staff [for players] taking shots that are good shots, average shots, any shot. Matt Nunes has got to keep making saves, because Brown is going to keep shooting. They're not going to measure it and make the perfect shot.
"They tend to put the ball on goal, they tend to challenge you to make the save. I'm hopeful it's just like his first Division I game, where he kept his energy up despite giving up a couple goals in the first quarter to Air Force, and I loved his reaction. It didn't seem to bother him, didn't seem to faze him, and he's done that all year."
To receive Jeff White's articles by email, click the appropriate box in this link to subscribe.