By Jeff White (jwhite@virginia.edu)
VirginiaSports.com
COLUMBUS, Ohio — University of Virginia lacrosse stars Connor Shellenberger and Matt Moore took a road trip to the Buckeye State over winter break. In Hilliard, a suburb of Columbus, they joined forces with former UVA star Mike Caravana's Razor Lacrosse program and staged a clinic at the Bo Jackson Elite Sports Facility in early January.
"They were two wonderful young men that represent UVA wonderfully," Caravana, who retired last year as head coach at nearby Denison University, said Saturday.
Back then, neither Shellenberger nor Moore realized Columbus would host one of the NCAA tournament's quarterfinal doubleheaders in late May. They had no idea when they'd be back in this area, for that matter, but some five months later, here they are.
At approximately 2:30 p.m. Sunday, UVA (12-3) will meet top-seeded Maryland (15-0) in the NCAA quarterfinals at 104,944-seat Ohio Stadium, the storied home of the Ohio State football team.
"It was definitely weird flying in," said Shellenberger, a redshirt sophomore attackman who leads Virginia with 76 points, on 32 goals and 44 assists. "You kind of look out before the season and hope you're at the quarterfinals, wherever that may be, and it just happens to be in Columbus."
The Virginia-Maryland winner will meet fifth-seeded Princeton in the NCAA semifinals Saturday at Rentschler Field in East Hartford, Conn. That's where the Cavaliers repeated as NCAA champions last year, edging Maryland 17-16 in the title game.
There was no NCAA tournament in 2020, due to the COVID-19 pandemic. In 2019, however, the Wahoos defeated the Terrapins in another postseason classic, this one an NCAA quarterfinal on Long Island, N.Y. After falling behind by five goals early in the fourth quarter, Virginia rallied to force overtime and then prevailed 13-12 on Moore's goal in the extra period.
"Those games I remember just being so intense," said Moore, a fifth-year senior attackman whose 275 career points are a UVA record.
"Those were the most exciting games I've ever been a part of. Every goal is a celebration. Every goal the crowd goes crazy, and when you score or when you assist a goal or when the offense scores and you bring it in [for a huddle], it's an amazing experience."
When they were ACC rivals, Maryland and Virginia would meet every year in the regular season. The Terps now belong to the Big Ten, but they played the Hoos on March 19 in Washington, D.C., in a much-anticipated rematch of last year's NCAA championship game.
The game didn't live up to the hype. Maryland won 25 of 39 faceoffs and rolled to a 23-12 victory at Audi Field. Not since 1978, when the Hoos lost 24-19 to NC State, had they given up so many goals in a game.
"I think we went into that first game coming off a national championship win [believing] that we could just show up and play a good game, and that wasn't the case," said defenseman Cade Saustad, one of Virginia's captains, along with Moore and defensive midfielder Grayson Sallade.
For Saustad, that was his first game back from a knee injury. He wasn't close to 100 percent, and that became apparent when Maryland scored eight seconds into the game.
"Looking back on it. I probably shouldn't have played that game," Saustad said. "I couldn't move very well … But I'm feeling a lot better, the knee's feeling good. So I'm really excited for this game."
So are his teammates.
"I think we've spent every day sort of thinking about [a rematch with Maryland]," said senior midfielder Xander Dickson, who's third on the team with 31 goals. "I think the team you're gonna see on Sunday is a lot different than what you saw in D.C."
UVA's players have spent hours dissecting the March 19 game with head coach Lars Tiffany and assistants Sean Kirwan, Kip Turner and Cooper Fersen. Watching that videotape hasn't been fun, but it's been an instructive experience.
"We're such a different team now, and I think that gives us confidence," Moore said. "You watch that game and those tendencies we had earlier in the season, those tendences are gone, and Coach Kirwan, especially with the offense, is telling us, 'Guys, this is not us.' And he doesn't even need to say it. We see it. And I think that gives us confidence. [Maryland] is very, very good. I think this is one of the best teams we've ever played in my five years here. But at the same time, I think they are beatable. We obviously need to have a near-perfect game against them, but that starts with confidence, and I'm glad our coaches are giving us that."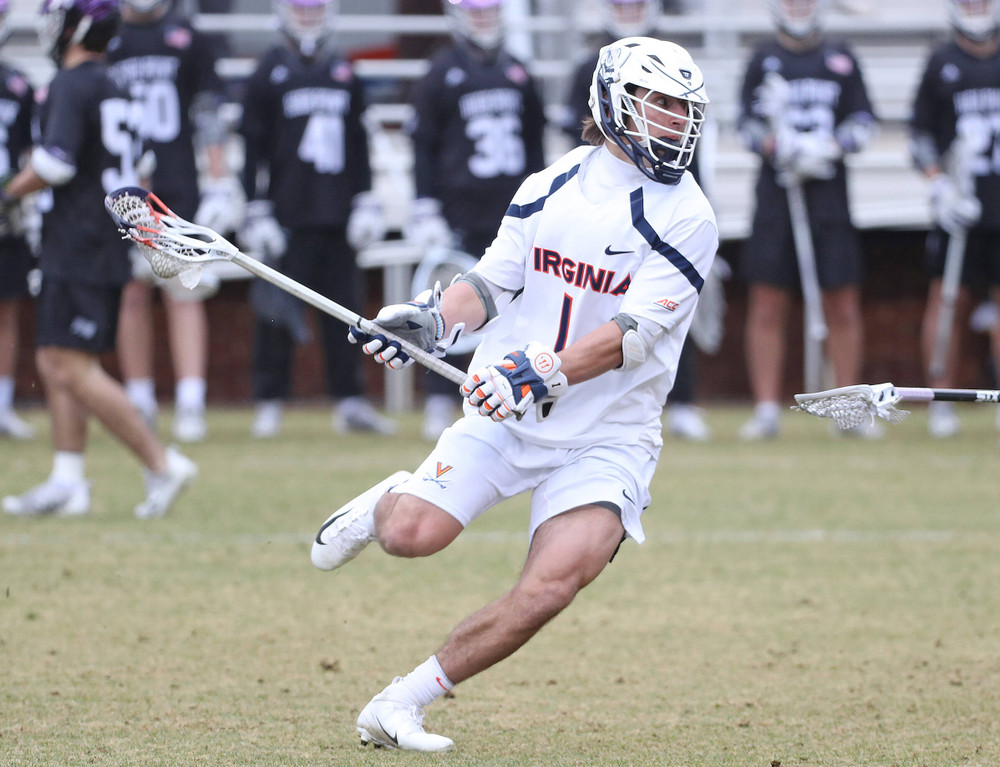 The NCAA selection committee chose not to reward the Hoos with one of the tournament's top eight seeds, and so they played on the road in the first round. In Providence, R.I., Virginia dominated the second half in a 17-10 victory over No. 8 seed Brown.
Shellenberger led the Cavaliers with four goals and four assists, Moore contributed two goals and two assists, and fellow attackman Payton Cormier finished with a game-high five goals against Brown. In goal, freshman Matthew Nunes made 16 saves.
UVA has stumbled occasionally since losing to Maryland, but Tiffany likes the direction in which his team has been trending.
"Obviously, we didn't start well in April with the with the Richmond loss," Tiffany said. "But we've gotten better and healthier. That's been the biggest thing … Maryland showed us a really high bar, and we have improved. Now, have we gotten to that bar yet? We haven't played at that bar yet. We did for a second half against Brown. And we need to put two halves like that together."
The game in D.C. underscored Maryland's status as the nation's No. 1 team, Saustad said, and "set the bar for what we needed to do. I think that game really put us on a path for the rest of season."
The atmosphere at Ohio Stadium will be markedly different from the one UVA encountered last weekend in Providence, where an overflow crowd of 3,200 packed Brown's Stevenson-Pincince Field. Attendance for the doubleheader in Columbus is not expected to hit five figures.
Tiffany attended a Penn State-Ohio State football game at the Horseshoe years ago and called it an "incredible venue." In such a vast setting, he noted, there "won't be the rowdiness that we experienced [in Providence]. But there'll be enough intensity coming from the opposition so we can just focus on them and not have to worry about the hostile fan base of the opponent."
The Cavaliers arrived in Columbus on Friday afternoon and practiced that evening on one of the fields at Ohio State's expansive athletic complex. They were scheduled to practice Saturday afternoon at Ohio Stadium, but thunderstorms moved them indoors, and they went through a spirited session at Fisher Field House.
"We got punched by Maryland the first time," Tiffany said, "but we're not a team that changes too much. We don't go out there and do things dramatically different. We go back to our fundamentals and try to make our players better players and more cohesive and [improve] the communication within our man-to-man slide scheme and our ride."
Since the game at Audi Field, the Cavaliers have known that, to capture a third straight NCAA title, they almost certainly would have to get past Maryland at some point in the offseason. The opportunity to do so comes Sunday afternoon.
The Terps have "that No. 1 ranking," Saustad said. "They deserve it, but when it comes down to it in May, it's whoever plays best that game."
The Cavaliers proved that in 2019, when they were seeded No. 3 in the NCAA tournament, and again in 2021, when they were seeded No. 4.
The Terps demolished Vermont 21-5 in the NCAA tournament's first round, and they've "proven that they've been the best team in the country up to this point," Dickson said. "But for us, it doesn't matter. Once the whistle blows, it's just two teams going at it."
To receive Jeff White's articles by email, click the appropriate box in this link to subscribe.