By Jeff White (jwhite@virginia.edu)
VirginiaSports.com
GREENVILLE, N.C. — For Jake Gelof and his fellow underclassmen on the University of Virginia baseball team, 2023 will bring another opportunity to pursue the program's sixth trip to the College World Series.
For the Cavaliers whose college careers ended Sunday at East Carolina's Clark-LeClair Stadium, including left-fielder Alex Tappen, the finality of the moment produced a flood of emotions.
The COVID-19 pandemic, which shut down college sports in March 2020, gave Tappen another year of eligibility, and he chose to return to UVA for a fifth season, as did Devin Ortiz.
"To be able to spend one more year in this uniform with these guys, it's been amazing," Tappen said Sunday afternoon after Virginia's season-ending loss to Coastal Carolina in the NCAA regional in Greenville.
The third-seeded Chanticleers, who trailed 6-0 after four-and-a-half innings, rallied for a 7-6 victory. Second-seeded UVA, which opened the regional with a 7-2 victory over Coastal on Friday night, finished the season with a 39-19 record.
The Chanticleers won Sunday night, too, defeating top-seeded East Carolina 9-1. Coastal (39-19-1) and ECU (44-19) will meet again Monday afternoon, with the winner advancing to an NCAA super regional.
Tappen and Gelof, a sophomore third baseman, joined head coach Brian O'Connor at the postgame press conference.
"It's just been an amazing, amazing experience," said Tappen, who hit .366, with 13 home runs and 71 RBI this season. "Coach O'Connor is not only just the best coach that I've ever spent time with, but the program that he's built has turned me into the person that I am today, and I'm forever grateful for not only the four years here, but that extra year. I can't really put it into words."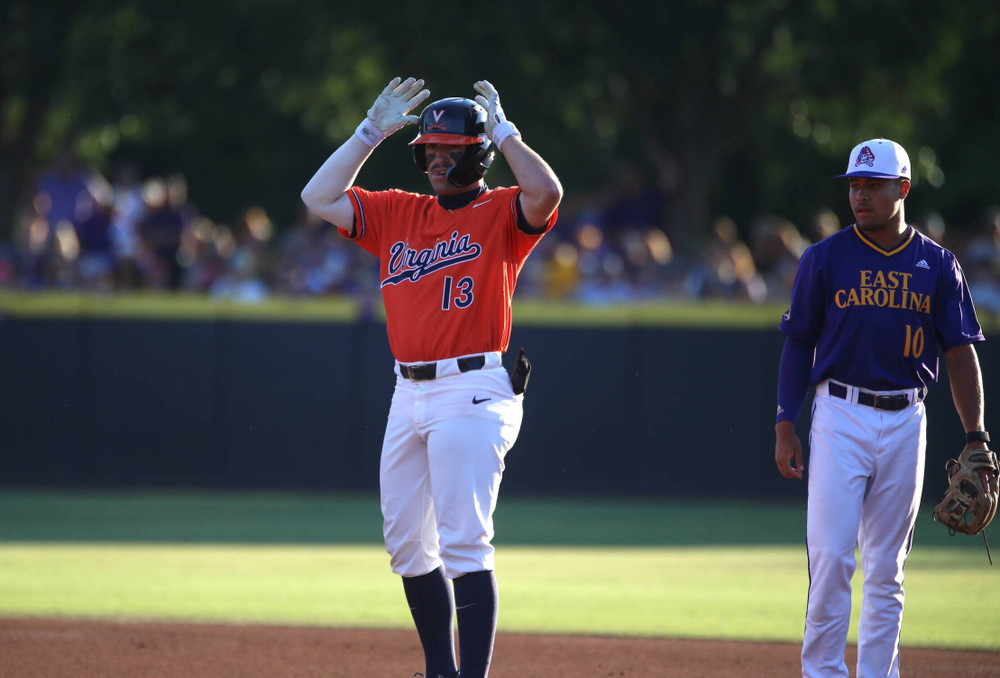 From a team that advanced to Omaha, Neb., for the College World Series in 2021, the Wahoos lost much of their top-line pitching. But they filled several of those slots with graduate transfers and returned a potent offense, and they rolled through the first part of this season.
Through 29 games, the Hoos were 26-3 overall and 6-3 in ACC play. As the season went on, however, UVA pitchers often struggled with their consistency, and losses came with more frequency.
Under O'Connor, Virginia has advanced to the College World Series five times and won an NCAA title in 2015, and strong pitching has been a trademark of his best teams.
His latest group of pitchers finished with a solid 3.99 earned-run average and ranked highly in several other categories, but they "did it a little bit of an unorthodox way, in that a lot of guys were kind of grouped together," O'Connor said. "We didn't have anybody that in my opinion really separated themselves, a nine-game winner, 10-game winner, that kind of thing. So it was kind of the sum of the parts from the pitching standpoint. But, hey, having been through this tournament enough, you've got to get strong pitching to advance through. It's hard to just bang your way through it. Some teams do it. You can hit your way through a regional. It's tough to get yourself all the way through [to Omaha] if you don't get good, sound pitching."
Against Coastal on Sunday, sophomore Jake Berry allowed no runs and only two hits through the first four innings. "We got to him a little bit in the fifth inning, but until then he mowed us down," Coastal head coach Gary Gilmore said.
After Berry faltered in the fifth, Virginia turned to graduate transfer Dylan Bowers, but he struggled too and didn't finish the inning. With the score 6-3, fifth-year senior Paul Kosanovich replaced Bowers and induced an inning-ending double play. In the sixth, though, Kosanovich gave up two home runs, the second of which tied the game at 6-6.
"Nobody's swung the bat like that against him this year," O'Connor said, "and they did a great job. He had left a couple of sliders up in the zone and they hit 'em out, to their credit."
Senior right-hander Matt Wyatt took over for Kosanovich with one out in the seventh and held the Chanticleers at bay until the bottom of the ninth, when Austin White led off with a single, moved to second on a sacrifice bunt and scored on Chris Rowan Jr.'s single up the middle.
In a game in which Berry, a 6-foot-10 left-hander, turned in one of his best starts, Virginia "needed another guy to step up on the mound, and we just didn't get it today," O'Connor said. "But certainly the pitching is important, and obviously it's been a staple of our program."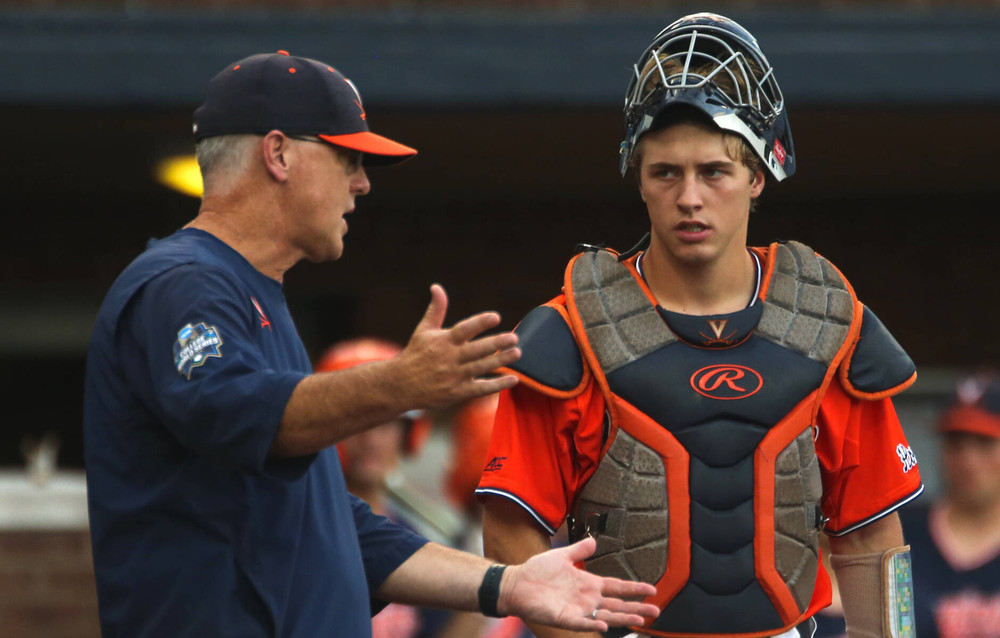 Led by Gelof (.377), the Cavaliers hit .309 as a team this season. Gelof homered twice Sunday, raising his season total to 21, one shy of the program record set by Brian Buchancan in 1994. Gelof finished with 81 RBI, the most ever by a UVA player in one season.
He hit more than one home run in five games this season, a program record.
"He's the real deal," Gilmore said. "He's one of the best players in the country. I told him after the game that I look forward to watching him play where a whole lot of people will pay money to watch him pay."
As a freshman, when he primarily played first base, Gelof hit .252 with four homers in 38 games. "I was a little inconsistent, especially near the beginning of the year," he recalled Sunday.
The key to his record-breaking sophomore season, Gelof said, was "just taking it really one step at a time throughout the whole season and trying to stay consistent … I think being able to get more at-bats, especially [last] summer, and learn more about myself and my swing to be able to be more consistent was a huge thing coming into this year, and I think that's really what separates good players from great players."
O'Connor said he loves that Gelof has "got a presence. He's got a poise about him. You don't see a lot of frustration and disappointment on his face, and he plays the game at an even keel. I think that's the quality the really, really good ones have. They don't get real emotional, and he's certainly had great examples to follow."
Virginia's standouts in 2021 included Jake's older brother, Zack, a three-year starter at third base. He's now playing professionally, which meant Tappen "kind of had to take on that big brother role," Jake Gelof said, "because I've played with my big brother for a lot of years of my life and I've always spent time with him, so being able to spend time and putting that burden on Tap, he had a lot on his shoulders. It was just great, and I love this team and all the players and coaches and staff."
UVa's two losses in the double-elimination regional were by a combined three runs. Trailing 4-2 against East Carolina, Virginia loaded the bases in the top of the ninth Saturday night but couldn't push another run across.
Against Coastal on Sunday, Tappen went 4-for-5, Gelof went 2-for-3, and sophomore catcher Kyle Teel went 2-for-4 with a double.
"Overall I thought that we played well [in Greenville]," O'Connor said Sunday. "When it gets to championship time, it's a big clutch hit or a home run or something like that that gets you to move on to the title game. And that's what East Carolina did last night. That's what Coastal did today and we didn't. I'm proud of our guys. I walk out of here continuing to be proud of our program. You can see it with Alex Tappen, you can see we develop great leadership in this program. He'll pass it on down to Jake and Kyle and those guys that will be leaders next year, and we'll be right back in the mix next year."
The NCAA tournament opened with 64 teams. One will be crowned champion in Omaha.
"Every other team in the tournament ends their season with a loss," O'Connor said. "So it's disappointing, but at some point, you've got to handle it and look at what you're proud of, and look to the future."
Underclassmen who played key roles for the Hoos this season included freshmen Griff O'Ferrall, Casey Saucke, Ethan Anderson, Justin Rubin, Jay Woolfolk and Matthew Buchanan and sophomores Teel and Gelof.
"I'm not really ready to turn to next year yet," O'Connor said Sunday, "but I can see the big picture and understand what we have coming back and things like that. We have a phenomenal pitching class coming in, really, really talented. And so they're going to need to contribute a lot right away, but certainly we have a great core of position players back. We'll dissect this thing … We'll talk a lot with the guys coming back about the future and what they need to do this summer in order to put us in the best possible position for next year."
The 2023 season will be O'Connor's 20th at Virginia, where he's built one of the nation's premier programs.
"I am really, really proud of this," he said, pointing to his jersey. "I'm incredibly proud of this program and what it stands for."
To receive Jeff White's articles by email, click the appropriate box in this link to subscribe.