CHARLOTTESVILLE, Va. – Virginia head coach Sara O'Leary announced today (June 8) that Julia Adams (Knoxville, Tenn.), Meggie Navarro (Charleston, S.C.) and Annabelle Xu (Montreal, Canada) will join the women's tennis team in 2022-23.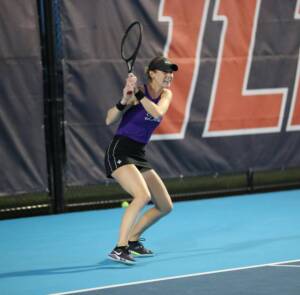 Julia Adams will join the team as a graduate transfer after playing for four years at Furman. The 2022 SoCon Player of the Year was ranked as high as No. 38 in the ITA Singles Rankings this season and earned a spot in the field of both the NCAA singles and doubles championships. She went 19-6 in singles playing at the No. 1 spot for the Paladins. She is a three-time All-SoCon First Team selection in doubles and a two-time first-team honoree in singles with a career mark of 71-19 in singles. She competed in the 2021 NCAA Doubles Championship, picking up the first victory in the program's history when she advanced to the second round. She has a career 72-16 record in doubles.
"We are thrilled to welcome Julia to the UVA family," O'Leary said. "It's always great to add a student-athlete with Julia's credentials and we're really excited to watch her continue her college tennis career here in Charlottesville. Playing in the top singles and doubles positions at Furman, Julia excelled, helping lead the program to its highest-ever national ranking. Her competitiveness, work ethic, team-first mentality and academic prowess will be welcome additions and we couldn't be more excited to have her represent our program."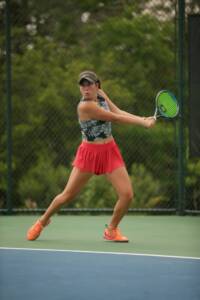 Meggie Navarro is a five-star recruit who will be joining the team as a freshman. Navarro was an All-Lowcountry First Team honoree for SCISA Class 3A State Champion Ashley Hall. She has been ranked as high as No. 61 in the recruiting class by TennisRecruiting.net and is in the top-15 players in her class from the Southeast. Meggie is the younger sister of 2021 NCAA Singles Champion Emma Navarro.
"We can't wait to have Meggie join the squad this fall," O'Leary said. "Meggie is an incredible student and athlete with so much versatility in her game. With her fiercely competitive nature and incredible work ethic, Meggie will add so much to our team culture on day one. Having gotten to know Meggie over the past couple of years, we're thrilled to formally bring her into the UVA Tennis family and can't wait to see the kind of impact she's going to have on and off the court."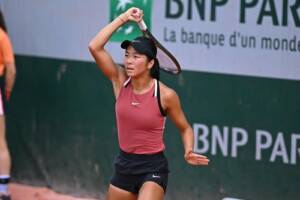 Annabelle Xu has a career-high junior world ranking of No. 21. She reached the singles quarterfinal at this year's Junior French Open. Xu has played in all four junior slams, advancing to the second round of the 2021 Junior US Open and the 2022 US Junior Australian Open. She has three junior singles titles under her belt, most recently winning a title in 2021 in San Jose, Costa Rica, and four doubles crowns. She was the runner-up in singles earlier this year at the Grade A tournament in Cricluma, Brazil and was a doubles finalist in November in Merida, Mexico. She has competed in four main draws of ITF World Tennis Tour tournaments, advancing to the finals of the 15K in Norman, Okla. in October. Xu won the U18 Junior Nationals in her native Canada and has represented the country at the Junior Fed Cup.  She partnered with her soon-to-be UVA teammate Mélodie Collard in doubles during the 2019 Junior Fed Cup, going 2-0 in Round-Robin Group 3 play.
"We are very excited to welcome Annabelle to our program," O'Leary said. "Annabelle has played and excelled on the biggest stages of junior tennis and is one of the best young players in the world. She aspires to play professionally, and we look forward to providing her the resources here at UVA to help her accomplish her goals. Annabelle's focus on academics, in addition to her busy competition schedule, and her commitment to excellence in all aspects of her life make us really excited to have her join our program."