By Jeff White (jwhite@virginia.edu)
VirginiaSports.com
CHARLOTTESVILLE — Watching the Confederation of North, Central America and Caribbean Association Football (Concacaf) W Championship, Steve Swanson found himself pulled in multiple directions.
The United States' roster included former University of Virginia greats Becky Sauerbrunn and Emily Sonnett. Another former UVA star, Diana Ordoñez, played for Mexico. One of the Cavaliers' current standouts, Claire Constant, played for Haiti.
"It was exciting," said Swanson, UVA's longtime head women's soccer coach. "You get tugged in a bunch of different ways, that's for sure. But it was neat, because you want them all to do well."
The U.S. defeated Canada 1-0 in the championship game Monday night in Monterrey, Mexico. Along the way, the U.S. topped Haiti 3-0 and edged Mexico 1-0.
Those games also were played in Monterrey, as was Haiti's 3-0 win over Mexico on July 7.
"The dynamic was different," Swanson said of following the three teams for which Wahoos played. "Your heart gets pulled all around. Obviously, when Claire is playing against the U.S., you want her to do well and you want the U.S. team to do well, so I feel like I was getting tugged in a bunch of different directions. It was exciting for the University of Virginia, that's for sure."
Heading into the tournament, Sauerbrunn was asked about Virginia's representation on the international stage.
"I think it's great," Sauerbrunn, the U.S. captain, told UVA Today. "You can clearly see that [Swanson is] producing not just collegiate players or professional players. He is creating international talent, which is such a reflection on how great of a coach he is because to be at that level—the international level—it's not just about talent. It's also about your resiliency, your attitude, how you approach difficulties.
"Those are things that Steve has very intentionally worked on with his players with the time that he has with them. He's creating these international players. It's amazing, it really is."
With its showing at the Concacaf W Championship, the U.S. qualified for next year's FIFA Women's World Cup, to be held in New Zealand and Australia. Mexico is out. Haiti's fate is still to be determined. In February, Haiti will be one of 10 teams playing in a tournament in New Zealand for the final three spots in the World Cup.
Constant hopes to compete in those tournaments, too. Her father is from Haiti, which makes her eligible to play for its national team. She joined the team last month for its training camp in Costa Rica, a prelude to the Concacaf tournament in Mexico.
"Overall, I would say it was a great experience," Constant said, "life-changing almost. It was something that I've obviously never done before. I'd gone to youth national team camps in the U.S., so I kind of had some idea of what my expectations were going to be, but it was nothing like I expected. It taught me a lot about the game of soccer, about the country of Haiti, and about myself and the way that I play the game."
Constant, who's from Alexandria, is heading into her fifth year at UVA, where she's been a mainstay on defense. The Concacaf tournament marked her debut for Haiti, a country she's yet to visit.
"My father goes back every single year," Constant said, "and when I was growing up, we'd always say, 'This is the year that I'm going to go with him,' but because I was always playing soccer throughout the summer or I was in school, I just never could find the time to go. And then I got to college, and I always had to be back at school early for preseason. So I've never really gotten to go."
At the training camp in Costa Rica, Constant met her teammates and coaches for the first time.
"She had a lot of challenges that most players don't have," Swanson said. "The language barrier was obviously a challenge, and just getting used to players and a new coach before you're playing some of the biggest games of your life, that's difficult to deal with."
Haiti has two official languages: Creole and French.
"My dad always grew up speaking Creole in the house when he was on the phone with his family members or friends" Constant said, "but I took French for about seven, eight years. My dad spoke both [languages], so I just assumed everyone in Haiti spoke both."
At the training camp, she learned otherwise. "I realized that the girls speak Creole," Constant said. "No English, some French and mainly Creole. All the coaching staff spoke French, so I was able to understand them a little bit, but I had to get most things translated."
The team's veteran players included three other Haitian-Americans and a Haitian-Canadian, Constant said. "They helped me a lot throughout, helped me with the culture, the language, those kind of differences, because they'd obviously been through it before."
Constant had to prove herself to her new teammates.
"I wouldn't say it was cold shoulder, but they knew that I didn't speak the language," she said. "This was my first camp with them. They wanted me to show that I was dedicated and passionate to be on this team and that I was ready to be a part of this group of girls. So they set the expectation high for me. It was definitely challenging, I wouldn't say proving, but showing that I respected them, respected where they came from and what their goal was. I think once we got on the field, I was able to earn a lot of respect, but I'm still working on it. I still need to learn the language, and that's going to be on me."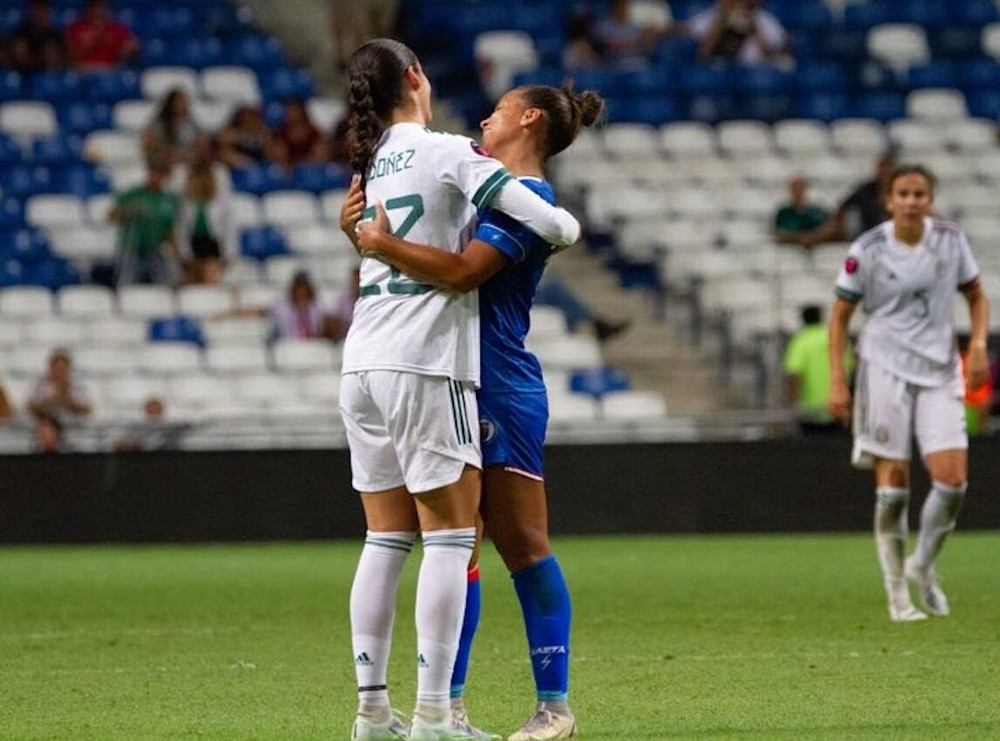 Haiti's first opponent in the Concacaf W Championship was the United States, a world power, "so that was huge," Constant said. "A lot of pressure. It was against players who I've grown up playing against my entire life, and it made me nervous. I'm not gonna lie. I was definitely nervous walking onto the field, but it also was a feeling that I literally cannot describe, how proud I felt to be out there [playing for Haiti] and playing against these girls."
Constant didn't overlap with Sauerbrunn or Sonnett at UVA, but she's familiar with their accomplishments. "I doubt Becky remembers this, but one of her trainers, Kris Ward, was my trainer growing up," Constant said.
She laughed. "I've been obsessed with Becky Sauerbrunn before I knew I was going to UVA, since I was like 14 years old. She's been my idol for such a long time. And I actually trained with her. We did private training when I was much younger. I doubt she remembers that."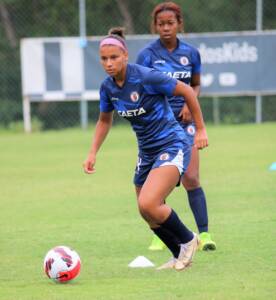 Constant and Ordoñez were teammates at UVA for three seasons in 2019, '20 and '21. Ordonez now plays professionally for the North Carolina Courage in the National Women's Soccer League.
"Playing against D, it was a lot of fun," Constant said, "and seeing her after the game was a lot of fun. I hadn't seen her in months, so it was great being able to connect on this type of stage after months of not seeing each other and months of not playing with each other. And she's been doing so great in her professional career, so it was really fun seeing her."
Constant, who graduated in May with a bachelor's degree in American studies, is excited about her final season at UVA. The Hoos are loaded with experience and talent, though they might be short-handed early in the season.
Junior defenders Laney Rouse and Samar Guidry are strong candidates to be selected to represent the United States in FIFA's U20 Women's World Cup, Aug. 10-27 in Costa Rica. They would go with Swanson's blessing.
Over the years, numerous other Cavaliers have competed in such events, and "it's just such a good experience," Swanson said. "I think at Virginia we're all about helping our players develop. Almost all of them want to play at the next level, and I know for players like Morgan Brian, Emily Sonnett, Zoe Morse and Laurel Ivory—and there's more players, even Becky—you can look at those experiences and playing in a tournament like that, it really can help you in the long run.
"It's just not very often you get to play against international teams that have unique styles of play in a tournament where there's so much on the line, like a World Cup. It would certainly help them grow and develop as players, both on and off the field, and I think that's worth investing in, and we've always supported our players in those events."
If named to the U.S. squad, Rouse and Guidry would miss the Cavaliers' annual preseason training camp in Michigan, as well as several games.
"It's not ideal timing," Swanson said, "but I look at it this way: It could be a lot of worse. We've had [international] tournaments that have fallen in October and November, and that usually means [players are] going to have to redshirt the whole fall."
To receive Jeff White's articles by email, click the appropriate box in this link to subscribe.