By Jeff White (jwhite@virginia.edu)
VirginiaSports.com
CHARLOTTESVILLE — The University of Virginia men's basketball team's trip to Italy will start with an eight-and-a-half hour flight from Dulles International Airport to Rome next week. Such marathon plane rides are nothing new to sophomore swingman Taine Murray.
When Murray travels to Charlottesville from his hometown of Auckland, New Zealand, the first stage is a 12-hour flight to Los Angeles. Fortunately for him, he's not awake all of that time.
"I used to not be able to sleep at all [on planes]," Murray said recently at John Paul Jones Arena, "but I have gotten better."
For ambitious basketball players from New Zealand who want to test themselves against tougher competition, extensive travel is part of the package. "You've got no choice," Murray said.
This will be his first visit to Italy, but hoops has taken Murray to such places as Greece, Dubai, Singapore, Indonesia, China, Australia, Hong Kong, the United States, and the Pacific Islands, including Samoa.
The 6-foot-5, the 206-pound Murray played this summer for New Zealand's national team, the Tall Blacks, at FIBA's Asia Cup in Indonesia. When the tournament ended, Murray flew to Tokyo (eight hours) and then from Tokyo to Washington, D.C. (13½ hours). He arrived back in Charlottesville on July 25, when most of his UVA teammates were away on break, and resumed preparations for his second college season.
New Zealand closed its stay in Jakarta, Indonesia, with an 83-75 victory over Jordan. That clinched the bronze medal for the Kiwis, their best-ever finish in the Asia Cup.
In New Zealand's seven games, Murray averaged 8.6 points, 4.6 rebounds and 1.9 assists. He struggled from 3-point range, making only 11 of 46 attempts, but inside the arc he was 10 for 17, and he made 7 of 8 free throws. He twice scored 16 points: first against the Philippines and then against Syria.
Murray, 20, was the youngest player on the New Zealand roster.
"It was awesome," he said of the experience. "Obviously, representing New Zealand is a huge honor, so that was a massive privilege. And then just being able to reconnect with so many guys who I played with growing up. One boy was actually on my high school team. He was a few years older than me, so that was super cool. And then playing with guys who I've looked up to growing up was awesome."
Murray spent four weeks in Charlottesville early in the summer before leaving for the All Blacks' training camp in Auckland. He departed with the blessing of UVA head coach Tony Bennett.
"He's been super supportive," Murray said of Bennett, who played and coached in New Zealand in the late 1990s. "I think that obviously the timing aligned a little bit with [the Cavaliers' break last month], which worked out well. But there was never any negativity with being released to play, which was awesome."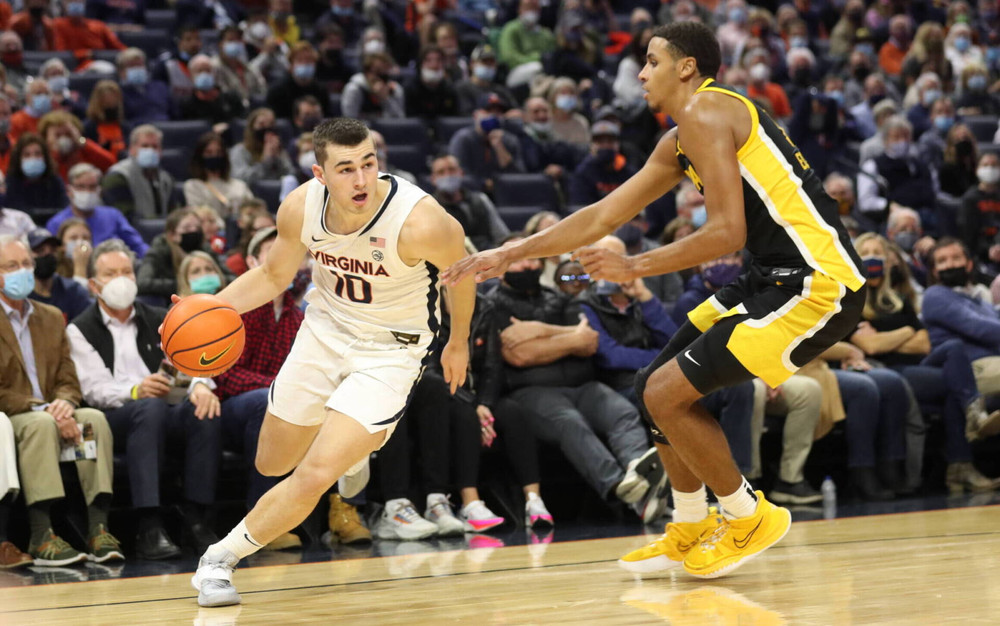 Murray, of course, is not the first Kiwi to play for Bennett at Virginia. Rugged center Jack Salt was a fifth-year senior and a team captain when the Wahoos won the NCAA title in 2018-19.
"When Jack and [UVA] won the national championship, it was a huge thing back home, which was really cool," Murray said.
His father was a national-caliber rugby player in New Zealand, and Murray excelled in that sport, too, until his junior year of high school. "I love rugby," Murray said. "It was a big decision to stop, but I just fell in love with basketball."
Hoops's popularity is exploding in New Zealand, Murray said, but it's still an emerging sport. Case in point: The Tall Blacks have about 2,900 followers on Twitter, to one million for the All Blacks, New Zealand's national rugby team.
"That sounds about right," Murray said, smiling.
He was a junior at Rosmini College High School when he made his debut for the Tall Blacks, and Murray later played as an amateur for a professional team in New Zealand, the Auckland Huskies, all of which attracted the interest of multiple Division I programs in the United States.
As Murray weighed his college options, Salt proved to be a valuable resource.
"Growing up, I didn't really know him personally," Murray said, "but we had many mutual friends. I'd say kind of when he returned from UVA was when I got to know him really well, just during that recruitment process."
Salt did not sugarcoat things when he talked to Murray about playing in Bennett's program.
"That was one of the nice things, I think, with Jack," Murray said. "Obviously it's very easy to sell the positives, but the way that Jack was honest and kept it real, it was really nice just to be able to hear that he was being truthful about his experience."
Bennett can be brutally honest during the recruiting process, and that impressed Murray, too. Bennett is not one to promise playing time to UVA's recruiting targets.
"I think that was something that definitely stood out with myself and my parents," Murray said. "Everything was done on Zoom, and I vividly remember that he showed a video of how I could fit in here, but he also showed my weaknesses, and I think that that was something that really stood out compared to other schools."
Murray also seriously considered Stanford and Maryland before committing to UVA in September 2020. His first season as a Cavalier was a learning experience for the Kiwi import. Murray came off the bench to score 16 points against Iowa in a thriller at JPJ, but such highlights were few and far between. In his 19 appearances, he averaged 7.5 minutes and 2.0 points.
"I think that the best way that I would describe it is, there were just so many unknowns," Murray said, "and I think probably at the time I was in awe after leaving home and coming here. Everything was positive, but looking back, there were just a lot of unknowns. Returning this year has definitely been so nice, just knowing the people and knowing my surroundings. I just feel like it's gonna really help my game."
In an era when the transfer portal is flooded with players wanting to start over at other schools, Murray didn't look elsewhere.
"It never crossed my mind at all, leaving," he said. "I think that's just the way that I've been brought up in, and my sister too, in our family—just to not quit. And just speaking with my parents, we definitely think that this is the best place for me to be, and I've seen so much growth, although it hasn't really shown as much in specific games. But I think that the growth is going to show."
He credits his parents for instilling in him a strong work ethic, a quality that's helped him off the court, too. Murray hopes to enroll in the McIntire School of Commerce next year, and he's thriving on Grounds.
"I've loved the UVA experience," Murray said. "I think probably making the decision to come here was more heavily weighted off a basketball choice, but being able to experience [everything] at UVA has been amazing."
He's excited about the Cavaliers' prospects for the coming season. From a team that advanced to the National Invitation Tournament quarterfinals in 2021-22, the top six scorers return, and UVA added five players, including graduate transfer Ben Vander Plas. Cracking the rotation won't be easy for Murray, but he's in superb shape, having dropped about nine pounds since the end of last season, and he's noticeably more confident at JPJ.
"I just really want to be able to help this team win, in whatever way that comes, Murray said, "and hopefully I can see the floor more."
Associate head coach Jason Williford believes that will happen.
"I think his work ethic will put him in a position where he'll earn and fight for some minutes," Williford said on a recent Wahoo Central Podcast. "He's probably one of our hardest-working kids. He wants it, and hard workers never fail. So in due time, he'll get minutes and he'll earn a spot in the rotation.
"I'm hopeful it's this year, and quite honestly it should be. He's had a year in the program, he's got some experience, and I think being able to go play with your national team gives you confidence. It helps build confidence when you can go and score and play against good competition."
To receive Jeff White's articles by email, click the appropriate box in this link to subscribe.