By Jeff White (jwhite@virginia.edu)
VirginiaSports.com
ROME — When he walked into the ancient structure that inspired Thomas Jefferson to build the Rotunda, the last thing University of Virginia men's basketball coach Tony Bennett expected Saturday was to be recognized by one of the Pantheon's staffers. But that's what happened.
Among the guards protecting the Pantheon's sacred treasures was a man from Omaha, Neb., who informed Bennett that he'd attended the 2019 Final Four in Minneapolis. Small world, huh?
"That was cool," Bennett said later.
The 2018-19 season ended for the Wahoos, of course, with their first NCAA title. It's too early to know if Bennett's latest team might be capable of an extended postseason run, but the Hoos have an intriguing mix of experience and youth, and their tour of Italy figures to supply some answers.
The first of Virginia's four games on this trip was Saturday night, and it wasn't competitive. In the Stella Azzurra Basketball Academy's stifling gym, the Wahoos defeated their hosts 76-24.
The game was played under FIBA rules, which meant four 10-minute quarters and a 24-second shot clock. Those changes didn't faze the Hoos, who, after exchanging gifts with Stella Azzurra in a pregame ceremony, immediately took control. The home team didn't make a field goal until the 7:32 mark of the second quarter, and Virginia led 40-10 at halftime.
On these international tours, Bennett noted, it's often tough to predict how good opponents will be, and Stella Azzurra turned out to be thoroughly overmatched. Still, he said, it was a valuable experience for his players.
"I thought they tried to do things the right way, our young men did, and you saw some good things," Bennett said. "It was just an opportunity to play and see if some of the things are going to stick that we worked on, and I thought they did a solid job all things considered. I don't put too much into it. I was just hoping at the end—it's a sweatbox in here—that no one slipped and got hurt or anything like that."
Virginia brought 13 players to Italy, and Bennett decided ahead of the opener that three would sit out each game. That will allow playing time to be distributed more equally among the other 10. In street clothes Saturday night were fifth-year senior point guard Kihei Clark, fifth-year center Francisco Caffaro and sophomore swingman Taine Murray. As the score would suggest, they weren't needed.
The Hoos' standouts included redshirt junior Kadin Shedrick (13 points, seven rebounds), freshman swingman Leon Bond III (10 points, four boards, two blocked shots), junior guard Reece Beekman (nine points, five rebounds, seven assists) and freshman forwards Ryan Dunn (nine points, seven rebounds) and Isaac Traudt (eight points, four rebounds, three steals).
The visitors missed about half of their free throws and didn't always execute well, but they competed for all 40 minutes and rarely relaxed defensively. The Cavaliers forced three shot-clock violations with their Pack Line defense.
"It looked like they played hard," Bennett said, "so I was pleased with that. And I expect that. This is a gift, to be able to come here and be in this culture and see it all and then get to play together. And so it was good."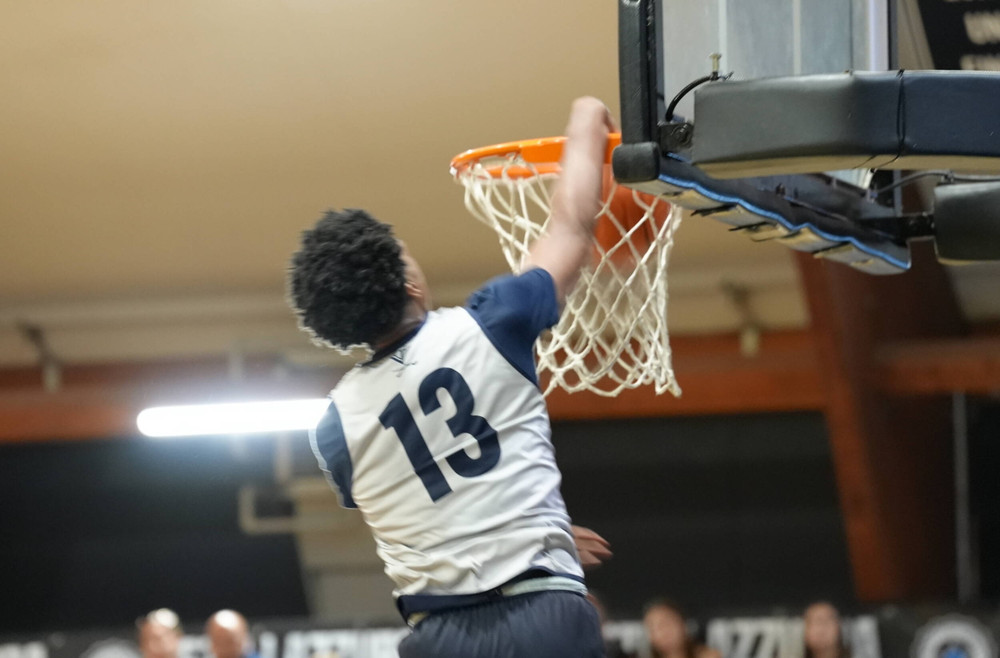 From a team that advanced to the National Invitation Tournament quarterfinals last season, Virginia's top six scorers are back, and five newcomers have joined them: freshmen Dunn, Traudt, Bond and guard Isaac McKneely and forward Ben Vander Plas, a graduate transfer from Ohio.
"Again, it's hard to gauge much against the competition we went against," Bennett said, "but we have more depth than last year, more experience and then the new pieces, the new faces … So I think we've added some good pieces, and I hope we're an improved ball club, but nothing's guaranteed."
The 6-foot-8 Dunn threw down several impressive dunks, and his classmates contributed their share of highlights, too. With about 90 seconds to play, McKneely passed behind his back to Bond, whose 3-pointer from the left corner pushed Virginia's lead to 53.
"You saw some of the young guys' athleticism in the transition [game]," Bennett said.
Dunn suffered an ankle injury during the spring, "so coming from that and not playing, to playing now with Virginia in Italy, it was very surreal," he said, "but it was also fun getting up and down for the first time. I'm learning what Coach B and coaches want me to do, learning their style of play, but also just learning with the guys and jelling together, making sure we all come together and build some chemistry."
This is one of the most highly regarded freshman classes of Bennett's long tenure at UVA, and "I think we're coming together well," Dunn said. "We all have special talents, we all have special things that we're good at."
Unlike his first-year teammates, Vander Plas has ample college experience. He spent five years at Ohio, where he earned two master's degrees, before transferring to UVA. In the tour opener, the 6-foot-8 Vander Plas scored seven points and showed the all-around game that earned him All-Mid-American Conference honors.
"It was a lot of fun," said Vander Plas, whose parents were at the game, "being able to finally play against someone else other than going against each other every day … We're still building the chemistry, kind of figuring out the way people play, how we mesh together, but it was a fun first game."
The conditions were challenging, to say the least. To call the humidity in the gym oppressive Saturday would be an understatement. Hottest environment Dunn has ever played in?
"Yes, sir," he said. "Yes, sir. One hundred percent."
Vander Plas sweated through his No. 5 jersey and his shoes in the first half. After the break, he wore No. 22 and played in borrowed shoes: those of UVA graduate assistant Isaiah Wilkins.
"I'm a [size] 16," Vander Plas said. "I squeezed into a 15 in the second half and made it work."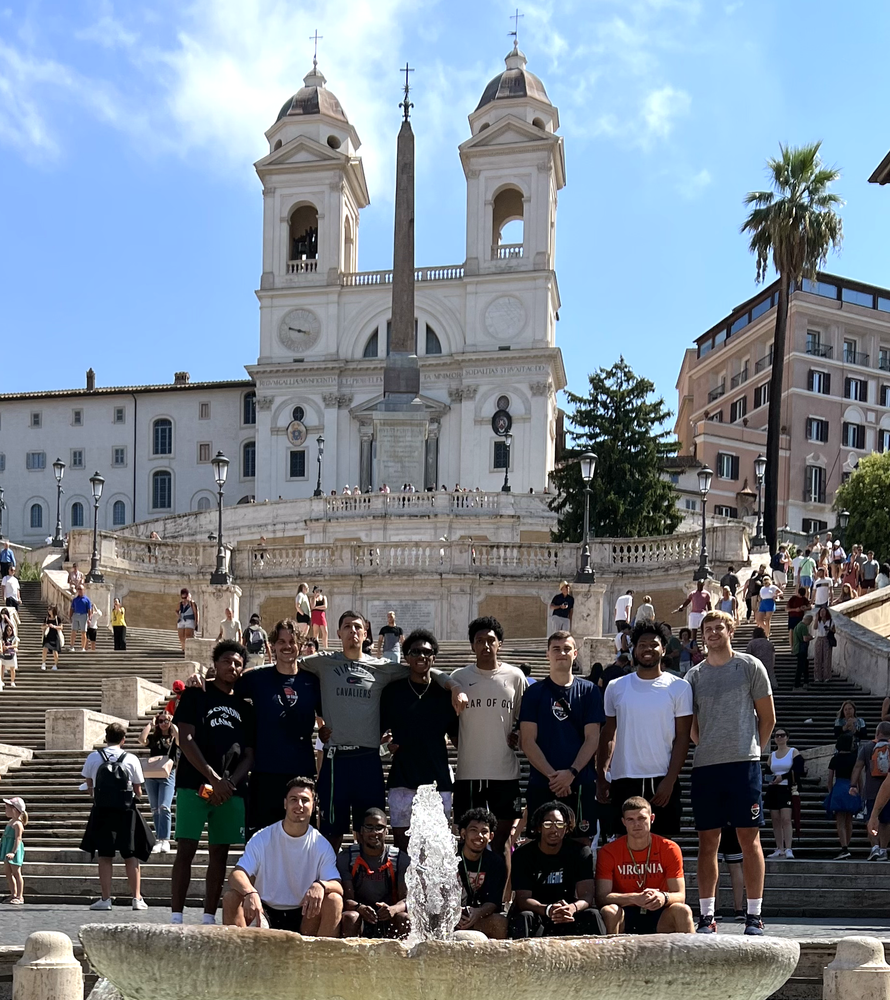 As they had on Thursday and Friday in Rome, the Cavaliers packed a lot into their schedule on Saturday. In the morning, they walked from the team hotel to the famed Spanish Steps, where they met up with their trusty tour guides, Lumi Mircea and Scott Spinucci.
From there, the Hoos walked to the Trevi Fountain, into which they tossed coins, as untold numbers of visitors before them have done over the years. Most of the players then peeled off for some shopping, but Caffaro and Vander Plas stayed for the tours of the Pantheon and the Jewish Ghetto.
Caffaro, ever the character, tried to needle Mircea, who's from Italy, about her country's failure to qualify for this year's FIFA World Cup. She pretended not to hear him but later returned fire when Caffaro strayed from the group.
"Come on, Papi, let's go," Mircea said, feigning exasperation.
The NCAA team allows college teams to take these trips once every four years, so not every group of newcomers can benefit from the extra practices and bonding time that come with foreign tours.
"It will be a memory of a lifetime for them," Bennett said. "and it's just fun. It's good. You get the practices, so you're establishing some things, getting the feel, and you get opportunities to play kind of in a game setting under the lights, so to speak."
In many ways, though, basketball is secondary on these tours, Bennett said, and during a team meeting Saturday he asked the players to each pick one thing in Italy that had impressed them so far. Duplicate responses weren't allowed.
"My highlight had to be the long hallway in the Vatican with all the paintings," Bond said after the game. "All the detail, man. You wonder how someone could do that."
The Hoos toured the Vatican on Friday. Their stops on Thursday included the Colosseum. That one stuck with Vander Plas.
"Our tour guide was telling us at the Colosseum that there were 75,000 people who would go to the events there," Vander Plas said, "and they were able to get everybody out in 15 minutes. When you think about games today like football games, basketball games, it takes forever to get out of the stadium, so that was pretty impressive to me."
The Cavaliers' next game is Monday night in Florence, to which they'll travel on Sunday.
"Hopefully it'll be some better competition as we move forward," Bennett said, "but you play what's in front of you."
He smiled. "And go have a good Italian meal after, and some vino."
Virginia                  19 21 17 19 — 76
Stella Azzurra         4    6  6   8 — 24
         Virginia: Shedrick 13, Bond III 10, Beekman 9, Dunn 9, Traudt 8, Vander Plas 7, Gardner 6, Franklin 6, McKneely 4, Coleman 4.
NOTE: For reports, videos and updates from the Cavaliers' tour of Italy, be sure to check VirginiaSports.com and the team's Twitter account, @UVAMensHoops.
To receive Jeff White's articles by email, click the appropriate box in this link to subscribe.