By Jeff White (jwhite@virginia.edu)
VirginiaSports.com
SANTA MARGHERITA LIGURE, Italy — The blowout victories the Virginia Cavaliers recorded in Rome and Florence spoke more to the level of competition they faced than to the quality of their performance. Head coach Tony Bennett made that clear after his team's third game in Italy.
UVA opened the tour by drubbing Stella Azzurra 76-24. Two nights later, in Florence, the Wahoos hammered Orange1 Basket Bassano 71-41.
"That's just like fool's gold for our players or anybody watching," Bennett said Thursday night after Virginia's 92-73 loss to Basketball Club Mega MIS. "But a game like this, this was real tonight, and real competition."
The Cavaliers bused from Florence to Rapallo on Wednesday morning and practiced that afternoon at a gym in nearby Santa Margherita Ligure, another coastal town on the Italian Riviera. They returned there Thursday night to face Mega MIS, a professional team from Serbia, and it was not a pleasant experience for the visitors from the U.S.
Mega MIS went ahead for good in the final seconds of the first quarter and pulled away for a one-sided win. The Serbian team, whose alumni include NBA star Nikola Jokic, made 13 of 27 shots from 3-point range and 32 of 59 overall.
This is the third European tour the Cavaliers have taken during Bennett's 14 years as their head coach, and Megas MIS was the best opponent they've faced on this continent.
The game Thursday night drew scouts from three NBA teams—Brooklyn, Detroit and Washington—and they saw Mega MIS put on something of a clinic at the offensive end.
Led by forward Luke Cerovina, who was 5 for 8 from beyond the arc and finished with 20 points, Mega MIS had five players who scored in double figures, and guard Kila Djurisic, who's drawn the interest of NBA teams, wasn't one of them. He scored nine points.
"That was a very good team," Bennett said. "Those are pros, but some of them are the same ages as our guys. They're very disciplined … There were good stretches for us, there really were, but we had a hard time. They had five guys who could really shoot. They hurt us a lot with their middle ball screen. And they're a team that whenever you have a breakdown, same as good teams in college, they make you pay, and if you have any of those uncharacteristic [mistakes] or poor shot selection or turnovers on your end offensively, it can separate quick."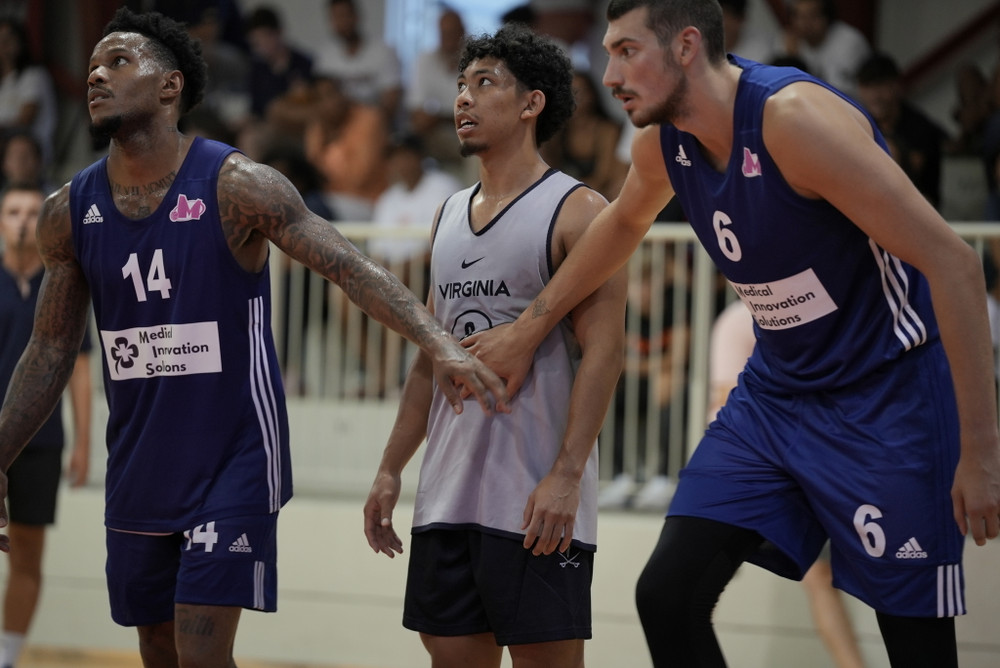 On each game of this tour, Bennett has held out three players. In Rome, they were fifth-year senior guard Kihei Clark, fifth-year senior center Francisco Caffaro and sophomore swingman Taine Murray. In Florence, sixth-year senior forward Ben Vander Plas, junior guard Reece Beekman and freshman guard Isaac McKneely sat out.
On Thursday night, the three were freshmen: swingman Leon Bond III and forwards Isaac Traudt and Ryan Dunn.
The Cavaliers' tour finale is Friday night in this town, and it's a rematch with Mega MIS. Bennett said he plans to sit center Kadin Shedrick, forward Jayden Gardner and guard Armaan Franklin, three of the team's most experienced players.
"So it will be a great experience for Leon, Ryan and Isaac Traudt," Bennett said, "and another great experience for Isaac McKneely and Taine. But we'll be very young, and if you're not well trained defensively to handle the actions [Mega MIS players are] doing, you can get behind the play, and they're making the play. So it'll be a lot of for some of those young guys, but great.
"This is what we want. This is exactly what we wanted. The first two games, that's great, but that's not doing much for me. This is what you want. You say, 'OK, now we've got some lessons to point to and then guys get a feel for it, and you're getting to see how certain guys look. I thought Taine gave us a nice lift at times. And Kihei got us kind of back into it early, but [the game] was very, very informative and good for us."
The 6-foot-11 Shedrick, a redshirt junior, led the Hoos with 19 points, 12 rebounds and two blocked shots.
"I thought we got a really nice game from Kadin," Bennett said. "He was active, and I thought that's the best I've seen Kadin. It seemed like he really met the challenge.
"It was a little bit eye-opening for some of our guys how hard and continuous you have to play against a team that can move the ball that quick and capitalize on ball screens and really stretch it, and then they rebounded. They had us scouted, they've watched film. I know the way the Serbian teams are. They're trying to prepare [for their seasons]. At times, it was really good. At times it was, I don't want to say men against boys, because they're young too, some of them …, but you could just see that they have trained and how they play. It was very impressive."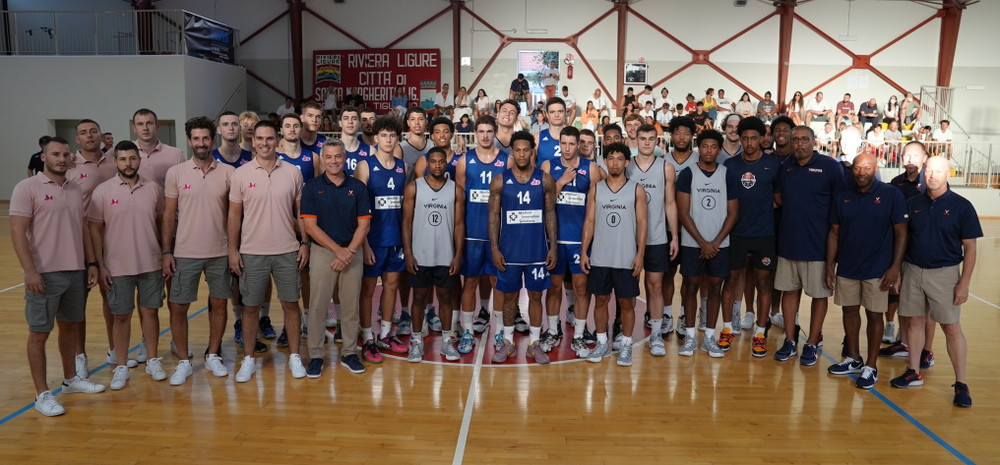 In the second quarter, back-to-back 3-pointers by McKneely and Murray cut Mega MIS' lead to 44-39, and that was the halftime score. Mega MIS took control in the third quarter, however, and Virginia never seriously threatened in the fourth.
"The first two games, those are good confidence-boosters, but this is what it's all about," Shedrick said, "playing a team that's really good, really disciplined, and trying to bring our best and see where we're at. So we saw where we're at. Hopefully we'll do better tomorrow. And we'll come back whenever we start practicing again [in Charlottesville] and build from where we're at right now. And by the time season comes, hopefully we'll be a whole new team."
Murray (10 points) was the only other Cavalier to score in double figures.
"Obviously we have another opportunity on our hands to play them again, which we're excited about," Murray said. "But it's a great challenge. They're high-level players, and we can see where we are."
Shedrick said it "was a really good challenge, especially this early in August. I'm not worried about the result too much. But personally what I think we have to do is just keep playing hard throughout the whole game. I felt like we were right there for most of the game, and we just gotta keep playing hard and make that extra step to finally close the gap."
Clark totaled nine points, six assists and two steals. The first game with Mega MIS showed that "on all our mistakes, they tend to capitalize on them and exploit mismatches," Clark said, "and when there's a breakdown, it's hard to recover from. It's a good test for our guys. That's what a pro team looks like. So, moving forward, we've just got to try to play more sound on both ends of the court. Obviously we want to try to get the one tomorrow."
Virginia                  26 13 20 14 — 73
BC Mega MIS        27 17 25 23 — 92
       Virginia — Clark 9, Gardner 8, Beekman 9, Franklin 8, Vander Plas 0, Murray 10, McKneely 6, Shedrick 19, Caffaro 4.
NOTE: For reports, videos and updates from the Cavaliers' tour of Italy, check VirginiaSports.com and the team's Twitter account, @UVAMensHoops.
To receive Jeff White's articles by email, click the appropriate box in this link to subscribe.