By Jeff White (jwhite@virginia.edu)
VirginiaSports.com
CHARLOTTESVILLE — When the official announcement came in October 2020, the event was still several years away. It's now coming into view.
In November 2023, the University of Virginia will host the NCAA Men's and Women's Cross Country Championships at its home course in Earlysville, Panorama Farms. For the Cavaliers, the goal is not simply to host the meets, but to contend for the team titles.
"It's a very exciting thing," said Vin Lananna, UVA's director of cross country/track & field. "I think our teams will be ready, I feel very good about that, and Panorama will be perfect. And I feel as though we'll host an exciting event that will look great on live ESPN, and the University of Virginia will, I hope, set the standard as to what a highly competitive, fan-friendly event can be."
Major meets are nothing new for Panorama Farms, the site of the NCAA Southeast Regional Championships in 2013, '15, '16, '17 and '19. The ACC Championships were held at Panorama Farms in 2006, '07 and '14 and will be back there this fall (Oct. 28).
The Wahoos are hosting two other meets at their home course this season: the Virginia Invitational (Friday at 9:30 a.m.) and the Panorama Farms XC23 Invitational (Oct. 15).
About 150 runners will compete at the ACC Championships next month, Lananna said. About 225 runners race at NCAAs each year.
"We've hosted five regional meets here with more athletes than will be at the NCAAs," Lananna said, "but we had to be sure that we're meeting the specifications of the NCAA."
And so the starting line has been widened, as has the narrowest spot on the course, and "we extended where you make the first turn, so you run at least 1,000 meters before you make any turns," Lananna said. "And then we created a loop course, so you'll be able to see 90% of the athletes running. There won't be anything where the gun goes off and you see them two miles later."
Charlottesville has a large, active running community that will help UVA stage the NCAA Championships next year. Among those in key roles will be Mark Lorenzoni. A local running mentor, Lorenzoni is "the pied piper who will rally the volunteer sector," Lananna said, laughing.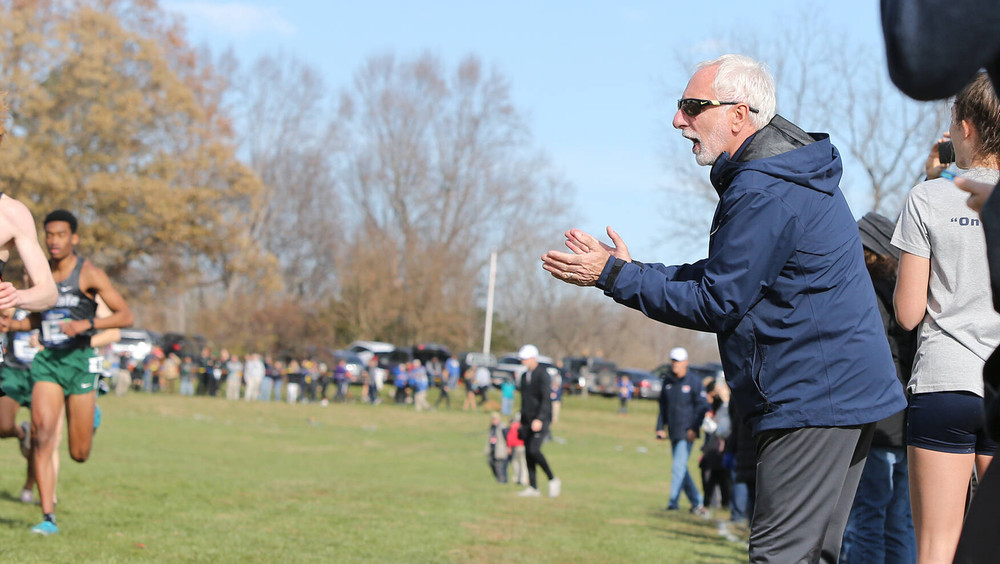 Lananna was hired at UVA in September 2019, after cross country season had begun. That late start hindered the new staff's recruiting efforts, as did the COVID-19 pandemic that struck in March 2020.
"We were starting from a position that wasn't great," Lananna said.
Of the 11 NCAA championships Lananna's teams have won during his coaching career, six were in cross country: two with the Oregon men, three with the Stanford men, and one with the Stanford women.
His programs at UVA are not at that level, but they're trending in a positive direction. The ACC is among the top conferences in cross country, and in preseason voting by the league's coaches, UVA was picked to finish fourth on the men's side and fifth on the women's.
"I think we've established a pretty good core of men and women, so I like where we are," Lananna said. "I feel like we're in a good position to actually build, and I think we have some good foundational men and women to build a future on. I like what I see. I like the attitude. I think there's an attitude about getting better every day, every week."
In ACC cross country, men race on an 8k course. The women run a 5k.
The Virginia men's top performers include Rohann Asfaw, Wes Porter, Yasin Sado and Derek Johnson, who's a standout steeplechaser in outdoor track & field. Another returning runner to watch is Jack Eliason, who was the Cavaliers' top finisher at the Spider Alumni Open meet Sept. 3 in Richmond. And then there's freshman Gary Martin, who was one of the greatest high school milers ever in the United States.
"Gary's a middle distance guy," Lananna said, "but he's fully prepared and determined, and I learned very early in my coaching career to never doubt when someone tells you they're doing to do something. I look at their goals through their eyes, and he fully expects to make an impact [in cross country]/ So therefore, I fully expect for him to make an impact."
On the women's side, the Cavaliers added a strong group of transfers to a core of such returning runners as Margot Appleton, Mia Barnett and Anna Workman. Appleton, a sophomore, was named the first ACC Women's Performer of the Week for the 2022 season after winning at the Spider Alumni Open.
The transfers are Addison Cox (New Hampshire), Linnaea Kavulich (Columbia), Camryn Menninger (NYU), Esther Seeland (Messiah) and Rebecca Story (Stanford).
"I've never been in the transfer business," Lananna said, "so it's a new avenue for me, but each young woman that we've had transfer in has been somebody that we wanted in the program and felt would add to the culture of the program. It wasn't just somebody running a good time on the track."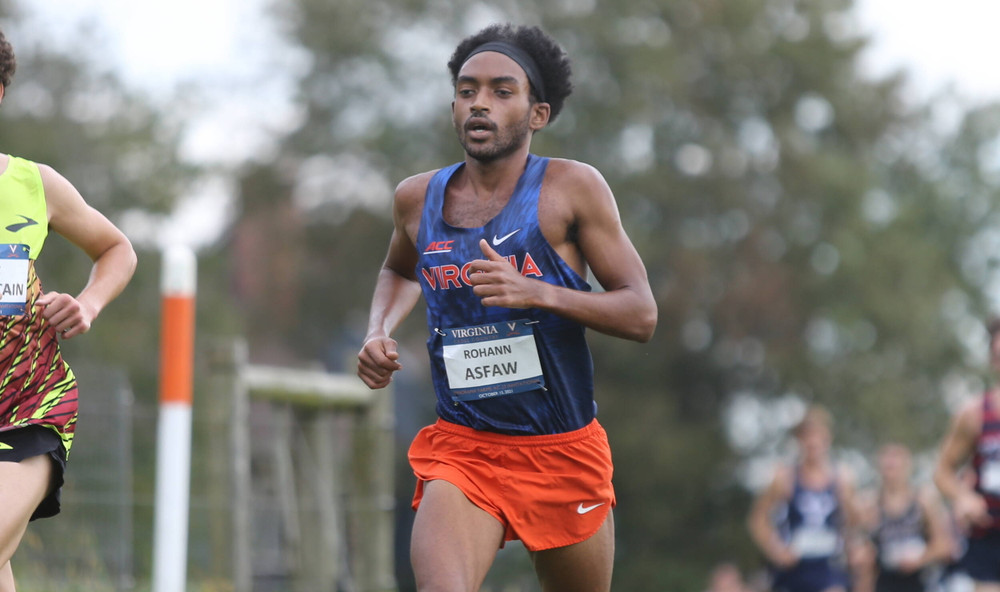 Seeland won three NCAA Division III national titles for Messiah: one in the 800 meters outdoors, one in the 800 indoors, and one in the 1500 outdoors. Until the Spider Alumni Open, at which she finished fourth, Seeland had never competed in cross country.
"That's a big first race," Lananna said.
He understands why the University appeals to student-athletes in the transfer portal. Not only does UVA have a sterling academic reputation, it has "a great athletic department, great success," Lananna said. "So I think when every sport does well—when swimming wins the NCAA, when tennis wins, when lacrosse wins—it makes a gigantic difference in the profile of the University."
Lananna and assistants Trevor Dunbar and Joelle Amaral divide up coaching duties with Virginia's distance runners, who number about 20 on each side. Those runners allow UVA to cover the "800, 1500, steeplechase, 5,000 and 10,000," Lananna said. "We've got five distance events, and I feel like we have the appropriate numbers."
This year's NCAA Championships will be held in Stillwater, Okla. "We'll put our focus on qualifying this year," Lananna said, "and hopefully that gives us a foundation for being able to really do something in the next year.
"We do need to improve, and I think we will. I like our chances. I think our student-athletes are laser-focused. We recruited them all because they wanted to be part of something special, and I think that they have demonstrated through their hard work and their commitment to the program that they are truly going to work not only in words, but in deed."
To receive Jeff White's articles by email, click the appropriate box in this link to subscribe.