By Jeff White (jwhite@virginia.edu)
VirginiaSports.com
CHARLOTTESVILLE — When Brian O'Connor came to the University of Virginia nearly two decades ago, the phrase "transfer portal" was not part of the lexicon of college athletics. Times change.
"Now it's obviously part of developing a program in any sport," said O'Connor, who's heading into his 20th season as UVA's head baseball coach.
Look no further than Disharoon Park. Since the end of last season, the Cavaliers have added eight transfers, by far their most in an offseason under O'Connor. Virginia's 36-player roster also includes 12 freshmen, which means more than half of the team is new.
"It was kind of weird the first couple of days," sophomore shortstop Griff O'Ferrall said Friday before UVA's first practice. "I had to introduce myself to everyone I saw, because it's more new kids than returners. It's definitely a different feel, but this group has already blended really well."
O'Connor said: "We're just doing everything we can to try to mold and integrate this group so the new players in the program can get a really great understanding about what Virginia baseball is all about and what we need to do on a day in, day out basis to have success."
Some programs, O'Connor said, use the transfer portal "as their primary source of player acquisition. We will not do that. It will always be a supplement for us, based on need. We've always taken a lot of pride in the development of the high school player, and that's been reflected in the Major League Baseball draft and our guys' success in the draft. That will always be the cornerstone of our program. "
Five of the transfers are pitchers: right-handers Nick Parker (Coastal Carolina), Chase Hungate (VCU) and Brian Edgington (Elon) and left-handers Connelly Early (Army) and Angelo Tonas (Georgetown).
"We've got some guys on the mound, some pitchers, that have had a lot of experience at their previous institutions," O'Connor said. "They've been there before. They've pitched in NCAA regionals. They know what it's like. They just haven't worn our uniform doing it."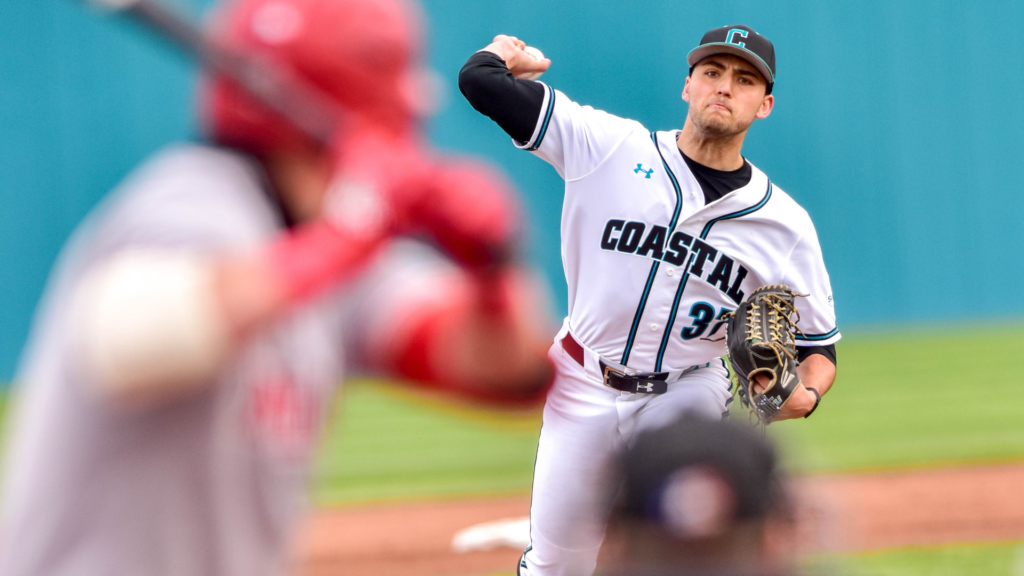 Restocking the pitching staff was perhaps the Wahoos' No. 1 priority in the offseason. From a team that finished 39-19 after being eliminated at the NCAA regional in Greenville, N.C., UVA lost most of its proven arms. The Cavaliers collectively threw 511.2 innings last season, and the pitchers responsible for two-thirds of those innings are gone, among them Nate Savino, Brian Gursky, Devin Ortiz, Dylan Bowers, Paul Kosanovich and Matt Wyatt.
"We do have a very talented group of freshman pitchers," O'Connor said, "but when you can supplement that with some guys on the mound that have experience, there's value in that."
The position players who transferred in are Travis Reifsnider, whom JMU used at catcher, in the outfield and at designated hitter, and outfielders Ethan O'Donnell (Northwestern) and Tommy Courtney (Pennsylvania).
Reifsnider, a graduate of Collegiate School in Richmond, hit .303 last season and led the Colonial Athletic Association in slugging percentage and home runs. He was named to the All-CAA first team.
O'Donnell hit .320 for Northwestern last season, with 24 doubles, 10 home runs and 39 RBI. He was a second-team All-Big Ten selection.
At Penn, where he hit .299 last season, Courtney was a four-year starter in center field. (The COVID-19 pandemic ended the Quakers' 2020 season after eight games.)
Courtney, who lives with Hungate, said his transition to a new town, a new school and a new program is going well.
"It's an adjustment, for sure," he said, "but I feel like I'm more mature, obviously, than coming into college as an 18-year-old, when I originally got Penn. So I've been able to adjust a little faster.
"All programs are run differently, so I'm just getting used to that. But it's been a lot of fun so far. The standards and expectations are pretty clear. I know what's expected of me every day, and that's what I do. As an older guy, I totally understand it. That's how [O'Connor's] program is run, and that's how it goes. I'm a huge fan of it."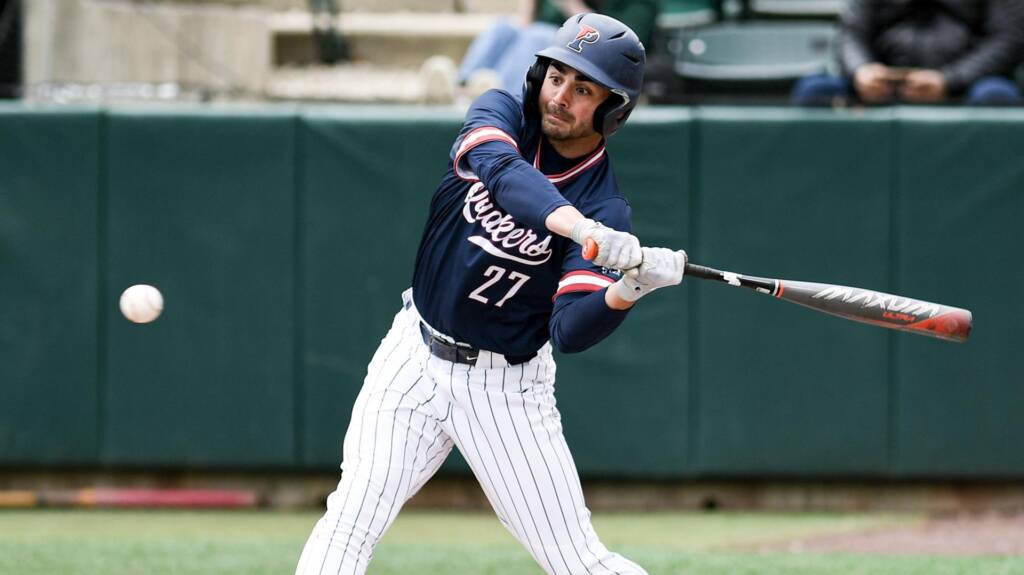 Courtney is pursuing a master's in educational psychology, with a focus on social foundations, in UVA's School of Education and Human Development. Parker, who's living with Early, is in the same program.
When the transfers arrived on Grounds, Courtney said, they initially gravitated toward each other, "but, honestly, after two days of workouts, you kind of start meshing with everybody. By the time we start working out and practicing with the team, everybody starts meshing together pretty well."
Parker said: "Everyone here has done a really good job of including transfers, freshmen, new guys. Everyone sees what we need to do and sees that everyone is important. We need everyone to play meaningful innings if we want a chance to end up in Omaha."
Like the position players, the pitchers who transferred in brought strong credentials with them. Parker came from a Coastal program that won the College World Series in 2016, a year after UVA was crowned NCAA champion. Like the Cavaliers, the Chanticleers were sent to the NCAA regional hosted by East Carolina last season. Parker didn't pitch in either of Virginia's two games with Coastal in Greenville, but he put on a show at the regional.
Against top-seeded ECU, Parker pitched eight scoreless innings and struck out a career-high 10 batters in Coastal's 9-1 win. For the season, he posted a 6-3 record, with a 4.45 earned-run average.
At Elon, Edgington started 15 games and had a 6-4 record, with a 3.56 ERA. He made the All-CAA second team.
Hungate made 21 appearances for VCU last season, all out of the bullpen, and went 6-4, with a 3.57 ERA. Two of those appearances came against UVA, which split its two games with the Rams, who went on to win the Atlantic 10 title.
Tonas made a team-high 30 appearances for the Hoyas, all out of the bullpen. Early, who like Reifsnider is from the Richmond area, was honored as the Patriot League's top pitcher. He posted a 7-4 record and a 3.26 ERA, struck out 88 in his 85.2 innings, and helped Army win its fourth straight Patriot championship.
During the NCAA regional in Greenville, Parker said Sunday, he had no idea that he'd end up playing for the Cavaliers. "I kind of entered the portal not knowing anything, but definitely seeing them play down there had a big impact on my decision."
After four years at Coastal, starting over at another school "has been unique for me," Parker said, "and that was one of the experiences I wanted to have, being able to see how another place kind of runs things. And I think Coach Oak has been terrific. To me it seems like he always has a plan in place every day we're there, and how all his messages have reasoning behind them."
In 2021, the Hoos advanced to the College World Series for the fifth time in program history, and "I came here because I think we have a terrific shot to go back to Omaha," Parker said. "That is the goal."
Pitching coach Drew Dickinson must replace two of his weekend starters from last season—Savino and Gursky, who began his college career at Southern California—and that played a role in Parker's decision to become a Cavalier.
"I wanted a place to have a good opportunity to come in and compete for a spot, and I thought it would be a good fit," Parker said.
It's not unusual for Virginia to bring in a dozen or so freshmen, but "I don't plan on getting 20 new players every year," O'Connor said. "This is kind of just a little bit of an anomaly. We lost a significant amount of guys to professional baseball, from the pitching end, so a little bit of that had to happen. We won't lose as many after this year, so the retention will be better."
The Hoos went into last season with five new transfers, all pitchers. None arrived in Charlottesville with a dazzling college résumé.
"I would say the group last year was kind of one that wanted opportunity and really hadn't gotten much opportunity [at previous schools]," O'Connor said.
Gursky, for example, pitched only 30.1 innings for USC in 2021. He threw 70 innings for UVA last season and made the All-ACC second team.
The Cavaliers' new transfers, by contrast, "were dudes at the schools they came from," O'Connor said. "They all were actually very high-achieving players at their previous institutions."
Moreover, O'Connor said, they fit well in the culture he's built at UVA, where his record is 789-338-2.
"If you still bring in the right type of people, it doesn't matter whether they're 18 or 22," O'Connor said. "If they're the right kind of people—and that's figured out in the recruiting process—then your culture will still be great.
"I thought last year we had great culture, and we had a number of transfers [on that team]. We've got some transfers in our program that have been very successful previously in really good programs, and they're great kids that are great students. You can't just take anybody, they still have to fit into your organization, and you gotta feel like they're team-first guys, and I feel that way about all of them.
"Some of these guys in a matter of two weeks of being with us have become leaders of our team. Because they're 22 and they've had experience, they're not afraid to say something because they know what should be done."
Even before O'Donnell, Courtney and Reifsnider came aboard, UVA had an exceptional group of position players, O'Ferrall, Kyle Teel, Jake Gelof, Casey Saucke, Ethan Anderson and Colin Tuft among them. The big question mark heading into 2023 will be the Cavaliers' pitching.
Of the team's returning pitchers, only Jake Berry (56.1), Jay Woolfolk (37.2) and Matthew Buchanan (28.1) threw more than 20 innings last season.
"We'll just have to use the fall and the preseason to figure out who are the guys and what roles they'll have from a pitching standpoint," O'Connor said. "We have a completely revamped pitching staff."
To receive Jeff White's articles by email, click the appropriate box in this link to subscribe.