By Jeff White (jwhite@virginia.edu)
VirginiaSports.com
CHARLOTTESVILLE — After graduating in 2017 from Indiana University, where he'd been an All-America diver, Josh Arndt was through with the sport. Or so he thought.
Arndt, a safety major in IU's School of Public Health, started an internship that year with a company that manufactured pharmaceuticals. He found himself sitting in a cubicle all day, with no one to talk to.
"I hated it," Arndt said.
One of his former teammates, Darian Schmidt, who's now the head diving coach at Southern Methodist University, suggested another career path. "He was like, 'I know you hate your internship. Have you thought about giving diving coaching a try?' " Arndt recalled.
As chance would have it, the University of Massachusetts' longtime coach, Mandy Hixon, was stepping down. Arndt is close with her son, Mikey Hixon, a two-time Olympic medalist in diving, and that connection helped him land the head job at UMass.
"So I got very, very fortunate with that," Arndt said. "And now it's just what I want to do."
He spent two years at UMass, coaching men's and women's diving, before moving to the University of Connecticut. After three years at UConn, Arndt made another move this summer, to the University of Virginia, where he succeeded Drew Livingston, who's now at LSU.
"Drew did a great job, and he certainly left the diving program better than he found it," said Todd DeSorbo, head coach of UVA's swimming & diving teams. "But we ended up with a great catch, so we're really happy."
At UMass, Arndt was twice named the Atlantic 10's women's diving coach of the year. At UConn, he was honored as the Big East's women's diving coach of the year in two of his three seasons. (Arndt coached the Huskies' women for all three seasons. UConn dropped its men's program before his final year there.)
"My career started off at a mid-major," said DeSorbo, a former assistant coach at UNC Wilmington, "and you learn a lot at the Division I mid-major level. You have to do a lot more, because you just don't have the resources or the staff resources to be able to spread the work out. So you learn a lot and you have to hustle and you've got to work really hard. So the fact that he's had some success at that level is always intriguing, because I know what you're getting typically when somebody comes in from that level.
"He definitely wants to make a name for himself. He had a ton of success as a diver at a really high level, so he knows what hard work is, he knows what diving at an elite level looks like, and he obviously had some success at UMass and UConn. He's young, he's got a lot of energy, and that matches well with our staff.
"For me, regardless of whether I'm hiring a swim coach or a diving coach or a director of ops, whatever it could be, I want people that I want to be surrounded with and people that you're going to have a good time with. Not that we're going to go out and have dinner every night together or be hanging out non-stop, but we are together a lot at work, and so we want to have a great work environment and staff dynamic, and we could see right away Josh would fit in well with our staff."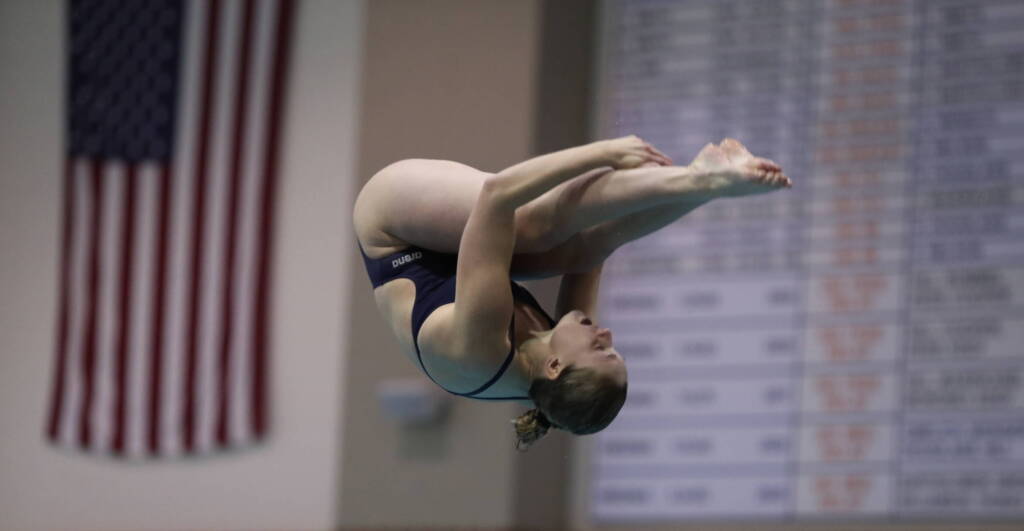 UVA has nine divers: six women (Jennifer Bell, Charlotte Bowen, Maddy Grosz, Lizzy Kaye, Amanda Leizman and Annie Wiese, a transfer from Notre Dame) and three men (Oliver Mills, Joseph Perreault and Nicholas Sanders).
Arndt said he'd generally like to have about five women and five men in the diving program. "I want to make sure I keep it relatively small, so everyone gets their opportunities," he said.
Kaye, Bell and Bowen represented the Wahoos at the NCAA championships last season.
"The way I see it is there is just so much untapped potential on this team, and they're already kind of showing it," said Arndt, who minored in psychology at Indiana. "We're turning over dives that they haven't really done before. We have some phenomenal divers on the women's side, but we also have some phenomenal divers on the men's side."
He's added some dry land drills to their training regimen, and the divers have been practicing periodically in Lynchburg at Liberty University's natatorium, which has 7-meter and 10-meter diving platforms. (UVA's Aquatic and Fitness Center has 1-meter and 3-meter springboards and a 5-meter platform.)
"The AFC is great," Arndt said. "It gets the job done for what we need to do. It obviously lacks a full set of towers, which kind of hurts us a little bit, but with Liberty being an hour down the road, we have a nice deal with them where they let us come down whenever we want to do some platform training."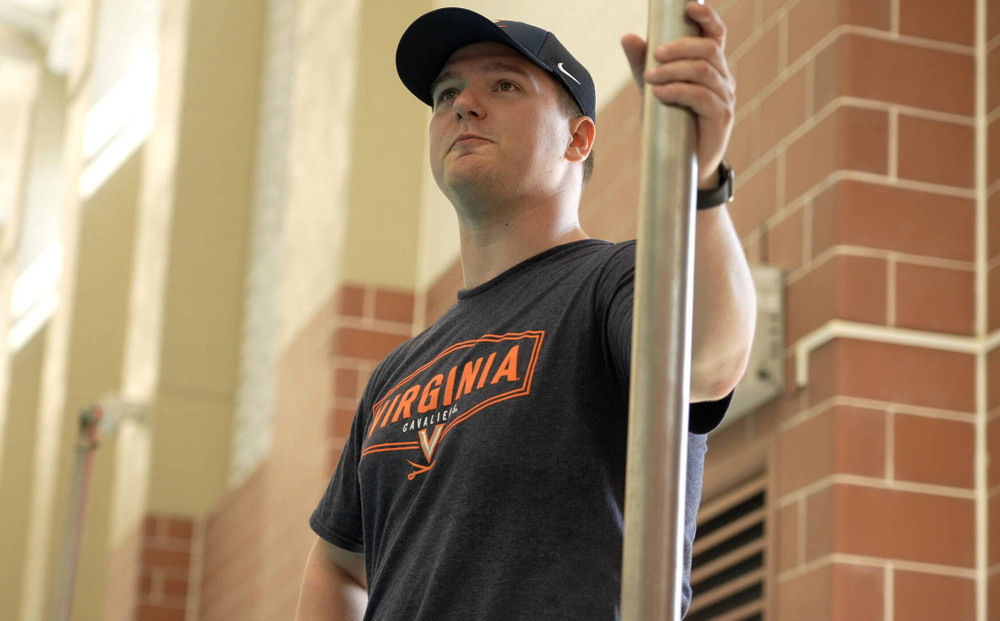 In swimming & diving, the UVA women have won back-to-back NCAA titles. The UVA men placed ninth at NCAAs in 2020-21 and 10th last season. All of the Cavaliers' points in those meets came from swimmers.
"I take the approach that if you want to build a championship team, you've got to kind of start with speed and relays," said DeSorbo, who's heading into his sixth season at Virginia. "You've got to have really great relays to be able to contend for a national championship. So you kind of build from the ground up, with speed and relays, and once you get those to the level you want, you can kind of expand and try to balance out the rest of the team and program.
"We've kind of [reached that level] on the swimming side, so now it's like, OK, let's turn our attention to diving and try to bring that up to the level as well. I know that, particularly on the women's side, the divers as well as Josh are really excited and have big goals to be able to contribute at the NCAA level. It certainly would add a lot of value. They're already doing a great job at the conference level. Our divers are typically on par with the rest of the programs in the ACC at the conference level, if not scoring more."
On the men's side, Virginia sent nine swimmers and one diver to NCAAs last season. Representing the Hoos at the NCAA women's meet were 14 swimmers and three divers.
A women's diver from UVA has never scored at NCAAs, and "we've only had one male ever score a point," Arndt said. "So we're trying to change the pace of that, and they're all capable of it. It's just once you get to NCAA it's a different beast. We gotta figure that out."
Arndt, 27, grew up in La Porte, Ind., about 70 miles from Chicago. He'd never been to Charlottesville before his job interview, but he'd run across UVA divers at the Zone A championships every year.
"They'd all walk in wearing their full track suits and yipping and hollering, 'Hoos!' " Arndt said, laughing.
He no longer dives himself. "My Speedos are tucked away. I haven't got into them in quite a while," Arndt said. "But [UVA's divers have] been asking me to get in here and there. I've made a couple of deals that if they get these dives or those dives or whatever, maybe I'll get back in and bounce around with them. So it'll be fun."
Arndt said he's "head over heels" about his role at UVA. "It's just such an awesome place to be," he said. "I couldn't be more ecstatic. I feel very fortunate every day I step on the pool deck here. It's still a little bit in the honeymoon period. I don't know when I'll get out of that. I hope I never do."
To receive Jeff White's articles by email, click the appropriate box in this link to subscribe.