By Jeff White (jwhite@virginia.edu)
VirginiaSports.com
CHARLOTTE, N.C. — Near the end of a photo shoot with Jayden Gardner and Kihei Clark, University of Virginia head men's basketball coach Tony Bennett, laughing, asked the players if they'd seen "Zoolander."
Had they been more familiar with the movie, Bennett might have broken out his version of Blue Steel, the title character's signature pose. He resisted the temptation, though, and the Cavalier contingent proceeded to its next stop at ACC Tipoff on Wednesday.
With the new season yet to begin, every ACC team is unbeaten, and the mood was light during the conference's annual media day. For Bennett, who's heading into his 14th season at Virginia, ACC Tipoff has become a rite of autumn. For Gardner and Clark, it was a new experience.
"I really enjoyed this. It was cool," said Gardner, a 6-foot-6 forward from Wake Forest, N.C.
"You get kind of tired of the same questions, but I'm just glad to be here to represent the University and the team," said Clark, a 5-foot-10 point guard from Los Angeles.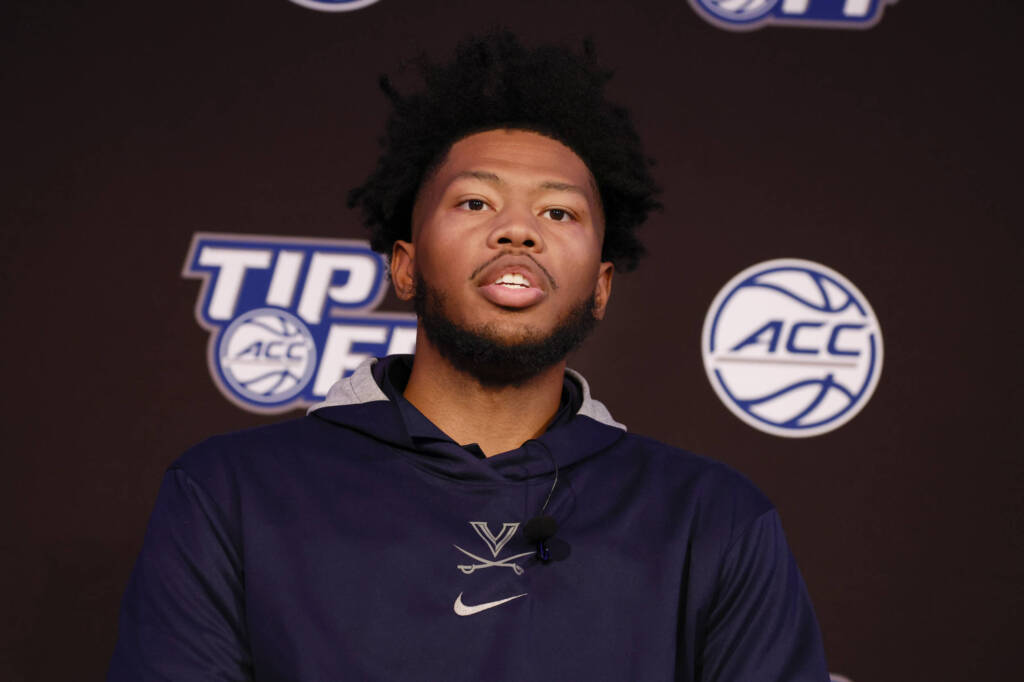 Gardner spent three seasons at East Carolina University before transferring to UVA after the 2020-21 school year. As a sophomore, he was one of ECU's representatives at the American Athletic Conference's media day. The ACC's version attracted more media members, and "it just feels like it's on a grander stage," Gardner said.
Like Gardner, Clark is a fifth-year senior. Unlike like Gardner, he's spent his entire college career at UVA. As a freshman, of course, Clark played a pivotal role in the Wahoos' run to the NCAA title in 2019.
Clark, who's from Los Angeles, has 539 assists, which ranks fifth all-time at UVA. But when he's asked about The Pass, he doesn't need clarification. In a sequence that's cemented in the memories of most UVA fans, Clark chased down the ball and then passed it to Mamadi Diakite, whose last-second jump shot forced overtime against Purdue in the 2019 Elite Eight. The rest is NCAA history.
Clark was asked about that play multiple times on Wednesday. He also heard many good-natured references to the length of his college career and his status as one of the ACC's elder statesmen.
"I'm not even the oldest guy on the team," said Clark, 23, shaking his head.
Ben Vander Plas holds that distinction. A 6-foot-8 forward who turned 24 this month, Vander Plas transferred to UVA last spring from Ohio University, where he spent five years and earned two master's degrees. In March 2021, Vander Plas totaled 17 points, five rebounds and four assists to help Ohio upset UVA 62-58 in the NCAA tournament's first round.
"So we know what he's like," Clark said. "It's been nice to be on his team."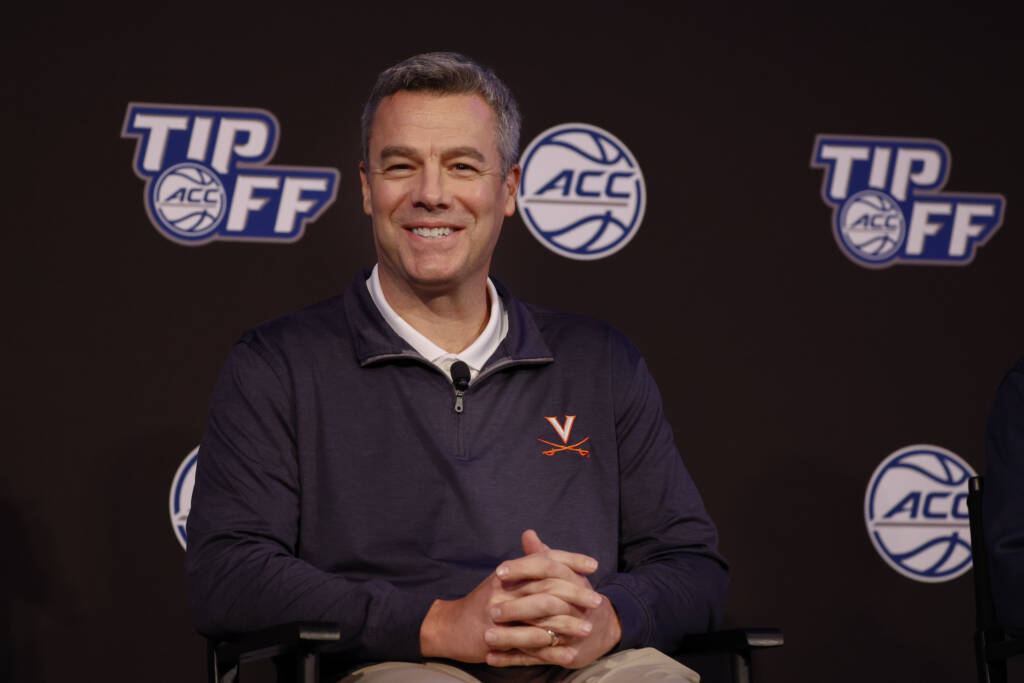 The Cavaliers finished 21-14 last season after advancing to the NIT quarterfinals, and among those back from that team are the top six scorers: Gardner, Clark, guards Armaan Franklin and Reece Beekman, and post players Kadin Shedrick and Francisco Caffaro. Virginia added five newcomers: Vander Plas and freshmen Leon Bond III, Ryan Dunn, Isaac McKneely and Isaac Traudt.
"Last year our depth wasn't great and we probably didn't shoot the ball at the level we needed to, so we tried to improve in those areas," Bennett said. "But experience is golden, I think, in college basketball, and we have that."
Last season marked the first time since 2012-13 that the Hoos missed an NCAA tournament. Still, Bennett said, "we played a lot of big-time games, won some great games, got some postseason experience, so that was good. And then going to Italy was good for all these guys."
In August, the Cavaliers spent 10 days in Italy, where they stayed in Rome, Florence and Rapallo, and played four games. Two of them were against outmatched opponents, but the final two games were against a team from Serbia whose roster included several NBA prospects.
"While we were there, it was a great bonding experience for me and my teammates," Clark said. "I think we grew closer for sure. I think it was a time for Ben and the new guys to just gel with the guys who are returning … It was a great trip."
At various times during the games in Italy, each of the four freshmen shined, and that's been the case this fall in practices at John Paul Jones Arena, too.
"It's just about becoming consistent," Bennett said. "But they all show great flashes, and as they continue to learn and get consistent, they're going to have really good careers. [For some of them] it might happen sooner than others, and then the question will always be: Will you be willing to work through it, be patient and go?"
Virginia opens the season Nov. 7 against North Carolina Central at JPJ. By the time the calendar flips to 2023, the Hoos will also have faced such non-conference opponents as Northern Iowa, Baylor, Michigan, Houston, James Madison and either Illinois or UCLA. Houston and JMU defeated UVA last season.
"This is an experienced team," Bennett said, "and there's a chance to really have a chance to go get some big wins, which is important … Look, even if those don't go the way you want, you really can grow and learn from those games and prepare yourself going forward."
On Nov. 18 and 20, Virginia will play in Las Vegas at the Continental Tire Main Event, a tournament whose field is loaded. On Nov. 29, the Hoos will be in Ann Arbor, Mich., to face the Wolverines in the ACC/Big Ten Challenge.
"We have a gauntlet of a schedule," Gardner said. "We're going to be battle-tested for conference play."
Clark said: "Those are like once-in-a-lifetime opportunities for us, and it just helps us get ahead of the curve before we get into ACC play … I think it's going to be great for our development as we go throughout the season."
Gardner and Clark capped their ACC Tipoff experience with a live appearance on ACC Network on Wednesday afternoon. Their day began on radio row, where a half-dozen stations interviewed them separately. Later came a hoops-centric version of speed dating: sessions with representatives of various media outlets, including Turner, Bally Sports, ACC Marketing, ACC Photo, Sirius XM, ESPN Photo, ESPN Features, ACC Network Features, CBS and ESPN.com.
The players were filmed, photographed and interviewed for four-plus hours. At one stop, they were asked to each reveal three things most people didn't know about them.
Gardner: "I'm a passionate gamer, I'm a good cook, and I'm a great dresser."
Clark: "My favorite food is sushi, I love to play chess, and I love fashion."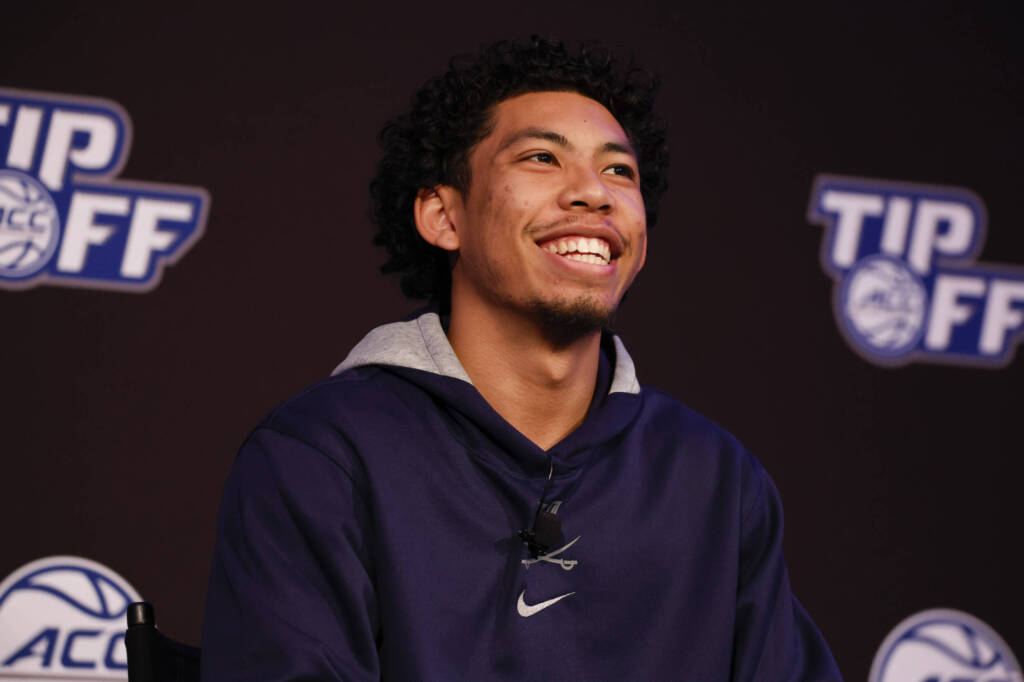 In the ESPN Features room, the players enjoyed seeing former UVA great Cory Alexander, now an announcer for the network. To Alexander, Gardner revealed that he eats an Oreo McFlurry from McDonald's the night before every home game.
"Does Mike Curtis know that?" Alexander responded, referring to the program's esteemed strength and conditioning coach.
"He does not," Gardner said, smiling.
For most of the day, the players and Bennett were in different rooms. At 2 p.m., however, all three climbed onto the main stage in a ballroom and, seated side by side, fielded questions from media members.
"I was sitting there thinking, 'What a good experience for Kihei and Jayden.' Not for myself anymore,' Bennett added, smiling, "but what a cool experience for them. It's kind of like postseason where you're on the podium and they're asking and you gotta think, and they make you do things in these breakout rooms that are fun, challenging, interesting, good for you."
During Bennett's tenure at UVA, some 25 players have represented the program at ACC Tipoff, among them Malcolm Brogdon, Joe Harris, Akil Mitchell, Kyle Guy, Darion Atkins and Isaiah Wilkins.
"I'm always grateful for how our players conduct themselves with integrity and humility—what we value—and I think it's good for them," Bennett said. "I'm always grateful for how we recruited, because they say the right things, and not only do they say them, they mean them. That's who they are, and I like that about them."
To receive Jeff White's articles by email, click the appropriate box in this link to subscribe.