By Jeff White (jwhite@virginia.edu)
VirginiaSports.com
CHARLOTTESVILLE — He specializes in the steeplechase, a 3000-meter event that requires runners to clear seven water barriers and 28 other hurdles. That doesn't mean cross country is an afterthought for University of Virginia graduate student Derek Johnson.
Last fall, not far removed from surgery on his left knee, Johnson placed 25th at the NCAA Southeast Regional Championships in Anchorage, Ky. Another operation, this one on right knee, sidelined him in the spring, wiping out his steeplechase season, but Johnson is healthy again and a leading figure on the UVA men's cross country team.
Johnson, who's pursuing a master's degree in computer science, competed for the first time this fall at the Coast-to-Coast Battle in Beantown, Sept. 23 in Boston, where he placed ninth in the men's race. He'll run again Saturday at the Panorama Farms XC 23 Invitational, which UVA is hosting at its home course in Earlysville.
"He's running well," said Vin Lananna, Virginia's director of track & field/cross country. "He's a little bit behind schedule, but he's making progress each week, and he's such a good leader and a good competitor that I think he'll do a good job."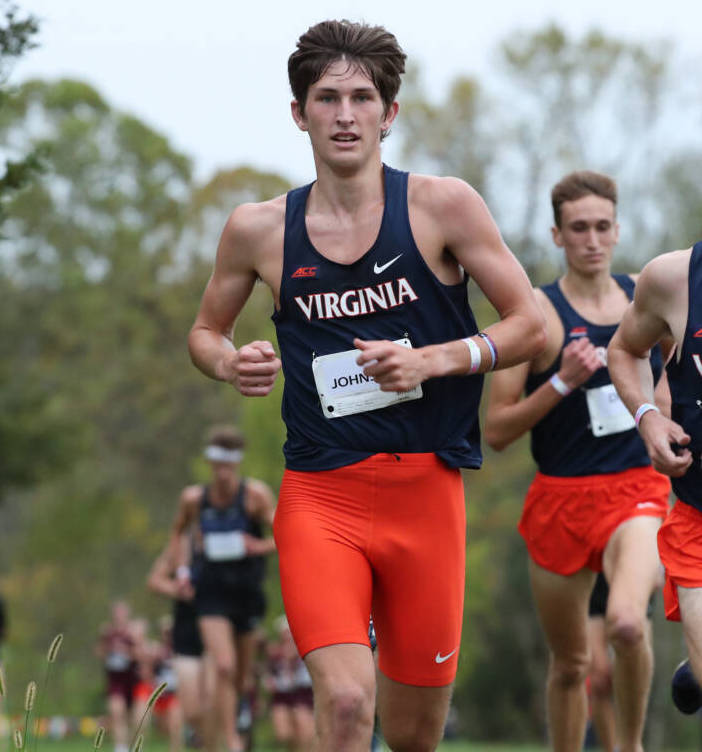 Johnson recalls a conversation he had over the summer with teammate Rohann Asfaw, a talented distance runner. Like Johnson, Asfaw competes in three seasons: cross country in the fall, indoor track & field in the winter, and outdoor track & field in the spring.
"We were talking about the team principles," Johnson said, "and one of our core principles is that nobody really treats cross country like an offseason. I think at a lot of schools, if you're more of a track-focused person, it's easy to look at cross country like, 'You're just building your base. You're getting ready for the real season,' and I don't think anyone on our team feels that way.
"I think everyone's goal is to make the top five, make the top seven. So I think my strategy going into cross country is to race as hard as possible when I do get the opportunity to race, because there's not a ton of opportunities. You don't have that many races. And then also to understand that it's a long season and you might be feeling amazing in September, even October, but if you're not feeling great for ACCs, regionals and nationals, then that doesn't really matter."
After graduating from Tuscorara High School in Leesburg, Johnson enrolled at UVA in the summer of 2018. He'd never competed in the steeplechase before arriving in Charlottesville but soon showed an aptitude for the grueling event.
He placed 17th in the steeplechase at the ACC outdoor meet track & field meet in the spring of 2019. The COVID-19 pandemic wiped out the outdoor season in 2020, so Johnson wasn't able to compete in the steeplechase as a sophomore. In June 2021, however, he placed seventh at the NCAA outdoor championships in Eugene, Ore., and later that month completed at the U.S. Olympic Trials. Then began a frustrating stretch of his career.
"I've had a knack for picking up knee injuries in the last year," Johnson said, shaking his head.
Having to miss the 2022 outdoor season was difficult for him, Johnson acknowledged. "It's just hard seeing everybody else doing the thing you think that you're capable of doing. It's not like you're upset with anybody or even that you're upset with yourself. It's more like you're just upset with the circumstances of the thing. It was something I was really looking forward to, and it was just hard to have it taken away."
The Panorama Farms XC 23 Invitational will bring together 17 men's teams and 18 women's teams.
"We have a good geographic representation of teams," Lananna said. "We have a bunch of different conferences that are represented. We have East Coast, West Coast, Midwest schools here. So I think this will be a good chance to see where we are, going into the championship portion of the season."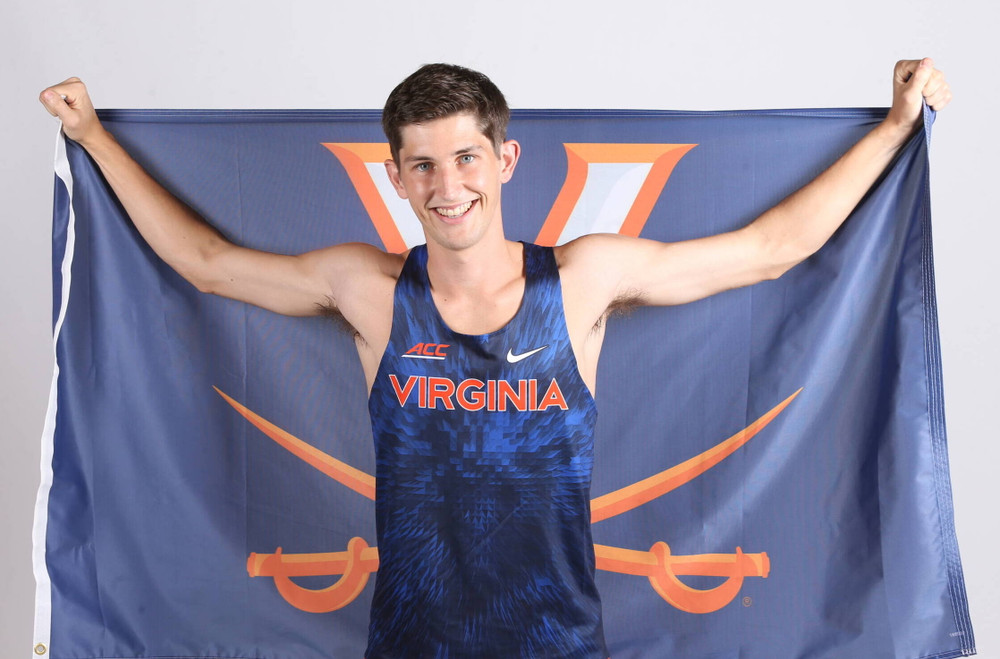 The Wahoos are hosting the ACC championships at Panorama Farms on Oct. 28, and that'll also be the site of the NCAA championships in 2023. The course has been modified to meet NCAA requirements, and Saturday's races will be "an opportunity to really start to see how the course shapes up, see how the athletes from all schools, not just Virginia, handle it," Lananna said.
"It is a new course out there, so it will be something that people need to negotiate: new turns, how wide is it, how fast is it, how's the first mile run, etcetera? And then for our team, it's the first opportunity for us to really put our whole team on the start line. We haven't had everybody [competing together] yet, so it'll be a good chance for both the women and the men to put it out there."
The 8000-kilometer men's race will start at 10 a.m. The women's race, a 5k, will start at 11 a.m. Hicham El Guerrouj, a two-time Olympic gold medalist for Morocco and the current world-record holder in the 1500 meters, will the guest starter.
In indoor track & field, Johnson runs the 3000 and 5000. "I think if I didn't do the steeplechase, I would I probably be more of a 5k-focused runner," he said. "I do think that I have good strength, and for that reason, at least in high school, I always thought of myself as a good cross country runner. Then I sort of had that belief shaken a little bit when I got here. But then last year, I ended up having a good cross country season, even after not having very good training because of the injuries. So I think that kind of restored my faith in my abilities as a cross country runner."
He likes competing in the fall, in part because "cross country is a more team-focused sport," Johnson said, "and you get a lot closer with the team."
Moreover, he said, cross country "gives you a really high aerobic base. You're doing longer sessions, you're running more miles than you would in a track season. You're doing all this work to get yourself prepared to run a 10k, and that's kind of just like money in the bank when you get to the track season. You just feel more confident in your strength, so then you can work a little bit more on the speed when it's time to get specialized."
Johnson graduated in December with a bachelor's in computer science from UVA's School of Engineering and Applied Sciences. He's on track to earn his master's in the spring. He worked this summer as a software developer for Amazon  in Park City, Utah, where he was able to train at altitude.
After an injury-marred 2021-22 school year, "I needed to get out of Charlottesville," Johnson said, laughing. "I'd had a rough time in Charlottesville the last little bit."
He returned to Grounds in a better frame of mind, and he's looking to finish the fall with a flourish.
"I think I'm in the best cross country shape of my life," Johnson said, "so I feel very confident that I can run fast. I think that I can score for our team, and my goal is obviously to be the best guy on the squad."
Through the course of his college career, Johnson has "seen it all," Lananna said, and those experiences should help as the final stretch of cross country season approaches.
"I think Derek is more of a long-middle distance runner than he is a long-distance runner," Lananna said, "but he's such a good competitor, I'd always put my money on Derek."
To receive Jeff White's articles by email, click the appropriate box in this link to subscribe.