By Jeff White (jwhite@virginia.edu)
VirginiaSports.com
The NCAA women's soccer tournament's second round found the Virginia Cavaliers in State College, Pa., where they defeated Xavier 3-1 on Friday afternoon.
The victory sends UVA to the round of 16 for the 17th time in the past 18 seasons, but it was a bittersweet occasion for players and coaches, whose hearts were back in Charlottesville, some 300 miles away.
"Today was about playing for something bigger than ourselves and honoring D'Sean, Lavel and Devin, and playing for them, playing for the UVA community," midfielder Lia Godfrey said, "and I hope we did that today with the win."
The Wahoos are in the NCAAs for the 29th consecutive season, and they opened the tournament by blanking Fairleigh Dickinson 4-0 last Saturday night at Klöckner Stadium. Little more than 24 hours later, UVa football players D'Sean Perry, Lavel Davis Jr. and Devin Chandler were shot and killed on Grounds after returning from a field trip to Washington, D.C. Two other UVA students were injured in the shooting, including running back Mike Hollins.
"It's just such a devastating event, and there's no question our team was very close to those three individuals and to Michael," Virginia head coach Steve Swanson said Friday afternoon. "So it hit our team very hard, and we prayed a lot for the families of the young men that lost their lives.
"It's just been a really hard week. I told the team before the game that we're not going to be perfect today, but let's give a perfect effort. As one of our players said, there was a little bit more emphasis on the 'why' this week. But I was really proud of the way the team responded to the tragedy. It's really hard. It just puts life into perspective. You really have to come together and understand that life is so much more. It's very precious, and you've got to hold on to all that you can."
In the Sweet Sixteen, Virginia (15-3-3) will face host Penn State (15-4-3) at 5 p.m. Sunday. The Hoos are one of the NCAA tournament's four No. 3 seeds, and PSU, which routed West Virginia 4-0 in the second game Friday, is a No. 2 seed.
On a frigid Friday afternoon at Jeffrey Field, where snow flurries fell periodically, UVA players wore armbands with the numbers 1, 15 and 41—those of Davis, Chandler and Perry, respectively—and on each player's jersey was a patch with those numbers.
"Our players really bound together, and they responded," Swanson said. "When the game got going, I felt it was kind of their sanctuary."
Godrey, a junior who made the All-ACC first team, opened the scoring in the sixth minute. Senior midfielder Emma Dawson passed to Godfrey, whose right-footed blast from just outside the 18-yard box deflected off the left post and into the back of the net.
The goal was Godfrey's seventh of the season. She scored her eighth in the 20th minute, courtesy of a spectacular pass from forward Haley Hopkins, a graduate student who back-heeled the ball to Godfrey in the box.
"That was an insane assist," said Godfrey, who scored this one with her left foot. "We just have this connection. She knew exactly where I was going to be and made that perfect pass with her heel. It's like she has eyes in the back of her head, and that was just an amazing pass."
Xavier (14-4-5) cut the Cavaliers' lead to 2-1 in the 22nd minute, scoring on a perfectly placed free kick. But the Musketeers never seriously threatened thereafter against a stout UVA defense. Their only shot on goal was the one of which they scored.
"I thought our back line and [goalkeeper] Cayla [White] did a great job," Swanson said.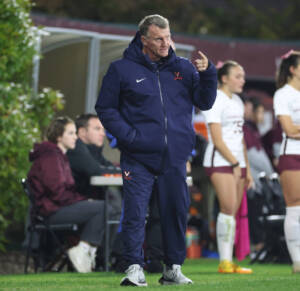 It helped that the Hoos' defense was at full strength. Senior midfielder Claire Constant left Charlottesville early this month to play for Haiti's national team and didn't play against Fairleigh Dickinson. She started against Xavier, and "it was really good to have Claire back," Swanson said.
Xavier scored shortly after Hopkins left the game because of a cut on her leg, and "we were a little disorganized" on the free kick, Swanson said. "But from then on, I felt we buckled down and we were solid defensively. We did a good job of not only defending them, but one of our best defenses is just keeping the ball and moving the ball and possessing it at times and using the field size, so I think we did a really good job consistently throughout the match of dictating tempo a little bit."
For Godfrey, who's from Fleming Island, Fla., this was her first multi-goal game as a Cavalier. Freshman forward Maggie Cagle, a third-team All-ACC selection, closed the scoring with a goal in the 72nd minute.
When the game ended, the Hoos were happy to leave Jeffrey Field for warmer surroundings.
"It was definitely conditions that we were not used to and I'm definitely not used to, being from Florida," Godfrey said, laughing. "But we were expecting the cold, so we just did our best to stay warm. We had the warmest gear on that we could, and just tried to play our game regardless of the conditions."
It's not unusual for the Cavaliers to play multiple games at Klöckner Stadium during an NCAA tournament. This season, though, barring an unforeseen turn of events, they've played at home for the last time.
"We would love to play at Klöckner," Godfrey said, "but when we entered the tournament as a 3-seed, we knew that wasn't going to be possible. So we were prepared to come here, and no matter what field we were on, we were going to play our best game, play the way we know how to play.
"Traveling together, too, that brings us closer together, and I think being in a hotel where we're all next to each other definitely brings us closer. I would say it doesn't really matter where we are; we're going to play our game, no matter what."
Virginia is 7-8-1 all-time against Penn State. The Nittany Lions snapped the Cavaliers' five-game winning streak in the series with a 4-2 victory at Klöckner early last season.
"It's a new year and a new team," Godfrey said. "We're different, they're different. It's a new season, so we're just going to go into it playing the way we want to play."
For the first time this season, Virginia will follow a Friday match with a Sunday game.
"What we do between now and the next game is going to be, I think, a really important part of our preparation," Swanson said. "We're going to need our depth. I thought there were a lot of good minutes from players coming off the bench [against Xavier], and we'll probably use more players on Sunday, and hopefully our depth will be a real asset to us, as it has been all season."
Swanson said the tragic events of last weekend in Charlottesville are never far from the Cavaliers' minds, even when the team is on the road.
"It's just heartbreaking, and we're with everybody back there," he said. "We'll be watching the memorial service tomorrow as a group, and we'll be with everybody [in spirit]."
To receive Jeff White's articles by email, click the appropriate box in this link to subscribe.