By Jeff White (jwhite@virginia.edu)
VirginiaSports.com
CHARLOTTESVILLE — For a University of Virginia men's soccer program that in December 2019 came oh-so-close to winning its eighth NCAA title, the two seasons that followed brought more misery than joy.
The Cavaliers finished 7-8-1 in 2020-21 and 6-9-3 last season, missing the NCAA tournament each year. This was uncharted territory for a program that, starting in 1981, advanced to 39 consecutive NCAA tournaments, and that made the Wahoos' accomplishments this season all the more gratifying.
"The two previous years were pretty rough," Virginia senior Andreas Ueland said.
Ueland was speaking Sunday afternoon at Klöckner Stadum, where Marshall eliminated UVA in a penalty-kick shootout after 110 minutes of play produced a 1-1 tie. It was not the ending the fourth-seeded Hoos wanted for their season of resurgence, but, as always, this is a tournament marked by upsets.
The 16 seeded teams in the field of 48 earned first-round byes. In the second round, seven of those seeded teams were ousted: No. 2 Washington, No. 4 Virginia, No. 6 Clemson, No. 8 Oregon State, No. 9 Lipscomb, No. 11 SMU and No. 16 Akron.
"Obviously, we're gutted," said forward Philip Horton, who had put Virginia ahead 1-0 with a goal in the 28th minute. "We thought we deserved more. But that's how the game goes sometimes, getting knocked out in penalty kicks."
In NCAA men's soccer, any game that ends in a shootout officially counts as a tie, unless it's the College Cup final. And so the Cavaliers (10-4-5) were left to reflect on a season in which they played the nation's toughest schedule and didn't lose after Oct. 4, when they fell 1-0 to Denver at Klöckner Stadium. Moreover, the Hoos went unbeaten (3-0-1) in ACC road games.
"I think I've only done that a handful of times in my coaching career," UVA's George Gelnovatch said.
This was Gelnovatch's 27th season as head coach at this alma mater. He's guided the Cavaliers to the College Cup six times, with NCAA titles in 2009 and 2014.
In each of those championship games, Virginia prevailed in a penalty-kick shootout. In recent years, the Hoos haven't fared as well in those situations. They lost to Georgetown in a shootout in the 2019 College Cup final, and they were eliminated from the ACC tournament in a semifinal shootout with Syracuse this month. The Marshall game brought similar anguish.
"It's 50/50 who's gonna win [a shootout]," Ueland said, "but it's tough when your season ends, because you've got fourth- and fifth-years on the team that will never play again. It's super sad for all of us, but that's how it is."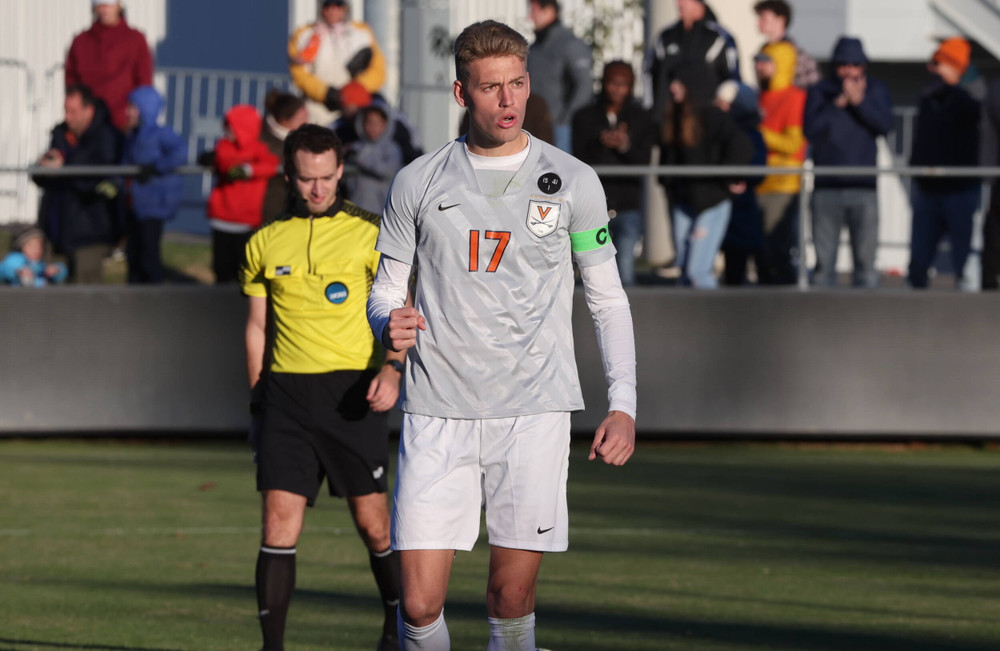 Virginia's draw in the NCAAs wasn't especially kind. Marshall still has key players from the team that won the NCAA title in 2020. The Thundering Herd (11-3-4) didn't play a strong regular-season schedule this year, but Gelnovatch believes they're talented enough to be among the top 16 seeds.
"There's no question that Marshall, in my opinion, is one of the better teams in the country," Gelnovatch said. "They did not deserve a top-16 seed, because their numbers just didn't reflect it. They were 35 in the RPI. But their quality, and everybody knows it, is really, really good."
The Herd played well at Klöckner, but so did the Cavaliers, Gelnovatch said. "We played hard. We played well enough to win. We just needed to get over the finish line on a couple plays, and we didn't."
Coming off its disappointing 2021 season, Virginia added several transfers—among them Daniel Mangarov (UNC Greensboro), Axel Ahlander (JMU), Moritz Kappelsberger (Wisconsin) and Aidan O'Connor (Western Michigan), all of whom became starters—as well as a strong freshman class.
Given that, Gelnovatch said, he went into the season confident the Hoos "were a playoff team, and anything less would be a failure. Just plain and simple. Anything else, no gray areas, no moral victories, anything else other than making the NCAA tournament is a failure. I think it obviously worked out even better."
Four Cavaliers received honors from the ACC. Ueland was named the conference's defensive player of the year, and forward Leo Afonso joined him on the All-ACC first team. Goalkeeper Holden Brown was named third-team All-ACC, and wingback Reese Miller made the All-Freshman team.
Miller, who's from Houston, was credited with an assist (as was classmate Albin Gashi) on Horton's goal against Marshall. Only a spectacular deflection by Herd goalkeeper Oliver Semmle on a Gashi blast in the 31st minute kept the Cavaliers from stretching their lead to 2-0.
"We did a lot of things right," Gelnovatch said. "The thing that was just missing was the second goal."
For the Marshall game, each UVA jersey had a black patch with three numbers on it: 1, 15 and 41, those of fellow student-athletes Lavel Davis Jr., Devin Chandler and D'Sean Perry, respectively. The Virginia football players were shot and killed Nov. 13 after returning to Grounds from a field trip to Washington, D.C.
"This week has been pretty tough on everyone in this community, and we just wanted to play our hearts out for them," Ueland said, fighting back tears.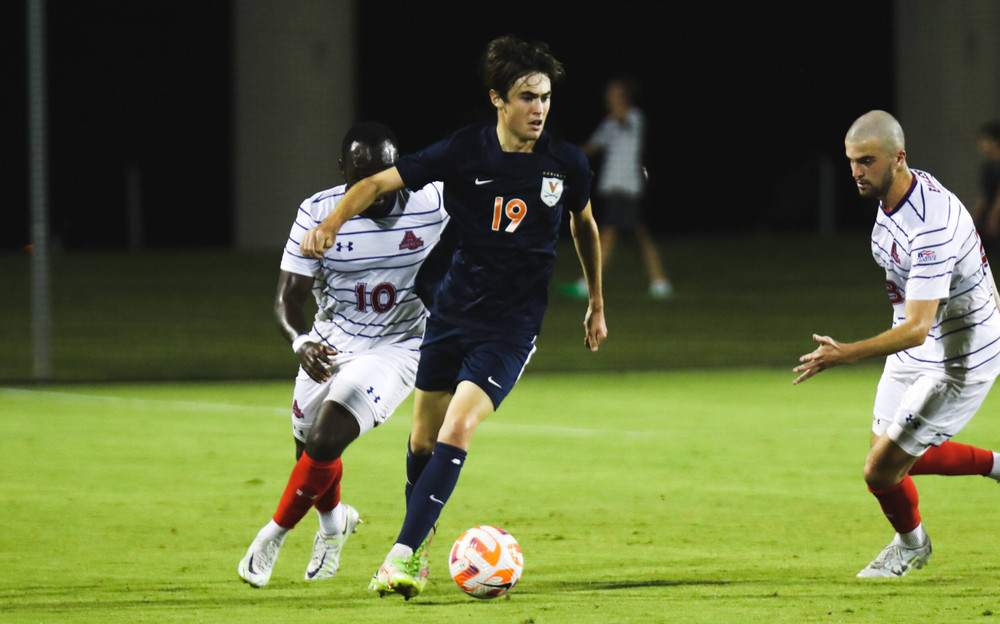 Ueland is expected to sign a Major League Soccer contract this winter, and Kappelsberger is out of eligibility. Afonso, who led Virginia with seven goals this season, has been invited to the MLS combine (as has Ueland), and he might decide to pursue a professional career in 2023. That's a possibility with Horton (six goals) too.
Still, the Hoos expect to return a strong group, including Miller, Gashi, Mangarov, Alexander, Brown, O'Connor, Paul Wiese, Michael Tsicoulias, Asparuh Slavov, Nils Henry Orywol, Andy Sullins, Triton Beauvois, Will Citron and Kome Ubogu (six goals).
Eight of those players—Brown, Ahlander, Miller, Mangarov, Gashi, Wiese, O'Connor and Citron—started at least nine games this season. Gelnovatch is also high on several freshmen who rarely played this fall, including David Okorie, Umberto Pela and Owen Walz.
"We're in a place where I feel like I have seven, eight starters in place, and I can pinpoint exactly what we need to do to compete better for a trophy," Gelnovatch said.
He'd like to add a center back and a center forward, and Virginia probably will look to the transfer portal to fill those slots. "We've got the [scholarship] money to do it," Genovatch said. "We've just got to get it right."
High school seniors Cesar Cordova (Houston) and Brendan Lambe (Atlanta) signed with UVA this month, and "those are two we think are going to be special guys," Gelnovatch said.
In 2018, when they earned the No. 10 seed in the NCAA tournament, the Cavaliers defeated Furman in the second round before losing to Notre Dame in the Sweet Sixteen. A year later, Virginia advanced to the College Cup championship game.
"For me, this [season] is a building block," Gelnovatch said Sunday. "This is similar to 2018, where we're revamping and retooling for a run, and that could be next year for us."
To receive Jeff White's articles by email, click the appropriate box in this link to subscribe.