By Jeff White (jwhite@virginia.edu)
VirginiaSports.com
CHARLOTTESVILLE — Ask Tony Bennett about his team's national ranking, and you're likely to receive a blank look. The University of Virginia's head men's basketball coach pays little attention to the polls in general, but especially early in a season. He's concerned first and foremost with the quality of the Cavaliers' play.
"It's all about who can play well," Bennett said after practice Wednesday at John Paul Jones Arena. "There's so much hype and rankings. Either way, if you're ranked or you're not ranked, it's about quality."
UVA, ranked No. 5 in the latest Associated Press poll, is coming off an impressive showing at the Continental Tire Main Event in Las Vegas. Virginia knocked off Baylor 86-79 on Friday and then defeated Illinois 70-61 in Sunday's championship game.
The Bears and the Fighting Illinois are ranked Nos. 7 and 16, respectively, in the latest AP poll. Also in the tournament was UCLA, which is ranked No. 19 this week.
"Those were four good teams [in Las Vegas]," Bennett said. "At that moment there wasn't a great team at that tournament. Now, which teams will improve and become better, that's all it's about."
In its first game since returning from Vegas, Virginia (4-0) hosts the University of Maryland Eastern Shore (2-3) at 6 p.m. Friday at JPJ. Then comes a Tuesday night game at Michigan as part of the ACC/Big Ten Challenge, followed by the Wahoos' ACC opener, Dec. 3 against Florida State at JPJ.
Bennett's message to his players after the tournament in Vegas?
"We've just gotta keep getting better," he said. "We're off to a good start. Let's keep building on it."
The Hoos are coming off a season in which they missed the NCAA tournament for the first time since 2012-13. Virginia wasn't an inexperienced team in 2021-22, but "it was a new team," Bennett noted Wednesday.
Forward Jayden Gardner and guard Armaan Franklin had played for East Carolina and Indiana, respectively, in 2020-21, and big men Kadin Shedrick and Francisco Caffaro hadn't played significant minutes for the Cavaliers before last season.
Virginia's rotation this season includes three newcomers: forward Ben Vander Plas, a graduate transfer from Ohio, and freshmen Isaac McKneely. Franklin, Gardner, Shedrick, Caffaro and guards Reece Beekman and Kihei Clark, though, are well-versed in Bennett's system. Moreover, few teams around the country can match the Cavaliers' collective experience.
Vander Plas is a sixth-year senior, and Clark, Caffaro and Gardner are fifth-year seniors. Franklin is a senior, Shedrick is a redshirt junior, and Beekman is a junior who's started 59 games as a Cavalier.
"The core has two or three years of playing together," Bennett said, "or four."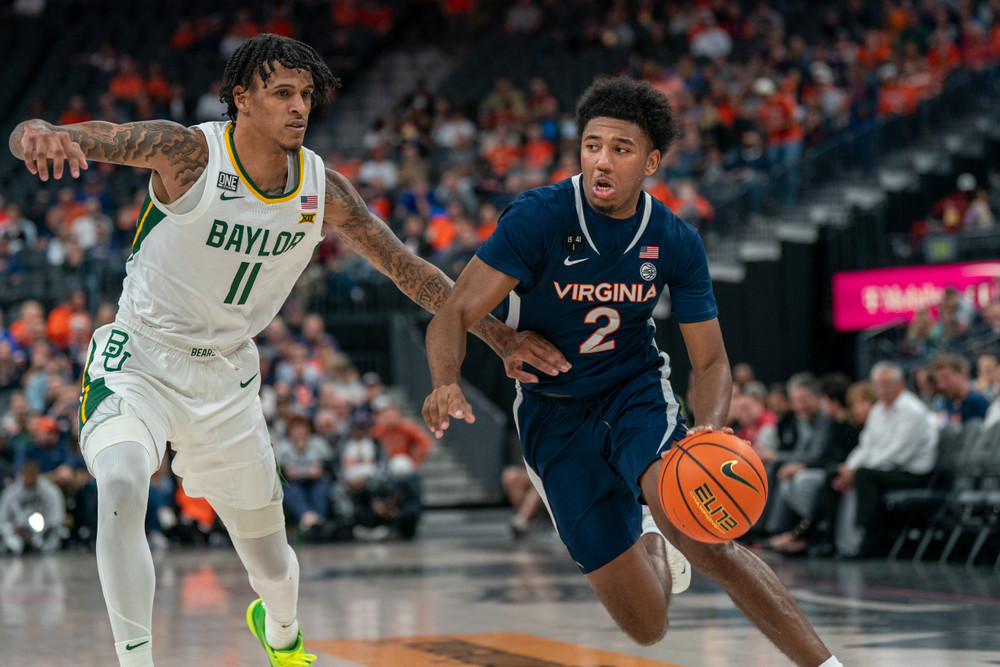 At the tournament in Las Vegas, Clark said Wednesday, "I think you saw the experience and how it can be a factor. And those tight games we played last year, it showed that they helped. We made plays down the stretch, and then we ended up getting stops late in the game, and I think that's what carried us to victory in those two games."
This is the third season in which Clark and Beekman have been backcourt partners, and they've developed a strong chemistry with Franklin, too.
"Our three guards versus any other three guards, I'm taking ours every time," Clark said, "and that experience we've got together, I think, is very valuable."
Clark grew up Los Angeles, which is only 270 miles from Las Vegas, and he had a sizable cheering section at the games at T-Mobile Arena.
"Like 70-plus, I think," Clark said, smiling. "Something crazy."
The Cavaliers' fans had plenty to applaud during the tournament. Against Baylor, UVA trailed by three at the break but dominated most of the second half. Against Illinois, the Cavaliers went on a 13-0 run late in the second half to win going away.
"We were not perfect [in Vegas]," Bennett said, "but we played from start to finish and tried not to stop playing. We played through some mistakes. We played through runs that [the opponents] made, but we played pretty hard and then made some plays.
"In that last game, down the stretch guys really made plays, and that was good. I thought we just played pretty consistently, and different guys stepped up. The first game you saw Armaan really shoot the ball well and play well, and Kadin had a good game. And then that second game, obviously Reece [shined], and Ben played solid."
Beekman, who was named the tournament's MVP, posted a double-double (10 points, 10 assists) against Baylor. He totaled a game-high 17 points, four rebounds, three assists and three steals against Illinois.
Vander Plas came off the bench in both games. He contributed 14 points against Baylor, and he had eight points and a game-high 10 rebounds against Illinois.
"I thought Ben was really a great catalyst for us, just with his completeness," Bennett said. "He knows how to play."
For many of Bennett's players, being on a team ranked in the top five nationally is a new experience. Clark and Caffaro, however, were on the UVA team that won the NCAA title in 2018-19.
The key to handling the spotlight, Clark said, is to not "play into the expectations of the outside. Just focus on the goals that we have within the team, and obviously try not to pay attention to the rankings. Anybody that we play, we're going to get their best shot no matter what. So we're just trying to stay locked in on what we need to do each game, and if we can do that, we'll let the chips fall where they may."
To receive Jeff White's articles by email, click the appropriate box in this link to subscribe.