By Jeff White (jwhite@virginia.edu)
VirginiaSports.com
CHARLOTTESVILLE — They were mainstays in the University of Virginia women's soccer program for years, and head coach Steve Swanson will need a little time to adjust to the departures of such players as Rebecca Jarrett, Alexa Spaanstra, Claire Constant, Haley Hopkins, Michaela Moran and Sarah Clark.
Their college careers ended last weekend in Los Angeles, where UCLA edged UVA 2-1 in overtime to advance to the College Cup, the NCAA's tournament's final four.
"Between all of them, they brought, obviously, a certain talent and certain skill sets to their positions and to our team," Swanson said, "but I think in the end their competitiveness and their will to win will define this group more than anything."
Swanson flashed back to two monumental comebacks. The first took place on Sept. 17 in Chapel Hill, N.C., where Virginia rallied, after falling behind 2-0, to stun host North Carolina 3-2. Never before in the Tar Heels' storied history had they lost in regulation after building a two-goal lead.
And then there was UVA's Nov. 20 game against Penn State in the NCAA tournament's Sweet Sixteen. The Cavaliers trailed 1-0 at halftime and 2-1 with less than four minutes left in the second half. But they tied the game in the 88th minute and then prevailed in overtime on a Hopkins goal.
Even against UCLA, which led for most of regulation, there was "a refusal to bow and a refusal to quit," Swanson said. "If [the departing players] leave any sort of legacy that I hope the team really takes hold of, it's that one: No matter what, you have to compete to the final whistle and you have to believe and you have to keep working. Just their sheer determination was something to really watch. I think all of us on the coaching staff were blessed to see it every single day. They came to practice, they worked extremely hard, and they wouldn't settle for anything less than the best.
"It was just an effort that was second to none. I believe all of them can go play at the next level, so it's exciting, and my hope is their careers are just starting if they continue to play."
The Hoos, who finished with a 16-4-3 record, will never know how far they might have advanced with a healthy Jarrett. A second-team All-ACC selection in 2020-21, she played in only four games last season before suffering a major knee injury. Jarrett rehabbed diligently and returned to the field this season, only to suffer another significant injury in early October.
Virginia played its final 11 games without Jarrett, who she remained one of the team's leaders.
"She did a remarkable job," Swanson said. "You know she's hurting, you know it's frustrating and disappointing for her, but she worked really hard at coming and leading and continuing to interact and be a part of the team, even though she couldn't be there out on the field. I think those are life moments, and to have that kind of courage and strength of character just shows what kind of leader she is and the impact she can have on our society moving forward. She's just a positive life force."
Jarrett, a fleet forward, scored the goal that started UVA's comeback in Chapel Hill, and she put constant pressure on opposing defenses.
"I think our team did a remarkable job when we lost her of coming through and picking up where we needed to for her," Swanson said. "You always wonder, but injuries are part of the game. I think in our sport in particular, unfortunately, you're going to have injuries, and you just hope they don't hit you too hard. We didn't have many this year, but one of the ones that was significant was to Rebecca. She just adds so much on the field. But I was really proud of the way the team fought through adversity this year."
In addition to the injury to Jarrett, there were late breakdowns against Syracuse and Virginia Tech that forced the Cavaliers to settle for ties, and then "we had the tragedy befall us here at Virginia," Swanson said, referring to the Nov. 13 incident in which UVA football players Devin Chandler, Lavel Davis Jr. and D'Sean Perry were shot and killed on Grounds.
The Hoos carried their memories of Chandler, Davis and Perry with them in their final three games in the NCAA tournament.
"Today was about playing for something bigger than ourselves and honoring D'Sean, Lavel and Devin, and playing for them, playing for the UVA community, and I hope we did that today with the win," midfielder Lia Godfrey said after the team's second-round win over Xavier.
Through it all, Swanson said, the Hoos showed "the fight to come back and the resiliency to come back, and there's a lot of things that we can all feel good about."
Hopkins, a second-team All-ACC selection, led the Cavaliers with 33 points (14 goals and five assists) this year. She played two seasons for UVA after graduating from Vanderbilt. Spaanstra, a third-team All-ACC pick, tied for second at Virginia with 21 points (eight goals and five assists) this season. She was a five-time All-ACC selection.
Spaanstra won't be easy to replace, and neither will the other departing seniors. Still, the Hoos will return a talented group in 2023. Among those with eligibility remaining are Godfrey, Alexis Theoret, Maggie Cagle, Jill Flammia, Talia Staude, Laney Rouse, Sama Guidry, Emma Dawson, Maya Carter and Cayla White, who started 20 games in goal this season.
Godrey, a first-team All-American, recently was named one of 15 semifinalists for the MAC Hermann Trophy, which is awarded each year to the nation's top player. Cagle, a third-team All-ACC pick, made the conference's All-Freshman team, as did Flammia.
Cagle, Flammia and Carter headlined a strong first-year class, and another talented group will join the program in 2023. And so the Cavaliers, who have made 29 consecutive appearances in the NCAA tournament, figure to be among the nation's top teams again next season.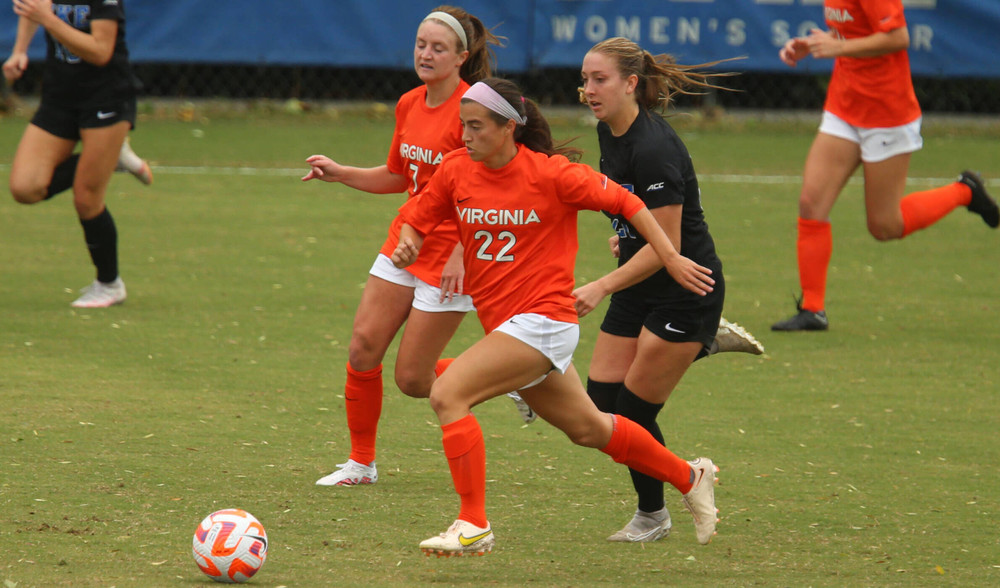 Still, Swanson can't help replaying UVA's loss to UCLA.
"It always takes time," he said, "especially with the way we ended. There's some years you feel like you got beat by the better team. I thought [the Bruins] were very good, don't get me wrong, and you gotta play well to win, but I think we all felt we were right there. When you get that close, it hits you. It's just disappointing."
Virginia outshot UCLA 15-9 and had an 8-1 edge in corner kicks. Moreover, the Cavaliers possessed the ball more than the Bruins. But UCLA was superior in the most important statistical category—goals scored—and that proved decisive.
"In those kind of games, you have to take your chances when you get them and you have to make plays on the defensive end, and we just didn't do enough on the day to solidify that," Swanson said.
In the College Cup semifinals in Cary, N.C., Florida State meets North Carolina at 6 p.m. Friday, with UCLA and Alabama to follow at about 8:30 p.m. A victory would send the Bruins, who won the NCAA title in 2013, to the championship game for the sixth time.
"They're a good team, and they've got a lot of good athletes and individual players," Swanson said. "I think we executed what we wanted to in that game. We came up just a little short. But I thought we played good soccer. To go to their place and play the way we did and control a lot of that game, that says a lot about our team. I'm proud of the soccer we played and the product that we put out there, game in and game out this year, but I'm even more proud of who [UVA's players] are and the team they were. They battled and they played good soccer and they played together, and I think those are all ingredients of what we try to stress here at Virginia."
To receive Jeff White's articles by email, click the appropriate box in this link to subscribe.