By Jeff White (jwhite@virginia.edu)
VirginiaSports.com
CHARLOTTESVILLE — Rare is the game in which the University of Virginia men's basketball team has the second-best defense on the court, but so it was Saturday afternoon at John Paul Jones Arena.
The fifth-ranked Houston Cougars came into this non-conference showdown leading the nation in scoring defense (49.4 ppg) and field-goal percentage defense (31.6). The second-ranked Cavaliers fared better than most teams have this season against Houston's defense, but it wasn't enough.
"We got some open looks, missed some shots, but they're gonna make you work," UVA head coach Tony Bennett said after his team's 69-61 defeat. "You're gonna have to take care of the ball. They're going to be in front of you. They're physical young men, and they made some plays. But you can see why defensively they're tough."
When these teams met early last season at the Fertitta Center in Houston, the Cougars scored the game's first eight points and were never seriously threatened en route to a 67-47 victory.
The rematch started more auspiciously for the Wahoos (8-1). In front of an electric crowd of 14,629, Virginia scored the game's first nine points Saturday.
"That's the start that everybody dreams of," said 6-foot-11 center Kadin Shedrick, who led the Hoos with 16 points on 7-for-8 shooting.
But the Cougars (11-1), the highest-ranked non-conference opponent ever to play at UVA, never panicked. "They just stuck together and continued to play their brand of basketball," Shedrick said, "and they were able to bring it back."
Houston took the lead for good with 6:18 left in the first half. Each time the Cavaliers made a run after that, the Cougars answered.
"You can see why they've had such a good year so far," Bennett said.
The Cougars start no one taller than 6-foot-8, but that doesn't hurt them on the defensive end. "We have great length," head coach Kelvin Sampson said. "We're really long and athletic."
Coming off an extended break for final exams, the Cavaliers were playing for the first time since Dec. 6, when they defeated James Madison at JPJ. Junior guard Reece Beekman hurt his hamstring in that game and didn't return to practice until Thursday, and even then he wasn't 100 percent. He played 33-plus minutes against Houston and totaled four points, three rebounds, five assists, one steal and one blocked shot, but he lacked his typical athleticism.
"He didn't quite have his burst," Bennett said. "I thought he was pretty good defensively, not quite as explosive offensively and probably a little fatigued, because he hasn't done much."
The Hoos came in averaging 72.1 points per game but didn't come close to hitting that mark. They shot 27.3 percent from 3-point range and 41.7 percent overall. When shots aren't falling, Bennett said, the Cavaliers must lean on their Pack Line defense, and that's what disappointed him most about his team's performance against Houston.
After missing their first six shots from the floor, the Cougars made 25 of their final 45 attempts (55.6 percent). All five Houston starters scored in double figures, led by 6-foot-8, 240-pound freshman Jarace Walker.
"You can't say, 'Well, we're going to win when our shots are going in,' " Bennett said. "No, you gotta win games like this with soundness and toughness mentally. The head and heart have got to be connected on the defensive end, and [players can't] forget or just lose a little focus. That won't work. And so that's a great teaching lesson for us. What a wonderful atmosphere. The crowd was great. Our young men played hard … but today the tougher, sounder team on the defensive end won the game."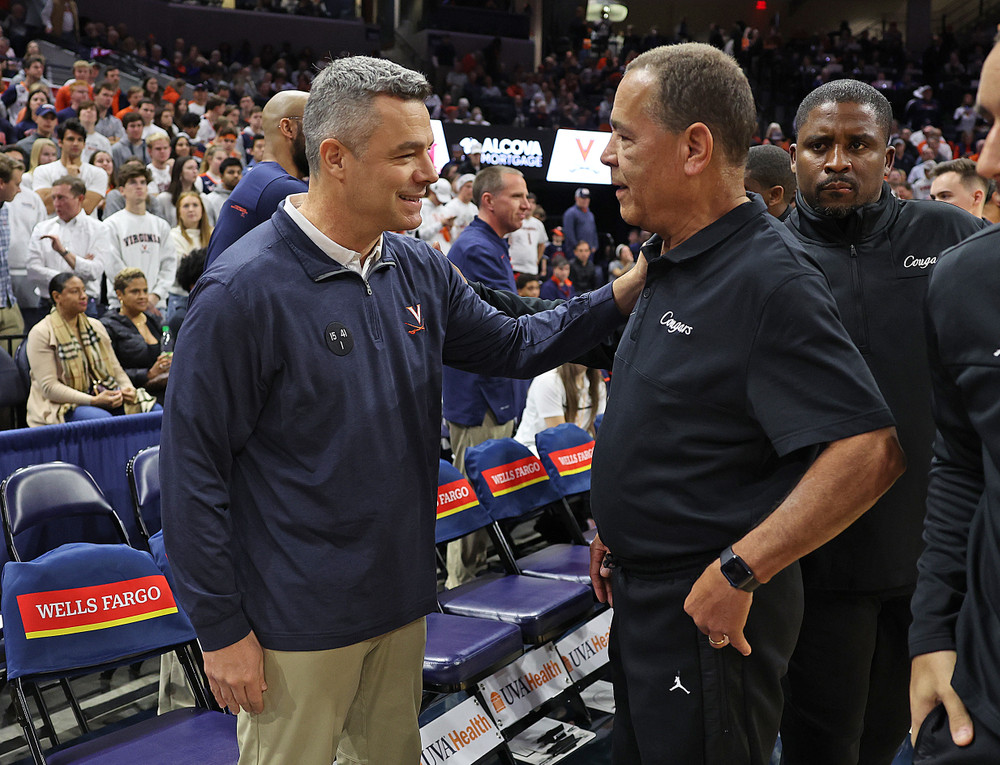 Walker, a former McDonald's All-American, finished with 17 points, seven rebounds, four assists, one steal and one block. He was 2 for 3 from beyond the arc, and his second 3-pointer pushed the Cougars' lead to 54-44 with 4:37 left.
Virginia fought back. Forward Jayden Gardner (13 points) made two free throws, and then teammate Kihei Clark swiped the ball from Houston guard Jamal Shead near midcourt and dribbled in for a layup that made it a six-point game. The crowd roared, and its cheers swelled when the Cougars turned the ball over on their next possession, swinging momentum further in the Cavaliers' direction.
Coming out of the final TV timeout, UVA ran a play that resulted in an open look for freshman guard Isaac McKneely, whose 3-point attempt went in and out. Asked after the game if he thought that shot was going in, McKneely smiled.
"Absolutely," he said. "I really wish that one would have fallen because I think we were on a little run right there. That would have cut it to three. I'd like to think the outcome would have been different if I made that shot. I don't know. You gotta live with the outcome."
Led once again by Walker, Houston stretched its lead back to 11, and there was no real drama in the final minute. The Cougars were ranked No. 1 nationally when Alabama upset them last weekend, and the lessons learned in that loss helped his team hold off UVA, said Sampson, who like Bennett is a former Washington State head coach.
"I'm not sure we're able to do that without the Alabama experience," Sampson said.
In particular, he said, he liked the Cougars' shot selection and ball movement at JPJ. "We had 17 assists today," Sampson said. "I'm not even sure we passed 17 times last Saturday."
In addition to Shedrick and Gardner, guard Armaan Franklin scored in double figures for Virginia. Clark, a fifth-year senior, contributed nine points and a game-high eight assists.
"I love Clark," Sampson said. "He's tough … He may not be an NBA player, but he might be an NBA coach one day. He's a coach on the court. He's fantastic."
UP NEXT: UVA (8-1, 1-0) resumes ACC play Tuesday against No. 25 Miami (11-1, 2-0) in Coral Gables, Fla. The 8:30 p.m. game will air on ACC Network.
The Cavaliers have won six straight over the Hurricanes and lead the series 15-12.
In its ACC opener, Virginia defeated Florida State 62-57 at JPJ on Dec. 3.
UVA closes non-conference play Dec. 28 against Albany at JPJ.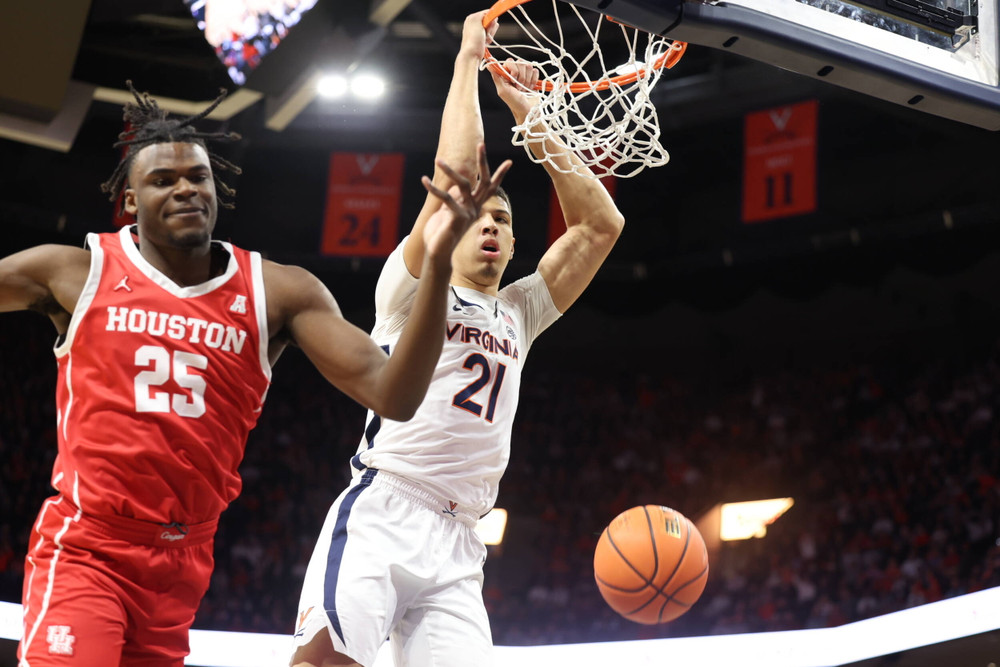 SOUND BITES: This was the first game between these programs in Charlottesville since Dec. 9, 1989, when the Cavaliers defeated the Cougars 72-54 at University Hall. Among the postgame comments Saturday:
 * Shedrick on his takeaways from Virginia's challenging non-conference schedule: "I think the biggest thing I learned is that we can play with anybody in the country. As long as we limit those [defensive] lapses and we run our offense hard, I think we can play with and beat anybody in the country."
* Bennett: "You can bend [defensively], but you can't break, and I thought a few times at crucial possessions we broke with an unsound play."
* Bennett on McKneely, who finished with nine points: "I-Mac was was pretty sound tonight, and I think that should give him some confidence to keep going."
* Bennett on forward Ben Vander Plas, who went 0 for 7 from the floor and didn't score Saturday: "Ben was out of sorts today. He'll grow from that."
* Sampson: "Virginia basketball has been important to the fabric of our college basketball world for a long time, so for our kids to come in and win this game is a big deal. I'm not sure they understand it, but I do."
* McKneely: "I thought the defense was solid for the most part, but whenever we had one simple breakdown, they were making us pay with a [3-pointer] or a tough shot. It was a really good game and we're gonna look at the film and see what we need to work on, but I'm really proud of our guys and we'll bounce back for sure."
* McKneely on UVA's defensive lapses: "It just shows that you can't take a possession off, and like Coach Bennett always says, we have to be continuous."
* McKneely on the Cougars: "We knew going in they were a really long and athletic team. So we just worked all week on box-out drills, on taking care of the ball, because they're long and athletic. But you can't simulate something like that in practice. So it's definitely a tough thing to go against for sure. They're a really good team, one of the best defensive teams in the country, and they showed at times tonight, but I'm really proud of our guys, and that's a really good experience for us."
To receive Jeff White's articles by email, click the appropriate box in this link to subscribe.