By Jeff White (jwhite@virginia.edu)
VirginiaSports.com
CORAL GABLES, Fla. — The shots that dropped with such regularity early in the season, especially the 3-point attempts, are no longer falling as often for the University of Virginia men's basketball team.
UVA, which shot 6 for 22 from beyond the arc Saturday afternoon against Houston, was 6 for 23 from long range Tuesday night against ACC rival Miami. Not surprisingly, Virginia lost both games. But poor shooting isn't his team's only issue, head coach Tony Bennett said after the No. 6 Cavaliers' late comeback fell short in a 66-64 loss.
"We've got to work to do," Bennett told reporters at the Watsco Center.
Since improving to 8-0 with a win over James Madison at John Paul Jones Area, the Wahoos have dropped two straight. Each loss was to a formidable opponent—Houston is ranked No. 3 in the latest Associated Press poll, and Miami is No. 22—but Virginia found itself playing from behind for the majority of both games, in part because of defensive breakdowns.
"Obviously, when you don't shoot well, I think we need to be a little sounder and a little scrappier in certain areas," said Bennett, whose team is 1-1 in the ACC.
Part of that, he added, is "being assertive and sound and tough on both ends of the floor, and that needs to be at a higher, more consistent level. And so we'll keep addressing that, keep working on obviously trying to get quality shots, but you can't give up some of the breakdowns that we're having defensively, and that, I think, showed [against Miami]. We couldn't get stops in the first half and that put us in that spot. We were better in the second half. So a lot of areas to work on. Again, good start [to the season]. Now we've dipped a little bit, and we've got to find a way to be as good as we can be, whatever that is."
With 65 seconds left Tuesday night, the Cavaliers trailed 61-51, and a one-sided loss seemed imminent. But the Hoos refused to go quietly. With 1:02 remaining, junior guard Reece Beekman scored and was fouled on a stickback. Beekman missed the free throw, but forward Ben Vander Plas, a sixth-year senior, tipped in the rebound to make it a six-point game.
The Hurricanes (12-2 overall, 3-0 ACC) missed the front end of a one-and-one, and Beekman passed to Vander Plas for a dunk that made it 61-57 with 43.1 seconds to play. After a Miami turnover, graduate student Kihei Clark drove for a layup that cut the Cavaliers' deficit to two. With the shot clock off, Virginia had to foul, and Jordan Miller made two free throws with 23.8 seconds left.
After Beekman scored on a drive to make it a two-point game, guard Isaiah Wong (game-high 24 points) went 2 for 2 from the line to push Miami's lead to 65-61 with 14.8 seconds left, and the outcome appeared settled. But Clark, as crafty a player as there is in the ACC, baited Wong into a foul on a 3-point attempt and then coolly sank all three free throws to make it 65-64 with 5.6 seconds left.
The home fans in the crowd of 7,257 groaned, and they grew more anxious when, with 4.6 seconds left, Miami guard Nijel Pack missed the first of two free throws. Pack made the second one, but he'd left an opening for the Hoos to force overtime or win on a 3-pointer.
Alas, there was no happy ending for Virginia on this night. Clark inbounded to Beekman, who dribbled up the court and then lost control of the ball as he was driving to the basket. Time expired, and the Canes could finally exhale.
"I just gotta make a better play in that position and that time of the game," Beekman said. "Just a learning point for me, and I just gotta take that."
Beekman, who has yet to fully recover from the hamstring injury he suffered against JMU, finished with 10 points, a season-high nine rebounds and a game-high nine assists.
"Man, that's a heck of a player," said Vander Plas, who hit four of Virginia's six 3-pointers. "Just being out there with him, the things that he brings both offensively and defensively, it's easy to feed off of him. He's always playing hard. He's an elite player on both ends, and he's fighting through some things right now. He's a tough guy. These couple of days off over Christmas will be good to kind of get him back to full-go Reece, but he played really, really well tonight."
The final possession "didn't work out the way we wanted it," Vander Plas said, "and I know [Beekman] is going to learn from it. But I'll give him the ball in that spot 100 times out of 100 and trust that he's gonna get something up for us."
Vander Plas, a graduate transfer who's in his first year at UVA, finished with a season-high 20 points. He was coming off perhaps the worst offensive performance of his college career—an 0-for-7 outing against Houston—and he was determined to redeem himself at Miami.
"Obviously, having an O-for game is not fun ever," said Vander Plas, who was an All-Mid-American Conference selection at Ohio University. And so, in workouts with staffers Isaiah Wilkins and Johnny Carpenter, he put up countless extra shots before the Hoos' trip to Miami.
"I'm just going to keep grinding," Vander Plas said, "and I saw a couple go in tonight, so that's always good."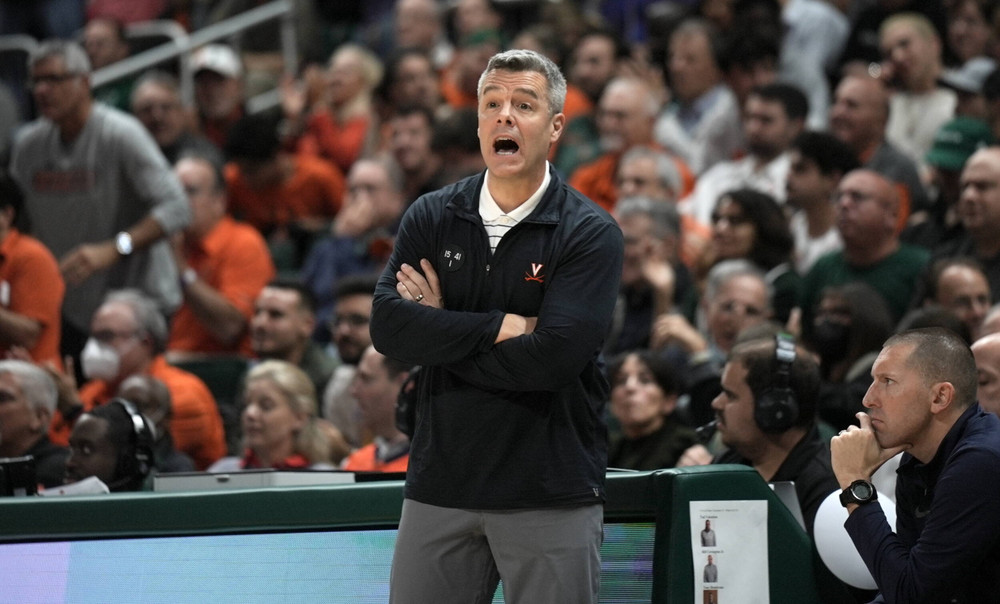 Reserves accounted for nearly half of the Cavaliers' 64 points Tuesday night: Vander Plas (20), freshman guard Isaac McKneely (five), fifth-year senior center Francisco Caffaro (four) and sophomore swingman Taine Murray (two). Another reserve, freshman forward Ryan Dunn, didn't score, but he supplied sound defense and strong rebounding as part of the lineup that played the final 6:07.
Joining Dunn for the closing stretch were Clark, Beekman, McKneely and Vander Plas. Neither guard Armaan Franklin nor center Kadin Shedrick, both starters, were productive Tuesday night, so Bennett tried other options.
"It was good to see some lifts from some of the bench," Bennett said. "The bench gave us a good lift scoring-wise … and they got it done defensively."
Virginia trailed for the final 38:46 of the game, often by double digits. With 15 minutes to play, the Canes led by 15, and the Cavaliers had yet to score in the second half.
"I thought the guys did execute well down the stretch offensively to put us in those spots and scrap defensively to get back," Bennett said, "but we just dug too deep of a hole to start the game and to start the second half. That's why we gave some other guys some opportunities, and they scrapped and fought. Far from perfect, but at least gave us a chance to get back into the game."
UP NEXT: UVA closes non-conference play Dec. 28 against the University of Albany (5-9) at John Paul Jones Arena. The 6 p.m. game will air on ACC Network.
The Cavaliers have played the Great Danes only once: on March 16, 2007, in the NCAA tournament. In a first-round game in Columbus, Ohio, Virginia routed UAlbany 84-57.
UVA resumes ACC play with a New Year's Eve matinee against Georgia Tech in Atlanta. ACC Network will carry the noon game. The Hoos have won nine straight over the Yellow Jackets and lead the series 46-40.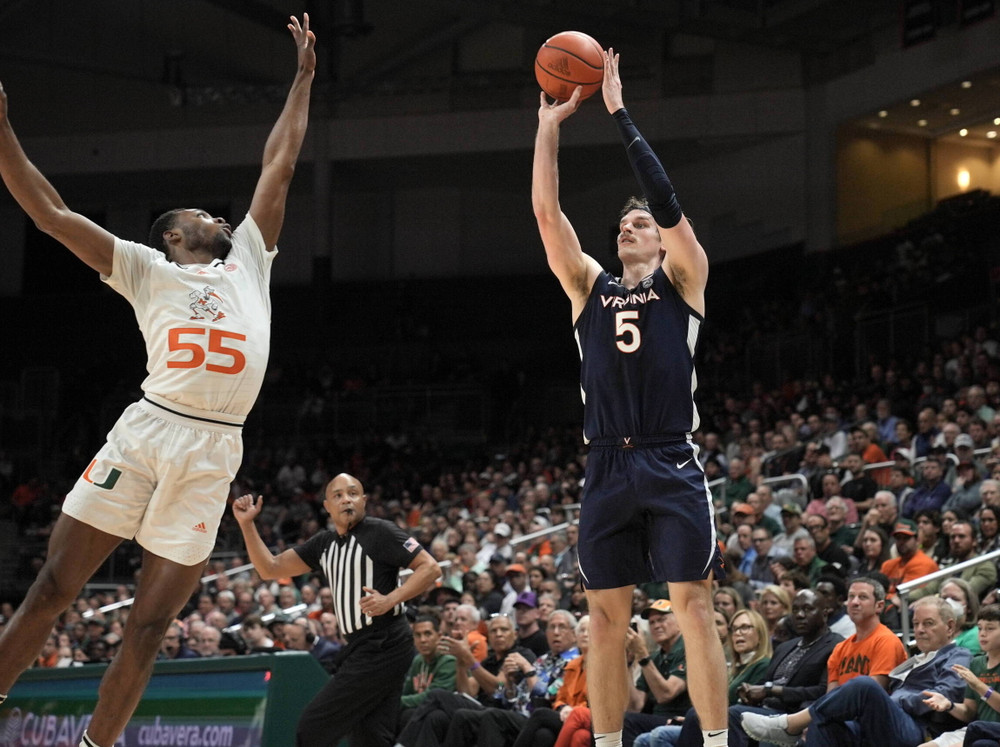 SOUND BITES: The Cavaliers' loss Tuesday night ended their six-game winning streak in a series they lead 15-13. Among the postgame comments:
* Miami head coach Jim Larranaga, a former UVA assistant: "I think you saw two great teams battling each other, especially on the defensive end of the floor. Second half they locked us down and we weren't able to score quite as consistently, but our defense was ready for the task."
* Bennett on Beekman's health: "He is getting better, but I don't think he's full strength yet."
* Bennett on Vander Plas: "He hit 3s when we desperately needed 3s … To see Ben, after a tough shooting game, come back and make some big plays and battle hard was, I think, a good sign. He's a smart, tough player and I'm glad we have him."
* Bennett on Wong, who hit 2 of 3 shots from long range and 8 of 9 from the line and also contributed six rebounds and five assists: "Some guys just have a natural innate ability to put the ball in the basket and score, and he's got that, but he's gotten stronger and more athletic and sounder in all areas of his game."
* Vander Plas on UVA's comeback: "I thought we did a really, really good job kind of fighting and clawing back into it."
* Vander Plas on Virginia's recent shooting woes: "We're doing a good job in getting good looks. Just gotta keep working, keep building that confidence and keep trusting each other, and they'll start to fall."
* Beekman on his hamstring: "It's a little frustrating, knowing that it's just not all the way there. But …. I'm just trying to focus on the mental stuff more than the injury, so I'm just trying to have a clear mind instead of thinking about that."
* Beekman on Vander Plas' bounce-back performance: "That's not surprising for me. He's been through these moments, ups and downs, throughout his career. Every player has ups and downs. So having him come back this game and step up was big for us, not just for his confidence, but just for the team's confidence … He did a terrific job of coming back and playing through last game and then being better today."
To receive Jeff White's articles by email, click the appropriate box in this link to subscribe.