By Jeff White (jwhite@virginia.edu)
VirginiaSports.com
ATLANTA — University of Virginia basketball fans turned out in force for a New Year's Eve matinee at Georgia Tech's McCamish Pavilion, and they stood and cheered as Taine Murray dribbled out the final seconds.
The 13th-ranked Cavaliers earned the applause. In a dominating performance that included a 25-0 run—the last nine points of the first half and the first 16 of the second—Virginia defeated the Yellow Jackets 74-56 on Saturday afternoon.
"It's been a while since we've had those kind of runs," UVA head coach Tony Bennett said, "and that felt good."
Bennett, smiling, noted the presence of two former Virginia forwards in the crowd of 5,371. "Maybe it was because De'Andre Hunter was sitting behind the bench, I don't know, and Evan Nolte. I gotta give them both a shout-out … De'Andre, he scored a little more than Evan, but both those guys were there supporting us."
Virginia (10-2 overall, 2-1 ACC) led by nine midway through the first half. Georgia Tech (7-6, 0-3) fought back, however, and two free throws by Jalon Moore cut the Cavaliers' lead to 27-25 with 2:58 left.
"Then it just felt like the momentum shifted," said Jackets guard Kyle Sturdivant.
A trey by senior guard Armaan Franklin pushed the Wahoos' lead to 30-23. The teams then traded misses, after which Deivon Smith committed one of the Jackets' 23 turnovers.
The Hoos pounced on the mistake. Freshman guard Isaac McKneely passed to senior guard Kihei Clark for a 3-pointer that made it 33-25. Georgia Tech turned the ball over again, and then it was Clark's turn to assist on a 3-pointer. He passed to McKneely, whose shot from the right corner dropped through as time expired. Just like that, the Cavaliers led by 11.
"That run, I think, set the tone," said Bennett, whose record against Georgia Tech is 17-2.
"We had a lot of momentum coming into the second half," senior forward Jayden Gardner said, "and after that we closed it out."
Redshirt junior center Kadin Shedrick opened the second-half scoring with a three-point play, and the Hoos rarely faltered the rest of the way. Virginia's lead grew to 52-25 before the Jackets finally broke through with 14:22 remaining.
"That was quite a run to start the second half," Gardner said. "You usually don't see that level of locked-in-ness and uncertainty from the other team, where we're creating turnovers, getting blocked shots and everything's clicking on the other end as well."
The victory was the Cavaliers' 10th straight over the Jackets. UVA alumni abound in the Atlanta area, and fans clad in blue and orange were in full voice before the game even started.
"I noticed it early when [the Jackets] came out [of the locker room]," Gardner said. "UVA fans were booing them. I didn't hear a great reception when they came out. Our fans travel well, and we've seen that all year."
In the Cavaliers' previous three games, two of which were losses, they were a combined 17 for 63 from 3-point range. They fared much better on that front Saturday. Against the Jackets' array of zone defenses, Virginia went 10 of 22 from beyond the arc. McKneely and Franklin each hit three treys, and Clark and junior guard Reece Beekman made two apiece.
"We haven't been shooting the ball particularly well," Bennett said, "and I had a feeling they were gonna make us make some shots and jam certain areas."
At the other end, Virginia had a season-high 14 steals, including a career-best five by Franklin. Clark had three steals, and Beekman and graduate student Ben Vander Plas had two apiece. Vander Plas, a 6-foot-8 forward, also took two charges. The Hoos turned Georgia Tech's 23 turnovers into 30 points.
"I thought all of our guys, for the most part, were scrappy," Bennett said.
Clark singled out his backcourt mates Franklin and Beekman. "When we pressure the ball and we're able to get steals, it makes our lives easier and we can get easy baskets," Clark said.
Bennett's challenge to his team, he said, was "not to go get a bunch of steals, but just be in position and don't wait defensively. Be assertive defensively."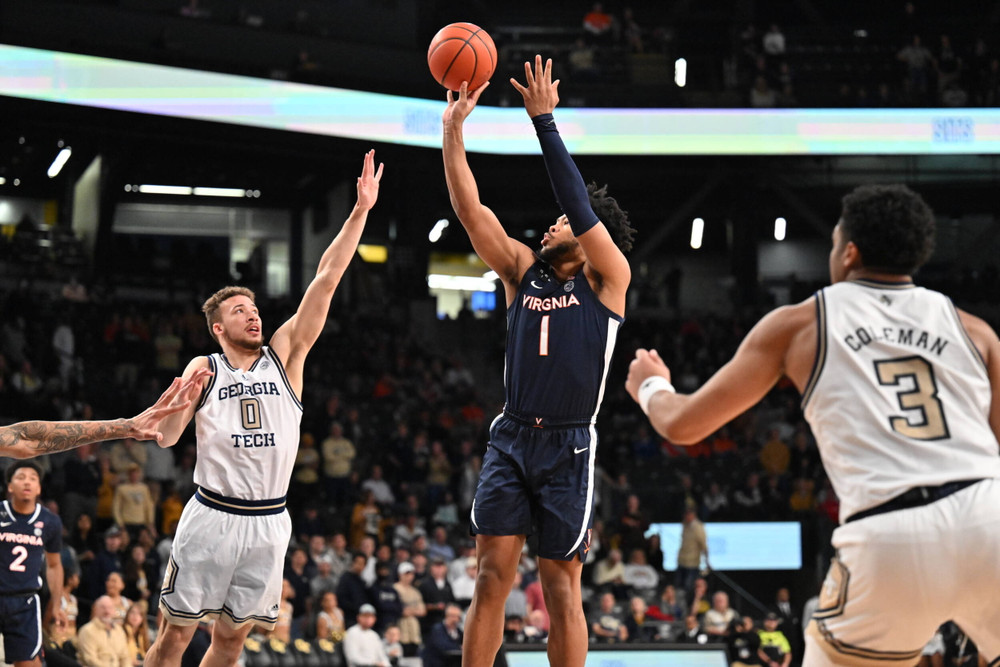 The Cavaliers were assertive on offense, too. Against the Jackets' zones, Clark often roamed the high-post area to receive passes from teammates.
"When we get it to the high post, I think we're able to pick it apart," Clark said, "and I think there was a lot of movement on the back side."
At 5-foot-10, Clark is shorter than some who have played that role in UVA's zone offense, including Malcolm Brogdon and Ty Jerome, but he relishes the assignment. "Once you get the catch there, it's kind of your world and you get to make the reads," he said.
UVA has "done that before with Kihei, used him to just kind of find the soft spots and have freedom to go all over, and he's good at that," Bennett said. "You sometimes want some of your better decision-makers or guards in that high post … I thought he had a real nice game. He had command of his game. Sometimes you watch somebody and they have command of their game, and he just had it when he was in the lane, the decisions he was making, and I thought that was nice to see."
Bennett also enjoyed seeing Beekman, who sat out UVA's previous game to rest a hamstring injury, back on the court. In 26-plus minutes, he totaled eight points, four rebounds and four assists along with his two steals.
Clark led the Cavaliers in points (15) and assists (eight). After one of Clark's many highlight-reel plays, a fan in the Georgia Tech student section muttered, "He's been doing this for six years."
Clark is actually in his fifth season at UVA, but fans at other schools can be forgiven for wishing he'd move on.
In UVA's win over the University of Albany on Wednesday, Clark stole the ball and dribbled in for a layup on two straight possessions. Early in the second half Saturday, he stripped Sturdivant of the ball and drove for a layup for made 41-25, but Clark couldn't repeat his feat of back-to-back thefts.
"I was definitely itching for it, but I couldn't get it," he said, shaking his head.
Hunter, who arrived as the game was starting, now plays for the NBA's Atlanta Hawks. UVA freshman Ryan Dunn, who's also 6-foot-8, has drawn comparisons to Hunter, and a sequence midway through the second half illustrated why. After a missed shot by Beekman, Dunn soared for the rebound and, in one motion, threw down a thunderous dunk.
Four players scored in double figures for Virginia, and Dunn's classmate McKneely (nine points) nearly joined them.
"When we get stops and we make shots, I think we're tough to play against," Clark said.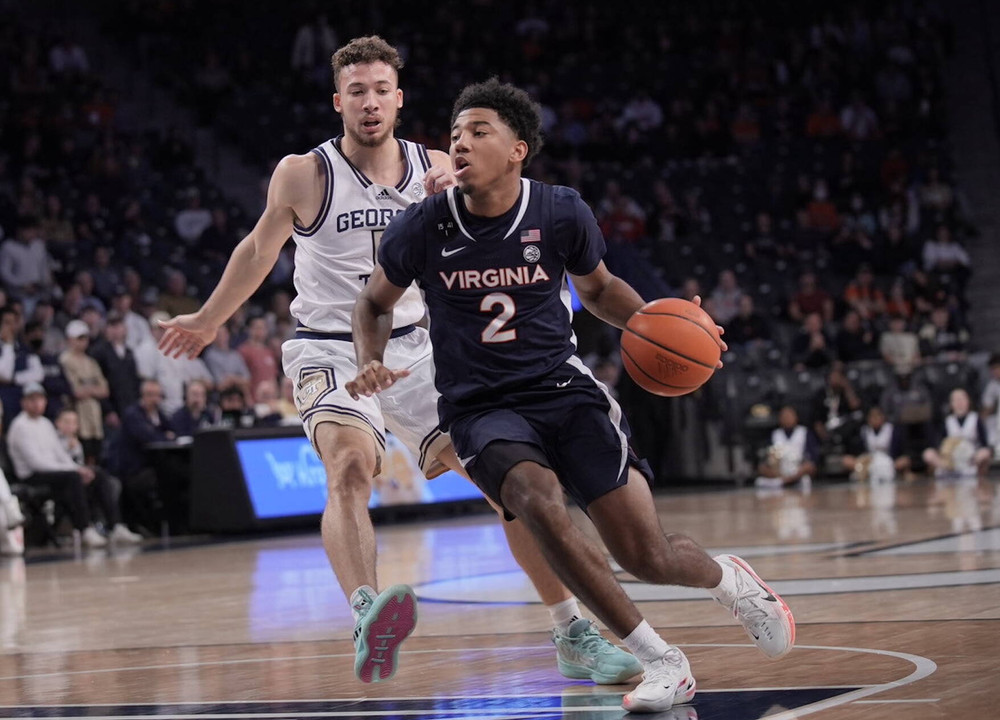 ON THE ROAD AGAIN: After practicing Sunday at John Paul Jones Arena, the Cavaliers will open the new year with a trip to Pittsburgh. UVA meets Pitt (10-4, 3-0) late Tuesday night at the Petersen Events Center. ACC Network is carrying the 9 o'clock game.
This will be the second straight home game for Pitt, which upset No. 25 North Carolina 76-74 on Friday afternoon.
Virginia has won eight in a row over the Panthers and leads the series 19-4.
The Hoos are back at home next Saturday, when they meet Syracuse in a 5 p.m. game at JPJ. That will air on ACC Network as well.
SOUND BITES: With the victory, Bennett improved his record in 14 seasons at UVA to 326-119. He's now tied with Terry Holland (326-173 in 16 seasons) for the most coaching wins in program history.
* Sturdivant on the Cavaliers' success against Georgia Tech's offense: "I think they scouted it pretty well."
* Clark on the 25-0 run: "I didn't even realize it. It was kind of just in the flow of the moment and when you get energy like that, you kind of get into the game."
* Bennett on seeing one of his boyhood idols, former Georgia Tech great Mark Price, in the stands at McCamish Pavilion: "I wore 25 [in Price's honor]. I loved his game, and I got to play against him [in the NBA] … Shout-out to Mark, because the Currys and all the guys you see now, Mark Price had all that and then some."
* Gardner on the one-sided win: "This was definitely Virginia basketball. A 25-0 run, I don't know how many times [Bennett has] done that while he's been here."
To receive Jeff White's articles by email, click the appropriate box in this link to subscribe.