By Jeff White (jwhite@virginia.edu)
VirginiaSports.com
CHARLOTTESVILLE, Va. — Zach Fong left the University of Virginia in the spring of 2019 after earning a bachelor's degree in economics. His brother enrolled at UVA a few months later.
"We just missed each other," Josh Fong said.
Head coach Todd DeSorbo took charge of UVA's swimming & diving programs after Zach's second year, so he's had the pleasure of coaching both brothers. As a senior, Zach helped the Virginia men place 10th at the NCAA Championships—their best finish in eight years—and he still holds the program record in the 200-yard butterfly.
That Zach, who ranks second all-time at UVA in the 100 butterfly, excelled in college was no shock. He was a sought-after recruit who, as a senior at Moorestown High School in New Jersey, had been a captain of the United States junior squad that competed at the Irish Open in Dublin.
Josh's recruiting story was different. He an outstanding student who, like his brother and their sister, Andrea, swam for the Jersey Wahoos club. (Andrea later swam at Villanova.) Josh visited four colleges—Notre Dame, Penn State, the University of Pennsylvania, and the U.S. Naval Academy—but he didn't fall in love with any of them. He was still uncommitted in December of his senior year at Moorestown High when he saw DeSorbo at a prestigious meet.
DeSorbo asked about his college plans. After hearing that Josh was undecided, DeSorbo invited him to visit UVA.
On the visit, Josh recalled, DeSorbo "told me, 'We know your brother's been a great asset to this team, we've heard great things about you, and we've loved having you on this trip. But to be fair, you would be a walk-on on the team, and there's a chance you'll never make our ACC roster. I want to tell you that straight up, but if you want to be on the team, we have a spot for you.' "
Josh jumped at the offer. "It was honestly a no-brainer to me at that point. I had always loved UVA. I tried to [look elsewhere], just because I wanted to do something different, but I think my brother and I are very similar. And I think we're also similar in the fact that we both love UVA, and I think one of the luckiest things that's ever happened to me is Todd letting me join the team, I'm super thankful that I'm here, and it's been the best three-and-a-half years I could have imagined."
Fong is one of the Cavaliers' captains, and he'll be among the swimmers and divers recognized during a Senior Day ceremony Saturday at the Aquatic and Fitness Center. Starting with diving at 11 a.m., UVA is hosting dual meets with ACC rival Virginia Tech.
Zach, who now works in New York City for FirstParty, a company that assists businesses with their data assets, will be in the stands at the AFC cheering for his brother and the rest of the Wahoos.
"He's had that one booked for the last year," Josh said. "There's gonna be a ton of alumni coming back. It's such a fun meet. They bring so much energy."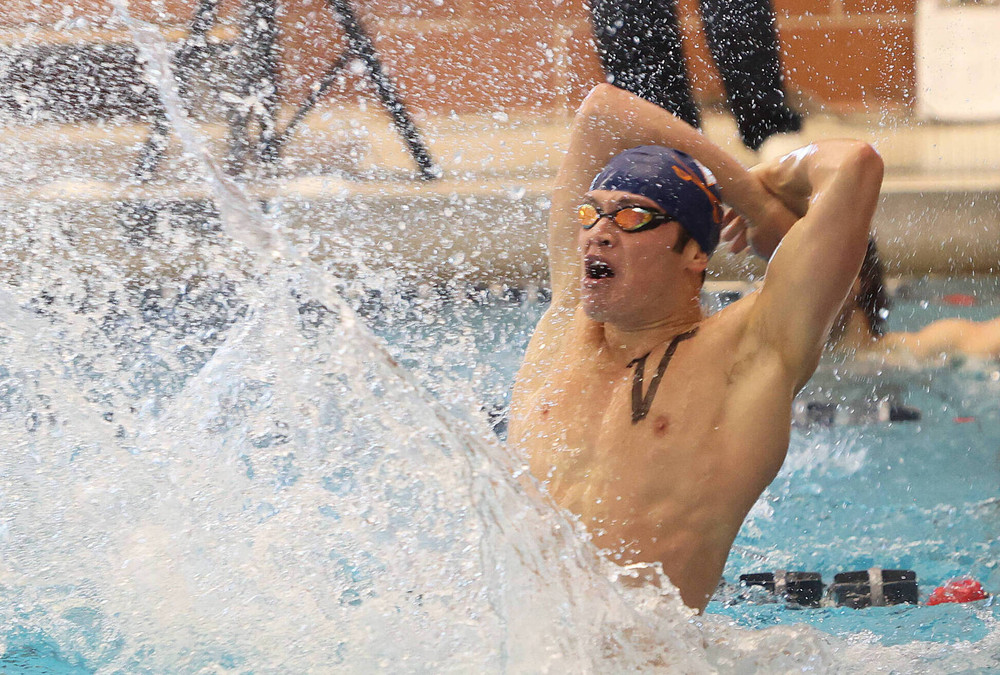 On the women's side, UVA, which has won two straight NCAA titles, is ranked No. 1 nationally. The Hokies' women are unranked. On the men's side, Virginia is No. 11 and Virginia Tech is No. 19.
To be back at the AFC will be "incredibly special," Zach said. "Obviously, I have a real special spot in my heart for the team in general, and that's multiplied by the fact that Josh is on the team and representing them so well."
His brother has far exceeded the coaching staff's expectations. When he offered Josh a spot on the team, DeSorbo said, "I honestly didn't expect a ton out of him athletically, not as much as what his brother did. But it's a really great family, his parents are great, and his older brother was a great leader on the team. I certainly thought that Josh could add some value to the team. I kind of figured he'd add more value outside the pool than maybe in, which is probably the case, but he's added a ton of value in the pool, too."
Josh ranks third all-time in the 200 butterfly at UVA—behind his brother and Ted Schubert—and last year he swam on the 400 medley relay team that finished 14th at NCAAs, setting a school record in the process. Josh also competed in the 100 fly and the 200 fly at last year's NCAA meet.
If the coaching staff was surprised by Josh's development as a swimmer, but his brother wasn't.
"It's actually something that I think that my parents didn't see, and maybe Josh didn't see a ton," Zach said. "I didn't know how it was going to go, or even what he was going to swim specifically …  but I knew his work ethic and competitive spirit. Part of it's a testament to [UVA's coaches]. I just have a lot of faith in their ability to develop kids, especially kids that work hard, and I knew Josh was going to bring the work ethic. I had an inkling. You're never sure about these things, but I wasn't standing there shocked."
DeSorbo said Josh "just has this amazing [work ethic]. If he's going to do something, he's going to do it well, and he's just going to make things happen through hard work."
Josh credits the team's culture. "I think it's one of the best, if not the best, in the country, and I attribute all of this success I've had and all the improvement I've had to being pushed by the people around me and being surrounded by incredible athletes who are incredibly driven, work really hard, and are just great teammates."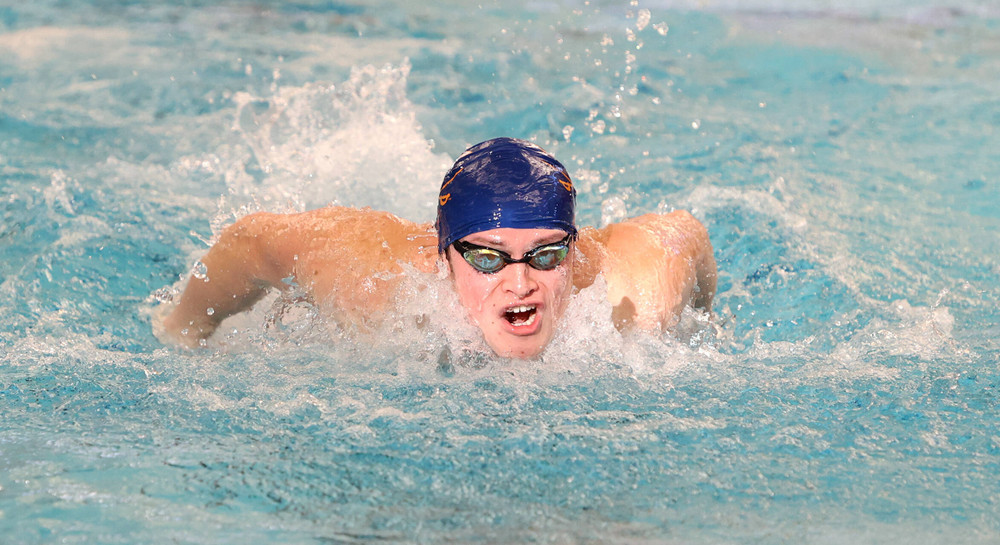 Away from the pool, Josh has accomplished even more at UVA. He's in his final semester in the prestigious McIntire School of Commerce, where his concentrations are finance and information technology, and he's president of its student council.
"It's unreal what he does outside the pool," DeSorbo said, "and honestly what he's done in the pool is equally unreal."
Josh was elected Commerce Council president last March, after which he shadowed the 2021-22 president for a few months. His term started at the beginning of the fall semester.
"I have a pretty awesome exec team to work with, so I'm really fortunate," Josh said, "and it's an awesome experience."
Balancing the Comm School and swimming isn't easy, Josh acknowledged. "It's a lot of group work and a lot of participation, going to class and having to raise your hand every day multiple times per class, sitting in classes every day for a few hours. And it's pretty  intense stuff, especially your third year. It's definitely a lot, especially when you're coming off a morning practice and you're pretty tired and you're sitting in a room of people who just woke up and had some coffee and are ready to go and you're kind of just trying to recover from practice.
"So it's a challenge, but I think challenges are always good. And I think you learn a ton trying to push yourself to manage a busy schedule. I think I've hopefully prepared myself for what the next few years will entail when it comes to managing doing a few different things at the same time, having a few different work streams, staying on top of my schedule and being organized."
The COVID-19 pandemic gave Fong another year of eligibility, and he could have chosen to return to UVA in 2023-24. But he's accepted a job with Goldman Sachs, with which he had an internship last summer.
"I went through the recruiting process for investment banking before I really had decided if I wanted to swim for a fifth year or not," Fong said, "and I kind of used that process as a way to make that decision for me. If I got an internship and I was able to get a job offer after the internship and was fortunate enough for that process to be successful, then that would be the decision and what I was meant to do."
He'll leave a substantial legacy at UVA, where Fong and men's soccer player Jeremy Verley last year were named the Gray-Carrington Scholarship recipients for 2022-23.
The scholarship, which covers tuition, room, board and fees for one year, honors the memories of former UVA students Arthur P. "Pete" Gray IV and Edward C. Carrington Jr. The UVA Alumni Association presents it annually to students who demonstrate exceptional personal integrity, achievement, leadership and humility.
"Receiving the Gray-Carrington award last year was one of the most special moments of my entire life," Fong said. "It's a pretty awesome award in that you have no idea if you get nominated. You don't write an application or anything like that. It's all submitted by your peers. So it was a really special moment when I found out, because I had no idea that I was even in the running. Coming on as a walk-on without any scholarship and being able to earn a scholarship award was a pretty special moment to me, and I'm forever thankful to the people who wrote the essays and nominated me."
The pandemic forced the cancellation of the NCAA meet in 2019-20, Fong's first year at UVA, but the men's team finished ninth in 2020-21 and 10th last season. A finish of seventh or better this year would be best in program history, and that's the men's goal.
"We've seen the excellence of the women's team," Fong said, "and we just want to mirror that in our program."
The NCAA men's meet will be held late next month in Minneapolis. Fong will graduate in May and then start working for Goldman Sachs in New York City. Will he and Zach live together?
"We've discussed it," Zach said. "I've kind of left it in his court. I live alone now, and pretty much the only person I'd move back in as a roommate is Josh. There's no surprises there, and he's my best friend in the whole world. I'm lucky to have my brother as my best friend."
To receive Jeff White's articles by email, click the appropriate box in this link to subscribe.