By Jeff White (jwhite@virginia.edu)
VirginiaSports.com
CHARLOTTESVILLE, Va. — The pipeline flowing from the University of Pennsylvania to the University of Virginia in recent years has been a boon to head coach Steve Garland and the Cavalier wrestling program.
First there was former Penn standout Ray Bethea, who in 2017, as a UVA graduate student, placed third at 165 pounds at the ACC tournament.
Virginia's 2021-22 roster included another grad transfer from Penn, Jon Errico, who posted a 13-4 record at 157 pounds, and Garland's current team includes Neil Antrassian.
Antrassian, who graduated from Penn last spring with a bachelor's degree in systems engineering, is ranked No. 17 nationally at 184 pounds.
"First of all, credit to Penn," Garland said. "They obviously do a great job developing high-character kids, because Ray Bethea, Jon Errico and Neil have all been top-flight human beings. They've been awesome."
Errico, whose brother Luca also wrestled at UVA, played a role in Antrassian's move to Charlottesville. After Antrassian entered the transfer portal last year, Errico texted him to say UVA's coaches would be interested in talking to him.
"He just had a lot of good things to say about the program and how much he was enjoying it," Antrassian recalled. "And then when I took my official visit, Luca was in town, and he was one of my hosts on and got to show me some of his favorite spots. So they played a big part."
Antrassian's fellow student-athletes at UVA includes two other Penn graduates: Ashley Anumba (track & field) and Tommy Courtney (baseball).
"I don't know Ashley," Antrassian said. "I know Tommy. We have some mutual friends at Penn. I ran into him a few months ago during orientation, and I'm definitely going to be following him in his season."
Antrassian is pursuing a master's degree in data science at UVA. It's a challenging program, but he's been able to balance schoolwork and wrestling.
"Grad school is a little bit easier of a workload," Antrassian said, "just because at this level, everything is core classes and you don't have a lot of electives that take up a lot of your time. So everything that you're doing is important, and everything that you're doing is something that you're passionate about if you've chosen this program."
Two other student-athletes are in his master's program—Griffin McCauley and Linnaea Kavulich from the track & field team—and they're Ivy League graduates, too. McCauley came to UVA from Brown and Kavulich from Columbia.
"I get to go through the experience with them and talk with them about being a student-athlete and not have to experience that alone, which is nice," Antrassian said.
Antrassian's brother Carl preceded him on the wrestling team at Penn. Antrassian wasn't an elite wrestler in high school, he said, but he had excellent grades, and the Quakers' coaching staff offered him a spot on the roster.
"I got to be on the team with my brother for two years, which was really just incredible," Antrassian said. "One of the biggest blessings in my life was to be able to be on the college team with him for two years and get to watch him wrestle and share that with him. There's nerves before a match, but when it's your brother, it's a special connection, for sure. That's where I wanted to be. We even ended up living together for a couple of years, and it brought us really, really close."
Another brother, Leo, was an assistant coach on Antrassian's high school team. "So it's been a family affair since we started," Antrassian said.
Antrassian grew up in La Salle, Mich. It's about 15 miles north of Toledo, Ohio, and loyalties are divided in his hometown.
His father attended the University of Michigan and had season tickets to his alma mater's football games. "So we've been big Michigan fans my whole life," Antrassian said, "but being that close to the border, you've got U of M fans, you've got a ton of Ohio State fans, and then you've got even Michigan State fans mixed in there. So it's a battleground, for sure."
Several of his UVA teammates are from Ohio, and they pounced when they learned Antrassian was born in the Buckeye State.
"Even though I'm a Michigander for life, die-hard, I was actually born in Toledo, Ohio," Antrassian said.
He laughed. "So once I let that slip to them, they started telling me I was an Ohioan, and I had to shut that down pretty quick."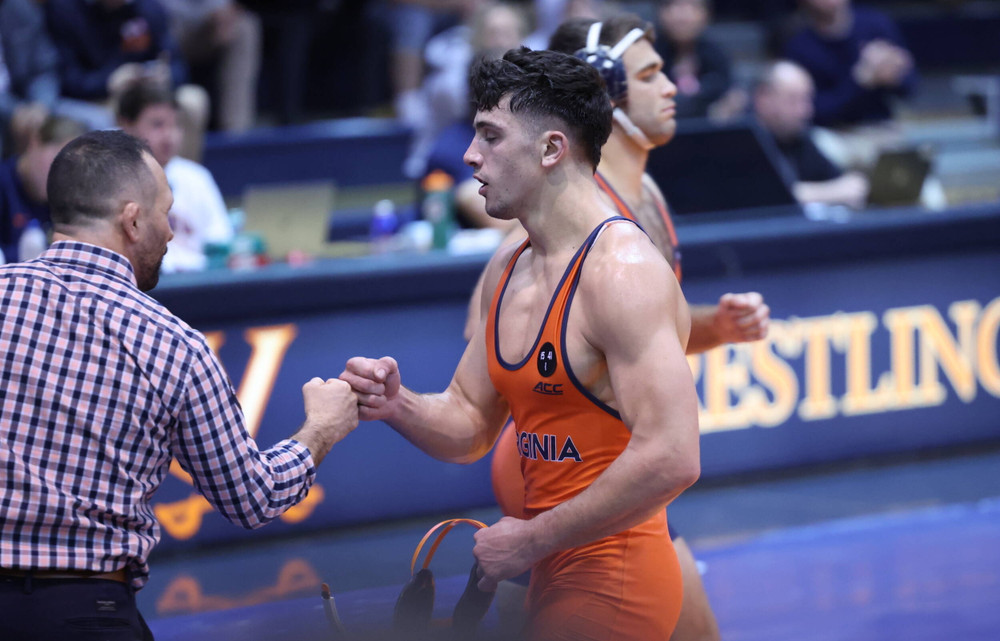 In 2020-21, with the COVID-19 pandemic ongoing, the Ivy League canceled its winter sports, including wrestling. As a Penn senior in 2021-22, Antrassian went 16-11, after which, with a season of eligibility remaining, he wasn't ready to end his wrestling career.
"It's worked out so amazing for me," Antrassian said. "I'm really fortunate that I ended up where I am. I don't think there's a better place than I could have ended up."
The Wahoos are thrilled to have him. "He's been about as consistent a guy as we've had on entire team this year, in terms of performance and effort and everything," Garland said. "It's just fantastic. He's just been a joy to coach. He's just such a hard-working, focused, low-maintenance kid. He takes everything seriously.
"He's cut from the same cloth as me. I don't do a lot of joking around in the [wrestling] room. That's how Neil is. When Neil gets in there, it's time to go to work, it's time to get better, it's time to get locked-in, it's time to focus, it's time to learn. He's one of the rare kids that, when you teach him something, he absorbs it and then he applies it the very next match. That's really, really hard to do, and that's very rare nowadays."
Antrassian recorded his biggest win as a Cavalier on Jan. 20, when he defeated Pitt's Reece Heller 8-3. Heller was named the ACC's and the NCAA's wrestler of the week on Tuesday for his pin of Virginia Tech's Hunter Bolen.
Heller is one of four ranked opponents Antrassian has defeated this season.
"We always say in our program, and I think most coaches would say this, that if you want to be the guy, you gotta beat somebody," Garland said. "He and [197-pounder Michael] Battista have had the most nationally ranked wins on the entire team."
Virginia is hosting two dual meets this weekend at Memorial Gymnasium, where admission is free. UVA faces No. 7 NC State at 7 p.m. Friday and American at 1 p.m. Saturday.
The Cavaliers are coming off back-to-back one-sided losses, the first to Pitt and the second to North Carolina.
The message in practice this week from Garland and assistant coaches Travis and Trent Paulson "has been pretty clear," Antrassian said, "and it's been very well-received. We need to come together as a team and find a way to not divide ourselves in the midst of taking a few rough losses. We need to really build each other up, and that comes from the foundation of being a really good teammate and being really coachable, because we have the answers to the test, in the sense that we know what we need to work on."
Antrassian said he doesn't focus on his record. He's more concerned with "building on where I was early in the season, and I know that I'm wrestling a lot better than I was earlier in the season, which is something completely independent of a record and more important than your record."
He was selected as an alternate for the NCAA tournament last season "and was ready to compete," Antrassian said, "but nobody scratched, nobody missed weight, so I didn't get to wrestle, unfortunately. But I've put myself in a pretty good position this year, and I'm really excited for that opportunity."
To qualify for NCAAs in his final college season "would be super special," Antrassian said. "That would be an understatement, honestly, to say that it would be special. I've had so much support poured into me from others: from my family, my brothers, my parents, my former coaches, and my current coaches. The opportunity to get to wrestle at the NCAAs, it's something that I've dreamed about my entire life. So it would be a lifelong goal achieved, but I don't just want to go there to take part in it. I want to go there to win matches and achieve my ultimate goal of becoming an All-American."
He's loved his time at UVA.
"Overall, the wrestling has been everything I could have wished for and more," Antrassian said. "It's been such a blessing ending up in this program. I've had such great mentors. Coach Garland and the Paulson brothers have been so incredible. And the technique that they have been able to apply to the things that I was already good at has really just brought me to another level of success … I have awesome [workout] partners and awesome coaches. I'm having a ton of fun and love the team and I'm super grateful for the opportunity to compete for Virginia, and I think when you don't put a lot of pressure on yourself, and you just are grateful for the opportunity, it's really easy to have success."
To receive Jeff White's articles by email, click the appropriate box in this link to subscribe.