By Jeff White (jwhite@virginia.edu)
VirginiaSports.com
BLACKSBURG, Va. — Defeating the Virginia Cavaliers in men's basketball is a big deal. That was clear Saturday afternoon at Cassell Coliseum, where Virginia Tech students rushed the court when the final horn sounded.
The Hokies desperately needed a win, and they secured an important one in this Smithfield Commonwealth Clash game, defeating No. 7 UVA 74-68 before a rowdy crowd of 8,925. The Cavaliers (17-4 overall, 9-3 ACC) never led Saturday.
"I feel like the first half we just were kind of cruising a little bit," junior guard Reece Beekman said. "The second half, we made spurts and runs where I could see we were all locked in, but we've just got to continue to do that for the whole game."
The loss, the Wahoos' first since Jan. 3, ended their seven-game winning streak. During that stretch, the Hoos won at Florida State, at Wake Forest and at Syracuse, but they were never able to take the crowd out of the game Saturday. The Hokies (14-9, 4-8) improved to 11-2 at home this season.
"Great college atmosphere," UVA head coach Tony Bennett said. "It really was. I told the guys, that's fun to compete in that, but it's not fun to lose, and it stinks to come out on the other side. The heart was there, but to win in this setting against a team that's playing good basketball—and Tech is—you've got to [have] heart and [be] smart. You can't just be all heart. And we were for stretches … but they made the big shots."
Back-to-back baskets by UVA forward Jayden Gardner tied the game at 38-38, but Tech forward Justyn Mutts responded with a three-point play at the 14:38 mark. The Hokies' lead grew to 10 on a Hunter Cattoor 3-pointer with 8:18 to play. Four times in the final 2:09, Virginia trimmed its deficit to four points, but the Hokies refused to break.
"It was hard-fought, it was very competitive," Bennett said, "but they outlasted us a little bit in this one and made the plays down the stretch."
It was "a big-time atmosphere," Gardner said, "but we have to be smarter and execute and not make those mistakes in these big-time games."
This was the longtime rivals' second meeting in three weeks. On Jan. 18, the Hoos defeated Tech 78-68 at John Paul Jones Arena. The Hokies shot 49.1 percent from the floor at JPJ, and they were even more efficient Saturday, hitting 27 of 53 field-goal attempts (50.9 percent).
Four players scored in double figures for the Hokies (14-9, 4-8), led by guard Sean Pedulla (22 points). Mutts totaled 17 points, eight assists, four rebounds and two steals.
"When we had a lapse or a breakdown, they made us pay," Bennett said.
Tech's standouts include Cattoor, and the Hoos held the 6-foot-3 senior scoreless until the 10:39 mark of the second half, when he hit a catch-and-shoot 3-pointer. Once Cattoor found the range, though, he stayed hot. He finished 3 for 6 from beyond the arc.
"It just came down to making plays, and today we didn't," Beekman said. "We've been in these spots throughout the season, and I feel like sometimes we did better. I know the environment kind of influenced that a little bit, but I feel like most of it was on us. It was just a couple of breakdowns that kind of threw us off. We've just got to look at film and get back to it."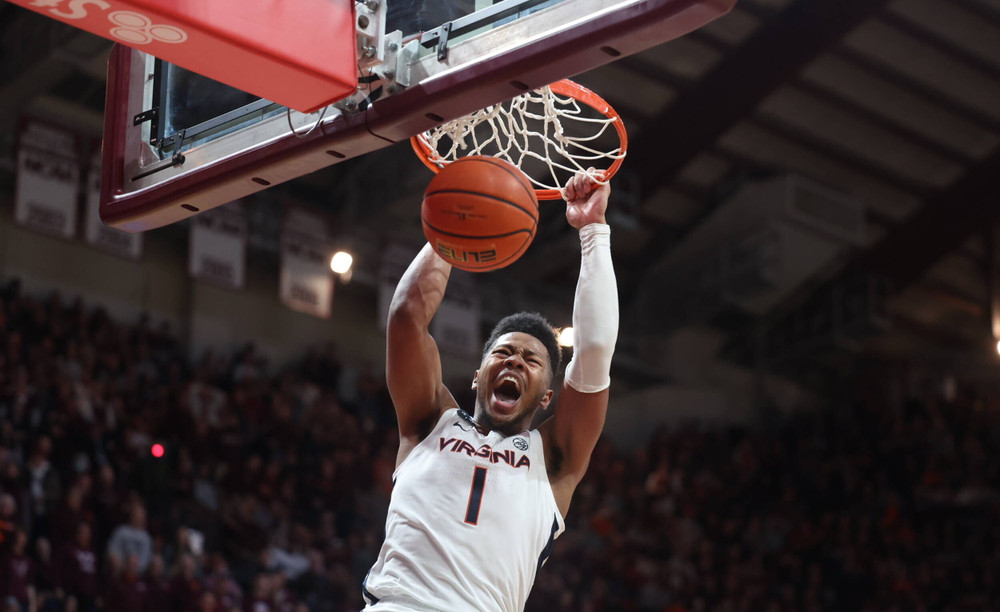 Virginia, which came into the game shooting 46 percent from the floor, fell short of that mark. The Cavaliers made 6 of 18 shots from 3-point range and 25 of 61 overall (41 percent). From the line, UVA was 12 of 18.
Gardner posted a double-double (20 points, 10 rebounds), fifth-year senior point guard Kihei Clark scored 17 points in his final appearance at Cassell Coliseum, and Beekman contributed 15 points and a team-high five assists. The Cavaliers' other starters, forward Ben Vander Plas and guard Armaan Franklin, were a combined 2 for 13 from the floor. Franklin (six points) had scored in double figures in each of UVA's previous 10 games.
Asked about the Hokies' defense, which Virginia had exploited last month at JPJ, Bennett said, "I'm sure there were some little adjustments. They're very physical. They did a good job holding our cutters. Not holding, but making us fight to get open off screens. And they just spread out and worked and made us shoot some contested shots. And it kind of came down to that."
Led by the 6-foot-6 Gardner, the Cavaliers scored 36 interior points. At the other end, though, they gave up 40 points in the paint.
The Hokies "run a lot of action," Bennett said. "Whether it's dribble hand-offs, fakes, they keep you on your toes, and it takes an incredible, I think, disciplined [effort] to keep them in front and keep them out of the paint. And if you don't, they'll get some easy ones."
Gardner said it's "tough when a team gets you out of your game plan. And we had to adjust with the dribble hand-offs and we had to start switching it, and that's when [Tech's] bigs were able to go inside. When a team has you on your heels and toes and you're worried about the guards to start the game and then they go inside, it's tough."
LATE NIGHT: In a game to air on ACC Network, UVA hosts NC State at 9 p.m. Tuesday at JPJ.
"We gotta bounce back," Gardner said at Cassell Coliseum.
The Wolfpack (19-5, 9-4), whose starters include former UVA guard Casey Morsell, extended its winning streak to four games Saturday afternoon, defeating Georgia Tech 74-62 in Raleigh, N.C.
NC State holds an 85-68 lead in its series with Virginia. In the teams' only 2021-22 meeting, the Pack won 77-63 in Raleigh.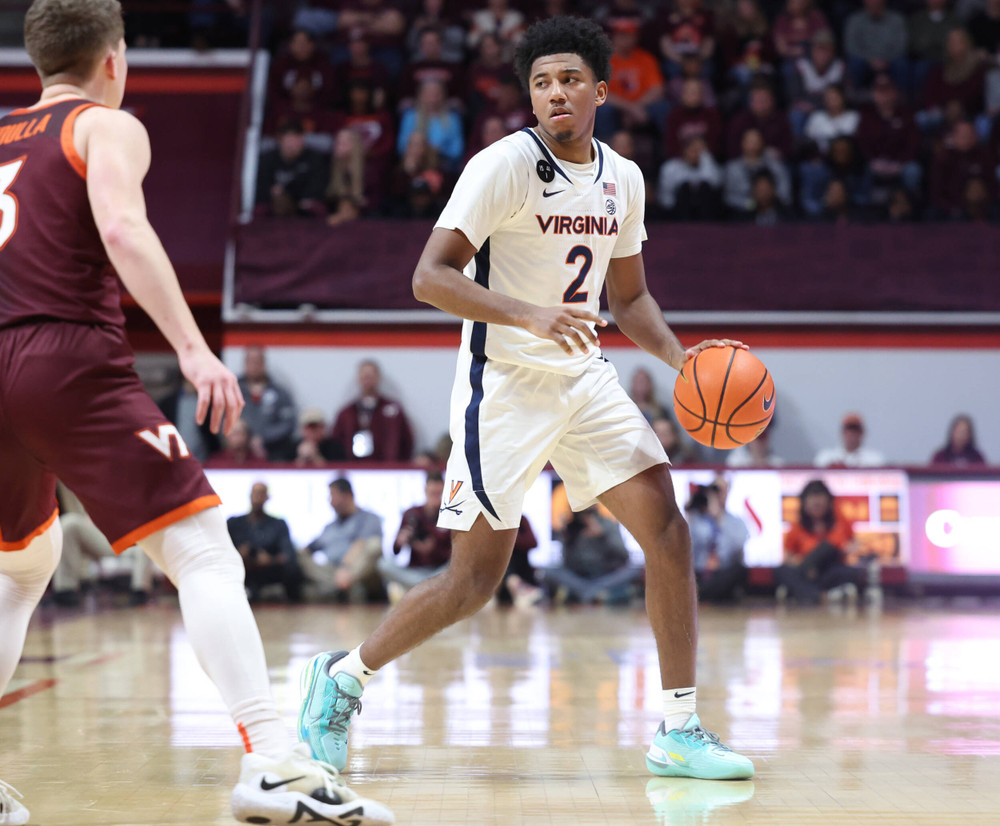 SOUND BITES: Bennett is now 18-9 all-time against the Hokies. The Hoos were seeking their first win in Blacksburg since Feb. 26, 2020, when Clark hit a 3-pointer with two seconds left. Among the postgame comments Saturday:
* Beekman on the Hokies' success around the basket: "I think it was just the cutting they did. They did a lot of off-ball cutting, and we lost vision a couple of times. So [not] staying connected to our man and [losing] vision kind of messed us up a little bit in this game."
* Gardner on the Hokies' points in the paint: "I think it's just credit to them, capitalizing on our post traps and Mutts being the facilitator. Every time we tried [post traps], he made us pay."
* Gardner on Virginia's first half: "Out of sorts, out of sync. Second half, we just couldn't get a lead. Sometimes those games happen, but it's just how we bounce back from those games."
 * Bennett on not using 6-foot-11 center Kadin Shedrick on Saturday: "You can't play everyone, but we were having some trouble, I thought, offensively against their stuff, so we wanted to go with some small guys, which I liked, and then we decided to switch and use our mobility."
* Bennett on Beekman's development offensively: "He's become more aggressive. We needed it in this game. He had to make some plays. The game had to be played with two hands, two feet, physical at the rim, on the glass, and I thought he attacked in those settings. He's deceptive with his moves, and he got in there, whether it was to make the pass or get to the rim."
* Tech head coach Mike Young on the crowd: "I think maybe they have let in a few more students than they were supposed to. I think the fire marshal would have been a little upset if he knew the exact numbers. But they were huge, and they're there every night, and I'm so appreciative of them."
To receive Jeff White's articles by email, click the appropriate box in this link to subscribe.