By Jeff White (jwhite@virginia.edu)
VirginiaSports.com
CHARLOTTESVILLE, Va. — Every missed free throw by Virginia elicited groans of disbelief from the capacity crowd, and that was a constant refrain Saturday at John Paul Jones Arena. But the fans never stopped exhorting the home team, and the 8th-ranked Cavaliers rewarded their supporters with a victory that was as exhilarating as it was improbable.
Against ACC rival Duke, the Wahoos missed 13 of 22 foul shots and 10 of 14 attempts from 3-point range. Moreover, Virginia was outrebounded 39-24 and gave up 16 second-chance points to Duke.
None of that stopped the Hoos, who rallied from five points down in the second half and then outlasted the Blue Devils in overtime.
"You have to be able to do that," UVA head coach Tony Bennett said after his team's 69-62 victory. "You gotta find different ways to win."
The Cavaliers (19-4, 11-3), among the nation's most experienced teams, know that when adversity arises, "you just got to keep pushing through," said forward Ben Vander Plas, a sixth-year senior. "You got to be able to control your effort on the defensive end and just keep doing everything else."
Defense, as it so often has during Bennett's tenure, saved the Hoos on Saturday. They forced Duke into 22 turnovers, including four shot-clock violations.
"The crowd helped," Bennett said. "It was wild in here, and we loved that."
Virginia also shut down 7-foot freshman Kyle Filipowski, Duke's leading scorer this season. Filipowski was 0 for 6 from the floor and 0 for 2 from the line and turned the ball over five times against the Cavaliers.
"Look, they're physical and really good," Duke head coach Jon Scheyer said. "He didn't have that same pop that he normally does and for whatever reason had a hard time getting out of it."
Bennett said: "He's young. That experience shows at times. But he's good, really good and he plays hard, which I respect."
Filipowski played a leading role in the game's most controversial sequence. With 1.2 seconds left in the second half and the score 58-58, Duke inbounded the ball to Filipowski, who drove to the basket and tried to dunk. Reece Beekman, a 6-foot-3 guard, met Filipowski at the rim and blocked the shot, but a foul was called on another Cavalier, 6-foot-8 freshman Ryan Dunn. After a video review, however, the officials called for overtime, ruling that time had run out before a foul occurred.
"They told me after the fact that the call was made after the buzzer," Scheyer said.
(Late Saturday night, the ACC released a statement in which the conference said the officials' call was incorrect. The outcome of the game stands, but Filipowski should have been awarded two free throws, the ACC said, citing Rule 5, Section 7, Article 3c of the NCAA rule book. Although the foul occurred after expiration of play, the ball was still in flight, the ACC said, and so Filipowski should have been granted two free throw attempts.)
Virginia never trailed in the extra period. The Cavaliers' first possession ended with two free throws by Vander Plas—a feat that earned him a rousing ovation from the crowd—and they stretched their lead to 63-58 before the Devils (17-8, 8-6) scored in overtime.
Back-to-back drives by Duke freshman Tyrese Proctor made it 63-62 at the 1:10 mark, but the Cavaliers didn't panic. On their next possession, Kihei Clark spotted Armaan Franklin open in the left corner, and the 6-foot-4 senior buried a trey that made it 66-62 with 39.4 seconds left.
"I shoot a million of those a day, so it was good to see one go in," said Franklin, who led all scorers with 23 points.
Duke turned the ball over on its next possession, and the Hoos hit 3 of 6 free throws in the final 29 seconds to seal the victory.
"We needed one more stop that we couldn't get down the stretch in overtime," Scheyer said.
This marked the first time the Blue Devils came to JPJ, which opened in the fall of 2006, unranked in the Associated Press poll. But Duke is still loaded with future NBA draft picks, and its height was a concern for the Cavaliers.
In addition to Filipowski, Duke's rotation players include 7-foot-1 freshman Dereck Lively II and 6-foot-10 Ryan Young, a graduate transfer from Northwestern. But the smaller Cavaliers, including Dunn and Vander Plas, blanketed the Devils' big men, none of whom had a major impact on offense.
"It was just one of those games where guys figured it out," Bennett said.
The Hoos outscored Duke 42-24 in the paint. The Devils did more damage from the perimeter, hitting nine treys: three by Jacob Grandison and two apiece by Jeremy Roach, Dariq Whitehead and Tyrese Proctor.
Roach, who starred in the Blue Devils' win over UVA at JPJ last season, scored 12 of their first 14 points Saturday. He finished with a team-high 16 points but fouled out with 3:13 left in overtime.
"We're gonna be better with him in the game, always," Scheyer said.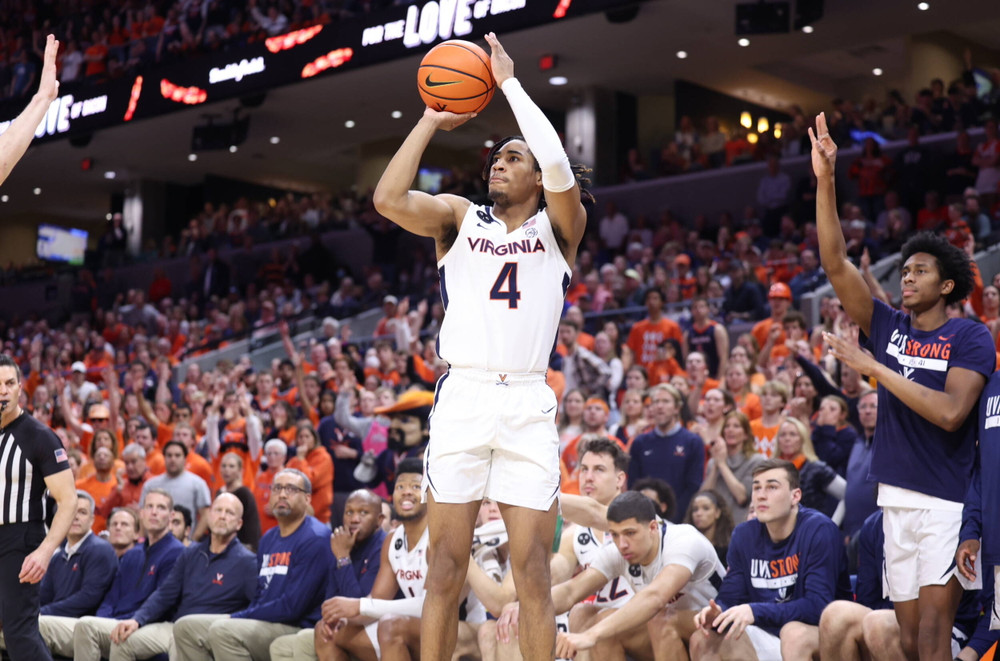 The Cavaliers came into the game shooting 72.3 percent from the line, and had they made even 60 percent of their free throws Saturday, they could have avoided any late drama. But Vander Plas was 5 for 11, Franklin was 2 for 5, Clark was 1 for 3, and freshman guard Isaac McKneely was 0 for 1. The only Cavalier to make at least half of his free throws was redshirt junior center Kadin Shedrick (1 for 2).
"That was tough," Bennett said. "You keep working on it. But I think our defense did hold us in there while we were [struggling], and there were some big plays."
Clark provided many of them. The 5-foot-10 point guard made 7 of 10 shots from the floor, most of them on drives on which he glided past bigger defenders.
"He gets a bunch of those a game, and that's just easy buckets for us," Vander Plas said. "It's an energy thing and he's so good at those. He knows when to do it. He's really good at picking his spots. That was big for us today."
Clark, a fifth-year senior who as a freshman in 2018-19 helped Virginia win the NCAA title, finished with 16 points and five assists.
"He's just a smart player," Scheyer said. "He's battle-tested, plays at his speed. He has a lot of fakes, and because he's such a good passer it's hard to help on him, it's hard to over-help on him. So it opens up space for him to get in there and score."
Beekman led the Hoos in assists (seven) and rebounds (six). Vander Plas, a graduate transfer from Ohio University, contributed 13 points and four rebounds and matched his career high with four steals.
Franklin took a blow to the nose in practice on Thursday, but he played through the pain Saturday, logging a team-high 37 minutes and 16 seconds.
"I thought he showed some great toughness to respond as he did," Bennett said.
The same held true for Bennett's team.
"We're gonna see a lot of things on film that we can improve on," Vander Plas said, "and when you can do that and still get the win, that's always a good thing."
UP NEXT: The first of Virginia's two regular-season games against Louisville is Wednesday night at the KFC Yum! Center. The 7 o'clock game will air on ESPNU.
The Cavaliers close the regular season against the Cardinals on March 4 at JPJ.
Kenny Payne's first season as Louisville's head coach has not gone well. The Cards are 3-22 overall and 1-13 in the ACC after losing 93-85 to No. 19 Miami in Coral Gables, Fla., on Saturday night.
SOUND BITES: The crowd of 14,629 included several former UVA players, including Ralph Sampson, Sean Singletary, Harold Deane Jr. and Mamadi Diane, and they saw a thriller. Among the postgame comments Saturday evening:
* Bennett on his team's foul shooting: "Ironically, we do a little free-throw challenge game at the end of a lot of practices, and yesterday was the first time all year that every guy made every free throw."
* Bennett on the scene at JPJ: "It was a lively atmosphere, for sure."
* Bennett on Dunn's defensive impact: "I thought we needed some quickness and mobility, and Ryan certainly provided that."
* Franklin: "I think everybody who came in really had a moment in the game and stepped up defensively. And that's what we try to do each and every day: work on defense."
* Franklin on the Cavaliers' resilience: "We got guys that lift each other up. You never know when your name is gonna get called, when you're going to be called on to hit a big shot. So you just always have to stay mentally locked into the game no matter what's going on."
* Vander Plas on drawing 11 fouls on Duke: "I think a decent amount of those were charges. That's a part of my game that I like to try to get in there, so it was good to take some charges today, definitely."
* Scheyer: "I hurt for our guys, because they battled a really good Virginia team. I respect the hell out of Tony and what he's doing with his program and who he is as a person and as a coach."
* Scheyer on JPJ: "It's a big-time environment."
* Scheyer on Duke's 22 turnovers: "It's not going to be a winning recipe for us, and that's on us. Our guys, we need to do a better job of that. You have to be really disciplined when you're playing a Virginia team and if you're not, if you leave your feet and fall forward, they're gonna be there waiting to take a charge. Their ball pressure is really good, so it makes you put your head down a little bit more than you would like."
To receive Jeff White's articles by email, click the appropriate box in this link to subscribe.