By Jeff White (jwhite@virginia.edu)
VirginiaSports.com
CHAPEL HILL, N.C. — At the end of a frustrating night at the Dean E. Smith Center, University of Virginia head coach Tony Bennett chose to highlight the positives he saw from his basketball team in the final 20 minutes of its 71-63 loss to North Carolina.
The sixth-ranked Cavaliers, who trailed by 16 at the break, outscored the Tar Heels 37-29 in the second half, injecting a measure of suspense into a game that had seemed destined to be a blowout.
"I told our guys I thought we fought like crazy in a second half," Bennett said. "We played hard in the first half, but really fought in the second half and touched on a level of tenacity on the defensive end, keeping them off the glass, keeping them out of transition and limiting the quality looks for the most part that we needed to."
In the first half, UVA forward Jayden Gardner said, the Heels "hit tough shots, but we could have been more alert and a little bit more attentive. I thought the defense was solid but not ferocious and tenacious like it was in the second half, forcing turnovers and flying around on the defensive end."
Carolina, which lost to Virginia at John Paul Jones Arena last month, desperately needed a win in the rematch to bolster its credentials for the NCAA tournament. The Heels (18-11 overall, 10-8 ACC) were coming off a narrow road win over Notre Dame in which they were 2 of 23 from 3-point range and 23 of 69 overall, and they haven't shot well this season.
Nobody who watched the first 20 minutes Saturday night would have guessed that. The Heels, who came in ranked 333rd nationally (out of 352 teams) in 3-point percentage, made 9 of 16 shots from beyond the arc in the first half. For the game, they were 10 for 22 from long range.
Pete Nance, a 6-foot-11 forward who missed the game at JPJ with an injury, entered the rematch shooting 28.2 percent from 3-point range. He made all four of his attempts Saturday night, his fourth coming on the final play of the first half.
"That puts a lot of pressure on your defense," Bennett said, "because they're spreading you out and they're looking to Armando [Bacot in the post] … It makes it hard to guard."
UVA gave up zero transition points and only three offensive rebounds. Moreover, the Wahoos outscored the taller Tar Heels 26-20 in the paint. But the Hoos' offensive struggles, coupled with Carolina's 3-point shooting, proved too much to overcome.
Virginia shot 4 of 12 (33.3 percent) from 3-point range and 27 of 68 (39.7 percent) overall. The Cavaliers were 8 for 25 on shots near the basket. To make matters worse, they were 5 for 11 from the free throw line.
Gardner was asked how Virginia can snap out of its shooting slump, especially around the basket. "Just work on our finishing, and don't be discouraged," he said. "It's stuff we work on in practice. But we gotta keep working and simulate it and work at game speed."
During one stretch of the second half, UVA missed 12 consecutive shots from the floor. The Cavaliers were off the mark Wednesday night, too, in a loss at Boston College. They were 4 for 21 from 3-point range and 19 of 59 overall at Conte Forum, and their shooting woes continued at the Dean Dome.
Gardner (9 for 17) was the only UVA player to make at least half of his field-goal attempts. He led the Hoos with 19 points and 12 rebounds.
"No one's trying to miss a layup or miss a free throw," Bennett said. "I thought we ran good, tough, hard offense and produced pretty much quality shots, but if we could have played two halves [of] quality like [the second half], maybe it's different. We didn't.
"Everybody will say, 'Well, you're struggling to score … you're missing some layups and finishes,' " Bennett said, "but you just keep knocking and you try to make little adjustments, and I told the guys there's a lot of basketball left … I keep hoping one these days we're gonna break out of that little shooting slump, and it'll happen. But but I credit our guys for how hard they played."
This marks the second time this season UVA has dropped back-to-back games. In December, the Hoos fell to Houston and ACC rival Miami, teams ranked Nos. 1 and 13, respectively, in the latest Associated Press poll. Neither BC nor UNC is ranked.
"That was early this season, this is late in the season," Gardner said. "So, it's just all about how we respond. We have great leadership, great coaches, so we're not worried. We just got beat tonight."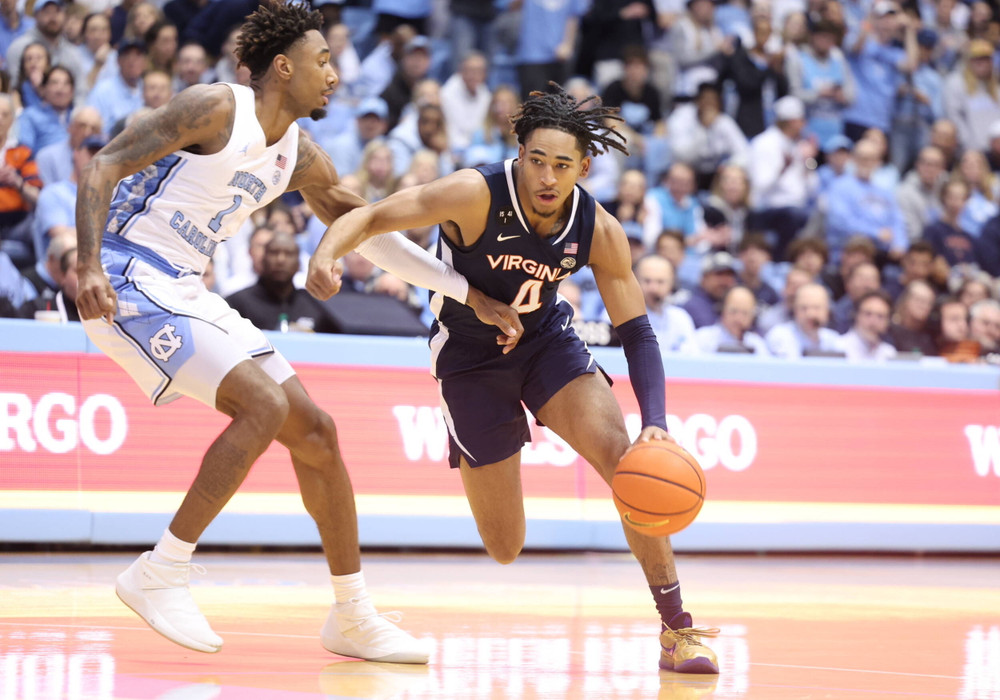 A sequence midway through the first half typified Virginia's early lack of fire. With the ball on the floor and the possession arrow pointing UVA's way, several Cavaliers appeared to be in position to force a jump ball. But a UNC player wrestled the ball free, and it ended up in the hands of Nance, whose third 3-pointer made it 21-12.
"In that situation … you gotta just dive on it, get it," Bennett said. "Those [plays] hurt. When you're in a game where you need everything to go your way or most of those things, those you remember. You gotta sell out on the 50/50 balls. I'll look at the film, and if we didn't get on the floor and some stood and watched it, that's an effort thing."
Bennett challenged his players at halftime, and they responded.
"I think it showed a new level of fight we had," said guard Armaan Franklin, who finished with 14 points. "We could easily have just let the game get out of hand and have them run up the score. But I think it was a good job of us fighting and being able to stay locked in on the defensive end, even though we gave up some looks."
UVA guards Reece Beekman and Kihei Clark combined for 17 points and 11 assists. Nance led all scorers with 22 points.
HOME STRETCH: Two regular-season games remain for UVA, and both are at John Paul Jones Arena. Virginia hosts Clemson at 7 p.m. Tuesday (ACC Network) and Louisville at 2 p.m. Saturday (ESPN2).
Clemson (21-8, 13-5) also played in the Triangle on Saturday, crushing NC State 97-71 at PNC Arena in Raleigh.
Virginia is 80-53 all-time against Clemson. The Cavaliers had won 11 straight in the series before losing to the Tigers at JPJ on Dec. 22, 2021. UVA avenged that defeat two weeks later at Littlejohn Coliseum.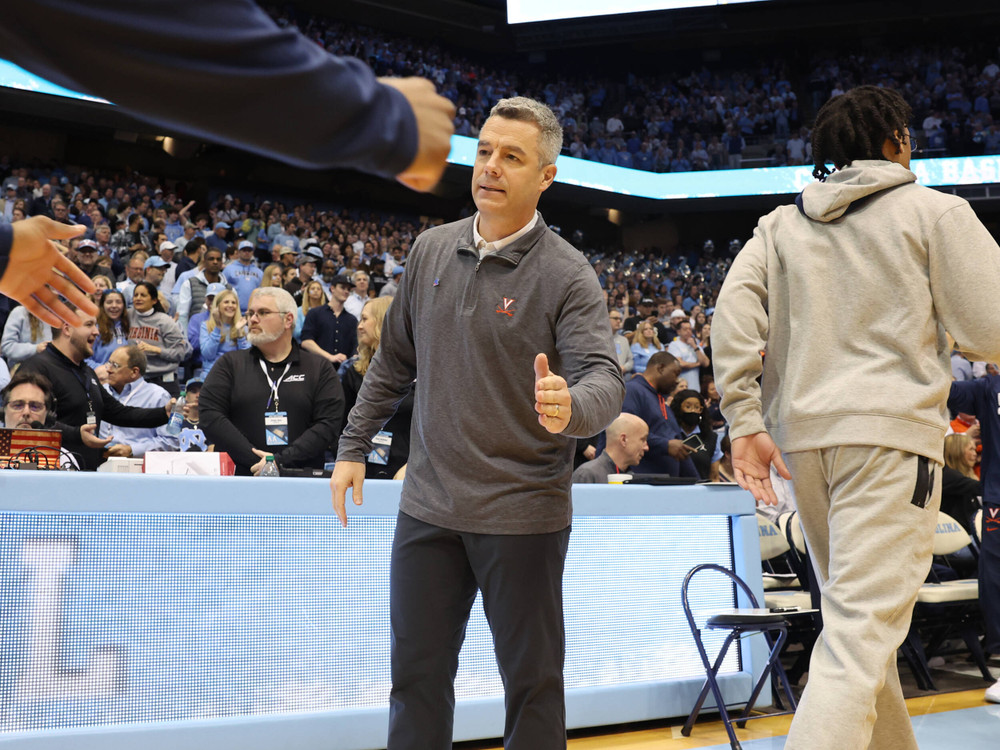 SOUND BITES: The loss dropped UVA's all-time record against UNC in Chapel Hill to 9-68. The Hoos are 4-5 at the Dean Dome in Bennett's 14 seasons as head coach. Among the postgame comments Saturday night:
* Bennett: "You're not going to be flawless on the defensive end, but you just keep staying continuous, and that's why I liked our second half defensively. I think that's something we can build on."
* Bennett, smiling, on his team's shooting woes: "We're using [the misses] up now, and they're gonna start dropping."
* Bennett on how his players can get back on track: "You continue to work on that stuff in practice and keep going and not get too discouraged about it … You keep battling, and that's what I'll encourage these guys to do."
* Gardner said on the Heels' 42-point first half: "They hit a lot of tough shots and they have a lot of good players."
* Franklin on not attempting a 3-pointer until the final minute: "I wouldn't say [the Heels] were overplaying me. I would just say I was being real selective, just trying to get downhill, get good drives … I just took what they were giving me."
* Franklin on the team's mindset: "I wouldn't say we have any concerns. I just would say we gotta lock in these last couple games and the postseason. We got two hungry teams coming in to play us at home."
* Gardner, a North Carolina native, on the leg injury he suffered late in the Boston College game: "No chance I was gonna miss this game, whether I had one leg, half a leg. It just meant a lot to be out there tonight."
* Gardner: "As long as our defense is straight, then we're gonna be fine. We just got to work on our little things on offense."
To receive Jeff White's articles by email, click the appropriate box in this link to subscribe.