By Jeff White (jwhite@virginia.edu)
VirginiaSports.com
CHARLOTTESVILLE — An exclusive club that included Darion Atkins, Malcolm Brogdon, Isaiah Wilkins and De'Andre Hunter added a fifth member this week: Reece Beekman.
Each of the five has been honored as ACC Defensive Player of the Year at least once during Tony Bennett's tenure as head men's basketball coach at the University of Virginia. (Brogdon won the award twice.) Beekman, of course, is the only one still on the team at UVA, but that didn't stop Bennett from dreaming about having all five on the court at once.
"It was fun to think about that," Bennett said with a smile Tuesday at John Paul Jones Arena.
Good luck scoring easily against that quintet, which was featured in a graphic for social media designed by Jaden Hawkins, one of the Cavaliers' student managers.
"You'd have Darion at the 5, me at the 4, Dre at the 3, Malcolm at the 2, and Reece at the 1," Wilkins said after practice Tuesday.
Beekman, a 6-foot-3 junior, finished second in voting for ACC Defensive Player of the Year last season. He collected the most votes (29) this year, finishing ahead of  North Carolina forward Leaky Black (18) and Syracuse center Jesse Edwards (13), who placed second and third, respectively.
"I didn't know this year if it was going to happen, so I kind of played it cool," Beekman said Tuesday. "But when I got the award, I was very excited for that."
The honor "means a lot to me," Beekman said. "I worked hard for that. I felt like last year I had a good case for it, but then just coming back this year and winning it, that meant a lot to me and the team. UVA is a team defense, so I rely on the other guys a lot to help me."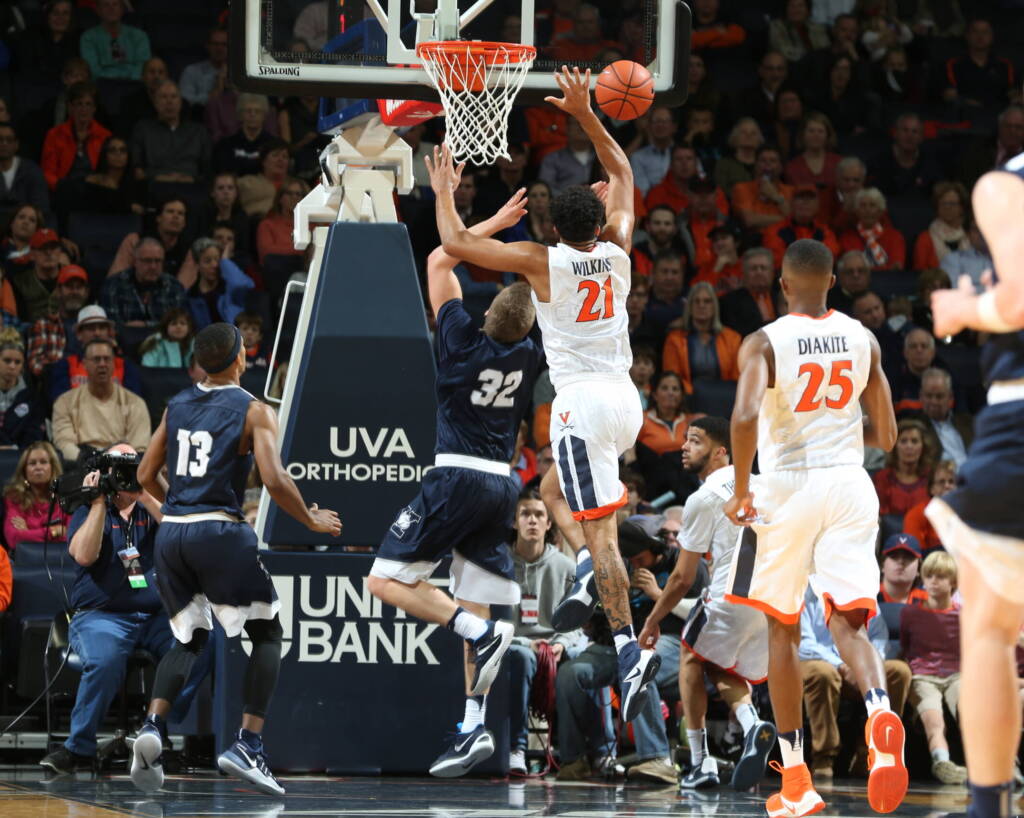 As a junior in 2016-17, Wilkins finished second to Georgia Tech's Ben Lammers in voting for ACC Defensive Player of the Year, and he used that as motivation in the offseason that followed.
"Going into my last year, I really wanted that," said Wilkins, a 6-foot-7 forward. "It's obviously a team award, but that's one of the cooler ones."
Like Brogdon, who preceded him at UVA, Wilkins graduated from Greater Atlanta Christian in Georgia. Wilkins was a senior at GAC in 2013-14, which was forward Akil Mitchell's fourth and final season at UVA.
During the recruiting process, Wilkins recalled, the Cavaliers' coaches "sat me down and said, 'We want to you be like Akil.' I thought he should have won [ACC Defensive Player of the Year] his last year, so that's something I had my eyes on for a while."
That UVA players have often snared the award, as Wilkins did in 2017-18, is no surprise. At the heart of Bennett's coaching philosophy is an unwavering commitment to defense. His father, Dick, devised the Pack Line defense for which the Wahoos have become renowned, and Bennett's teams regularly lead the ACC in scoring defense.
Two Cavaliers—Beekman and fifth-year senior guard Kihei Clark—were named to the ACC's All-Defensive team Monday. Both were named to the All-ACC third team as well.
"Our defense is an 'us' defense or a 'we' defense or a 'team' defense," Bennett said, "so that's such a part of it."
Even so, he added, it's been clear from Beekman's first year at UVA that he's a rare talent on defense. No. 2 has long arms, quick hands and feet, elite anticipation, and the will to lock down opposing players.
"That's a hard thing to make yourself do," Bennett said. "It's not natural, and so I'm glad he's been rewarded."
Wilkins said: "It's a testament to the program and what we've done here. I was really happy for Reece. That's big-time."
Beekman's "ability to react and his anticipation is unreal," Wilkins said. "He looks like he can't get there, and now he's taking your ball and he's going the other way. I think that's amazing the way he's able to do that."
He arrived at UVA with the tools needed to become an elite defender, but Beekman has put in long hours in the gym honing his skills.
"I've worked hard," he said, "and the coaching staff, they've worked with me a lot, just from the first time I set foot in here. Just to get that individual award shows a lot of the culture we build here."
In 6-foot-8 freshman Ryan Dunn, UVA has another player whose length and athleticism make him an excellent defender. From watching Beekman, Dunn said Tuesday, he's learned the importance "of being able to be in gaps and being able to anticipate and be ready for stuff to happen before it happens."
Beekman, who played his high school ball in Baton Rouge, La., is averaging 9.3 points, 3.0 rebounds, 5.3 assists and 1.6 steals per game for 13th-ranked Virginia. Among ACC players, he ranks first in assist-to-turnover ratio (3.68) and third in steals.
"He's just grown into a great player," Clark said.
The second-seeded Cavaliers earned a double bye in the ACC tournament, which started Tuesday in Greensboro, N.C.  UVA (23-6) will face No. 10 seed Boston College or No. 7 seed North Carolina in the 7 p.m. quarterfinal Thursday at the Greensboro Coliseum. BC and UNC meet Wednesday at 7 p.m.
"It doesn't matter who we play," Clark said. "We're just going to go out and execute the game plan as best as possible."
Should the Heels beat BC, they would need to defeat Virginia to stay in contention for an at-large invitation to the NCAA tournament. That was the case last month, too, when Carolina defeated UVA in Chapel Hill.
"They're going to come out with a lot of energy," Beekman said. "They're playing for their season, so we just want to come out and match that and be able to withstand the kind of punches they might throw. We've just got to stay composed and play a full game."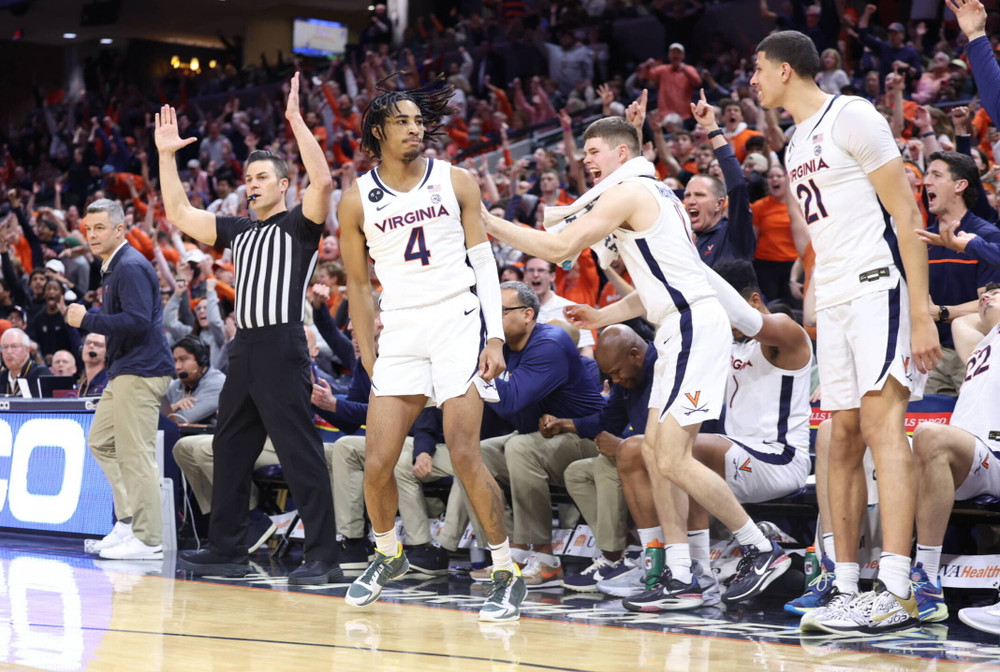 UNSUNG HERO: Three UVA players earned All-ACC recognition. Clark and Beekman made the third team, and forward Jayden Gardner received honorable mention. Bennett was disappointed that senior guard Armaan Franklin wasn't honored as well.
"He really improved," said Bennett, whose team shared the ACC regular-season title with Miami.
After transferring to UVA from Indiana, Franklin averaged 11.1 points last season but shot only 29.6 percent from 3-point range. In his second year as a Cavalier, Franklin leads the team in scoring (12.6 ppg) and is shooting 38.7 percent from beyond the arc. He's third on the team in both rebounds and steals.
"I think I'm more resilient than anything," Franklin said. "You have a couple games where things are not going well, and I think last year I would have let that snowball and had that carry into other games. This year I think I've done a better job of being able to bounce back from some tough games and some cold-shooting games. So I think that's the biggest part of my improvement."
As gratifying as individual accolades can be, "you can't get distracted by that stuff," Bennett said, "and I told Armaan, 'You really improved this year. You helped us win a championship, and that's the good stuff.' "
Asked about the All-ACC selections, Franklin said, "I was more happy for my teammates that made it than I was disappointed, because I know it's not easy to do that. Part of me was a little upset, but again, I'm just happy to say I helped bring a banner to this school and help win an ACC regular-season title."
HIGH MARKS: Sophomore swingman Taine Murray learned recently that he's been accepted into UVA's prestigious McIntire School of Commerce. He'll be the second player to enter the Comm School during Bennett's tenure as head coach at UVA.
The first was Kadin Shedrick, who'll graduate from McIntire this spring. "He's been a big help, because he's been through it all," Murray said.
Murray's parents are educators in Auckland, New Zealand, and he's a committed student. "I take pride in the academic stuff," he said.
The 6-foot-5 Murray has struggled to carve out a role on the court this season, and he's appeared in only 10 games. But Bennett used him in each of Virginia's final two regular-season games, rewarding Murray for his hard work in practice.
"Seeing the floor has been great," Murray said. "Obviously, I'm super proud of the guys, the way they've been playing, but being able to help a little bit and seeing us win has been great, and hopefully we can carry that on for the next few weeks."
VOICE OF EXPERIENCE: As a freshman in 2018-19, Kihei Clark helped the Hoos win the NCAA title. This is his final chance to be part of a team that wins the ACC tournament, but he's not putting extra pressure on himself.
"It'd be great to win it, but whatever happens, happens," Clark said. "Win or lose, you just learn from those experiences, and we know the run in the [NCAA] tournament is what's really important."
LOOKING AHEAD: Two of the four freshmen who joined the Cavaliers' program last June—Ryan Dunn and Isaac McKneely—have become key parts of the rotation. The other two, Isaac Traudt and Leon Bond III, are redshirting.
It's a tight-knit class, and Dunn can't wait for all of its members to be on the court together next season.
"One hundred percent," he said. "I think that's going to be a special group. Seeing how they've improved and how we're improving, it's going to be fun."
To receive Jeff White's articles by email, click the appropriate box in this link to subscribe.