By Jeff White (jwhite@virginia.edu)
VirginiaSports.com
GREENSBORO, N.C. — The NCAA tournament awaits the University of Virginia men's basketball team, at a site to be announced during the selection show Sunday night. The Cavaliers hoped to ride the momentum of an ACC tournament title into the NCAAs, but an uncharacteristically poor offensive performance doomed them in the championship game.
Had the second-seeded Wahoos shot well and been sure with the ball, fourth-seeded Duke, one of the nation's hottest teams, still might have beaten them. We'll never know. Efficient and productive in their first two games at the Greensboro Coliseum, the Hoos looked like a different team against the Blue Devils.
Virginia, which shared the ACC regular-season title with Miami, never led Saturday night at the Greensboro Coliseum. The Cavaliers turned the ball over 12 times and shot 33.3 percent from the floor (23.5 percent from 3-point range) in a 59-49 loss.
The victory was the ninth straight for the Blue Devils (26-8), who played a large role in UVA's offensive woes. The Devils' starters stand 7-foot-1, 7-foot, 6-foot-8, 6-foot-5, and 6-foot-2, respectively, and their length bothered Virginia (25-7) throughout. Only once this season, in a 63-48 loss at Boston College, have the Hoos scored fewer points in a game.
"I think they're a good defensive team," UVA head coach Tony Bennett said of the Devils. "They've really come together that way. Their length and their athleticism was real, and I think at times it sped us up, and we were at times a little bit uncharacteristic or a bit rushed."
Virginia, which had a double bye in the tournament, ousted No. 7 seed North Carolina 68-59 in the quarterfinals Thursday night. The Hoos shot 49 percent from the floor and had only six turnovers against UNC, and they were sharp again Friday night in a 76-56 rout of Clemson, shooting 50 percent, with six turnovers.
Against Duke, UVA's starting guards—Kihei Clark, Reece Beekman and Armaan Franklin—combined for 10 turnovers. That was partly due to Duke's defense, Beekman said, but the Cavaliers bore some responsibility too.
"We didn't take care of it as we usually do," Beekman said, "and I feel like that was a big impact in the game."
UVA was looking to win the ACC tournament for the first time since 2018 and third time in Bennett's 14 seasons as its coach. The Hoos are now 2-2 in the championship game under Bennett. They were also ACC runners-up in 2016, and they went on to reach the NCAA tournament's Elite Eight that year, so they know the loss to Duke was not catastrophic.
"Obviously, we wanted this one," said Clark, who was 1 for 9 from the floor, "but the NCAA tournament is really special, and we've got more basketball to be played, so we can't hang our head too much. We'll just try to learn from our mistakes and try to win six more games."
Franklin said: "We really wanted this game and to be able to get a championship, cut down the nets. It would be a great feeling, but we've just got to move on and get ready for whoever we're playing next week. We just gotta let it go, put it in the past and learn from it."
The Blue Devils haven't lost since falling in overtime to UVA at John Paul Jones Arena on Feb. 11, and they took control early Saturday night, scoring the game's first six points. Virginia fans were well-represented at the Greensboro Coliseum, and University president Jim Ryan was among those sitting courtside. Still, the Cavalier faithful were outnumbered by Duke supporters, who had much more to cheer in this one.
Junior guard Jeremy Roach, who finished with a game-high 23 points (7-for-12 from the floor, 7-for-7 from the line), made two of Duke's first three baskets, making his first-year head coach, Jon Scheyer, happy in the process.
"Before the game, he said go out and take it, really be aggressive, don't let them get comfortable or anything like that," Roach said. "We wanted to be the aggressors the first four minutes, and I kind of wanted to set the tone for this game, and I think I did."
Roach hit a runner on Duke's first possession to make it 2-0, and Virginia played from behind the rest of the game.
"That's kind of what we try and make other teams do," UVA redshirt junior Kadin Shedrick said. "It's difficult. We kept cutting it close, and it would have been nice to get that one stop to cut it to one position, but we couldn't get there."
Eight minutes in, Virginia was 2 for 10 from the floor and trailed 11-5. The Hoos never heated up, but they didn't let Duke pull away, either. At the end of a half in which UVA scored a season-low 17 points and turned the ball over seven times, the Blue Devils' lead was only seven.
In the second half, Duke stretched its advantage to 14 at the 14:35 mark, but Virginia rallied. The comeback started with the 6-foot-11 Shedrick's three-point play, and then Franklin passed to 6-foot-6 Jayden Gardner for a dunk.
 The Cavaliers cut their deficit to six on a 3-pointer by freshman guard Isaac McKneely with 8:31 to play, and their fans came alive. But the Devils fought off every surge, thanks in large part to the play of Roach, who was nearly flawless in the final five minutes.
After McKneely's second trey made it a six-point game with 3:05 left, Roach answered with a three-point play. Beekman scored on a drive to cut Duke's lead to four with 49 seconds left, but UVA could get no closer. The Devils went 6 for 6 from the line in the final 40 seconds to secure the championship. Roach sank four of those free throws.
Bennett's message to his team afterward? "The effort was there, and this was a good experience to be in, and let's use it, absolutely. Learn from it and get ready to play …  I told them I was proud of them for getting to this point, and we had some chances."
With about 5:10 play, after a blocked shot by freshman forward Ryan Dunn, Clark pulled up in transition for a 3-pointer that would have trimmed Virginia's deficit to four.
"Good look," Clark said. "It felt good."
Alas for Virginia, the shot didn't fall, and the Blue Devils didn't fold. "They made some plays," Bennett said, "and you have to make those plays in these settings."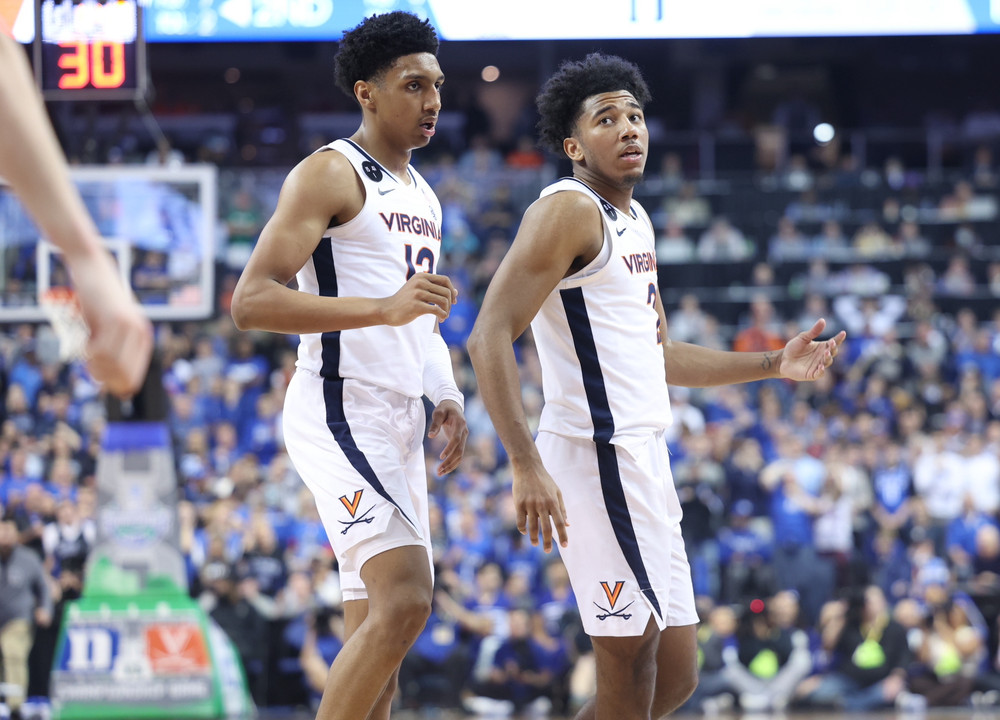 Kyle Filipowski, a 7-foot freshman whom UVA held scoreless at JPJ last month, finished with 20 points, 10 rebounds and three steals Saturday night.
"Obviously, I had probably one of my worst games of the year at Virginia," Filipowski said, "and just personally going into this game, obviously there was a little more of a chip on my shoulder, just being able to show what I'm capable of against this team. But also there was so much more to play more besides that. I was playing for a championship, I was playing with these guys, and that means so much more to me than just something that I'm wanting to prove individually."
For the Cavaliers, Beekman (12 points) and McKneely (10) were the only players to score in double figures. Gardner, who had 17 points in the quarterfinals and 23 in the semifinals, finished with seven against the Blue Devils.
"I thought they keyed on Jayden," Bennett said, "and when Reece or Kihei or Armaan got in the lane, they were there. And then you've got two 7-footers, so I think couldn't quite get Jayden going the way he was so good last game."
The NCAA selection show will reveal the Cavaliers' next destination, and that tournament is now their focus. A year ago, the Hoos missed the NCAAs for the first time since 2013. They put together a strong run in the National Invitation Tournament, advancing to the quarterfinals, but that's not the postseason stage on which they want to be playing.
"It's a really gratifying feeling coming from where we came from last year, not making it, just knowing our name is going to be called [Sunday night]," Franklin said. "Once we hear our name, I think we'll be fine."
The Cavaliers lost their tallest starter, 6-foot-8 Ben Vander Plas, to a season-ending injury on the eve of the ACC tournament, and they're still adjusting to playing without him. Their practices at JPJ this week should help.
"BVP's injury was big," Gardner said. "So for us, we just got to get back to what we do. We just got to keep defending at a high level, and our effort is never going to be a worry, and shots are going to fall, so we're going to be all right."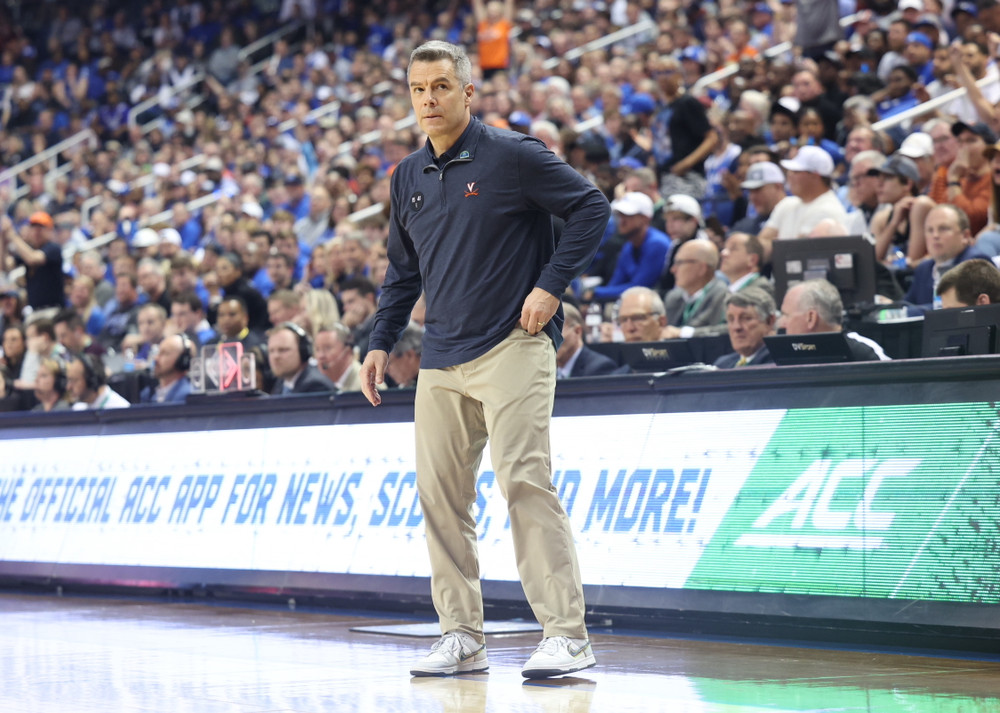 SOUND BITES: This was the first ACC tournament game between Virginia and Duke since 2014. In that game, the top-seeded Cavaliers defeated the third-seeded Blue Devils to capture the title. Among the postgame comments Saturday night:
* Clark on Roach: "I think he's the player that makes that team go. I thought he played a really good game, so I have to tip my hat to him."
* Shedrick on the NCAA tournament: "It's going to be super fun, similar to this, and we'll be ready to play. I don't know where we're going to play, obviously, but it would be cool to be close to Virginia and hopefully see a lot of Virginia fans."
* Shedrick on the Devils: "Their defense is real. They seem super committed to it, especially this game. Obviously the stakes are high, and they're long, they're tall, they're big at all five positions, pretty much, and I think that's certainly challenging for any team, and they can really rely on that these next few weeks."
* Scheyer: "Virginia is a great team. We've had two big-time battles against them this year. Really, every time we play them usually it's that way."
* Scheyer on his team's defense: "Virginia is as tough as can be, slower paced, they grind you. And to prepare for them in 24 hours and to defend them the way that we did, it's a credit to these guys and their focus and their fight on the defensive end."
* McKneely: "I think we just need to take our rest. Obviously, we wanted to win [the ACC tournament], but we're playing for something bigger. So we'll take the next couple days to rest up and then get right back at it. I'm really proud of our effort tonight. Shots weren't falling like they have in the past two games, but I know once we get into the postseason we're going to be ready, so I'm excited for that."
* Beekman: "Just use the momentum from the first two games and just the positive things from this game and take that into the [NCAA] tournament."
To receive Jeff White's articles by email, click the appropriate box in this link to subscribe.