By Jeff White (jwhite@virginia.edu)
VirginiaSports.com
CHARLOTTESVILLE, Va. — The calendar still shows March, and the University of Virginia baseball team has yet to reach the midpoint of its regular season. The postseason is "down the road," UVA head coach Brian O'Connor noted Sunday afternoon, and he's focused on his team's next challenge: a non-conference game against visiting Old Dominion on Tuesday.
Still, for a program that's looking to host an NCAA tournament regional for the first time since 2016, this was an important weekend. Eighth-ranked UVA swept ACC rival Florida State for the first time in 10 years, winning 3-2 in 10 innings on Friday, 12-4 on Saturday, and 15-4 on Sunday at Disharoon Park.
This is O'Connor's 20th season with the Cavaliers, and they've hosted nine NCAA regionals and five super regionals during his tenure. Before each season, O'Connor said, the coaches talk to the players about what's required to be awarded home games in the NCAA tournament.
"They know what you have to do to be playing in this ballpark late in the season and in postseason," O'Connor said. "They don't play for that motivation, but they understand it, and they understand what games like this mean to earn that kind of opportunity."
This is not a vintage FSU team, but sweeps are elusive in the ACC, no matter the opponent. In each of its first two conference series, Virginia dropped the finale after winning the first two games. The Cavaliers had no such issues Sunday on a splendid spring afternoon before a crowd of 5,706 at the Dish.
"It was great to see that we can finish something off," O"Connor said. "When you get to the end of the season, where you want to be playing in postseason, that's what you have to do. Two games isn't enough, and we proved it to ourselves that we have it in us and could do it."
The Wahoos (22-2 overall, 7-2 ACC) blew past FSU (12-12, 3-6) with an eight-run third inning in which they sent 13 batters to the plate. Junior third baseman Jake Gelof had four RBI in that inning: the first three on a home run and the fourth on a single that drove in freshman Harrison Didawick.
The homer was Gelof's team-leading eighth of the season and 33rd of his career. He's tied with Mike Lindner (1987-90) for fourth on UVA's all-time list.
"I was waiting for that home run this weekend out of somebody," O'Connor said, "and certainly that was a big swing of the bat for us and we got a lot of energy from it. And then after that we continued to get opportunities and capitalize on them."
Gelof went 4-for-5 to lead an offense that totaled 15 hits. Center-fielder Ethan O'Donnell, a transfer from Northwestern, was 3-for-5 with two RBI, and two other Cavaliers had two hits apiece: first baseman Ethan Anderson and designated hitter Anthony Stephan.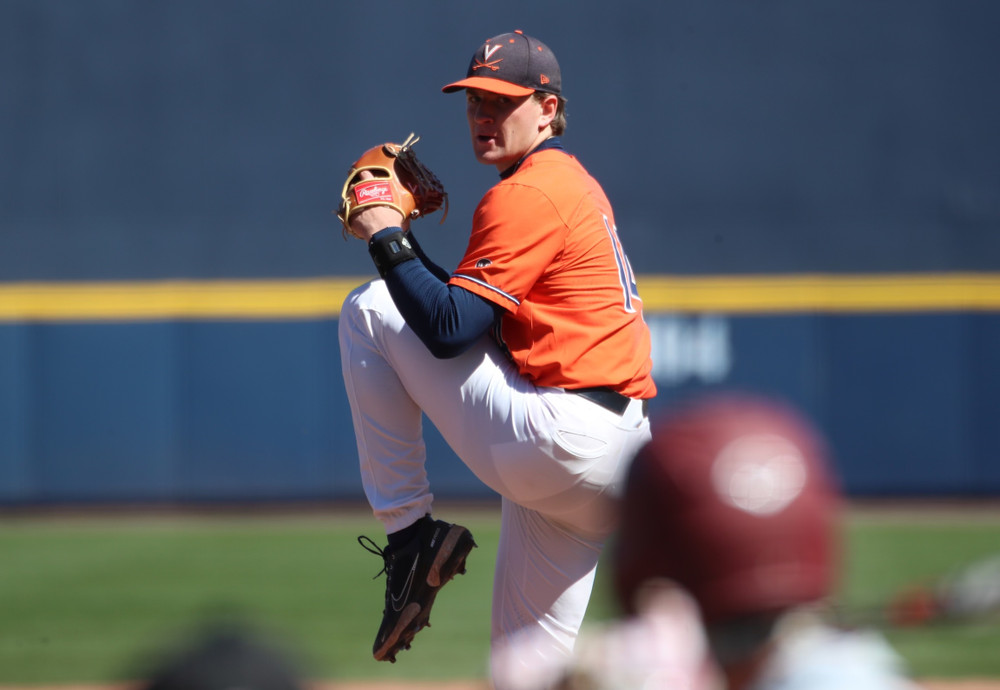 Stephan's role continues to grow. The sophomore from Ridgewood, N.J., who bats left-handed, has appeared in only 15 games this season, but he's hitting .478.
"Out of Anthony Stephan, I'm seeing a great approach at the plate," O-Connor said. "He's not chasing pitches. He's balanced up in the plate, he's taking great swings. It's a very mature approach."
Until Sunday, Stephan had been used primarily against right-handed pitchers, but "I just decided to stick with him and give it a shot and he earned it," O'Connor said. "He didn't get many at-bats early in the season, but he never came into the coaches' office to say, 'What's going on?' He just came and worked every day, and I saw that, and he's being rewarded for going about it the right way."
When an opportunity comes, Stephan said, "you've got to make the most of it. So I've just been trusting the work I do here every day and the work we do here as a team every day and letting it unfold from there."
Ben Barrett, who was expected to start on the mound for the Seminoles, was a late scratch because of an illness. FSU used seven pitchers Sunday, none of whom was especially effective against the Cavaliers.
"I just thought that we were really locked in offensively," O'Connor said. "I think the energy was outstanding. You could tell in our guys' approach at the plate that they just weren't going to be denied and they were going to come with their best. That's very, very hard to do in this league, and we did it today and proved to ourselves we can sweep a series in this league.
"If you want to have a chance at the end of the year to compete for a league championship in the regular season, this is something you have to do, especially at home. They all add up. You just don't know which game it is that might help you win the championship or might cost you the championship. And when you get a chance at home to finish somebody off, you need to do it."
Gelof said: "It's tough to beat a team three times. We stayed with our approach, we pitched the ball really well, and we swung [the bats] well as well."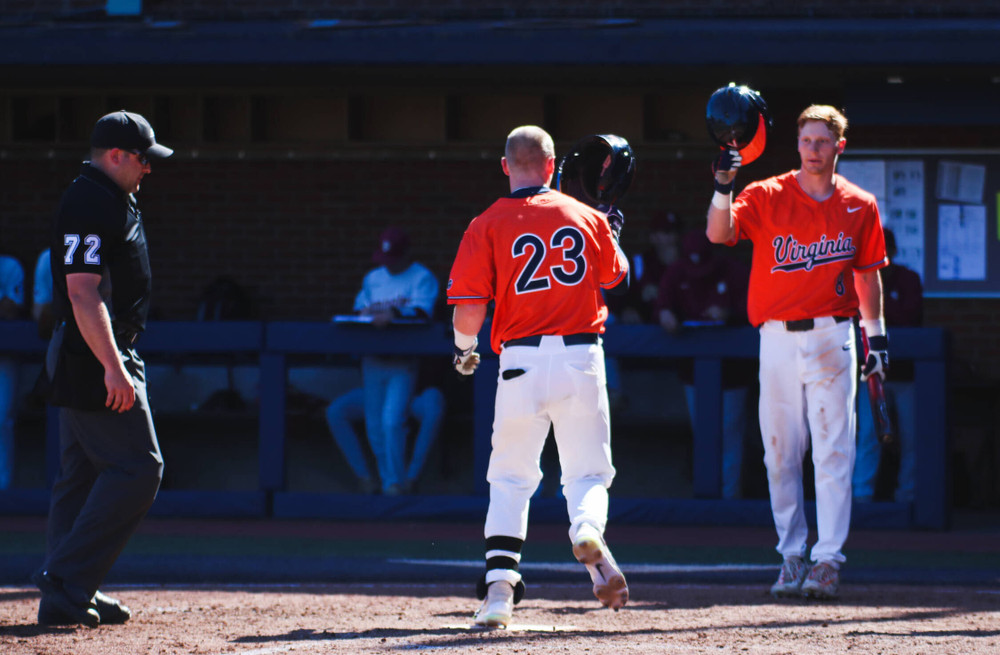 For the season, the Hoos are batting .355, and they've averaging 9.7 runs per game. Their pitchers have a collective earned-run average of 2.57. The Hoos were uncharacteristically sloppy in the field Sunday, committing three errors, but they've generally excelled on defense this season.
"That's what's so great about this team right now: We're doing it on the mound, we're doing it defensively and we're doing it offensively," Gelof said.
Freshman Jack O'Connor was the first of four Cavaliers to pitch Sunday. The 6-foot-5, 235-pound right-hander scattered six hits, struck three and walked none in five innings. Taking the mound after the Hoos' eight-run third inning, O'Connor retired Florida State in order in the top of the fourth, and that was "really crucial to keeping that momentum [going]," Gelof said.
At 22-2, Virginia has tied the program record set in 2013 and matched last season for the best start through 24 games. The Cavaliers are unbeaten at home this season, and they soaked in the atmosphere at Disharoon Park on Sunday.
"It was great," O'Connor said. "The Dish was packed. Our fans here have been the lifeblood of our program. Certainly recruiting is, and player development. But a lot of people have worked very hard to create an atmosphere and environment in here … The fact that the all the kids in our community 18 and under can come into the Dish for free is awesome, and we just want to give that to our community and have young people in our ballpark enjoying Virginia baseball."
Standing near the UVA dugout, Gelof marveled at the scene in left field.
"I love Sundays," he said. "Look at the crowd over there. We've got a bunch of a bunch of kids over there, and it's awesome. A lot of people were here this weekend, and we hope to see more coming out. Look at the little kids running around. This is awesome. This is why you play the game."
To receive Jeff White's articles by email, click the appropriate box in this link to subscribe.