WINSTON-SALEM, N.C. –  The No. 9 Virginia women's tennis team (17-5, 10-3 ACC) closed out the regular season with a 6-1 victory at Wake Forest (15-12, 5-8 ACC) on Sunday (April 16) in Winston-Salem, N.C.
The victory was win No. 100 at Virginia for head coach Sara O'Leary. She has a record of 100-47 at UVA and becomes the third coach in program history to win 100 matches with the Cavaliers.
The Cavaliers dropped the doubles point before taking all six singles matches.
Sara Ziodato tied the match with a 6-3, 6-1 win on court five. Mélodie Collard followed with a 6-2, 6-2 win on six. Elaine Chervinsky clinched the victory with a 7-5, 6-3 victory on court three. Hibah Shaikh rebounded from dropping her second set against Neyena Carton on court four by winning the final set 6-0. Natasha Subhash won a tiebreaker 7-4 to take her second set against No. 39 Casie Wooten and close out her victory. Julia Adams won a tiebreaker 9-7 to break a 6-6 tie in her third set against Anna Brylin to finish off the singles sweep.
Wake Forest is ranked No. 28 in the ITA team rankings.
With the victory, the Cavaliers earn the No. 4 seed in the 2023 ACC Women's Tennis Championship being held April 19-23 at Cary Tennis Park in Cary, N.C. Virginia has a double bye and will begins play on Friday (April 21) at 10 a.m. with the opponent to be determined.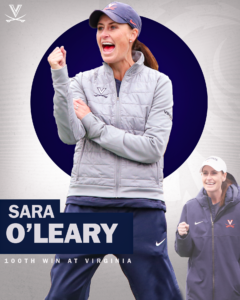 FROM HEAD COACH SARA O'LEARY
"After a slow start in doubles, we challenged the team to respond and I thought we showed a lot of character bouncing back to claim six first sets on the way to sweeping the singles matches. Wake Forest made us earn it today, but it was good to see us play with enough toughness and resilience to bring us through to the win.
"I also want to thank everyone in the program for helping hit this 100-win milestone. Gina and I have had so many incredible players and volunteer assistants contribute so much in our 6 years in Charlottesville. These 100 wins at UVA belong to all of us. Go Hoos!"
#9 Virginia 6, #28 Wake Forest Women's Tennis 1
Singles competition
#60 Natasha Subhash (VA) def. #49 Casie Wooten (WF) 6-4, 7-6 (4)
#55 Julia Adams (VA) def. #58 Anna Brylin (WF) 6-4, 2-6, 7-6 (7)
Elaine Chervinsky (VA) def. Brooke Killingsworth (WF) 7-5, 6-3
#82 Hibah Shaikh (VA) def. Nevena Carton (WF) 6-1, 3-6, 6-0
Sara Ziodato (VA) def. Maddie Lynch (WF) 6-3, 6-1
Melodie Collard (VA) def. Whitley Pate (WF) 6-2, 6-2
Doubles competition
#21 Melodie Collard/Julia Adams (VA) def. #14 Anna Brylin/Brooke Killingsworth (WF) 6-4
Mia Ahmad/Casie Wooten (WF) def. #23 Natasha Subhash/Elaine Chervinsky (VA) 6-3
Nevena Carton/Whitley Pate (WF) def. Sara Ziodato/Annabelle Xu (VA) 7-5
Order of finish: Doubles (1,2,3); Singles (5,6,3,4,1,2)
T-3:27 A-78