By Jeff White (jwhite@virginia.edu)
VirginiaSports.com
CHARLOTTESVILLE, Va. — About seven months into her first year as head women's tennis coach at the University of Virginia, Sara O'Leary received a phone call that she still vividly remembers.
It was February 2018, and Natasha Subhash was calling to say she'd decided to be a Cavalier.
"I was ecstatic," O'Leary recalled. "I worked really hard to get Natasha here. I had watched her play multiple times and gotten to know her. I just knew she was not only a great tennis player, but a really, really wonderful person who would add so much to the culture."
UVA wasn't the only school pursuing Subhash, an excellent student who was born and raised in Northern Virginia. She also seriously considered North Carolina and Duke, each of which then had a higher-ranked women's tennis program than Virginia. That didn't sway Subhash.
"What really stood out to me with UVA was just the culture and the interaction I built with Sara and [associate head coach Gina Suarez-Malaguti]," said Subhash, who graduated from the online program at Falls Church High School. "They were, in my opinion, the most genuine coaches that I talked to. I could really feel like they cared more deeply about me as a person than my tennis and just were really focused on the development part of it. And that was super important to me."
The Cavaliers rejoiced over her commitment, and she's been everything they hoped. Adding Subhash "was huge for the trajectory of the program," O'Leary said. "Having her here, she's been just a dream. She's a great student, hard worker, kind person."
Subhash (pronounced SOO-bosh) said she based her decision mostly on the relationships she built with the Wahoos' coaches and with the players on the 2017-18 team. "And the other part of it—not a huge factor, but definitely part of it—was the strong business school here," Subhash said.
It didn't hurt, either, that her parents would be able to see her play in Charlottesville.
"It's only two hours, so they come as much as they can," Subhash said. "It's awesome that they can do that. "
Subhash enrolled at UVA in the summer of 2019 and began taking prerequisite classes for the prestigious McIntire School of Commerce. As a second-year, she applied to McIntire. "The waiting was stressful," Subhash said, but she need not have worried. She was accepted into McIntire and began the two-year program in 2021-22.
Her concentrations are accounting and management, and she also has a track in global commerce. Subhash will graduate from McIntire this month, but she's not ready to leave the University.
With another year of eligibility because of the COVID-19 pandemic, which shut down her freshman season in March 2020, Subhash will use it to pursue a master's degree in accounting at UVA in 2023-24.
"It wasn't much of a decision," Subhash said. "I knew I had that opportunity from my first year, because of COVID. And then I think I maybe first mentioned [the possibility]  to the coaches at the end of my second year or beginning of third year. I was like, 'Hey, I'm interested in staying, I love it here,' and they graciously wanted to keep me on. I really was never considering going somewhere else for my fifth year."
An Academic All-American, Subhash twice has been named UVA's Female Scholar-Athlete of the Year. She's distinguished herself on the court, too. She's a three-time ITA All-American in singles and in 2020 was named ITA National Rookie of the Year. She's played No. 1 or No. 2 singles this season.
"She's in her second year as a captain already and still has another year, so she's really well-respected by her teammates, her coaches, all of her opponents," O'Leary said. "She's just a really, really wonderful person who's had a great career here at UVA, and we're really grateful we get to have one more year with her."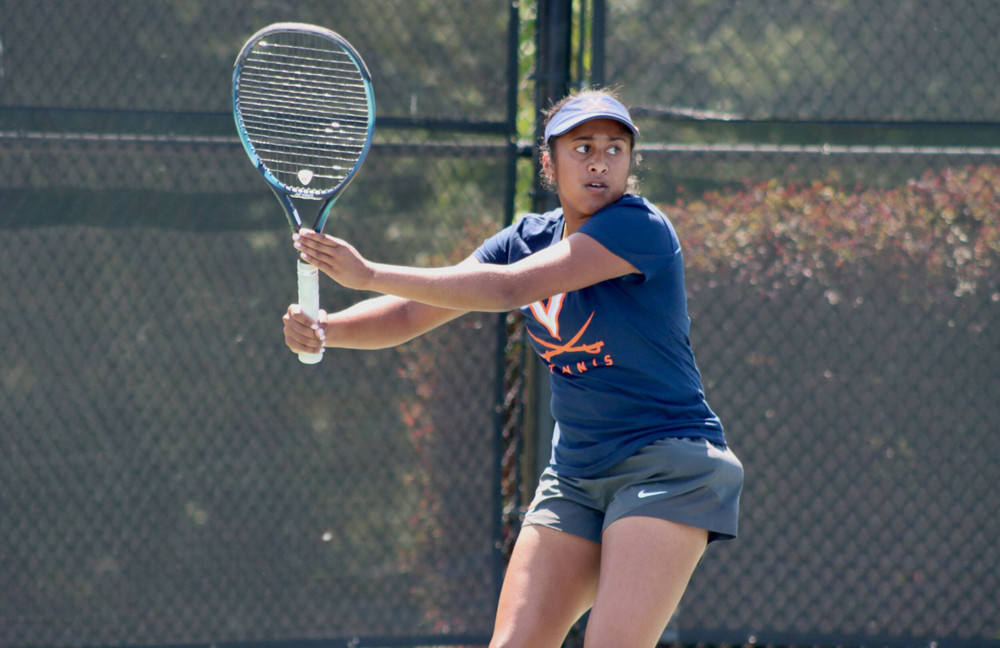 The Cavaliers, who advanced to the NCAA quarterfinals in 2022 are 18-6 and ranked No. 11 as they head into this year's NCAA tournament. The tournament field will be announced Monday during an online selection show on NCAA.com, starting at 6 p.m.
Due to the pandemic, the NCAA tournament wasn't held in 2020, but "the last two years have been amazing experiences," Subhash said.
She's learned that a team's health is a critical factor in May. "I think at this point in the season most teams have a lot of players that are kind of banged up," Subhash said. "Tennis is a really strenuous sport, and injuries, at least small ones, are very common. So focusing on the fitness side of it and recovery, being smart with practice, I think that's a big thing."
Also important, Subhash said, is "building your team's connection and that sense of unity. This year, especially, we've seen in our conference that every single team is so strong. So [talent alone] is not what's gonna set teams apart. It's more of the connection players have with each other and the trust that your team has. I think what sets the winning team apart from the rest is just that last step of love and connection. So building that, I think, is really important at these stages."
Subhash spends countless hours at the Boar's Head Resort, playing and training at the Virginia Tennis Facility, but she's made sure to take advantage of opportunities available to her on Grounds. Through Madison House's Athletes Committed to Education (ACE) program, she began volunteering as a tutor in the fall of 2019, working with area elementary school students.
The pandemic halted her in-person tutoring, and so Subhash started looking for "virtual opportunities that were similar," she said. Through Madison House, she found a program that helped area children who were underprivileged or for whom English was not their first language.
Subhash said she and another UVA student were assigned to a fifth-grader, and "we met with her once a week to help her with her reading and math."
When she was growing up, Subhash said, "tennis was definitely the biggest part of my life, but I didn't want it to be the only thing I could fall back on, so I was always very focused on school as well. So that part of it came naturally. I'd always been very interested in volunteering. I didn't get a chance to do much before college. So when I got here, that was definitely one of the first things I looked for. And I love to work with kids and just help people in general, so that's important to me as well."
Subhash, who plans to become a Certified Public Accountant, hasn't decided if she'll pursue a pro career after earning her master's degree next year. She had an internship last summer in Tyson's Corner with FORVIS, one of the nation's top 10 public accounting firms, and will intern there, in a different department, again this summer.
"I loved it there," Subhash said. "It was a great opportunity to kind of keep figuring out exactly what I want to do after college."
Early in her undergraduate career, Subhash said, her plan was to play on the professional tour "at least for a little bit," and she's competed in (and won) pro tournaments as an amateur.
"But unfortunately, I've had a couple of injuries that are more on the chronic side, and I think as I've gotten more attuned to what I want to do career-wise, now I'm definitely leaning towards just going into work," Subhash said.
A change of heart is possible, she acknowledges. If things go well on the court for her as a graduate student, Subhash said, "I'm still open to [pro tennis]. But as of now, I think I have shifted more towards stopping at the college level."
Whatever her ultimate decision, Subhash will have made her mark as a Cavalier.
"We're so lucky to have her for another year," said Andres Pedroso, Virginia's director of tennis. "She takes so much pride in wearing the orange and blue, and you see that in the way she does so exceptionally well academically, how she trains every day with laser focus, how she competes every single point. You never see her give up, doubles and singles. Natasha has been the ultimate teammate."
To receive Jeff White's articles by email, click the appropriate box in this link to subscribe.