By Jeff White (jwhite@virginia.edu)
VirginiaSports.com
CHARLOTTESVILLE, Va. — On a fast break that started in Virginia's defensive end, Quentin Matsui scooped up a ground ball and fired a long pass that Noah Chizmar picked up on the bounce. Chizmar passed ahead to Xander Dickson, who fed Connor Shellenberger near the goal.
Shellenberger had an open shot, but he passed across the crease to Payton Cormier, whose one-timer beat Richmond goalkeeper Zach Vigue and stretched UVA's lead to 13-6 with 1:35 left in the third quarter.
A minute later, a similar sequence unfolded. Virginia goalie Matthew Nunes went low to block a UR shot. Cole Kastner scooped up the ground ball and sprinted up the field. After crossing into the box, Kastner passed to Shellenberger, who fed Dickson left of the cage. Dickson had an open shot, but he passed across the crease to Cormier, who jumped, caught the ball and beat Vigue with another one-timer to make it 14-6.
"It defines the unselfishness of this group and certainly the skill set of Connor, Xander and Payton," Virginia head coach Lars Tiffany said. "Aren't those fun?"
For the Wahoos? Yes. For their opponents? Not so much. The Hoos lead the nation in goals per game (17.6), and their offensive prowess was on full display Saturday afternoon at Klöckner Stadium.
In the NCAA tournament's first round, No. 2 seed Virginia overwhelmed Richmond 17-8 to advance to the quarterfinals. UVA (12-3) will meet No. 7 seed Georgetown (13-3) next Saturday afternoon in Albany, N.Y.
Against Richmond (11-5), 10 players scored at least one goal apiece for the Hoos, who have won two NCAA titles (2019 and 2021) under Tifffany. Cormier led the way with six goals, which tied the program record for most goals in an NCAA Tournament game. Shellenberger had two goals and a game-high four assists, and the third member of UVA's starting attack, Dickson, contributed two goals and an assist.
"We talked about the three phases of their offense," UR defenseman Jake Saunders said of the Cavaliers. "They're very dynamic."
Dickson's first goal gave him 57 for the season, breaking the single-season program record he'd shared with Doug Knight (1996). Now a fifth-year senior, Dickson didn't become a full-time starter until last season, but he's established himself as one of the nation's premier players.
"I think everyone has become familiar with Xander's story, not having the biggest role and now this year he's setting some of the all-time marks, which is pretty cool," said Shellenberger, a redshirt junior who's a finalist for the Tewaaraton Award.
"I think it's just a testament to the type of person Xander is and how hard-working he is. He's had his head down this whole time here and he hasn't given up, he hasn't complained, and he just kept putting in the work, and for Payton and I to be a part of Xander's historic season has been pretty cool, and it's fun to watch him score a lot of goals."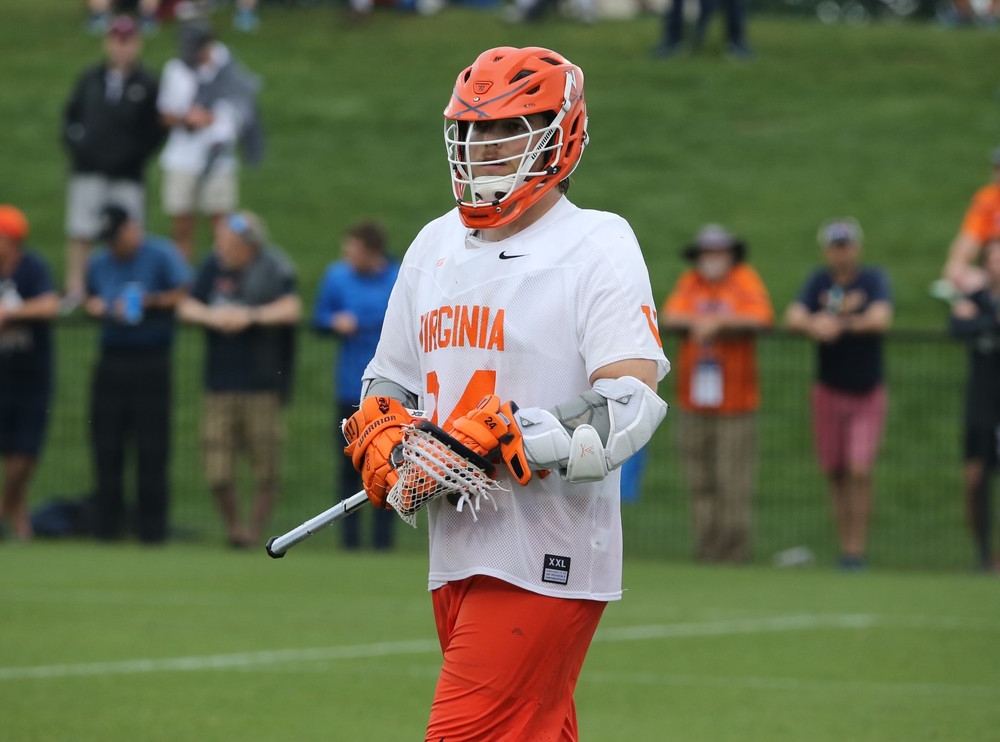 This was the second meeting of the season between programs separated by about 70 miles. In the first, Dickson scored six goals in the Cavaliers' 25-8 rout of the Spiders. In the rematch, also at Klöckner, Mother Nature became a major storyline.
"I guess it was just unlike anything that I've ever played in," Shellenberger said of the conditions Saturday.
Between the first and second quarters, the game was paused and the stadium cleared after lightning was spotted in the area. Then, as the teams were warming up and preparing to resume play about 30 minutes later, what Tiffany called a "monsoon" arrived. Sheets of rain pelted Klöckner, forming pools of standing water on the field and soaking anyone who wasn't under shelter. But the game continued and the Hoos remained in control.
"Old school lacrosse," Tiffany said. "I told the men right after the game, it felt like when you were probably 10, 12 years old, playing on a muddy, grassy field and you just played for the pure joy of it. We're really spoiled here at the University of Virginia with incredible facilities, and we get to play at a lot of other great venues as well. But we don't get to play in the slop very often, and I really appreciate how much our men enjoyed it and embraced it and really had fun with this today with the conditions, and we didn't let it slow us down at all."
The Hoos have rarely played in ideal conditions at home this season, so it seemed fitting that their final game at Klöckner was so memorable in that regard.
"I think this year was the craziest weather we've had, or at least I've had at UVA," defenseman Cade Saustad said, "and I think throughout the year we've kind of prepared for something like this. We have our [different] cleats that we wear and we're always checking our footing for the games, but it was weird because we haven't played in a swamp before."
The Cavaliers' offense wasn't the only story in this game. Petey LaSalla won 18 of 27 faceoffs, allowing Virginia to dominate possession, and Nunes made nine saves. Saustad helped hold UR attackman Dalton Young to two goals and two assists. Young, the Atlantic 10 Offensive Player of the Year, entered the game with 30 goals and 39 assists.
Virginia comes into each game looking to allow no more than one goal per quarter, Saustad said. "We didn't quite get there—it was two goals a quarter—but it's always nice holding a team like that below 10 goals and just trying to get some momentum going into the next week."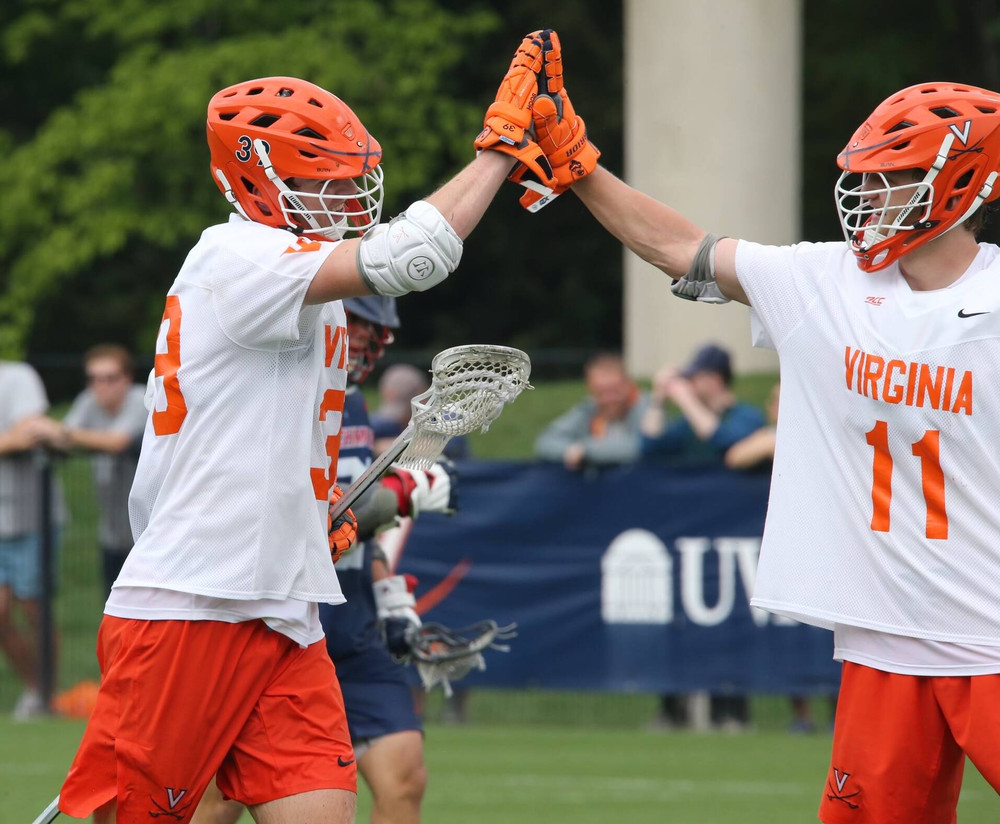 The core of this UVA team is a fifth-year class that includes Saustad, Dickson, LaSalla, Cormier, short-stick defensive midfielders Grayson Sallade and Evan Zinn, and two-way midfielder Jeff Conner, who had one goal and two assists on his 23rd birthday Saturday.
"To have six men return for a fifth year to delay their professional careers and other avenues, it's a big deal for this group," Tiffany said. "Virginia lacrosse is that important to them to do this. And so when it's their last game on Klöckner, it's a big deal. I'm glad they embraced it, and we talked about it."
Asked about playing at Klöckner for the last time, Saustad said, "I definitely thought about it a lot before the game and then we started and I just kind of forgot about it. And then Coach pulled me out with a couple minutes left. I'm sitting there and still didn't realize that that might have been my last time out there."
A reminder from the team's athletic trainer, Rebecca Vozzo, snapped Saustad back to reality. "Luckily, I went back in [the game] for another 30 seconds or so," he said, "so I actually got to like fully embrace it. And then the fifth-years got a picture after the game, which is cool."
For Shellenberger, this has been a trying year at times. Injuries have hindered him for much of the season, but he's close to 100 percent now and has recorded at least four points in three consecutive  games.
"He's starting to get into a rhythm, as you can tell, out there," Tiffany said. "The conditions today made it challenging, so you couldn't really rely on planting your foot and changing direction at a hard angle, and Connor did well taking advantage of that coming up the hash and making a couple of really nice shots there. With Connor healthy, he now really presents that double threat of: Is he dodging to feed or is he dodging to score? That's when he's most effective: when he's doing both."
To receive Jeff White's articles by email, click the appropriate box in this link to subscribe.