By Jeff White (jwhite@virginia.edu)
VirginiaSports.com
CHARLOTTESVILLE, Va. — During the recent break for final exams, the University of Virginia baseball team held several intrasquad scrimmages at Disharoon Park. In one of them, the Cavaliers' veteran catcher tagged out a sliding rookie in a close play at the plate.
"I was safe," Aidan Teel said a few days later.
"He was called out, but he was arguing that he was safe," Kyle Teel said.
"If we went to booth review, I would have been safe, no doubt," Aidan said.
"Well, there's no booth review in [scrimmages], so that's the good news," Kyle said. "And that was pretty cool, honestly, just being able to tag out your little brother."
This is Brian O'Connor's 20th season as head coach at Virginia, where his players have included seven sets of brothers: Kyle and Keith Werman; Tyler and Riley Wilson; Jacob and Justin Thompson; Joe and Jake McCarthy; Will and Jack Roberts; Zack and Jake Gelof; and, now, Kyle and Aidan Teel.
"I'm proud of it, because it speaks to the experience that the family believes they've had with the baseball program, and that's very, very important to me," O'Connor said. "This is just another example of a long line of families that have felt like this is a great opportunity for their sons."
The Teel brothers are graduates of Mahwah High School in New Jersey, but they never had a chance to play together in a baseball game there. They would have done so in 2020, when Kyle was a senior and Aidan a freshman, but the COVID-19 pandemic wiped out those plans.
There was, however, a preseason practice during which the Thunderbirds held an intrasquad scrimmage.
"I got to pitch against him, which was pretty cool," Aidan said.
"I think I got a single off him," Kyle said.
"I wouldn't call it a single, but you can call it whatever you want," Aidan said.
Sense a pattern here?
"It's always been a competition between us," Aidan said.
"We love each other a ton," Kyle said, "but we're definitely competitive with each other."
They were football teammates at Mahwah High in the fall of 2019. Aidan missed most of that season with a quad injury, but before he got hurt the brothers would go head to head in tackling drills.
Kyle remembers one practice in particular. "I'm not gonna lie, I kind of got run over a little bit, and it hurt my ego a lot," he said, shaking his head. "But it just shows the kind of guy that Aidan is. He's a hard-nosed kid."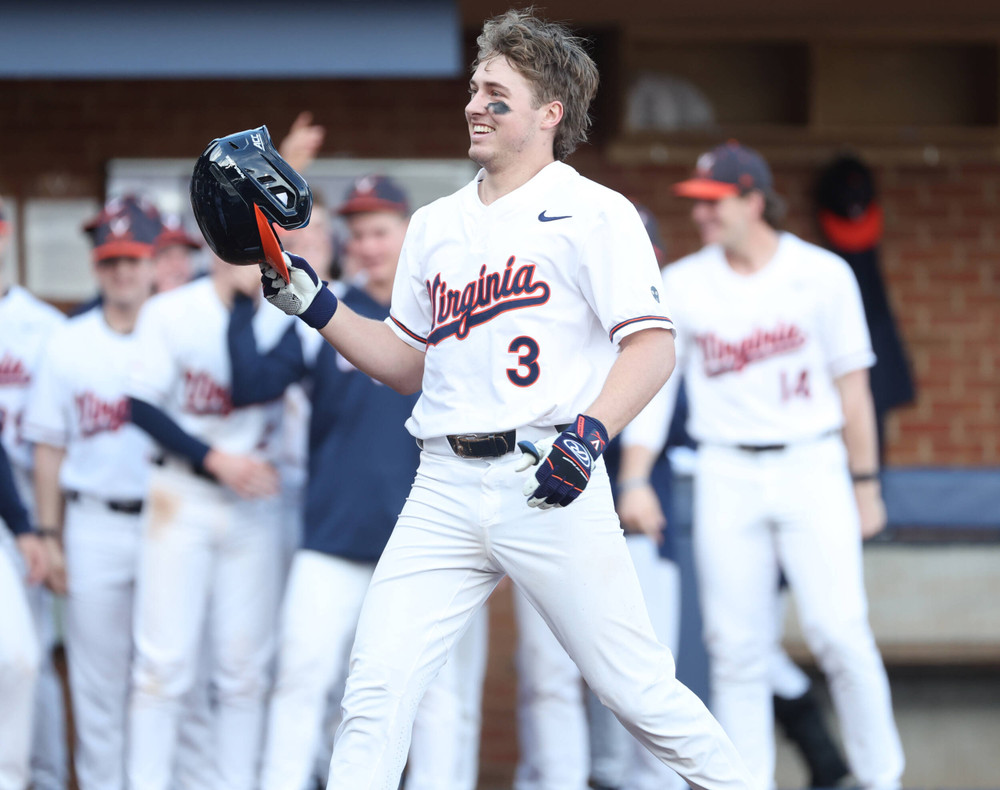 Aidan, a two-way player in baseball, committed to UVA in January 2020. About 20 months later, he decided to reclassify and graduate from Mahwah a year early—in 2022 instead of 2023. That was partly because Aidan, who turns 19 in August, was old for his grade and wanted to play three college seasons before becoming eligible for the Major League Draft in 2025. Another reason: He was eager to play at least one season with Kyle in Charlottesville.
"Having my freshman year and his senior year canceled and not being able to play together in high school was a really big bummer," Aidan said. "But I also wanted to get to UVA as quick as possible and be around the best coaching staff in the country and be on the best team in the country."
Aidan enrolled as scheduled last summer, but his debut for the Wahoos won't come until next season. In April 2022, Aidan tore the ulnar collateral ligament in his right elbow while pitching for Mahwah. The injury required Tommy John surgery and meant Aidan would miss this season.
"What happened to Aidan was unfortunate," O'Connor said, "but it didn't change his feeling about still wanting to come here for this year. He was going to need to rehab his arm regardless, and so I'm still glad that he's here for this year with his brother, but also with us to understand how the program runs and what the expectations are, and I think he'll be more prepared to have success next year having been here."
Kyle, a 6-1, 190-pound junior, is projected to be an early-round pick in the upcoming MLB draft, so he's likely to be elsewhere when Aidan, who's been rehabbing under the direction of athletic trainer Brian McGuire, is cleared for full participation.
"It sucks a little bit not being able to play together," Aidan said, "but there's not many people that can say they went to college with their older sibling. We're able to share our time on the same team, and being able to cheer him on while being part of this team, being able to be at practice with him, is something that I'll be able to cherish forever. And that's something that many people, again, can't say that they've done."
Jake Gelof was in a similar situation during the 2021 season. He was freshman on the UVA team that advanced to the College World Series that year, and Zack Gelof was a junior.
"It was just really awesome to get a lot closer with him," Jake said of playing with Zack, who signed a pro contract in the summer of 2021 and is now in the Oakland Athletics' organization. "It's such a special thing, and my parents loved it, not having to travel to two different colleges."
Asked about the Teels, Jake said, "I think it was really good for Kyle to see how Zack treated me. I thought Zack did a really good job of not always being right on top of me or being super far away. I thought he did a really good job of gauging that middle ground, I guess, and I think that really helped Kyle [with Aidan]."
Kyle agreed. "Just watching how Zack handled Jake when he was a first-year, I really learned a lot from their dynamic on the team. Because it's really easy to yell at your brother all the time, so it's just about kind of laying off and letting him do his own thing. That's what Zack did with Jake, so that was my goal coming into this year."
Aidan said his brother "has done a very good job of letting me learn on my own, but it's also been a very big blessing to have him here and learn from what he's done and all of his successes."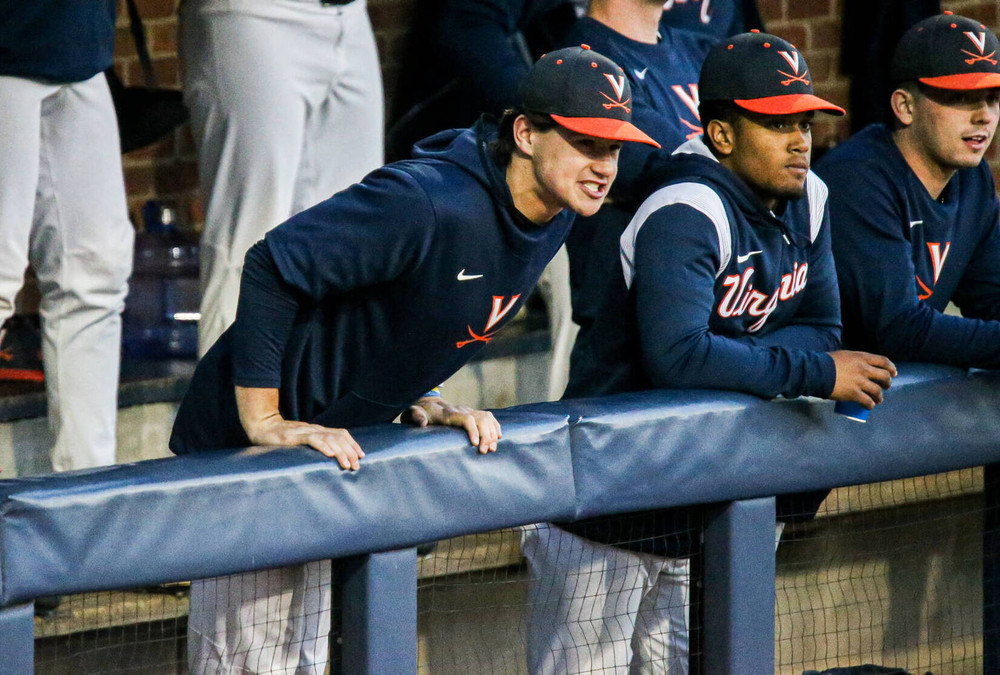 The Teels' father, Garett, spent five seasons in the Los Angeles Dodgers' organization as a player and a coach. He and his wife have journeyed south from Mahwah, which is about 30 miles north of Newark, countless times during Kyle's three seasons at UVA, and their road trips won't end any time soon.
"We still have Aidan, so we're looking forward to that," Garett Teel said. "That's a blessing."
Seeing his sons on the field together this season would have been a treat, but "the silver lining in all of this is that Aidan got to go to Virginia a year early," Garett Teel said, "and he got a chance to learn the ropes there without having the stress of having to play, and he had his brother there for support while he was rehabbing. I think it worked out really well, considering the circumstances."
The elder Teel said his sons are "alike, and yet they're so different. Kyle is more free-spirited, and he thinks differently than Aidan. Things never get to him. Like the other night, he struck out four times [against Louisville at Disharoon Park]. I spoke to him after the game and he had a smile on his face like, 'Can you believe that, Dad? Can you believe I struck out four times?' Like, 'That ain't ever happening again.'
"Where I think if that happened to Aidan, Aidan would probably have the same result the next day as Kyle did, and had three hits, but he would have been really, really angry [in the moment]. They just deal with things differently like that. But they have that competitive spirit in them, and it's different and it's the same. It gets them to the same place.
"We come from a very competitive, athletic family, and I don't think any of us are anything like Kyle. I think it's great. I think his demeanor is perfect for baseball. But they're very similar in their competitiveness. They want to win. They're great teammates, and they're really good leaders. They make everyone around them better. They're never going to get outworked. They're going to lead by example. They don't lead by yelling and screaming at people."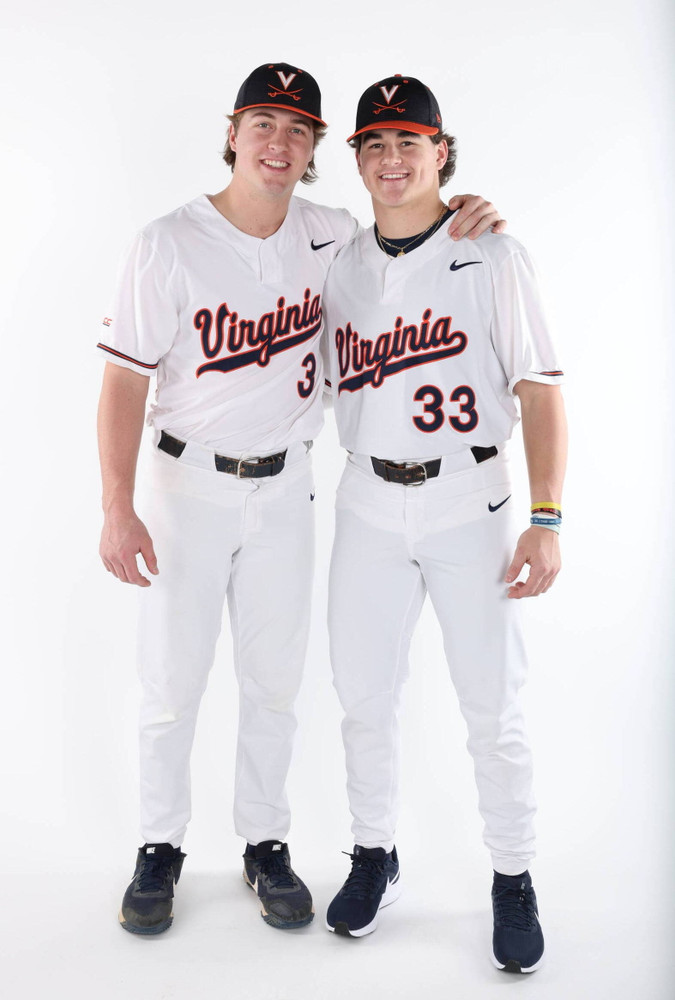 Kyle earned Freshman All-America honors in 2021, when he led the Hoos in hitting (.335) and started 15 games at catcher, 19 in right field and 19 at designated hitter. In the decisive third game of UVA's NCAA super regional with Dallas Baptist, he hit the first postseason grand slam in program history, and he then went 7-for-12 (.583) in three games at the College World Series in Omaha, Neb.
As a sophomore, Kyle started all 58 games at catcher and helped Virginia return to the NCAA tournament. His batting average dipped to .276 last year, but he's bounced back with a sensational season at the plate. Kyle leads the team in hitting (.415) and has 22 doubles, nine home runs and 52 RBI for the No. 21 Cavaliers, who close the regular season with a three-game series against Georgia Tech, starting Thursday in Atlanta.
"He's been doing it all year, and playing the position that he's playing, and catching every inning, with the energy he plays it with, it's as impressive of a regular season as I've seen anybody have in 20 years," O'Connor said. "Every day he brings the same energy. He's ready to play and plays at a high level every day."
O'Connor said the Hoos recruited Aidan "as a two-way player, and that hasn't changed. I think that he'll definitely pitch for us, because he's got a good arm and he's a competitor. But he's also a left-handed hitter, and the way he swings the bat, he'll have an opportunity to compete in the outfield or infield for us as well. We'll know more in the fall when he gets back here and he's healthy and can pitch and able to do everything."
The 6-0, 195-pound Aidan's workload in practice has steadily increased over the course of this school year, and "now that he's throwing again and fully playing the outfield and infield and throwing bullpens, it's really great to see how he's progressing," Kyle said.
This summer, Aidan plans to stay in town and play for the Charlottesville Tom Sox as a designated hitter. For now, he's rooting on his teammates as another postseason nears for the Hoos, who have made five trips to the College World Series, with one NCAA title, during O'Connor's tenure.
"Aidan brings the energy," Kyle said.
"While I'm not able to contribute on the field," Aidan said, "I can definitely contribute off the field and during practice and be the best teammate I can be."
To receive Jeff White's articles by email, click the appropriate box in this link to subscribe.