By Jeff White (jwhite@virginia.edu)
VirginiaSports.com
OMAHA, Neb. — From Eppley Airfield, the charter buses carrying the University of Virginia baseball team proceeded directly to Charles Schwab Field Omaha, home of the Men's College World Series.
Once they arrived in downtown Omaha, the Cavaliers entered the stadium, and when they walked out of the tunnel next to the first-base dugout, most of their eyes grew wide Wednesday afternoon.
"I can confirm this place is real now," sophomore shortstop Griff O'Ferrall told head coach Brian O'Connor.
In June 2021, O'Ferrall had just graduated from St. Christopher's School in Richmond, Va., when UVA made its fifth appearance at the MCWS. Two years later, the Wahoos are back in Omaha, and they're in no hurry to head home.
"I heard that we were the first team to Omaha," O'Connor said, "so that's exciting, and hopefully we're the last to leave."
The Hoos flew out of Charlottesville Albemarle Airport on Wednesday morning. Their first game here is Friday at 7 p.m. ET, and O'Connor wanted to practice Wednesday afternoon at the University of Nebraska Omaha.
First, though, came the visit to Charles Schwab Field Omaha.
"I just love going into the stadium and walking on the field and seeing the players' smiles and their excitement for being here for this event," said O'Connor, who's in his 20th season with the Cavaliers. "They see it on TV all the time, and a lot of them have never been here."
The NCAA tournament began with 64 teams. Eight remain. UVA (50-13), Florida (50-15), TCU (42-22) and Oral Roberts (51-12) are on one side of the bracket, and Wake Forest (52-10), LSU (48-15), Tennessee (43-20) and Stanford (44-18) are on the other side.
Wake entered the NCAA tournament seeded No. 1 overall. Florida was No. 2, LSU was No. 5, UVA was No. 7, and Stanford was No. 8. TCU, Oral Roberts and Tennessee were unseeded.
Each four-team bracket will play a double-elimination tournament, with the winners advancing to the best-of-three championship series. The Cavaliers have made it that far twice.
In 2014, the championship series went to a third game in which Vanderbilt edged UVA 3-2. In 2015, the Hoos avenged that defeat, beating the Commodores 4-2 in the decisive third game to win the program's first NCAA title.
The MCWS opens Friday with two games. TCU plays Oral Roberts at 2 p.m. ET, and Virginia takes on Florida at 7 p.m. ET. The losers will meet Sunday afternoon in an elimination game, and Friday's winners will clash that night.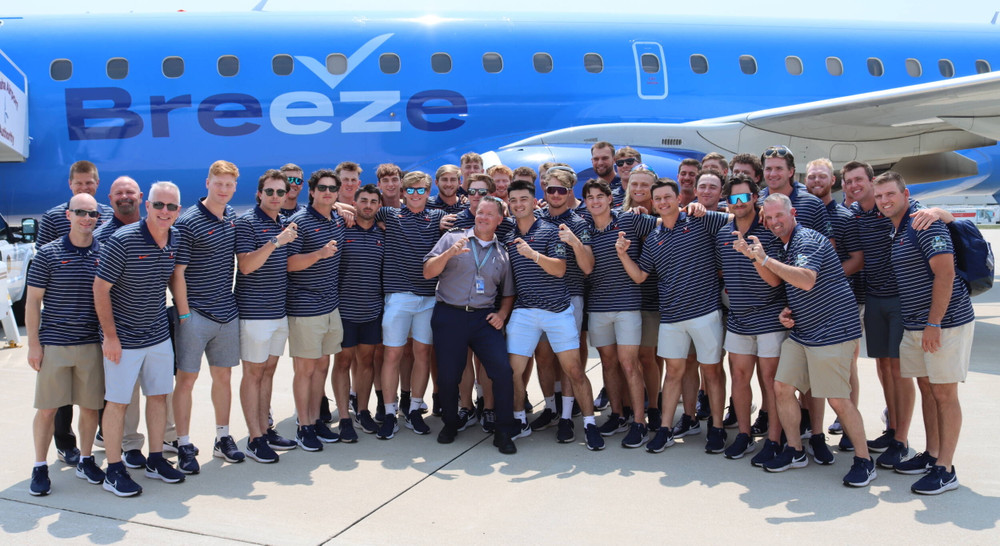 For the Cavaliers, their Thursday schedule includes a photo session, press conferences, meetings with ESPN and other media outlets, and a practice at Charles Schwab Field Omaha. Arriving early on Wednesday gives the Hoos more time to get acclimated to their surroundings.
"We just wanted to get here, get settled, get a good workout in and get a good steak tonight," O'Connor said. "We'll take the guys and have a great dinner and get them settled in so we can get to work tomorrow and get ready for our opener."
O'Connor is well-versed in the history of this event. He grew up in Council Bluffs, Iowa, across the Missouri River from Omaha, and as a boy attended the College World Series regularly with his father, who passed away in November. O'Connor played in the College World Series as a Creighton pitcher, and this will be his seventh appearance as a coach. (His first was as a Notre Dame assistant.)
Charles Schwab Field Omaha, whose official capacity is 24,000, was known as TD Ameritrade Park when UVA played here in 2011, 2014, 2015 and 2021. (In the Cavaliers' first trip to Omaha, they played at venerable Rosenblatt Stadium, which hosted the MCWS through 2010.)
The current venue, nicknamed The Chuck, is "great for the fans," O'Connor said. "The ballpark is fantastic, with the concourse and the food and the fact that you can walk around 360 [degrees]. I expect every seat to be filled on Friday night.
"That said, I've got a special place in my heart for Rosenblatt, because growing up and going to games there every year and having played in Rosenblatt and coached in Rosenblatt a couple of times, that was a special place."
The Cavaliers' home in Charlottesville reminds O'Connor a little of Rosenblatt Stadium. Virginia played in front of record-setting crowds at Disharoon Park on the first and second weekends of the NCAA tournament this month.
"For the fans at the Dish, the seats are kind of right on the field, you're close to the action," O'Connor said. "That's the way Rosenblatt was. They just packed them in there. They had bleachers in left and right field, wooden bleachers, like we do.
"I just have so many fond memories of that old stadium, but listen, [Charles Schwab Field Omaha] is a crown jewel. This is the Mecca of college baseball. This is what coaches and players dream about, and I'm excited for our players that they have this opportunity to play in this great stadium."
O'Ferrall has yet to play in Omaha, but even just seeing the stadium Wednesday produced an indelible memory.
"It's the place that you hear about for years, especially when you're going into college baseball," O'Ferrall said, "and finally laying eyes on it in person, it was an experience you've only dreamed of. It's something you can only imagine till you're there."
Only a handful of players from the Cavaliers' 2021 team are still in the program, including Jake Gelof and Kyle Teel, who were freshman All-Americans that season. Wednesday wasn't their first visit to the ballpark in Omaha, but Gelof and Teel were as pumped as their teammates.
"It's pretty awesome," Teel said.
To receive Jeff White's articles by email, click the appropriate box in this link to subscribe.