By Jeff White (@jwhite@virginia.edu)
VirginiaSports.com
OMAHA, Neb. — At the end of a spirited 50-minute practice at Charles Schwab Field Omaha, University of Virginia head coach Brian O'Connor gathered his players around him for some parting words.
This is the sixth time O'Connor has guided the Cavaliers to the Men's College World Series, and he spoke with the voice of experience Thursday afternoon. Don't try to be something you're not, O'Connor told his team. Keep doing what got us to Omaha.
UVA, which entered the NCAA tournament as the No. 7 overall seed, is one of eight teams still playing. Those teams are in Omaha, where one of them will be crowned champion late this month. The Wahoos, who won the MCWS in 2015, are looking to collect a second title.
"That's what it's about," O'Connor said at his post-practice press conference. "It's not about just being in Omaha. It's about the opportunity that they have in front of them out in that stadium over the next two weeks."
UVA plays its first game in this MCWS on Friday night. At 7 o'clock ET, in a much-anticipated clash to air on ESPN, Virginia (50-13) meets Florida (50-15) at 24,000-seat Schwab Field. The Hoos are unbeaten this season against opponents from outside the ACC, but they have yet to face a non-conference foe as talented as these Gators, who entered the NCAA tournament seeded No. 2 overall.
"Certainly we've got a tremendous challenge in front of us," said O'Connor, who's in his 20th season at Virginia. "I'm very aware of the pitcher from Florida tomorrow night and his talent, and that will be a great opportunity for our guys to compete and show what they're made of."
The Gators will start right-hander Brandon Sproat (8-3, 4.69 ERA), whose fastball has been clocked around 100 mph. The Cavaliers will counter with right-hander Nick Parker (8-0, 3.81). He's a graduate transfer from Coastal Carolina, where he played with BT Riopelle, who's in his second season as Florida's starting catcher.
Parker and Riopelle were roommates as freshmen at Coastal.
"It's pretty neat after all these years we've run back into each other on this stage," Parker said.
Unlike Sproat, Parker is not renowned for his blazing fastball. But he's impressed in his two NCAA tournament starts this month.
"He is a tremendous competitor," Riopelle said of Parker. "He throws four good pitches for strikes. He doesn't have the most lights-out stuff in the world, but you know what you are going to get every single day. He is going to throw strikes. He is going to go long, long in games or pitch a long time in a game … He is a guy that's going to control the game when he is out there. That's something that we know. I know and have seen first-hand."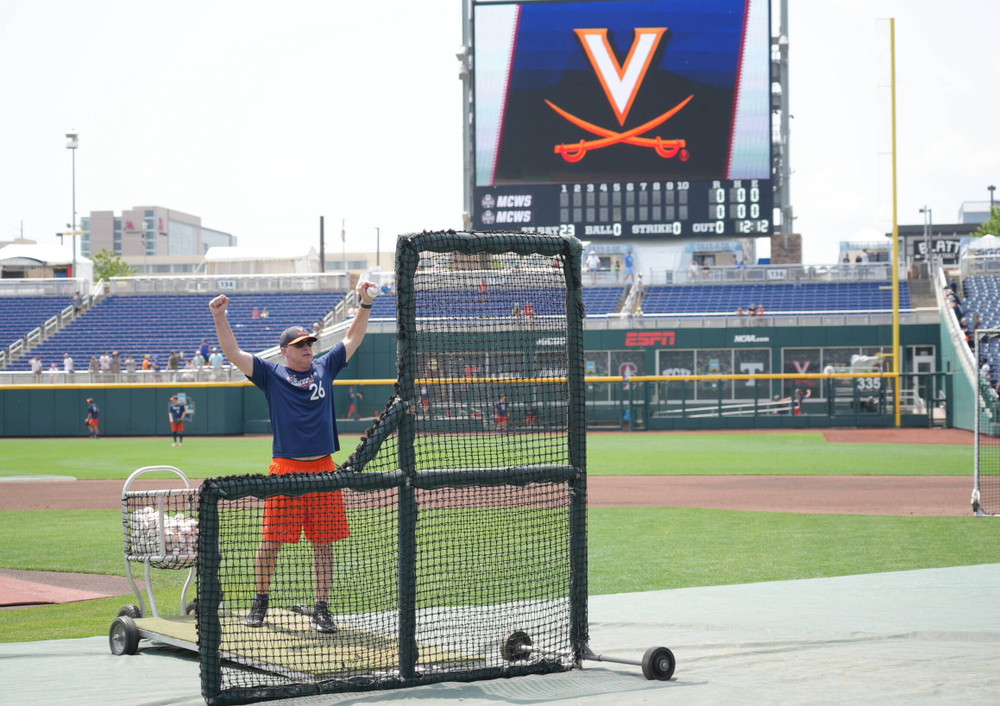 Last weekend at Disharoon Park, Virginia won the final two games of its best-of-three NCAA super regional with Duke to clinch a spot in Omaha. The Cavaliers met on Monday to discuss the approach they would take in Omaha.
O'Connor said he stressed the importance of "staying in character and doing what we do. Those are important things, having success all year long, and they become very important here in Omaha.
"This team has showed incredible poise all year. One of the best qualities I think you can have as a team is not to panic and show poise … and then in these big moments when you are in a bigger stadium when it means as much as it ever has, they can handle the moment. This team has shown that ability, and it's a great, great quality of theirs."
En route to the NCAA title in 2015, UVA played Florida three times in Omaha and won two of those games. Two years later, the Gators won the MCWS for the first time.
Virginia made its fifth trip to Omaha in 2021, when current stars Jake Gelof and Kyle Teel were freshmen. Florida is back at the MCWS for the first time in five years.
"I think there's been a lot of chatter about your team has not been out here since 2018," Florida head coach Kevin O'Sullivan said, "and I think the thing that I take out of it is that people sometimes fail to realize is how hard it is to get here. It is not just a group of good players that are talented, but it's the players that have to come together, stay healthy, play right at the right time.
"You have to have the right culture to do this thing over and over … You get kind of spoiled. My kids thought that this was vacation every year. And there's a three- or four-year layoff, and you start realizing how difficult it is. I think it's human nature. Even I can admit it myself. I took it for granted that this was expected every year, and all of a sudden that's taken away from you for three or four years or whatever, and then you kind of appreciate it a little bit more."
O'Sullivan played at UVA and keeps up with the program at his alma mater. "What Brian and his staff have done is nothing short of incredible," he said.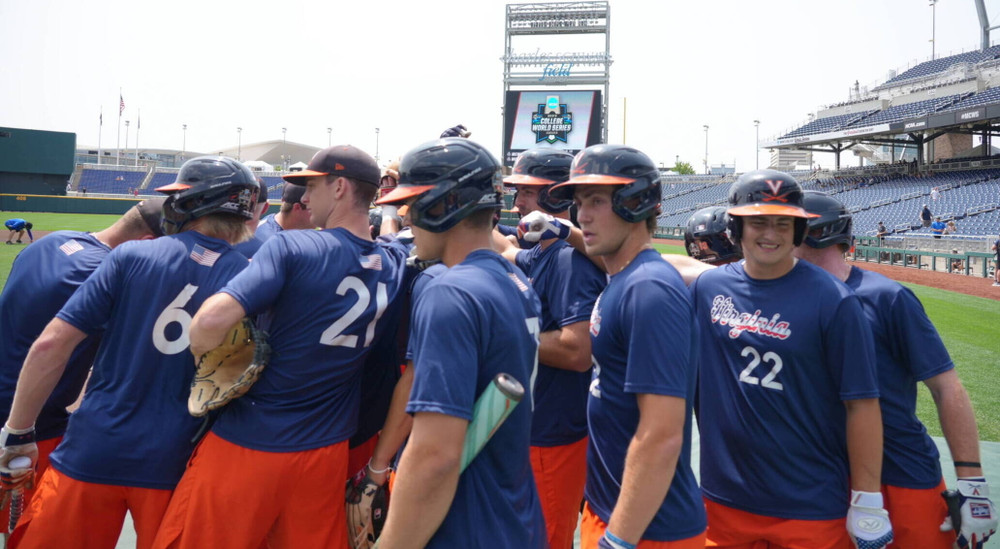 The Cavaliers flew from Charlottesville to Omaha on Wednesday and stopped by the stadium before practicing at the University of Nebraska Omaha. They spent considerably more time Thursday at Schwab Field, where, like each of the seven other teams in Omaha, they were photographed in front of the famed statue outside the stadium.
O'Connor played in the MCWS as a Creighton pitcher, and one of the four players shown on the statue is based on his likeness.
After the team photo, the Hoos met with ESPN representatives and then practiced on the field where they'll play Friday. They attended the MCWS opening ceremonies Thursday night.
The practice, which was open to the public, allowed the players to "run around on the field and get the feel of the stadium a little bit," said O'Connor, whose daughter Ellie works in the Florida athletic department.
"They're prepared. They're excited. I think one of the things that's really important to do when you get here to Omaha is to stay in character.  I think a lot of individual players and teams can make a mistake to try to be a team they're not, and this is a very, very special team, very talented, and very gritty and tough. They've earned this opportunity. They'll be ready to play. I have no doubt about that."
Led by Teel, the ACC Player of the Year, the Hoos are hitting .335 collectively. Teel (.416) is one of six UVA starters hitting .330 or better, along with sophomore shortstop Griff O'Ferrall (.398), sophomore first baseman Ethan Anderson (.377), junior center-fielder Ethan O'Donnell (.356), sophomore designated hitter Anthony Stephan (.338) and Gelof (.331), who has hit a program-record 23 home runs this season.
The key for the Cavaliers in Omaha, Gelof said Thursday, will be to "keep doing what we're doing. We've been having a great approach all year and just have kept doing that in the postseason."
Anderson agreed. "We haven't changed anything," he said. "The approach has been the same. [The Hoos have been] the same team that we've always been, and good things happen."
O'Connor attributed his team's offensive prowess not to coaching but to "great players. We've got a really talented lineup. It's a tough lineup. I don't know what the statistics are, but our hits with two strikes and two-out rallies and things like that have been a trademark of this team this year. And the depth in the lineup is really good. One through nine, there's opportunities to score runs. They've done it all year long. Like Jake said, it's been very consistent."
To receive Jeff White's articles by email, click the appropriate box in this link to subscribe.