By Jeff White (jwhite@virginia.edu)
VirginiaSports.com
OMAHA, Neb. — In the opening game of the Men's College World Series, TCU led 5-2 after eight innings Friday afternoon. Three outs from victory, the Horned Frogs couldn't put away Oral Roberts and ended up losing 6-5 at Charles Schwab Field Omaha.
A similar story played out in the second game. Virginia led Florida 5-3 after eight innings and was three outs from victory. But a calamitous ninth inning followed for the Cavaliers, who gave up two solo home runs and a walk-off sacrifice fly and lost 6-5 on Friday night.
The unexpected happens often at this stage of the season, and now two teams who were on the verge of moving into the winners' bracket will meet in an elimination game Sunday. At 2 p.m. ET, Virginia (50-14) takes on TCU (42-23) at Schwab Field. Florida (51-15) faces Oral Roberts (52-12) on Sunday night.
The UVA-TCU winner will play the Florida-Oral Roberts loser in another elimination game Tuesday afternoon.
"So certainly a challenging road in front of us," Virginia head coach Brian O'Connor said Friday night. "But we'll regroup at practice tomorrow and be ready to go on Sunday, and we're looking forward to that opportunity we have."
In the best-of-three NCAA super regional at Disharoon Park last weekend, the Wahoos dropped the opener to Duke and then bounced back to record two straight one-sided victories.
The Hoos pride themselves on their resilience, sophomore shortstop Griff O'Ferrall said, and "it's something we talk about all the time. It's just one thing about our team, we're not going to go down without a fight. I think getting back tomorrow in practice and getting our plan ready for Sunday, I think we'll be good to go."
This is Virginia's sixth appearance in the Men's College World Series. Not since their first trip to Omaha in 2009 had they lost their opener here, and now their margin for error is gone.
"Obviously, no one wants to lose the first game," O'Ferrall said, "but it is what it is and we're going to ride with our guys no matter what. So, basically, we're not going to put blame or be down on ourselves. We're just going to get back to work."
UVA pitcher Nick Parker, sitting next to O'Ferrall during the postgame press conference, echoed his teammate's comment. "Not ideal to lose the first one, but who cares, right?" Parker said. "We're going to come out and keep winning ball games. That's what we're going to do."
Parker, a right-handed graduate transfer from Coastal Carolina, turned in his third straight quality start in this NCAA tournament. He scattered four hits and allowed only one run in six innings.
He's had more dominant performances, but Parker battled throughout and kept the Gators' high-powered offense from taking over.
"Today I thought was a grind for me … but I just found a way," said Parker, who retired the final seven batters he faced. "This point of the year, it's just finding a way, any way possible, [to] keep moving forward."
In the top of the seventh, Virginia scored four runs to take a 4-1 lead. Sophomore designated hitter Anthony Stephan's RBI groundout made it 1-1, and O'Ferrall's two-run double pushed the Hoos' lead to 3-1. That brought up junior center-fielder Ethan O'Donnell, who singled in O'Ferrall to make it 4-1.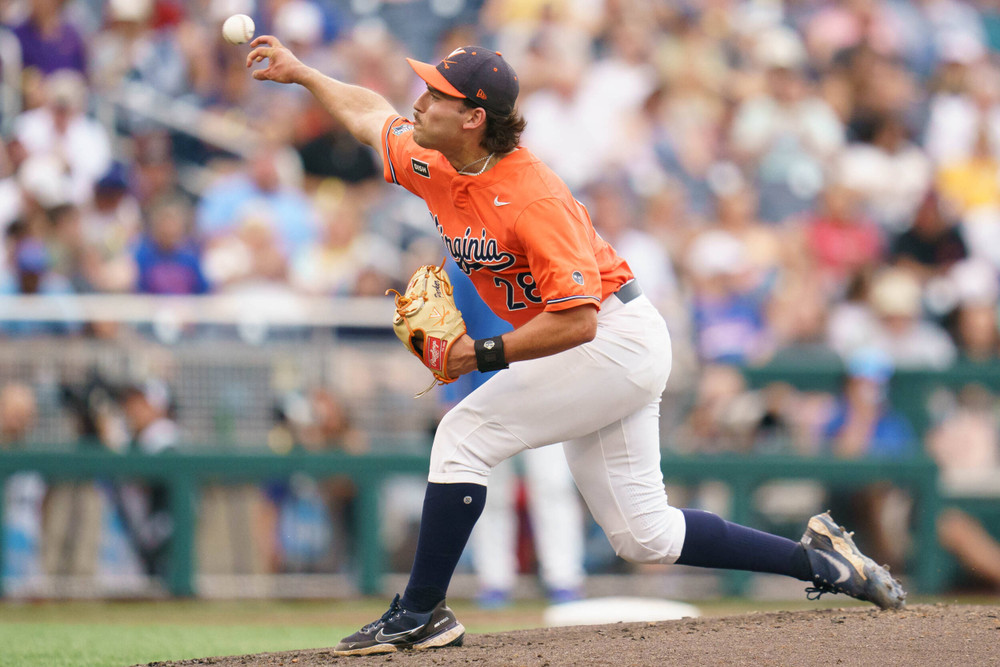 With Parker at 90 pitches, O'Connor turned to freshman left-hander Evan Blanco in the bottom of the seventh, and Florida's slumbering offense began to stir. With one out and a runner on first, another freshman, right-hander Jack O'Connor, replaced Blanco. O'Connor (no relation to the head coach) gave up a double and an RBI groundout. Junior left-hander Jake Berry finished the inning on the mound, retiring cleanup Josh Rivera with the bases loaded to keep it 4-2, but the Gators proved to be relentless.
"I knew it would probably come down to a one-run game," Florida head coach Kevin O'Sullivan said. "That's just the way that these things work. Virginia is not going to give you anything, and we were just fortunate enough to have some really good at-bats there tonight."
Florida catcher BT Riopelle led off the bottom of the eighth with a home run off Berry.  Berry retired the next three batters keep it a one-run game, though, and freshman left-fielder Harrison Didawick's RBI triple in the top of the ninth pushed UVA's lead to 5-3.
Berry pitched brilliantly in Virginia's two wins over East Carolina at the NCAA regional in Charlottesville early this month, and O'Connor had confidence Berry could keep the Gators at bay in the ninth. It didn't happen.
Ty Evans led off with homer that made it 5-4. Berry struck out Cade Kurland, giving Virginia a momentary reprieve, but Wyatt Langford followed by crushing a 456-foot home runs that cleared the stands in left field at 24,000-seat Schwab Field.
That tied the game at 5-5, and Florida wasn't done. The next batter, Jac Caglianone, singled, and then Berry walked Rivera. Finally, after Berry hit Riopelle with a pitch, loading the bases with one out, Brian O'Connor summoned sophomore right-hander Jay Woolfolk from the bullpen.
The pitching change didn't halt the Gators' momentum. Caglianone tagged at third and scored on Luke Heyman's fly ball to center, and the game was over.
O'Connor, who's in his 20th season at Virginia, said he had "zero regret" about staying with Berry in the ninth.
"Certainly I don't feel great about how we pitched out of our bullpen tonight," O'Connor said, "and it's been a little bit of a mixed bag all year [with that group]. But the plan coming into the game is, if we had a lead in the eighth inning, was to go with Jake Berry. And that formula's worked for us a lot this year."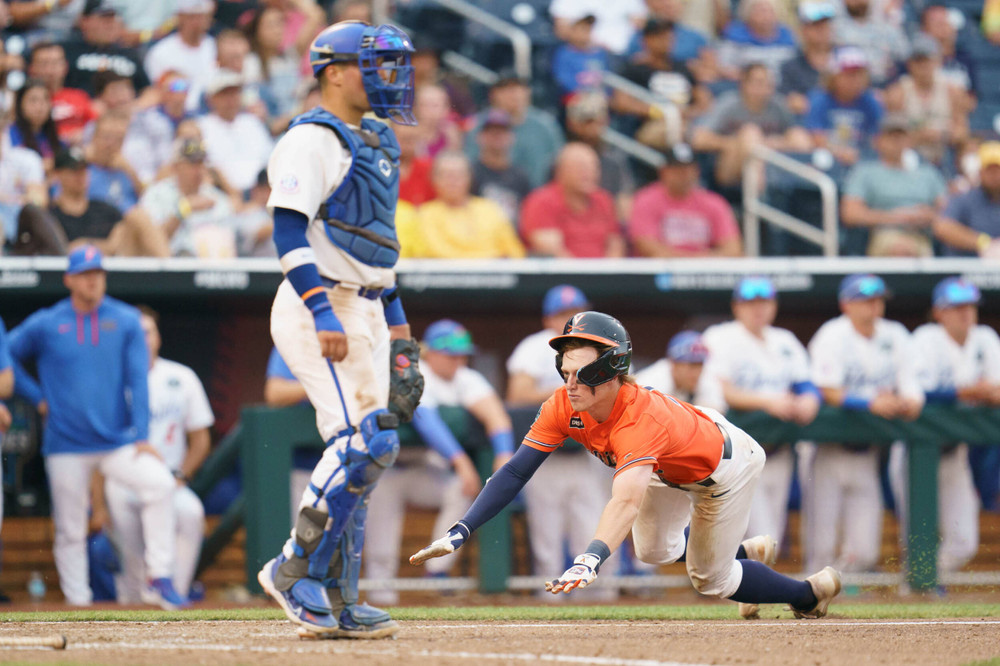 Florida came in having hit 129 home runs this season. Parker retired 10 batters on fly balls to the outfield, in part because of the conditions at Schwab Field.
"If the wind is blowing in, it's really hard to get out of here," said O'Sullivan, a former UVA standout. "It's crazy how the wind just changed, and it doesn't take a whole lot to feel [significant]."
Early in the game, O'Sullivan said, "I think the wind was blowing in seven, eight miles an hour. All of a sudden we saw the flags, they weren't moving."
The loss was the Cavaliers' first of the season to an opponent from outside the ACC. Led by O'Ferrall (2-for-5), the Hoos totaled eight hits Friday night. Five came against Florida starter Brandon Sproat, whose fastball regularly approaches 100 mph.
"We haven't seen many guys with his stuff all year," O'Ferrall said. "That's what makes this point of the year so awesome, just facing the best of the best. So we knew we had quite a challenge ahead of us going into the game. I thought we did a good job of creating some havoc. I thought he did a good job of making pitches. It was iron sharpens iron."
O'Connor did not name a starting pitcher for Sunday's game against TCU, but it figures to be left-hander Connelly Early (12-2, 3.06 ERA) or right-hander Brian Edgington (9-3, 3.47).
"When you're in this situation that we are on Sunday, we'll do whatever it takes to win that game to try to advance on to the next one," O'Connor said, "and we have other guys that haven't been used that have done the job for us all year long. So it's going to take a collective effort by our entire group. Blanco and [Jack] O'Connor didn't throw many pitches today, and we have several other guys. But it's going to start by getting a high-quality start on Sunday, whoever that is, and then piecing it together."
To receive Jeff White's articles by email, click the appropriate box in this link to subscribe.