By Jeff White (jwhite@virginia.edu)
VirginiaSports.com
OMAHA, Neb. — After piling up runs during the regular season and through the first two weekends of the NCAA tournament, the University of Virginia baseball team arrived at the Men's College World Series with an offense that inspired fear in most opponents.
At Charles Schwab Field Omaha, however, the barrage of hits that had become these Cavaliers' trademark never materialized. And so an exceptional season ended on a disappointing note for UVA, which finished 50-15 after dropping two one-run games in Omaha. Two days after falling 6-5 to Florida, UVA lost 4-3 to TCU in the first elimination game of this MCWS.
The Wahoos came to Omaha hitting .335, which ranked No. 1 nationally, and averaging 9.1 runs and 12 hits per game. Against Florida, the Hoos went 8-for-30 on a night when their bullpen struggled. Against TCU, the Cavaliers' pitching was solid, but they went 5-for-32 at the plate.
"Baseball's a hard game," All-America catcher Kyle Teel said. "You're going to go through times and periods of struggles, and it's always about bouncing back. But unfortunately we were going through that time these last couple games."
This was the Cavaliers' sixth trip to the Men's College World Series—all under head coach Brian O'Connor—and they'd won at least one game in each of their previous five appearances. They've advanced to the championship series twice, finishing runner-up in 2014 and winning the NCAA title in 2015.
"We just couldn't get that one more big hit that we needed to win here in Omaha," O'Connor said Sunday afternoon. "And sometimes, all the time, that's what it comes down to, that big clutch hit or that clutch pitch. And we just didn't get enough of that this weekend.
"That said, it doesn't diminish what this team accomplished. To have 50 wins and be playing here in Omaha again speaks to what they're made of and their talent and the type of program that we have. We'll regroup and look to build and be back here as soon as we possibly can."
Virginia was the home team Sunday and came to bat trailing 4-3 in the bottom of the ninth. After TCU left-hander Ben Abeldt retired the first two batters he faced, sophomore Casey Saucke singled and then took second on a fielding error.
"We got a chance," Virginia third baseman Jake Gelof said he thought when he saw Saucke on second.
"We were working for one run that inning," Saucke said. "Tie the game and then figure it out from there."
With one of its best hitters at the plate, sophomore Anthony Stephan, that goal appeared within reach. But Abeldt struck out Stephan, who hit .329 this year, to end the Hoos' season.
"We just outlasted them," said TCU head coach Kirk Saarloos, whose team won for the 12th time in its past 13 games.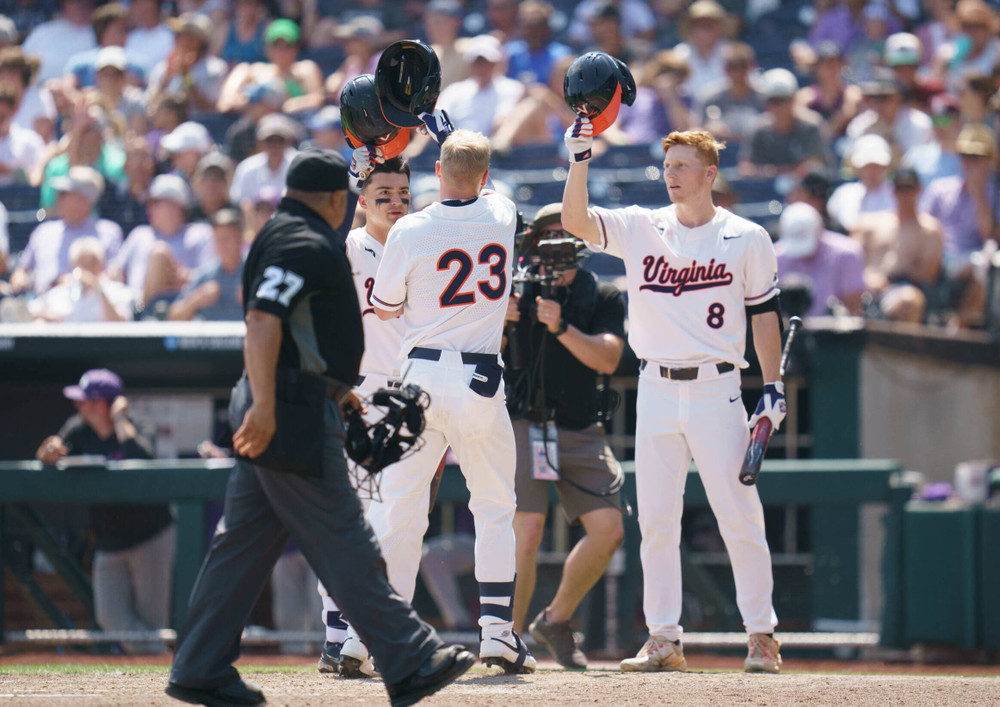 The Horned Frogs (43-23), who'll meet Oral Roberts (52-13) in another elimination game Tuesday afternoon, went up 1-0 in the top of the first on a sacrifice fly by Cole Fontenelle.
Virginia answered immediately. Sophomore Griff O'Ferrall, who finished the season with a program-record 108 hits, led off with a double and then moved to third on junior Ethan O'Donnell's single. Gelof followed with a fielder's choice that scored O'Ferrall.
After that outburst, though, the Cavaliers didn't record another hit until the bottom of the seventh, when sophomore Ethan Anderson's home run cut TCU's lead to 3-2. Each team scored a run in the eighth, UVA's coming on an RBI groundout by O'Donnell.
The Horned Frogs used three pitchers, starting with right-hander Sam Stoutenborough, who worked 4.2 innings before giving way to closer Garrett Wright, a second-team All-Big 12 selection.
"The starter did a really good job," said O'Connor, who's in his 20th year at UVA. "Our approach was not great against him. But he did a nice job of mixing his off-speed pitches and held us down. And certainly TCU has some powerful arms in their bullpen and did a great job."
Virginia started junior left-hander Connelly Early, who allowed two runs in five innings. Graduate student Brian Edgington, in only his third relief appearance of the season, gave up five hits and two runs. The Cavaliers' final two pitchers, freshman Bradley Hodges and sophomore Jay Woolfolk, allowed only one hit between them.
To O'Connor, the difference in the game was that his team "had too many one-two-three innings offensively, that we just weren't competitive enough in our approach in those at-bats. I thought we did a terrific job managing the innings from a pitching and defensive standpoint."
TCU left 12 runners on base, and "that's a testament to our guys," O'Connor said, "that they buckled down and didn't let the big inning happen. And that gave us a chance.
"It comes down to those little fine details in Omaha. Everybody has talent. Everybody earned the right to be here. It just comes down to guys rising up in key moments. That doesn't take away from who our players are. Sometimes you just don't do it because your opponent's very talented as well."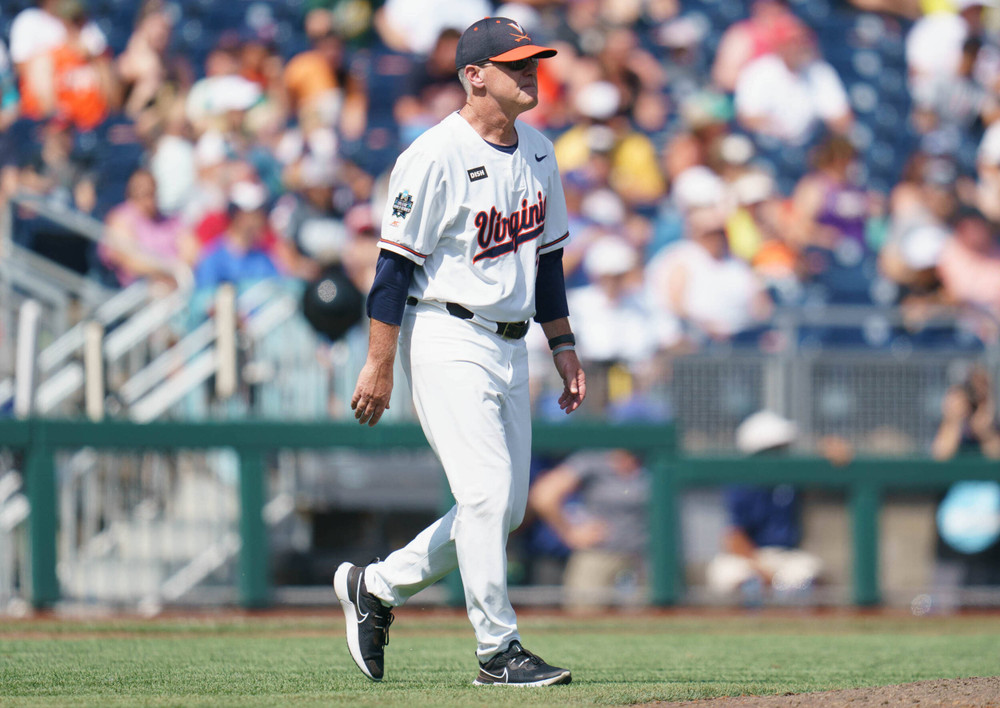 Virginia's lineup Sunday included four sophomores and two freshmen. For several of the other Cavaliers, however, this was in all likelihood their final college game. That group includes Gelof and Teel, juniors who rank among the finest players in program history.
"I've loved every single second of being around them," Anderson said. "I roomed with Jake last year in hotels. I roomed with Kyle this year in hotels. Those are two guys that are probably leaving that I'm really close with and I've learned a ton."
Gelof holds the program records for single-season home runs (23), career home runs (48) and career RBI (186). Teel was named ACC Player of the Year this season and finished with a .407 batting avearge. As freshmen in 2021, they helped the Hoos advance to Omaha, but neither had a hit at this MCWS.
"I'm disappointed for them that they didn't get a chance to play deeper in this," O'Connor said, "and for the two of them to really show their ability … That said, the careers that those two guys had are right up there with some of the best that we've had in my tenure here.
"Jake Gelof has broken so many offensive records, home run records, RBI records. We wouldn't be sitting here today without him, and Kyle Teel was just a really, really special, talented player. The results didn't show in these two games the impact that those two young men have had in our program and their entire careers, but especially this year.
"Certainly they will be missed, but the way they performed in our uniform teaches the younger players what the standard is for success in our program. And for that I'll be forever grateful to them for their contributions wearing our uniform."
Anderson and Early joined O'Connor at the Cavaliers' postgame press conference. Later, outside the somber UVA locker room, Gelof and Teel patiently answered more questions.
"It's not easy to get here, where we're standing right here," Gelof said. "There's only eight teams that make it here, and I've been fortunate enough to be able to be here two times. It's not easy, and it's been an awesome ride for the past three seasons here."
Teel, whose brother, Aidan, was a freshman on the team this season, voiced similar sentiments.
"Virginia baseball has done so much for me," Teel said. "It stinks that it has to end this way, but in the end there's only going to be one team winning."
Teel and Gelof became friends before they enrolled at UVA, and they were roommates in Charlottesville each year.
"It was just really special to be able to play with him here for three years," Teel said.
Asked how much time he and Teel have spent together, Gelof smiled. "Too damn much," he said. "No, I'm just kidding … It's been awesome to see him and see how he's developed, not only as a player on the baseball field, but as a person off the field. Coming into that leadership role, last year and this year as well, he's done an awesome job, and it was awesome to see his brother here as well and see them interact. It kind of reminds me of myself and my brother."
Virginia's juniors in 2021 included Gelof's brother, Zack, who's now playing professionally in the A's organization. Gelof and Teel figure to start drawing paychecks from pro teams this summer, too, but they'll never forget their time in O'Connor's program.
"It's just embedded in my whole family, basically," Gelof said.
"I just want to thank everyone involved throughout this journey," Teel said. "I'm so grateful for everything."
Asked if he's confident the Hoos will make it back to Omaha, Teel didn't hesitate.
"One hundred percent," he said. "Coach O'Connor runs this program phenomenally. Everyone is held to a high standard, and that's why the University of Virginia is here so often. There's no doubt in my mind that the Virginia Cavaliers will be back here, and they'll be back here to win it."
To receive Jeff White's articles by email, click the appropriate box in this link to subscribe.