By Jeff White (jwhite@virginia.edu)
VirginiaSports.com
CHARLOTTESVILLE, Va. — Before Brian O'Connor became the one of the most successful head coaches in college baseball, he spent nine seasons as an assistant at Notre Dame.
Late in his tenure in South Bend, he tried to persuade his boss to add Kevin McMullan to the Fighting Irish's coach staff. That didn't work out, but when the University of Virginia hired O'Connor in the summer of 2003, he immediately thought of McMullan, who was then coaching in the Atlanta Braves' organization.
"He was the first person I called 20 years ago," O'Connor recalled this month.
Two decades later, they're still together. McMullan is the Cavaliers' associate head coach, recruiting coordinator and hitting coach, and he's helped O'Connor built a powerful program that's making its sixth appearance at the Men's College World Series in Omaha, Neb.
The Wahoos, NCAA runners-up in 2014, won the national championship a year later. They made their fifth trip to Omaha in 2021, and they're back again this year. Virginia, which lost Friday to Florida, plays TCU in an elimination game Sunday. At 2 p.m. ET, the Cavaliers (50-14) meet the Horned Frogs (42-23) at Charles Schwab Field Omaha.
In the 20 seasons since O'Connor and McMullan arrived in Charlottesville, the Hoos are 839-352-2.
"We wouldn't be where we're at today, and our program wouldn't be where it's at, without the contributions of Kevin McMullan," O'Connor said. "Continuity on a coaching staff is incredibly important from two aspects, really: recruiting and player development."
O'Connor's vision "when we first got here was to build it so it could last for a long time," McMullan said, "and that's something I think we're both very proud of. Being here 20 years, it's not something you take for granted."
Virginia's current stars include Kyle Teel, a junior catcher from Mahwah, N.J. Coming out of middle school, Teel attended a baseball camp at UVA, where he heard McMullan and O'Connor speak on the first day.
"The first thing Kyle says to me is, 'Dad, they sound just like you,' " recalled Garett Teel, who made the trip to Charlottesville with his son. "And I said, 'Kyle, that's as close as you're ever going to get to me,' because we're cut from the same cloth. My belief on how the games should be played and the life lessons you learn through baseball is what the coaches at UVA talk about.
"Yes, they're doing baseball, and they do it very well, but at UVA it's much more than baseball, the way they coach these kids. And it's evident to me when I see the type of person my son has become when he hasn't really been around me for three years, and I know Mac played a huge part in that. Mac pushes you to be the best, and he's always coaching you up. He's never breaking you down."
The elder Teel goes way back with McMullan. They grew up near each other in New Jersey—Garett Teel in Ridgefield Park and McMullan in Dumont—and in high school battled each other in football and baseball.
"I always thought Mac was a great athlete," Garett Teel said. "He was a very good baseball player—good catcher and really could hit—and on the football field he was so fierce. He played middle linebacker and I was a running back. We've collided many a time, and he was a lot bigger than I was. But I just always loved the way he played the game, and off the field I thought he was an awesome guy. We kind of always had a friendship outside of sports, too."
McMullan, whose father played in the NFL, starred in baseball and football at Indiana University of Pennsylvania, into whose athletic hall of fame he was inducted in 2007. After a short playing career in professional baseball, he took on another role in the sport.
He worked at IUP, where he was head baseball coach, and then later served as an assistant at St. John's, whose Big East rivals included Notre Dame. From St. John's, McMullan moved to East Carolina, where he was recruiting coordinator, hitting coach and catching instructor before serving as acting head coach in 2001-02.
"I had the utmost respect for the way he coached and the way he recruited when he was at St. John's and I was at Notre Dame and we competed against each other," O'Connor said, "and then I was very familiar with what he did at East Carolina and the run that they had there."
When a spot opened on then-head coach Paul Mainieri's staff at Notre Dame, O'Connor pushed for the job to go to McMullan, with whom he spoke regularly for about two weeks. Mainieri opted to go in another direction, but McMullan and O'Connor joined forces at UVA in 2003.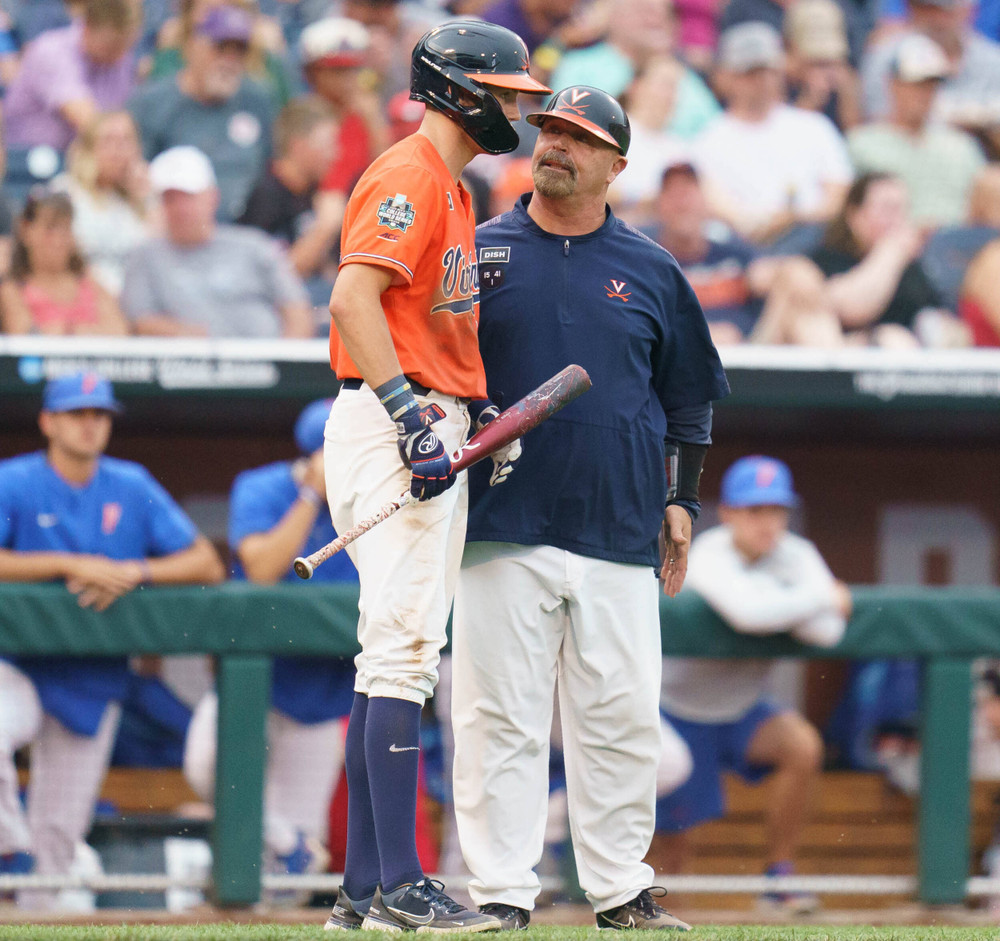 McMullan was in Danville, Va., coaching in the Atlanta Braves organization, when O'Connor got the job in Charlottesville.
O'Connor said he called McMullan to see "if he would be interested in getting back into college baseball, and it took about two seconds to get a yes out of his mouth."
McMullan and his wife, Sandra, have three children. "I think timing is everything," he said of his return to college baseball. "I had a young family. I was in the professional game and loved it, actually. I just think to be a good dad, a good husband, I thought the collegiate setting at that time was right for me."
He'd never been to Charlottesville before O'Connor called him about UVA. But McMullan remembers working a camp at nearby Fork Union Military Academy and, after talking to O'Connor, visiting Charlottesville one night to check out Davenport Field and the University.
"I said, 'Let me drive up there and see what it looks like,' " McMullan recalled. "So I drove up here, and when I drove up that road [to the stadium], I said, 'Whoa, that's got potential,' and I knew academically how it was considered."
His recruiting ties in the Northeast are legendary. His familiarity with the schools and coaches in that region have helped the Cavaliers land countless highly regarded prospects, including brothers Joe and Jake McCarthy from Scranton, Pa.
"When you first meet Mac, he's a little scary," the brothers' father, Joe McCarthy Sr., said, laughing. "But as I got to know him I realized, oh, my God, he's a teddy bear. He has to come off as a disciplinarian with the players, but I could talk to him about anything, and it was easy to talk to him. He's a straight shooter. He always does the right thing, so you knew you weren't getting any B.S. from him. It just was easy."
Garett Teel starred at William Paterson University and later, after being drafted by the Los Angeles Dodgers, played professionally for five seasons. Back in New Jersey, he opened a training academy for young baseball players and reconnected with McMullan through a mutual friend, Bill Burniston, an IUP alumnus who's now the head strength and conditioning coach for the NHL's Carolina Hurricanes.
The first UVA coach whom Kyle Teel met, as a 14-year-old, was McMullan, at an event at Diamond Nation in Flemington, N.J. As the Cavaliers' pursuit of the younger Teel intensified, he and McMullan grew close.
"He was just a great guy to talk to," said Kyle Teel, whose brother, Aidan, is one of the Cavaliers' freshmen. "Talking the game with him was really cool, but he was also a football guy in my area, so we would talk about that."
Kyle Teel starred in baseball and football at Mahwah High, and "I still remember calling [McMullan] after the Dumont game, saying we won. So it's pretty cool to be able to connect in so many different ways with somebody like that."
Major League Baseball will hold its annual draft next month, and Teel is projected to be one of the first players selected. Classmate Jake Gelof, a third baseman who holds the program record for career home runs, is expected to be picked in the early rounds, too. McMullan works defensively with the Hoos' infielders and catchers.
"I'm proud of not only what the guys do in our uniform when they play here, but what they do after here," O'Connor said, "and I would put our program up with anybody in the country, the last 15 years, for the amount of players that have left our program and ended up playing in the major leagues. They are equipped while they're here and after they leave here, because of the work that Coach Mac has done with them."
McMullan "holds everyone to the highest standard, and that's so important," Kyle Teel said, "and I feel like that's a big reason that our ball club has been so successful. He holds everyone to that high standard, and the goal is to meet that high standard."
When he came to Virginia in 2003, McMullan probably didn't expect to still be on Grounds 20 years later. But he found a home in Charlottesville and is in no hurry to leave.
"My first job I ever had was a head coach [at IUP]," said McMullan, who in 2009 was honored as the top assistant in college baseball. "I had a chance to manage in professional baseball. I love all those opportunities to lead. Here I get to lead an offensive group and position-player group. I get to have influence on their daily work of what we do and how we compete.
"It's like I'm a head coach of what I do. I don't need to be a head coach to pat myself on the back. I love being around the right people. I'm 55. I love Charlottesville. I love what we've built here and the roots it has. [Another job] would have to be something special that knocks you off your socks and makes you feel great every day, and I feel that way about where I'm at now and I'll continue to do that and stay here until something makes me feel different."
To receive Jeff White's articles by email, click the appropriate box in this link to subscribe.