By Jeff White (jwhite@virginia.edu)
VirginiaSports.com
CHARLOTTESVILLE, Va. — In 2022, the Atlantic Coast Conference participated in the first UNITY Tour, and representatives from each ACC school visited two Alabama cities, Selma and Montgomery, that played prominent roles in the civil rights movement.
The inaugural tour was a collaborative effort that also included the Big Ten and Pac-12, and most ACC schools sent two student-athletes and a staffer to Alabama. From the University of Virginia, academic coordinator Dashan Axson-Lawrence accompanied Josh Rawlings (football) and Carole Miller (women's basketball).
This year's UNITY Tour, held this month in Washington, D.C., was an ACC-only event, and the UVA delegation consisted of student-athletes Elijah Gaines (football), Coen King (football), Kailyn Jones (softball), Jada Marsh (track & field) and Max Velazquez (men's squash), and staffers Georgina Nembhard, Annie Thompson, Jaya Bonner, Joe Kuykendall and Axson-Lawrence.
Over four days (July 9-12), participants visited the National Museum of African American History & Culture and the United States Holocaust Memorial Museum; heard from speakers in panel discussions, including one on gender equity and sports; discussed on-campus issues; attended a WNBA game; toured the U.S. Capitol; and learned about the 1963 March on Washington, during which Dr. Martin Luther King Jr. gave his "I Have a Dream" speech. Led by tour guides, the group walked from Black Lives Matter Plaza to the Lincoln Memorial to the MLK Memorial.
"It was a good way to connect with a lot of people," Gaines said, "and it was just a great experience."
King said his grandmother texted him to share her memories of the March on Washington, which took place when she was a girl, and that helped him fully immerse himself in that part of the tour.
The ACC launched the UNITY Tours to help educate student-athletes and staffers about racial equity and social justice. In June 2020, the conference created a group called Champions of Racial Equity, and each of the ACC's 15 schools is represented in C.O.R.E., which aims to promote inclusion, racial equity and social justice through education, partnerships, engagement and advocacy.
Virginia's C.O.R.E. members include Axson-Lawrence, and he helped select which Cavalier student-athletes would be invited to take part in this year's tour.  He was looking for student-athletes who demonstrated leadership qualities and had expressed an interest in social justice and racial equity. Moreover, Axson-Lawrence said, he wanted student-athletes who would take "what they learned from the [UNITY Tour] experience back to Virginia to make Virginia a better place."
From his work with the football team, Axson-Lawrence knew King and Gaines well, and he was also familiar with Marsh, Jones and Velazquez.
"I was very, very proud of the students that we selected," Axson-Lawrence saidl "All of the students represented themselves, their teams and the department very, very well, better than I could have imagined."
The tour's headquarters were at the DoubleTree in Crystal City, where King arrived expected to room with Gaines or Velazquez. Instead, the ACC paired student-athletes from different schools. King roomed with Jaylen Blakes, a basketball player from Duke, and Gaines with Taji Johnson, a football player from Boston College.
"I met him last summer in Houston at a black student-athlete summit," Gaines said of Johnson, "so we were familiar with each other, and that was cool."
King and Gaines are defensive backs in head coach Tony Elliott's program. King, who's from Culpeper, is a graduate student who joined the football program in 2018. Gaines is heading into his fourth year at the University. He's from Queens, N.Y., but attended Episcopal High, a boarding school in Alexandria.
At UVA, Gaines is president of BOSS, an acronym for Black Student-Athletes Offering Service and Support. He carries a double major in media studies and African American and African studies and is on schedule to graduate in December. King, who earned a bachelor's degree in government, is on track to receive a master's in December. He's been involved on Grounds with BOSS and the Student-Athlete Advisory Committee (SAAC).
Both had been to D.C. multiple times, but much of what they experienced on the UNITY Tour was new to them. King hadn't been to either of the museums the group toured. Gaines had visited both as an Episcopal student, he said, "but this time around, it was different," he said, "just because I'm a little bit older. So it was more taking in the information and learning a lot more."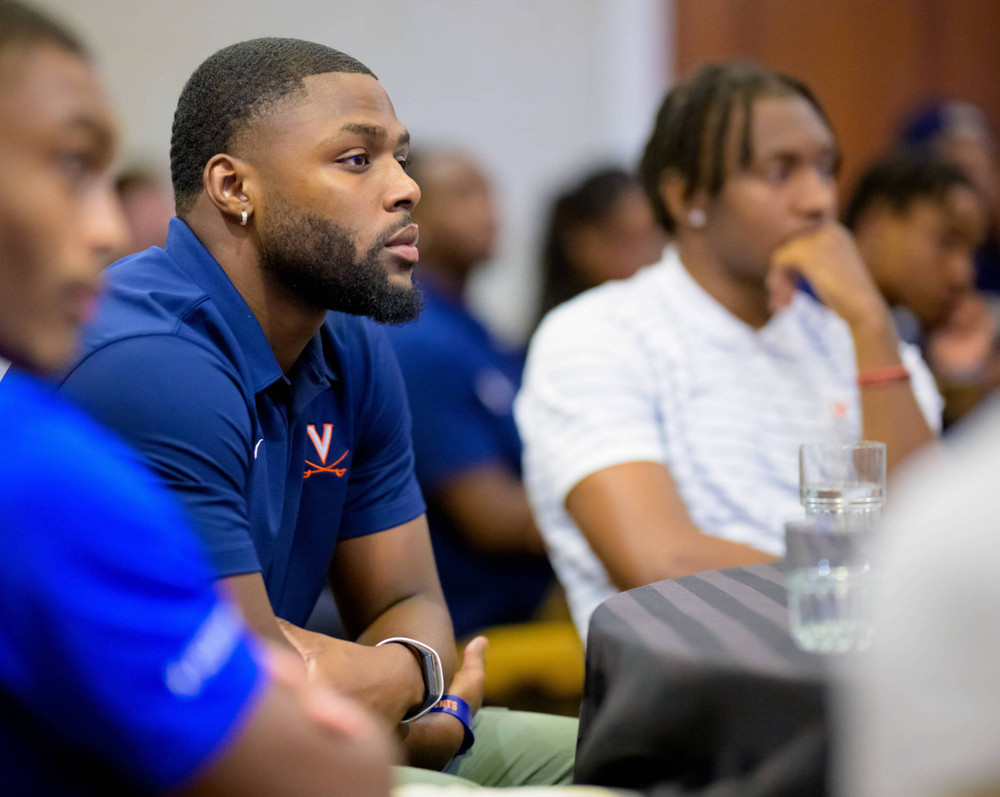 The UVA student-athletes spent time interacting with counterparts from other ACC schools, and "the most powerful part for me was just hearing everybody else's different perspectives and how everybody bounced ideas off of each other," Gaines said.
From the NC State delegation, the Wahoos learned about Pack United, a student-led initiative aimed at combating racism and police brutality while promoting racial unity.
"Different groups were formed after COVID or during COVID to bring student-athletes together," Gaines said, "to talk about social injustices, civil rights, just stuff that's going on in the world. So what I took away the most from that was just how they organize and do things at their schools and certain things I can take back [to UVA]."
The experience, King said, reminded him that "as a student-athlete, you've got such a huge platform. People like to try to separate politics and sports but I think if you believe in something and you get a group of people together, you can really make a change."
During his press conference Tuesday in Charlotte, N.C., where the league is holding its annual preseason football gathering for media members, ACC commissioner Jim Phillips detailed the high points of the UNITY Tour.
"It was an incredible trip," Phillips said.
By the end of their stay in Washington, the Cavaliers on the tour had grown closer. King said it was jarring to realize how many of his fellow UVA student-athletes he's never interacted with on Grounds.
"Unless they're in my classes, I've never talked to them," King said. "I know Elijah is a little more social than I am. I kind of just like hanging around my guys that I'm familiar with, that I came in with, but it really inspires me to get out there a little bit more and talk to people. There's a lot that comes from that."
Gaines already knew Marsh and Jones, and he connected with Velazquez on the trip. "He's from New York, just like I am," Gaines said. "He's from Brooklyn, I'm from Queens, so we got to talk and chat a little bit."
King and Gaines look forward to sharing what they learned on the tour with fellow student-athletes at UVA, whom they'll encourage to take part in the 2024 UNITY Tour.
"It's a great opportunity," Gaines said. "You get to meet a bunch of people and have great conversations, and just the experience itself is great."
While King and Gaines were in D.C., their football teammates at UVA were training for the coming season.
"We got a text from one of our strength coaches," King said, "and he was like, 'Y'all need anything from me? Y'all have a place to work out, lift, run?' We texted him back and said, 'In all honesty, Coach, we just don't have time.' "
Which is not to say they didn't stay active in D.C.
"We walked like 17,000 steps a day," Gaines said, smiling "I was on my phone looking at them. So we were still getting some good cardio in."
To receive Jeff White's articles by email, click the appropriate box in this link to subscribe.