Virginia Cavaliers Official Athletic Site
Coen King
Eastern View HS
High School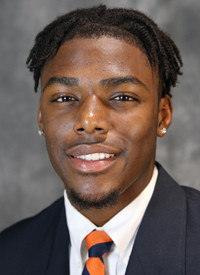 Coen King Audio Pronunciation
AT VIRGINIA
2021 – Selected for the 2021 ACC All-Academic team… Appeared in all 12 of UVA's games and started in seven… was eighth on the team in total tackles with 41… made a season high of eight tackles in a win over Louisville… forced and recovered a fumble against Louisville… made six tackles in a win over Georgia Tech and 0.5 tackles for loss… made six tackles against BYU. 2020 – Appeared in eight of UVA's 10 games with four starts … made a tackle at Wake Forest … made one tackle at No. 11 Miami … made two tackles against No. 15 North Carolina … made first career start against Louisville and made six tackles … made five tackles and 0.5 tackles for loss in win over Abilene Christian … made five tackles against Boston College … led UVA with 10 tackles at Virginia Tech. 2019 –  Appeared eight of UVA's 14 games on special teams … made one tackle in the Orange Bowl against Florida. 2018 –  Appeared in one of UVA's 13 games … made collegiate debut on special teams against North Carolina … one of 13 UVA true freshmen to see action in 2018 … retained redshirt under new NCAA rules.
HIGH SCHOOL AND PERSONAL
Played defensive back at Eastern View High School for head coach Gregory Hatfield … all-conference and defensive captain … played only one season of high school football  and led team in interceptions and tackles as a senior while only appearing in nine games … school's special teams player of the year … also played basketball and participated in the long and high jump … all-conference in basketball … all-conference, all-region and all-state in track & field … team captain on the track team and the MVP … member of honor roll all through high school … member of the National Honor Society … won the excellence in history award … member of Senior Student Council … Advanced Diploma … son of Charlee and Damian King … has two younger brothers, Ashton and Ian … enjoys music, writing and solving a Rubik's cube … volunteer works includes Big Brothers Big Sisters of America and working with local food drives … pursuing a master's degree in Educational Psychology.