By Jeff White (jwhite@virginia.edu)
VirginiaSports.com
CHARLOTTESVILLE, Va. — En route to College Park, Md., on Thursday afternoon, the buses carrying the University of Virginia football team passed Eastern View High School in Culpeper, giving defensive back Coen King a glimpse of his past.
King played only nine football games in high school—all as an Eastern View senior in 2017—but his performance that season piqued the interest of the Virginia coaching staff. The Cavaliers knew King was also an accomplished track & field athlete, and they offered him a spot on the roster as a preferred walk-on.
He's been on scholarship since the summer of 2020, and he's become one of the team's most respected players. His climb up the depth chart wasn't meteoric, but King started four games at safety as a redshirt sophomore in 2020, seven in 2021 and five in 2022, when an injury limited him to six appearances overall.
Now, as a sixth-year senior, he's playing a new position in the secondary—cornerback—and writing the final chapter of a college career that's been anything but uneventful.
"It's been a journey, and I wouldn't trade anything for it," said King, who's on track to earn a master's degree in social foundations from the School of Education and Human Development in December.
King, who holds a bachelor's degree in government, is one of four players left from the recruiting class that joined the UVA program in 2018, along with tight end Grant Misch, tailback Perris Jones and defensive tackle Aaron Faumui. Bronco Mendenhall was the head coach when they arrived on Grounds. When Mendenhall stepped down after the 2021 season, Tony Elliott took over.
A coaching change can be jarring, but nothing rocked the program like the Nov. 13 shooting in which three UVA players—Lavel Davis Jr., Devin Chandler and D'Sean Perry—were killed after returning to Grounds from a class field trip. King, Misch, Jones and Faumui chose to return this year and assist the Wahoos' recovery effort.
They "muscled through" the uncertainty that accompanies any coaching change, Elliott said, "and then obviously everything that happened last year. So what I expect out of those guys is just to display daily the maturity, the growth, the experience that they have here, because they've got a lot of experience, not just football-wise. They've got a lot of life experience, and they can be great role models and examples for the younger guys that are coming in that don't quite understand the challenges and the struggles that the program has been through over the last couple years with the transition and then also with the tragedy."
King has seen a little bit of everything during his UVA career. In 2018, when he appeared in only one game, the Cavaliers finished with eight wins, their most in seven years, and closed the season with a shutout victory over South Carolina in the Belk Bowl.
In 2019, when King saw special-teams duty in eight games, the Hoos won their first Coastal Division, defeated Virginia Tech for the first time since 2019, and played in the ACC championship game and the Orange Bowl.
"That year was awesome," King said.
Then came the COVID-19 pandemic, and the program's momentum slowed. UVA finished 5-5 in 2020 and 6-6 in 2021. In 2022, the Cavaliers posted a 3-7 record.
Virgnia is 0-2 this season heading into its Friday night date with Maryland (2-0) at SECU Stadium in College Park. In a game to air on FS1, the former ACC rivals will meet at 7 o'clock.
The Hoos are coming off a 36-35 loss to JMU at Scott Stadium. Inclement weather halted the game for 73 minutes early in the fourth quarter, after which the Dukes rallied for two touchdowns while holding Virginia scoreless.
The game came down to "competitive stamina, being able to compete literally for five hours, because we had that rain delay," King said. "JMU out-competed us, so props to them, but we just have to dial in on that focus."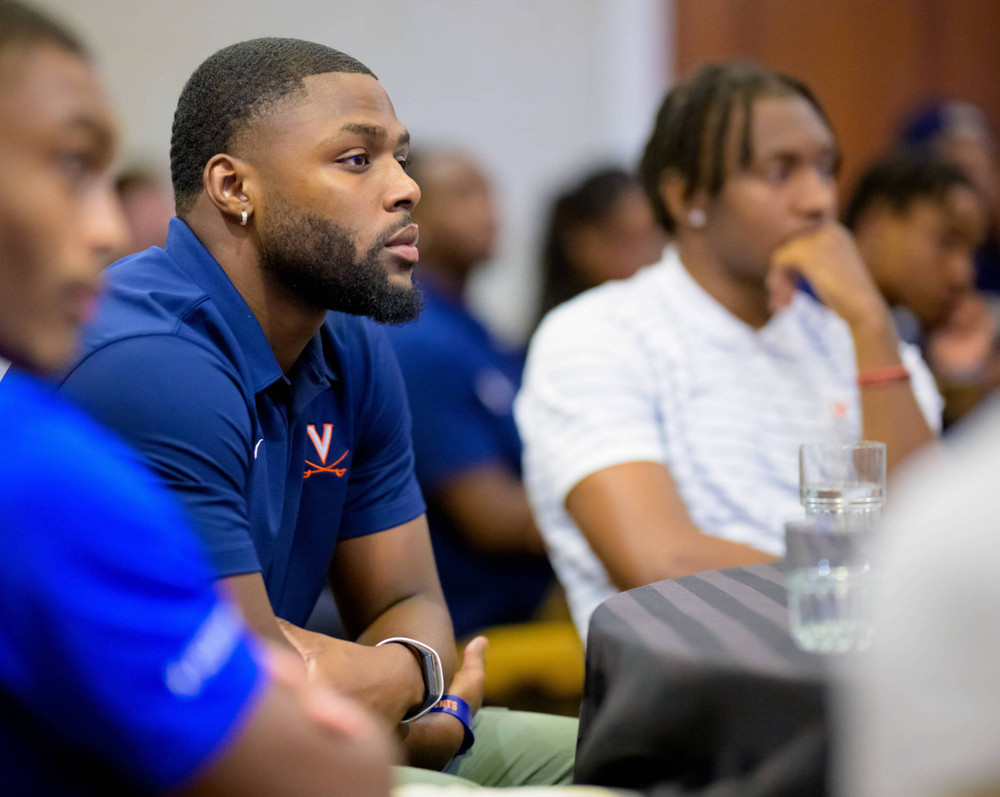 To his less experienced teammates, King has emphasized the need to put the loss behind them, however difficult that might be. The Hoos usually have Sundays off the during the season, but with a short week to prepare for Maryland, they were back on the practice field less than 24 hours after the Saturday game ended.
"It's such a short turnaround that it's hard for a lot of guys who haven't played as much ball to just kind of flush that," King said, "but I was trying to tell the younger dudes on the defense specifically after the game: Don't put the blame on yourself. A lot of bad things happened on that last [JMU touchdown], and I was trying to just tell them, You can't put all that stress on yourself for one game. There's 10 more games we have to play for sure, and you've just got to flush it."
King came to Eastern View High looking forward to playing football, but he suffered a severe concussion as a freshman and gave up the sport. Once he recovered, he focused on track & field and basketball until trying football again as a senior.
With so little experience, King initially struggled to keep up at UVA in 2018. "My first year was just a huge learning experience," he recalled in a VirginiaSports.com article.
He found at home at safety and recorded a career-high 13 tackles against ACC foe Miami last season, and that made the decision to return for a sixth year an easy one for King. But the new year brought new challenges. The Cavaliers found themselves thin at cornerback after losing 2022 starters Fentrell Cypress and Anthony Johnson, and King began working at that position in the spring.
King's "body of work" gave the coaching staff confidence he could handle the move, defensive coordinator John Rudzinski said. "He's a young man that has the movement skills to be able to play man coverage, but has great spatial awareness, and then also schematic awareness that allows him to play multiple spots. He's a guy that can probably play all five DB spots, and it's definitely fun to coach guys like that."
Does playing cornerback differ markedly from playing safety? "The short answer is yes," King said, smiling.
At his previous position, boundary safety, "you're tackling all game," King said. "You're rarely in coverage … I was in the box with the linebackers. Now I'm on an island. You're on an island by yourself, and corner is more of a psychological battle. You can line up against the same guy every play, and there are plays where you get beat. The ball won't come to him, but you'll still know, 'I lost this rep.' This guy just ran past me, but they didn't throw him the ball. The quarterback might have missed it, or the blitz might have got to him. It's such a psychological battle because I know I got beat, but we have to line up and just do it again …  You really got to have raging confidence to play corner."
With every game, King said, he feels more comfortable at cornerback. His versatility adds to his value as a defensive back, and if he has an opportunity to keep playing football after this season, he'd like to do so. Whatever happens, he should have good options. He's close with former UVA offensive lineman Bill Curry Jr., who helped King land an internship with Boston Scientific a couple summers ago, and "I keep in touch with them pretty frequently as well," King said.
He's stayed busy at UVA. King has been involved with BOSS, an acronym for Black Student-Athletes Offering Service and Support, as well as the Student-Athletic Advisory Committee (SAAC). In the offseason, he and Misch co-host a podcast titled Kings of Mischief, and in July he was one of the five student-athletes who represented UVA on the ACC's UNITY Tour in Washington, D.C.
At 23, King is considerably older than some of his teammates. He's not really aware of a generation gap, though, "until I start to tell some stories," King said, "and then I'm like, 'Wait a second, this person doesn't even know what I'm talking about.' That's when it kind of catches up to me. I'll say something that happened at the Orange Bowl, and I'll be like, 'Wait, there's only like 12 guys that know what I'm talking about.' So that's when it'll kind of hit me a little bit that I've been here a little bit."
Not that he has any regrets about sticking around. "It's been awesome," King said.
To receive Jeff White's articles by email, click the appropriate box in this link to subscribe.