By Jeff White (jwhite@virginia.edu)
VirginiaSports.com
CHARLOTTESVILLE, Va. — Justin Wachtel grew up in a football-mad town in a football-mad state, and as a boy he played cornerback on recreation-league teams.
"I wasn't great," said Wachtel, who's from Forsyth, Ga., about 60 miles south of Atlanta. "I was pretty much just following the pipeline of our community. Everybody grows up and plays football."
He liked baseball, too, and as a seventh-grader Wachtel tried out for his middle-school team. He didn't make the cut but wanted to stay in shape, so he decided to give track & field a try.
"I instantly kind of found success with that," said Wachtel, who's 5-foot-6, "and then the following year, I didn't play football or anything. I went out for cross country and just kind of found success early. But really, it was not making the baseball team in middle school right away that opened the door for me, and then I found out that I was pretty good at it."
Running became his passion, and he has yet to slow down. Wachtel won five state titles during his career at Mary Persons High School in Forsyth: two in cross country and three in track & field. And now, as a third-year student at the University of Virginia, he ranks among the top distance runners in the ACC.
After enrolling at UVA in the summer of 2021, he redshirted in cross country that fall. "In high school I was kind of a low-mileage guy," Wachtel said last year, "and I felt like I had a lot to gain with [redshirting]."
His first season of college cross country went well. At the ACC men's championships last fall at Panorama Farms in Earlysville—Virginia's home course—Wachtel finished the 8k race in 13th place. That was the best showing of any Cavalier, and two weeks later Wachtel placed third at the NCAA Southeast Regional, a 10k race, in Louisville, Ky.
His performance at the regional helped the Wahoos finish second in the team competition, which earned them an invitation to the NCAA Championships in Stillwater, Okla. At NCAAs, Wachtel helped the UVA men place 22nd. He was third Cavalier to finish the 10k race and placed 136th overall.
"Justin improved throughout the fall," said Vin Lananna, UVA's director of cross country and track & field. "There is no substitute for first-hand experience, and Justin had that last year."
For the Hoos, a new cross country season begins Sept. 2 at the Spider Alumni Open in Richmond. This will be not a typical fall for the Hoos' program. On Saturday, Nov. 18, UVA will host the NCAA Men's and Women's Cross Country Championships at Panorama Farms.
Some three years after the NCAA awarded the meet to UVA, the big day is only a few months away.
"That's not a ton of time," Wachtel said. "I think it brings a lot of excitement to most of us. It's cool seeing it come to fruition, and you really can feel the build-up now that we're entering the fall. And I think for a lot of us, we're just kind of getting pretty honed in on our training and being very, very deliberate, because we know every day matters at this point and it is going to be here soon. So I think we're just a bit more focused than last year at this time, but at the same time very excited to have the opportunity."
Lananna said he expects hosting NCAAs to be "a great experience for the student-athletes, the University of Virginia, and this incredible running community. I am confident that our teams will capitalize and seize the moment to showcase a world-class event in Charlottesville, Virginia."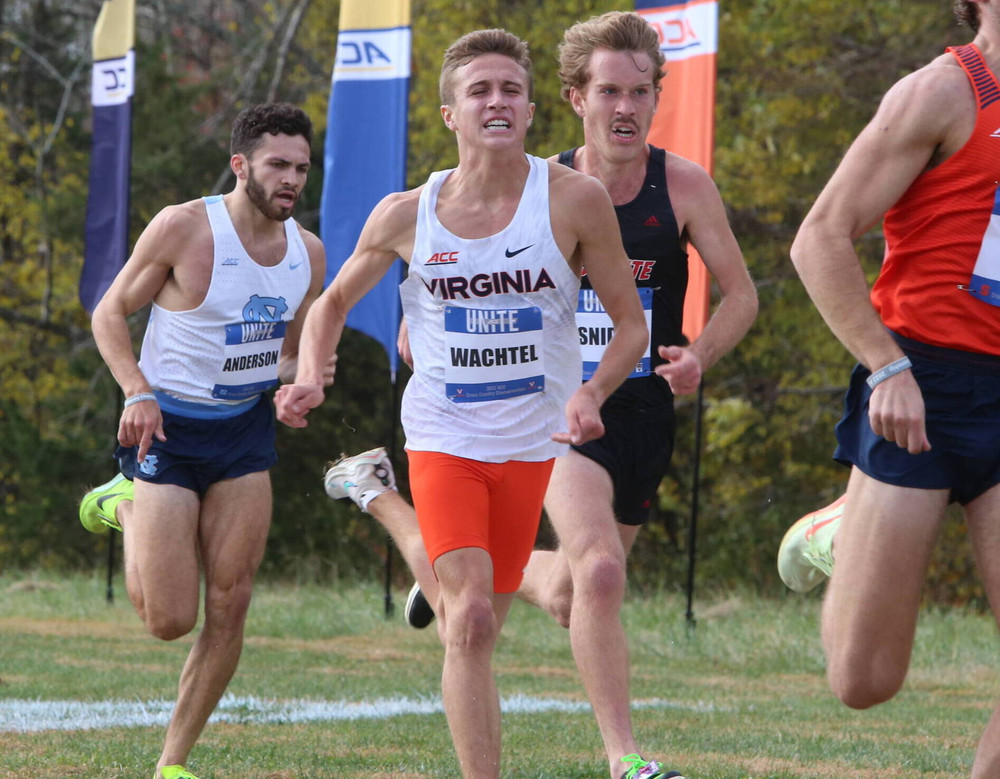 The Cavaliers will host two meets at Panorama Farms ahead of the NCAA Championships: the Virginia Invitational on Sept. 23 and the XC23 Pre-Nationals on Oct. 14. UVA men's team was inexperienced last season and learned valuable lessons at the ACC meet. (The UVA women finished third at ACCs and ninth at NCAAs.)
"There were a lot of tactical errors on all of our parts," Wachtel said after the race. "I feel like a lot of us got a little too antsy and didn't follow our race plan as well as we should have."
The entire 2022 cross country season, Lananna said, "represented a tremendous growth experience for the [men's] team. We 'went for it' at the ACC meet. The results did not reflect the how good we were. At two miles we had a commanding lead and we were competing for the win. I will take a championship effort over a conservative and safe approach every time. With a year of national experience, I am excited to see what is next."
The Hoos' returning runners include Wachtel, Will Anthony, Yasin Sado, Wes Porter, Jack Eliason, Gary Martin and Nathan Mountain. The experience they gained last year, Wachtel said, is "going to allow us to be in a better mindset entering the postseason. We understand how demanding it's going to be once we get to October and the beginning of November."
Moreoever, he said, "whenever it comes to actual in-the-race tactics, we'll be on the same page a lot better than we were last year. There were points where we were just disjointed and weren't really cooperating as much as we should have. Not in a bad way, but it just was not unfolding like we expected it to and we just didn't have really much experience to know how it would unfold. Whereas this year, I think we know exactly what the challenge is going to be whenever we toe the line for ACCs."
Wachtel redshirted in both indoor and outdoor track & field in 2022-23, so he'll be eligible to compete in all three seasons as a fifth-year senior in 2025-26. By then, he expects to have earned his degree from the McIntire of School of Commerce. Wachtel started this month in the Comm School, where he's interested in concentrating on finance and information technology.
"I enjoy the analytical type of stuff," he said, "so I'd like to stay in that realm."
Wachtel stayed in Virginia this summer, commuting from Charlottesville several days a week to Richmond, where he had internship with Dominion Energy Inc. in its strategic planning group.
His hometown in Georgia has about 4,500 residents and is more likely to turn out a blue-chip football player than an elite distance runner, but Wachtel's high school feats attracted the notice of the Cavaliers' coaches, and "I instantly thought the combination of his grades and performances qualified him as a great prospect for UVA," Lananna said.
That assessment has proved accurate. "Justin leads by example," Lananna said. "He is admired for his work ethic and respected for his determination."
Wachtel had no ties, family or to otherwise, to the University, but he clicked with Lananna and loved what he saw on his visit to Charlottesville, which is about a nine-hour drive from Forsyth.
"My parents aren't too happy that I'm this detached from home, but I'm enjoying every bit of it," Wachtel said.
To receive Jeff White's articles by email, click the appropriate box in this link to subscribe.